[Webinar Recap] 5 Most Effective Video Repurposing Techniques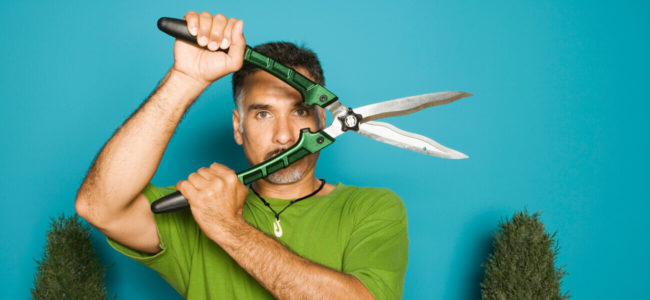 In the era of video, building a video-driven content marketing strategy is essential. Yet, no marketer can keep continuously coming up with new video content ideas. And there is no need to keep searching for something new and fresh every time. 
Chances are, you or your marketing teams are creating tons of content – text, video, audio, anything. These efforts take a lot of time, creativity, and money. So, what happens with most marketers – they create content, post it once or twice, and then it's left to grow old and die eventually. That's such a waste, though, to invest so much in content and not make the most of it, expecting to get millions of YouTube views or Facebook shares just from posting it once. What you have to start implementing is a smart and efficient content repurposing strategy that involves video.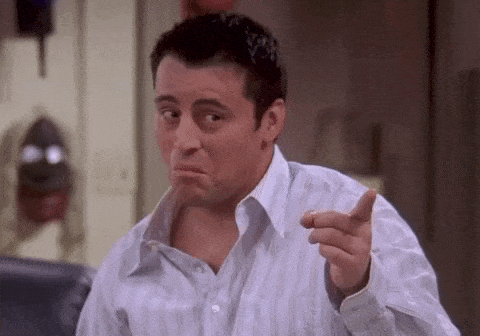 The way to build a sustainable digital marketing strategy and not burn down quickly by creating tons of content pieces is to repurpose long-form content. So, take the content you already have and turn it into tens of different assets.
Shaina Weisinger, the Founder of Repurpose House, an experienced videographer and a prominent marketer, has shared the most efficient techniques for repurposing long-form content into videos for social media to maximize the value and performance of your content.
Turning Long-Form Content into Optimized Videos for Social Media
Before diving into the nitty-gritty of repurposing content into videos, Shaina highlighted that you have to take a stat-driven approach to creating video content for social media to boost engagement. Initially, make sure the content you're repurposing – be it video, audio or text – is optimized for all the social media channels. 
After all, when it comes to social media, videos get shared 1200% more times than text and images combined!
And throughout this post we will be uncovering what exactly Shaina means by social media optimized videos as well as best practices and techniques for video repurposing, so make sure to keep a close eye. 
Technique #1. Turn a long-form video into 2-minute clips
Long-form videos range from interviews and Facebook Lives to webinars and speaking engagements. All these forms of long-form video content can essentially be chopped up into 2-minute clips and repurposed for various social media channels. Why does Shaina mention a 2-minute limit here? 
It has been found that past the 2-minute-mark, the engagement starts to plummet on social media. Thus, try to stay within a 2-minute-limit for best results.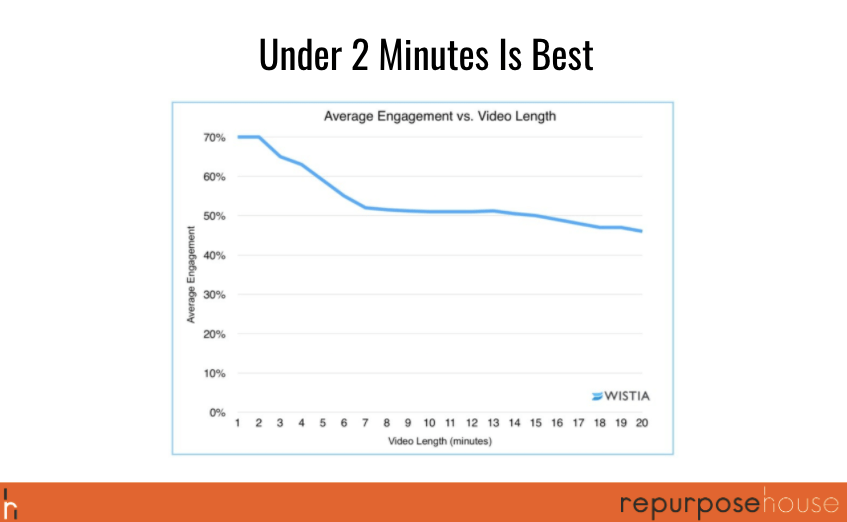 Bonus tip from Shaina: Testimonials and course content are also great for repurposing. The idea here is to create a teaser for the full video so that you can build some anticipation for the full video.
How to turn a video into a 2-minute clip
All you have to do is take shorter snippets from your full video in order to share to social. Essentially, your job is to find the so-called "in and out points" within your video – the most powerful 2 minutes from within your video that will make the most impact on social media.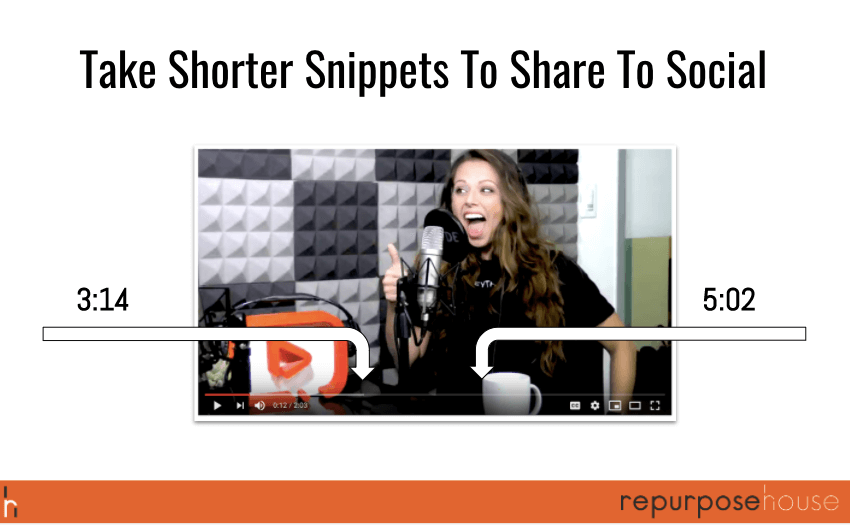 You have to put a snippet of the most viral moment from within your video – a teaser, basically – and post it all over the social media space. And don't forget to add a call-to-action at the very end of the video to drive people to watch the full video hinting that they can find more amazing info on this topic in there. 
People should be, like: Oh, this was so impactful, how do I get more of that?
This technique will also help you fill your social media feeds with content and boost social engagement. 
Finding the right sizes
On top of compelling moments, you have to make sure the technical video aspects are also accounted for. With social media, you have square video means, vertical video means, and landscape (always used on YouTube). Make sure to use the right video size for the right platform, but more on that later in the post.
You may be wondering – why repurpose a video for YouTube if the long-form version is probably already uploaded there? The shorter snippets are inherently more targeted for a narrower topic. So, you'll get to show up on YouTube and Google search for hyper-specific topics and, thus, attract a bigger share of a new audience that can be led back to the full video. 
Bonus tip from Shaina: A smart tactic would be to turn a long-form video on YouTube into a playlist composed of shorter videos dedicated to certain subtopics.
Technique #2. Turn long-form audio into 2-minute clips
Essentially, there are two forms of audio content that can be turned into a video to increase the distribution impact. Podcasts' and audiobooks' online visibility can be strengthened by turning your audio files into audiograms. 
An audiogram is an audio wave animation that turns your audio into a video format so that you can further promote it across various social media channels. You can also use captions and an attractive headline for your audiogram to attract more attention. In fact, audiograms are times more powerful than any static image, so don't miss a chance to boost your audio content's visibility.

There are tools like Headliner.app that help create audiograms. All you have to do is upload an audio file, and it will automatically turn it into a jumping waveform, while its AI will also add the captions for you.
Shaina has run us through the essentials for creating audiograms for each piece of audio content.
Podcasts
Audiograms are a great way to expand the reach of your podcast episodes – both new and old. Since podcasts are mostly expert-based interviews, you tend to get a lot of informative content that's highly valuable and practical. Moreover, podcasts also generally benefit from the power of cross-promotion (your guests are also actively promoting the podcast episode they participated in), so you can amplify it further by creating more assets from within one episode to share with your guests. 
Bonus tip from Shaina: The biggest mistake, Shaina emphasized, is to only repurpose the new episodes. Chances are, you have a backlog of great content you are sitting on. So, if what you talked about before is still relevant today, share this information with your audience by creating audiogram teasers. The new audience might not have seen or listened to your old episodes. So, use both. 
Audiobooks
Audiobooks are largely on the rise. So is the competition across them. Thus, turning the best audio moments from your audiobook into a video (an audiogram) presents you with a new powerful asset for promotion. 
Technique #3. Turn long-form text into 2-minute clips
Certainly, the most crucial technique is to focus on making the most of long-form text content. After all, you spend a lot of resources creating blog posts and guides, e-Books (and paper books), white papers, customer testimonials, you name them all.
So, your job is to create as many assets as possible out of the long piece to promote it. And there is a tailored approach you can take for creating social media videos for each long-form content-type:
Blog posts and guides: People and companies typically share their blog posts once on every social channel they own. For instance, what happens on Facebook – the platform doesn't want you to take people off its network, it wants people to stay there. So if you just post a link to your blog, your reach will be limited. Thus, you have to find workarounds – creating micro-assets like short videos that capture about 100 words from the entire text and then adding a call-to-action for visiting your blog is a smart option. Just make sure you aren't adding post links within your video, Facebook does not appreciate that, so call-to-action works great in this case.
Why 100 words? This word limit normally equals to 1.5 mins of video, considering you'll be adding music, transitions, etc.
Paper books and e-books: the logic behind creating a social media video for these kinds of content is similar to blog posts. You have to pick the most bright section and tease future readers to attract more sales or downloads.
Statistics: instead of making a quote card, you can go stat-heavy on the video as video is more likely to boost engagement, increase your reach, and attract clicks.
Testimonials: even written testimonials can be turned into 2-minute clips. You can use the photo of the person giving the testimonial or the logo of the company loving your product, add stock video, and turn it into an easy-to-digest promotional video.
Wave.video is the go-to tool for creating these kinds of videos for a long time now, supporting all video size formats and ensuring you don't throw away resources and time crafting videos. 
Technique #4. Pay attention to aspect ratios 
With video on social media, you have to be really mindful about aspect ratios, aka video sizes. In general, some sizes tend to perform better than others, and Shaina quotes a study from Buffer that found that square videos are the first choice for social media. On your Feed, they take up the entire screen space, while landscape format allows for the next post to show up. And with an ever-shortening user attention span, you don't want to present any opportunities for distraction. Thus, with square video format, you'll likely get more views and twice the engagement (likes, shares, clicks, etc.):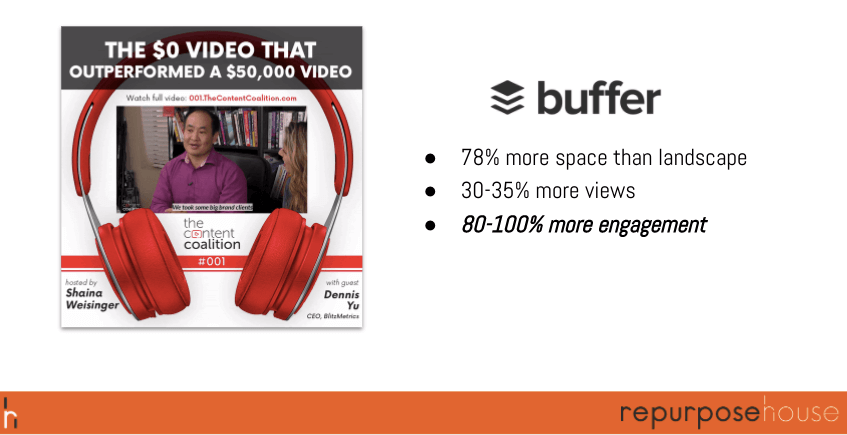 But you cannot just blindly follow data here. To each his own, so you have to tailor your video format to each platform: 
Square videos (1080px by 1080 px) are great for feeds, or anything you might be scrolling with your thumb – and except for Twitter that optimizes for landscape images, every other platform works best with square. 

Vertical videos (1080px by 1920px) should be used for Stories and IGTV.

Landscape videos (1920px by 1080 px) are all about YouTube. Also, Shaina mentions that if you're scheduling posts with an external tool, make sure to use landscape for LinkedIn as well as it distorts the video if you schedule it in a square format.
Technique #5. Don't forget to always use captions
Now, there is one last technique Shaina draws our attention to. It's fairly straightforward yet often overlooked – captions. They are an absolute must when you post videos on social media.
85% of people scroll through Facebook on mute. So do 80% of people on LinkedIn.
Often, people watch videos but don't have the volume on. Therefore, if you don't put captions, they won't know what you're saying. And… they will just scroll through your video without paying attention, so captions are a lifesaver here. 
Bonus tip from Shaina: There's a big difference between populating a video with captions on Facebook whenever it is on silent or actually placing captions within the video file: while you can hope that Facebook will automatically add the captions for you, don't expect the same from other social media networks.
Over to you
Now when you know all the best techniques for turning various types of content into videos for social media, you can start implementing a video repurposing strategy straight away. Let us know in the comments section below what challenges you are facing and feel free to ask for recommendations and tips on overcoming them.