34 Creative Ways to Repurpose Video Content for Top Reach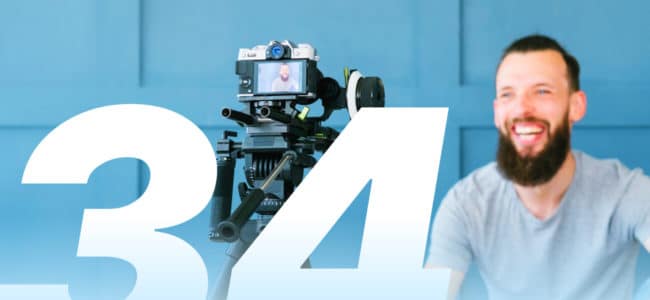 Repurposing your video content is far more effective than creating new ones, right? So why don't we do it all the time? Actually, repurposing video content across multiple platforms is much easier than you think. 
Repurposing video content not only breathes new life into the video content that you have just "sitting on the shelf" but also saves time not having to shoot as many new videos for every social media platform.
Whether you are running a video marketing campaign or just looking to repurpose your video content across many channels on an ongoing basis, you're in the right place. There are so many ways to make your content go the extra mile and compiled the ultimate list for you. 
1. Repurpose your blog post as a social video
You know those educational style videos you see on Facebook and Linkedin that show text on top of stock images? Well, your blog posts or actually any content you have can be easily converted into such a video. 
Listicles are the easiest form of content to repurpose as a video. All you have to do is take your key points from your post and add them in the text, then find stock images and videos from the included library match the topic. 
Check out the template below to see how it works.
Post this repurposed content on social media and make sure to include a backlink to the original post in the post text.

tip
Bonus Tip
You can add your company logo as a watermark for some extra brand visibility. 
2. Repurpose your blog post as a Pinterest video
Did you know that you can now repurpose video content on Pinterest as a video pin? 
Why Pinterest? Because pinning repurposed video content to Pinterest will boost your website's SEO.
How? Easy: Now that you know how to convert your blog post into a video, you can easily pin it to Pinterest.
Remember to use the hashtags in the description for extra visibility. You can also create pinboards for different repurposed videos: Blog posts, webinars, how-tos, etc. 
3. Repurpose your blog feature-image into a teaser video to better promote the post
It's been long established that promoting your blog post with videos on social media will drive more than 60% more traffic to your site, so it only makes sense to promote your blog posts with video on social media rather than with link posts. 

Fortunately, there is an easy way to repurpose your blog posts into teaser videos, really quickly in three steps: 
Upload your blogs post's featured image to Wave.video and select an animation

Add your blog title as a text on top of the video 

Add the blog name and URL as a separate block of text or as a Call To Action box. 
You are done. 

tip
Bonus Tip
Make sure to add a link to your blog post in the body of your social post text. Don't forget to add hashtags on Linkedin, Instagram, and Twitter.
4. Repurpose your webinar into a Condensed TLDW video
Webinars can be long and tedious. Some of your audience may like watching them live; others may need the TLDW (too long didn't watch) version. In other words, you can create a short condensed version of the webinar featuring the highlights of the session. 
For those who missed the live webinar, this would serve multiple goals. First, it provides a short digest of what they missed. At the same time, it creates the understanding that to get the full content from the future events, they have to show up. 
Keep in mind that his form of repurposing video content may require more work: you would need to use editing software like iMovie. Still, it's particularly useful for webinars that include long intros, chatter, Q&A etc. or if the pace is just too slow. 
5. Repurpose customer testimonials into video ads
Customer testimonials captured in the video make for top-performing video ads, especially when used in retargeting campaigns. 
The videos might need slight tweaks before you post them as ads. 
The video should start with the customer talking about your product immediately at the open 

Add text on the video explaining to the viewer what they are watching, i.e. "product testimonial" or "real customer review" 

Make sure you got customer approval to use the video recording for this purpose. 
For this, you can use one of our templates designed especially for this purpose.
6. Repurpose your live social show into a blogpost
Whatever happens on social stays on social, right? Well, it does not have to be that way.
You can easily repurpose your live social videos into a blog post. Here is how:
Download your live recording

Transcribe the video using a service like otter.ai

Use the transcription to create a draft of the blog post text

Carefully review the transcription and edit accordingly

Make sure to embed the video recording in your blog post
Here is one of our own recent examples of this activity. We hosted a live video with Stephanie Liu and then turned it into a blog post to make it evergreen.
7. Repurpose your webinar into a lead magnet 
Now that the webinar is over, you can still capitalize on it. How? Put it behind a lead capture form. Here is how: 
Upload your webinar recording to Wave.video and set it to be password protected

Create a lead capture form in Typeform, Google forms, or any other form creation service

Provide the password to the video and the URL in the form completion thank-you message
Having your recording password protected elevates their status and shows that you value them. 

tip
Bonus Tip
You can also provide the password to your previous recording at the end of your webinars.
8. Repurpose your LinkedIn live video into a promo for your next show
Another great example of how to repurpose your live video is to always end each live show with a sneak peek to what will be happening next time.
Make a quick teaser for your next live show by simply downloading the recording and trimming it to show just that part.
Voila! You now have a perfect, ready-made, zero effort promo for your next show!
9. Repurpose your video stories into a monthly recap video
Do you post videos to your Instagram stories? Good news, there is an easy way to repurpose Instagram and Facebook story videos! Do you post images, not videos? You can make videos from these as well.
First, you will need to download your Instagram stories. Then you add them up to create a composite video that you can then post to the feed, to stories, or even share via newsletters. 
The subject of the composite video all depends on the content of the stories you have posted.
A year in our company: featuring story videos you posted over the year
Why you should join our team: featuring fun moments from your office
Our journey: featuring posts from various locations
How we touch our customer's lives: featuring posts showcasing your customers
Shout out to our friends: featuring posts where you tagged others

tip
Bonus Tip
Did you know you can embed vertical videos in your blog posts and website?
Wave.video has a responsive player so you can easily post Story-type videos to your blog, it looks really great and can be very engaging for your readers.
10. Repurpose your educational video into an email
Looking for original content for your newsletter? Video in email can provide more click-throughs than other email content. Almost any educational video makes good content for your email newsletters. 
You already have loads of educational videos somewhere on one of your digital properties. So before you add the video to your email, make sure to embed the video to your blog or site, or put it on a video landing page because you want to drive traffic to content you can control. Social sites are designed to keep visitors there, not to move them along your funnel.
Here is the easiest way to add a video to your email: 
Download the thumbnail 

Add a play button to the thumbnail using any image editor

Add the modified thumbnail to your email and link it to your video
Done!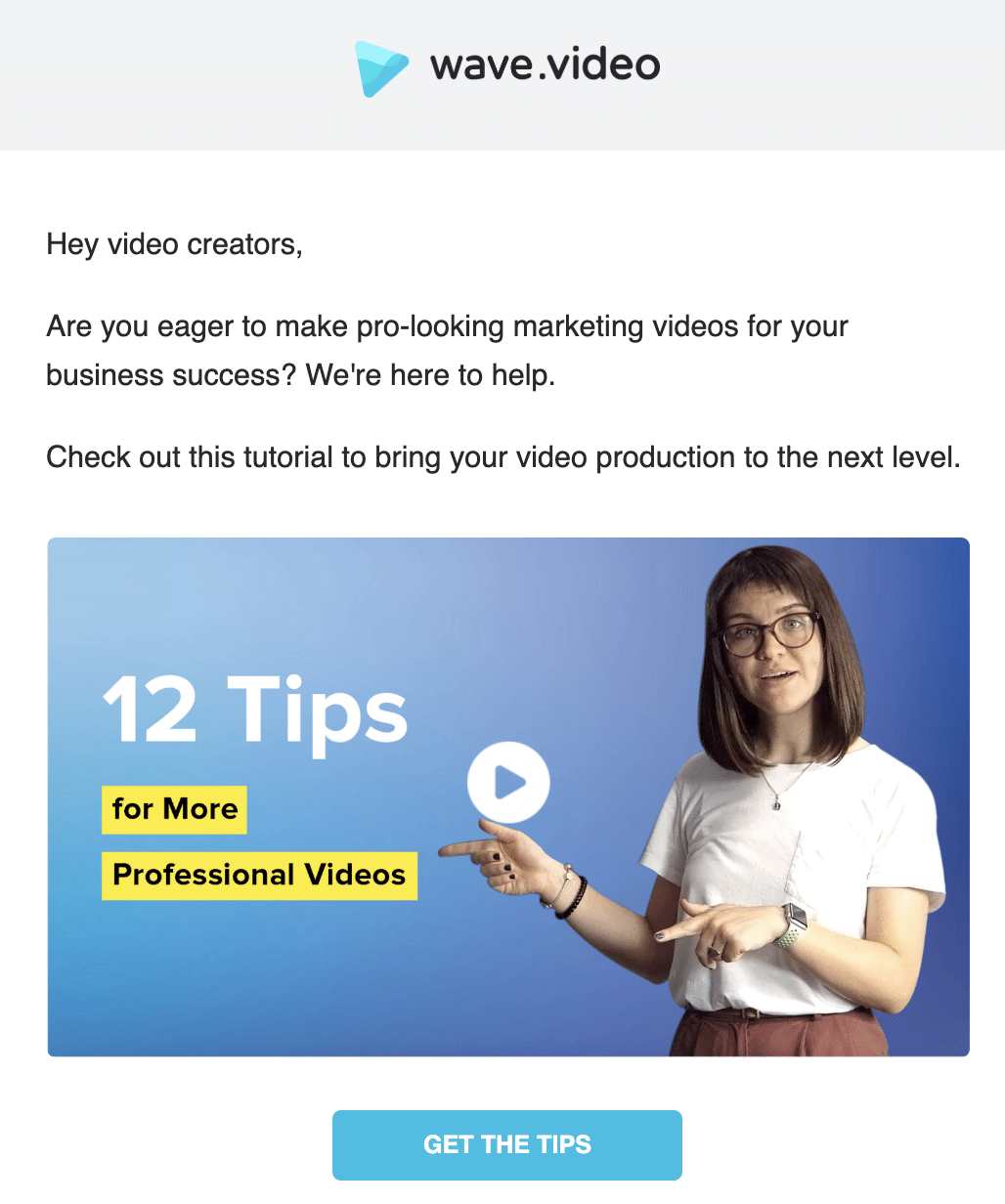 11. Repurpose your FAQs into videos
If you have one of those products where customers keep asking the same questions over and over again, or where you want them to know more about, this idea is perfect for you. You can not only add this video to your site (or your amazon listing), you can also use it for posting on social media or even as a video ad.
12. Repurpose your presentation into video content
Do you give presentations at conventions or tradeshows? Have someone film it for you (sometimes you can get a copy from the event organizer). It is easy to repurpose this content because it takes no editing at all. 
Just take the video and post it to YouTube. You can also add it to your site and share it with your audience. For extra oomph, upload the slide deck to Slideshare and include a link in the notes to your presentation video. 

tip
Bonus Tip
You can upload your presentation video to your `about` section on LinkedIn to feature is.
13. Repurpose video content into Instagram stories
When you repurpose for Instagram stories, you need to consider just two things that make Instagram story videos different than regular ones: 
Story videos are vertical

Story videos are no longer than 15 seconds long (but wait there is

a workaround

)
You can, in fact, upload videos that are longer than 15 seconds, but Instagram will chop it up into 15 seconds long segments. That's OK, really. Don't overdo it though, the algorithm looks at viewer engagement to decide who should see your stories, and people don't have patience. 
Converting your horizontal videos to vertical mode is easy too. Wave.video is designed exactly for that (without those annoying horizontal black bars). You can even do it for free. 
14. Repurpose your customer's reviews into video
You probably have a ton of customer reviews on review sites like G2Crowd, Amazon, or Angie's list. You can easily make a video from one or several of these reviews and use them on your site, social profiles, your Facebook cover video (perfect for that), and even as ads. 
15. Repurpose your customer interviews into customer testimonials
If you are like me, you like to interview your customers on a video call to make some research and get their feedback.
But why stop there? There must be a small section of that interview that can be used as a testimonial. Cut it out and use it everywhere! Just make sure to get your customer's permission for that.

tip
Bonus Tip
Make sure to ask every customer at every interview what they love about your offering. They will be delighted to share, and it will give you loads of footage.
16. Repurpose your presentation decks into video content
Did you know that both Keynote and PowerPoint have a Save as video option? It's as easy as a click of a button. Narrating your presentation, should you choose to do so, may prove to be challenging, but you don't have to go that route. 
The main benefit of this type of video? It's a great way to get cheap original video content for your YouTube channel. If you use the right meta tags and keywords in the description, it will boost your channel's SEO. 
17. Repurpose video into a podcast episode
Did you ever want to have a podcast but did not have the time for it? Well, here is the solution.
Most webinar software solutions have the option to download the audio recording only. Just take it and pop it into your podcast hosting service. 
You can easily add an intro or outro to it using a GarageBand or Audacity. But if you want to go the extra mile, you could do some quick audio editing. A virtual assistant will do this for you for as low as $25 per episode. 
Be careful with your wording. For example, don't say welcome back to another video. Instead, use welcome back to another episode.
18. Repurpose your short testimonials together into a longer reel 
User testimonial videos are great for helping build trust in your offering. The problem is that they are often long and boring.
So, to make these videos go the extra mile, try taking 1-2 sentences from each testimonial, and adding them all up into one video. This trick will highlight the number of people who love your brand. Use this video at any customer touch-point during the sales process. 
Here is an example of a cool reel.

19. Repurpose several videos into a roundup post
You have already created a blog post from one video, but you can repurpose the same video onсe again, together with other videos into a roundup post, then share it while tagging all your guests. It's a great way to get more links to your site with minimal effort.
Topics for repurposed video roundup posts are infinite, here are just a few quick ideas for you to consider: 
Best interviews of the year

What did our experts say last year?

5 Different takes on… 
20. Create YouTube playlists for your repurposed video content 
Youtube is great for getting your content discovered and creating backlinks. The more content you have on YouTube, the better, specifically if you include all the right keywords in the tags and description.
So uploading every video you can find to YouTube is good practice, the only challenge being that you don't want to clutter your main YouTube page with what may appear to be random content. 
Youtube playlists solve this problem. Create multiple playlists and upload your videos there. For instance, make dedicated playlists for
customer testimonials

live social shows

office culture

presentations

product demos

webinars.
21. Repurpose your webinars and educational videos into online courses
Customers love structure, so why not take all your educational videos and place them in an online environment structured for learning?
Take a look at the Wave.video academy. It is made of repurposed product tutorial videos that we put together in an order that helps our users. And they love it! 

tip
Bonus Tip
You can use tools like Thinkific to build your online course; you can even charge money for attending and activate an affiliate network to spread the word.
22. Turn videos into animated GIFs
This is one of my favorite creative video repurposing tricks. After you complete your video, skim it and find a spot where the speaker makes a funny gesture or uses their hands a lot. 
Trim that one section of the video and upload it to Tenor and Giphy. Then post it to social media and tag the guest. Once available on tenor and GIPHY, that person, as well as others, might start using it in comments and in private messaging. 
Your logo is right there, and that's just fine because it was there on the original video. 
Use the animated gif to promote your video again on social and email. 
23. Add your videos to landing pages
Landing pages with video convert better, and that's a fact.  You can go the extra mile and create videos specifically for each landing page, but you will get a much higher ROI by simply taking your explainer video from your homepage or product demo and add it to all your landing pages.
24. Turn your social videos into video landing pages
Fortunately, you don't even need to do all the work of creating landing pages anymore.
With the advent of video, so came the video landing page. Which is a simpler version of the landing page that focuses the viewer's attention on the video and the call-to-action only.
They take 5 seconds to make and are highly effective. So you have no more excuses. Go make some video landing pages and test them out! 
25. Repurpose your customer testimonial into a Facebook cover video
Facebook cover videos are perhaps the easiest and most under-appreciated video-marketing activity businesses can execute. Cover videos play a major role in setting the stage for your Facebook visitors. 
Prospects often visit your company's Facebook profile to see what kind of engagement you get and what people say about your offerings. Since the video cover is the first thing they see, placing a customer testimonial right up there will help your sales funnel. 
You can also use your Facebook video cover for many other purposes. This is one of the easiest video repurposings you can do, so why wait. 
26. Repurpose your event invite into a Facebook cover video
Are you running an event? Take that event promotion video (or the recap video from your last event) and post it as your Facebook cover. It's that simple.
27. Create a Facebook event for your live show (with video)
Facebook events cover now support video, and that's a great way to make your event stand out in the feed. You can create a video from stocks if you don't have one, or reuse any horizontal video you may have. 
28. Repurpose your survey results into a video
If you occasionally publish survey results, you can do it in the form of a video rather than a PDF or web page.
It could either be a "talking head video" accompanied by presentation slides, or it could be just the survey results themselves as shown in the example below. 

tip
Bonus Tip
For sensitive survey results that you want to keep within certain circles (say customer's eyes only) you can password protect your video.
29. Create intros and outros for your videos from your images
Intros make your webinars, and live videos look so much more professional, and video outros are great for adding calls-to-action to your videos. These days you don't have to spend money and resources to create intros and outros, in-fact you can do is easily by repurposing your photos. 
30. Turn your customer support responses into how-to videos
This may take a bit of work, but your customers will love this, and your support team will save loads of time.
The idea is simple. Go through all your support's frequent responses and make a video version of it using a screen capture tool and a voice recording.
You can easily use these videos in your customer support channel, but also repurpose some of them for your knowledge-base and YouTube channel. 
31. Use your video clips as rich snippets for Google search
If you already have videos on various pages on your site, you really should ensure that they show up as a video snippet when someone searches on Google.
Video snippets are a very powerful SEO factor as many people tend to click on the video search results rather than on the text results. Unfortunately, you may need a developer to help you with this task because it requires going into the site's code. 
32. Turn your product updates into videos
Create a listicle video to highlight what's new in your product. This is a surefire way to deliver your exciting news to the audience in a simple form.
Here is what we did to announce the latest Wave.video's updates.
33. Repurpose short clips for social media from expert quotes
A cool way of repurposing single sentence texts is to place them on top of videos. These are great for social and take very little effort. You can find expert quotes on your blog and video transcriptions or you could simply source them from sites like Quotery.
Turn any saying into a piece of engaging video content using one of our templates.
33. Repurpose short clips for social media from expert quotes 
A cool way of repurposing single sentence texts is to place them on top of videos. These are great for social and take very little effort. You can find expert quotes on your blog and video transcriptions or you could simply source them from sites like Quotery. 
To easily turn any saying into an engaging piece of video content, use templates from Wave.video.

tip
Bonus Tip
Post a video quote every Monday to twitter and Instagram with the hashtag #InspirationalMonday. .
34. Create a teaser by running the video at X4 the speed
Speed up the video recording to create a short nice-looking clip. This works great for silent videos to demonstrate some long processes like, for instance, a guided tour.
When I was in Atlanta I interviewed @CSCarrigan about her books https://t.co/slWCibGClN #WritingCommunity pic.twitter.com/Lrsabwj1vf

— Tim Lewis @Stoneham Press #indieAuthorChat (@StonehamPress) January 16, 2020

Do you have other creative ideas for video content repurposing? Share them in the comments below.