What is Video Marketing? [Updated]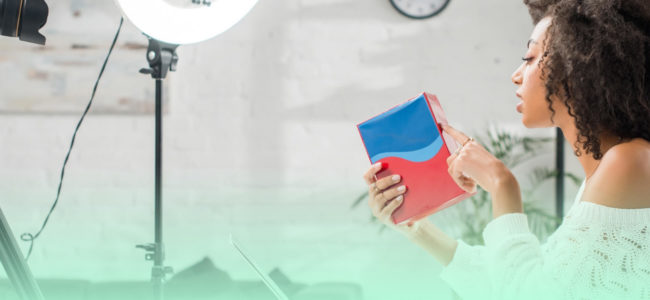 Simply put, video marketing is using video content to reach your desired audience and promote your brand, service, or product. Video marketing isn't only about sales, you can use it to encourage website visits, social media engagement, email signups, and improve customer service.
Humans are visual creatures, so it's no surprise that we love videos. With people now watching over 100 million hours of video on Facebook and over 1 billion hours on YouTube daily, video is an essential marketing tool for businesses and marketers. The relentless uptrend in video preference – over text – presents an opportunity to connect with your customers more effectively.
Benefits of Video Marketing
More people are watching videos, but what does that mean for your business? Let's consider some quantifiable reasons why video marketing is so powerful in today's world.
Videos are your best bet when it comes to informing and educating your prospective and current customers about your product or service. 97% of marketers agree that video helps customers to understand their products better. Nothing beats a close-up look at the product you're promoting, not even the most descriptive copy.
Also, videos have the highest information retention rate of any media. Your audience retains 95% of your message when watching a video, but only 10% when they read text. 
About half of internet shoppers now look for product-related videos before making a purchasing decision, and 90% say that demo videos are helpful. What's more? 85% of those consumers are more likely to buy after watching a product demo. So, if you have a product or landing page that hasn't been doing so well, it might be time to add a product demo video or an explainer video.
Several studies have found that sales pages that have videos convert better than those that don't. There may be several reasons for this, but one of them is that videos keep visitors on your page longer.
Videos now appear in 70% of the top 100 Google search result listings. Search engine bots can transcribe your video's audio and serve it to the right audience. In essence, adding videos to your marketing campaign makes it more discoverable, allowing you to generate free traffic in the process.
You can increase your website visits by adding your link to the description of properly optimized videos that are targeted at your audience.
Video Complements other Marketing Strategies
It's not difficult to add videos to your existing marketing strategies. For instance, you can make a video version of your blog and add it to your blog or post it to YouTube with a link back to your site. 
Videos can also improve email click-through and open ratios. Just including the word "video" in the subject line can help increase open rates by 19%, boost click-through rate by 65%, and reduce un-subscriptions by 26%.
Types of Marketing Videos
There are many types of videos you can create, but for best results, it helps to understand the purpose of the video and how to use it. Before we discuss video marketing strategies, let's see some popular types of marketing videos you can make:
Product demos explore the unique selling proposition, features, and superiority of your product for customers who are already considering a purchase. Product demos can be long and in-depth or short and straight to the point.
Checkout Honey Baby Naturals product demo:
How to Videos / Explainer Videos
These videos answer common questions related to your product or service. To make an explainer video, compile a list of FAQs and answer them as clearly as possible. Your customers will realize how much you care and trust you more for it.
Interview videos involve asking someone your audience respects some questions. You can post it on your YouTube or post a short version on your Instagram.
Webinars are seminars conducted over the internet. You, the host, connect with your audience to discuss a specific topic, answer questions, showcase products, or conduct interviews with industry experts.
Testimonials / Case Studies
Success stories drive conversion. Shoot a video with a satisfied customer and discuss their experience with your company. Testimonials create social proof, build trust, and boost sales.
Brand videos introduce you to your audience and highlight your company's values. This may be your first impression, so be sure to make it a lasting one.
How to Develop a Video Marketing Strategy
Putting videos together and uploading it on YouTube or other social media platforms is barely scratching the surface of video marketing. A proper video marketing strategy involves detailed planning for budget, production, conversion, and more. 
Here is a video marketing strategy you can follow:
Step 1. Define Your Goals
In general, your video marketing strategy should educate, intrigue, or inspire your audience. Your goal depends on what is most important to you and your customers. To keep things simple, set one goal for your video, whether that goal is to drive awareness, sales, or traffic. Your goal will determine the tone of voice, message, and other key factors like production and distribution.
Step 2. Understand Your Audience
Research your audience to better connect with them. Although videos work in all stages of the marketing funnel, your video should reflect your target audience's stage in the marketing funnel. If your prospective buyers are only just aware of a business problem that you solve, your video should introduce them to your solution. However, prospective buyers already on your product or sales page need to see proof of customer satisfaction and the unique benefits of choosing your solution.
Step 3. Set a Budget
First off, a larger video marketing budget doesn't necessarily guarantee more conversion or success. On the other hand, a low-quality video B2B video can hurt your brand image. The best way to set a budget is to consider your audience's production expectations and deliver on that.
Young adults prefer shorter videos, and making videos for them may be less costly. However, if you work with a celebrity or influencer, your cost goes up. Whether you're producing the video internally or hiring a production company, you should stick to a comfortable budget that delivers what your audience expects.
Step 4. Select a Type of Video
Before you start shooting, you need to determine the type of marketing video you need and the story you want to tell. You could use some research here to uncover which marketing videos and video formats resonate best with your audience. Webinars, case studies, tutorials, corporate brand videos, and support videos are usually suited for B2B companies. Consumers, however, usually watch product demos and how-to videos.
Step 5. Choose your Distribution Channels
Once you understand your buyer's persona, it should be easy to find where you can reach them. You can start with your existing network through emails, primary contacts, and blogs. Social media platforms like YouTube, Facebook, and LinkedIn are also excellent choices, depending on your audience.
As we mentioned earlier, your product and landing pages could also benefit from a relevant video. If your budget allows it, paid ads and paid content promotion enable you to reach larger audiences with better targeting.
Step 6. Optimize for Maximum Conversion
By following all the processes above, you're many steps closer to starting a successful video marketing campaign. But there's more that you can do to ensure your well-targeted audience converts. Some of them include:
Keeping it short and simple

Adding a clear call to action (CTA)

Offering incentives

Providing different purchase options

Optimizing for SEO

Using social proof

Engaging with your audience
Step 7. Track Performance
Measure the effectiveness of your video marketing to see what is working and what isn't. Your videos may be too long, or you may be posting on the wrong channel. Some A/B testing should help you find the sweet spot for your video campaign. Don't focus on conversion rates only, engagement rate, view count, and shares all reflect the impact of your campaign.
4 Video Marketing Tips and Best Practices, with Examples
With your knowledge of how to do video content marketing, we encourage you to explore its benefits to promote your business. To increase your chances of success, you should follow these tips:                      
Stories are captivating, and they compel your viewers to watch your entire video. In the process, you can convey valuable information about your business and its solutions. Twenty years ago, ads were just ads, but now, customers expect more than a reason to buy your product. Subtly, stories show customers your product and help them to relate to it.
Below, you can see how Solo Stove uses stories to showcase their product in an engaging way.
Attention span on the internet has reduced drastically, so you only have a few seconds to win your audience's interest. You can use a hook at the start of your video or a catchy thumbnail to attract prospects. It is crucial to establish what your video is about quickly before they lose interest.
Micheal Dubin, the CEO of Dollar Shave Club, grabs your attention by talking straight at you and making a punchy joke within the first 15 seconds of the video.
Add a Call To Action (CTA)
Optimize your videos with CTAs to convert or prompt your visitor to engage with your video. Most marketers add CTAs to the end of the video as it fades to black. However, you can also add mid-roll CTAs as long as it doesn't interrupt the video. If you're uploading your video on YouTube, you can leave an annotation asking users to subscribe or go to your website.
In their 25,915 Days campaign, Reebok includes a clear CTA at the end of the video.
People rely on emotions to make brand decisions. Tap into that by creating emotions that you want customers to associate with your brand in your video campaign. Emotions such as trust, happiness, and instant gratification have proven effective over the years.
Canadian Tire's ad was one of the most viral marketing videos of 2017, and it heavily relies on emotional appeal.
Wrapping Up
Video marketing is not new, but as video is becoming more accessible, people are consuming more video content over text. Your company can enjoy higher returns with video marketing if you can creatively use videos to support your business goals and customer needs.