10 Free Video Landing Page Makers: Use Videos To Increase Conversions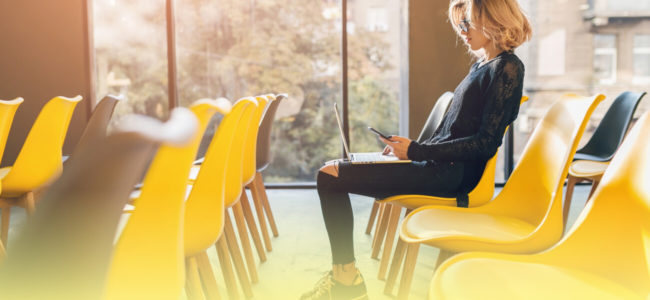 With its amazingly high conversion rate of 23%, your landing page is your closest ally.
But what's your brand doing to make that excellent first impression on your website visitors? Images, statistics, infographics are all great but overused. You need to think beyond them to appeal and convert your target audience.
Considering videos? That's fantastic. We love videos. And so do millions and millions of Internet users.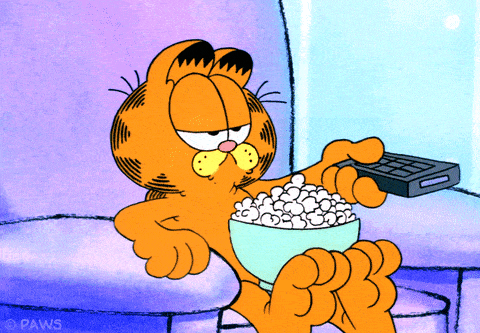 81% of video marketers approve of videos for increasing the average time visitors spend on a page. When they're so incredible, they got to be on 'em landing pages.
Now, let's walk you through the top 10 free video landing page makers to help you convert visitors, leads, and customers.
First, let's cover the basics.
What Is A Video Landing Page?
When you add a little video love to your landing page, you get a video landing page.
It's that simple.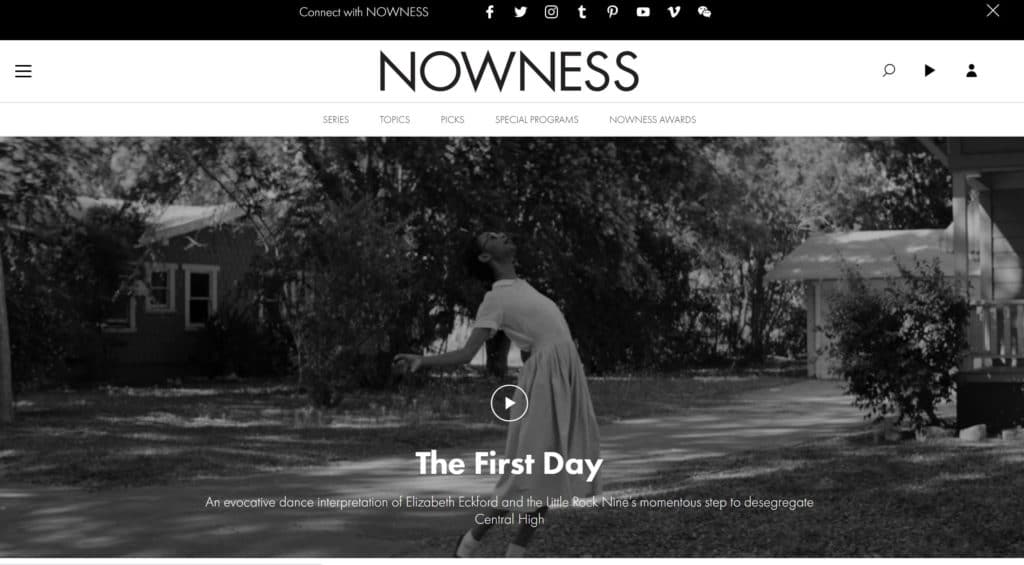 An example of how NOWNESS uses videos to create compelling landing pages
With embedded videos, your landing pages become powerful enough to engage visitors longer than otherwise.
Let's be honest, when it comes to spending time on the Internet, we want more with lesser efforts – more information in fewer clicks. And videos help us get just that.
There's no wonder people pay the most attention to videos as compared to other content types.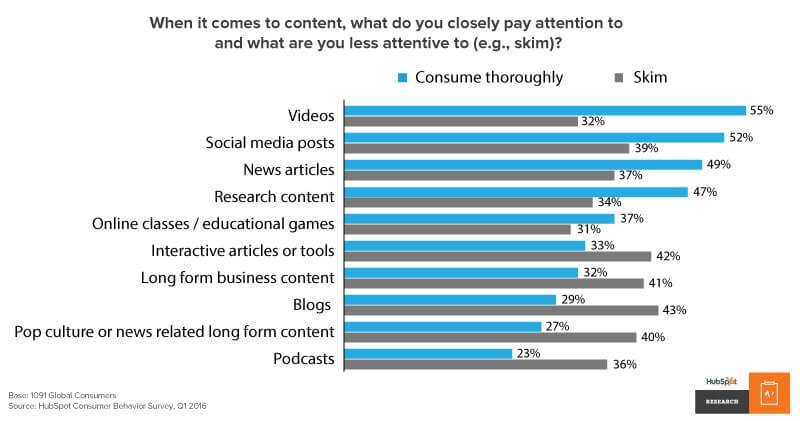 Source: HubSpot
So, with video landing pages, you help your target audience know your brand better.
And your chances for a better conversion rate increase manifold.
Here's more on why you need a landing page video.
Why Do You Need A Video Landing Page Maker?
With 86% of people willing to see more videos from brands, you'd want to create a video landing page, won't you?
However, it's not easy.
Contrary to popular belief, making a great video and embedding it into a landing page isn't as simple as many may think. Unless, of course, you are a web geek.
But what if you're not? Well, a video landing page generator is what you'll need in that case.
10 Free Video Landing Page Makers
Here are some of the top video landing page makers to kickstart your video-landing page journey – for free.
1. Wave.video

Being a powerful all-in-one marketing tool, Wave.video is an easy choice for No. 1 on this list.
To help you enjoy the ease of a video landing page generator as thoughtful as it could ever be, it features a fully customizable player. You can choose the way your video starts and ends, pick a custom thumbnail, and change the player color.
And for those who care for CTAs, there's an option to add these too.
You can even personalize landing pages and send different versions of the same video to different customers. Creative enough, right?
To give a boost to your email campaigns, you can even add videos to them.
There's also a feature to place your videos behind a password wall, which can be shared in exchange for the customer's email.
The solution cuts down on the time needed to download and reupload videos to other services, thanks to direct links to your video landing pages, which can be shared in an instant.
With Wave.video, creating and sharing a video landing page is as easy as it can get.
Key Features:
Fully customizable player
Easy to use
No ads or other diverting elements on the page
Measure results with Google Analytics
Share videos via direct links
Plan Upgrades: Creator at $20/month and Business at $40/month
How to create a video landing page with Wave.video?
Creating a video landing page with Wave.video is extremely easy.
Step 1 – Give your page a compelling headline & description.
Step 2 – Add an exciting call-to-action.

Step 3 – Paste a link to the URL destination.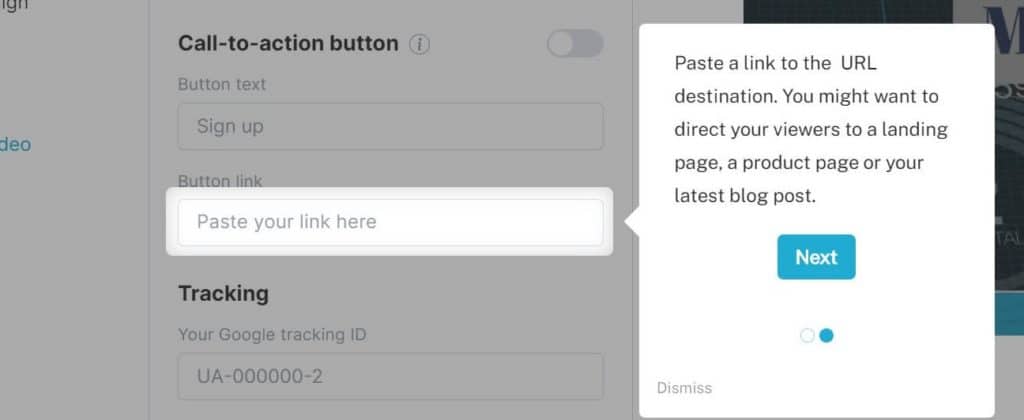 And that's it!
This is how you create the perfect video landing page with Wave.video.
2. Ucraft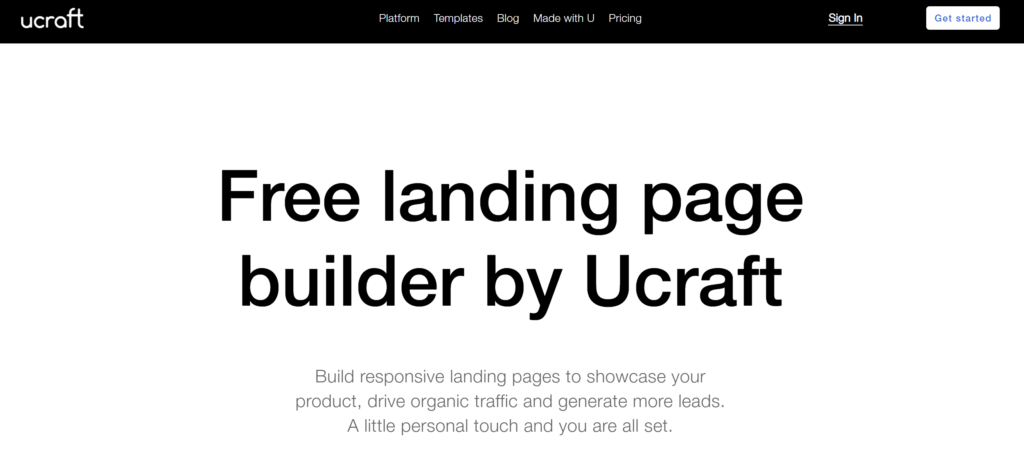 When it comes to creating a video landing page, a page builder with video embedding functionality works pretty much the same.
Ucraft is one such free landing page builder that lives up to its namesake. You can craft your landing pages and embed videos from YouTube or Vimeo. There's also an option to add custom video links (.mp4, .ogg or .webm formats).
All you need is to drag and drop the 'Video' icon from the 'Elements' section into the Crafting Area. Then, put your creative juices to good use and create a great video landing page.
Key Features:
Custom thumbnail selection
Alignment and visibility settings
Location visibility
Option to add video as a block background
Plan Upgrades: Pro Website at $10/month, Pro Shop at $21/month, Unlimited at $69/month
3. Carrd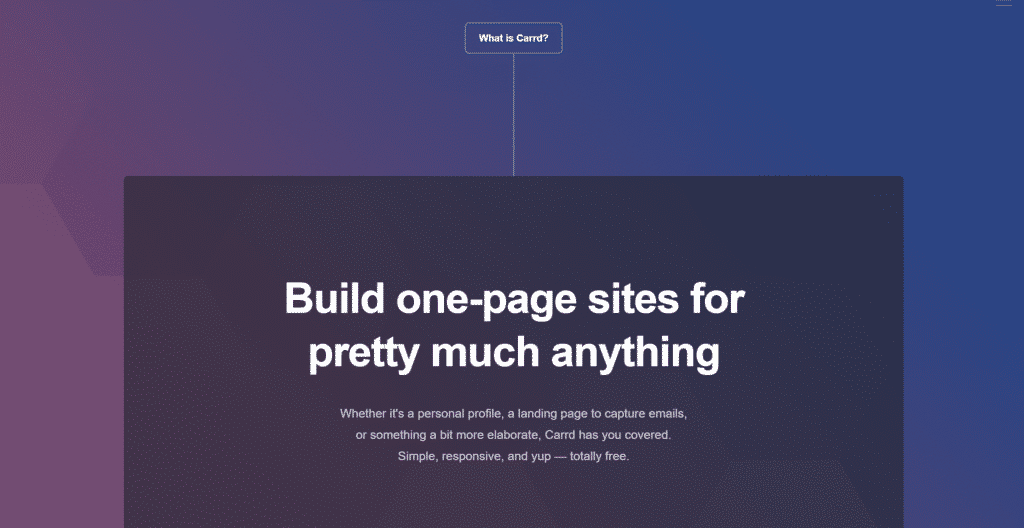 Like Ucraft, Carrd is a website builder that lets you create landing pages. And you can do that without any fuss.
It gives you the option to either directly upload your videos or embed them from YouTube, Vimeo, or Twitch. For step-by-step instructions, check this out.
With its drag and drop capabilities and a straightforward editor, Carrd is easy to use. Yep, it's free too – although with limited capabilities. The free version lets you build up to three sites per account. And, you can upgrade to a higher version pretty effortlessly.
If you want to create a video landing page quickly, Carrd is your go-to place. And with its impressive pricing, it's one of the least expensive landing page builders out there. So, it won't hurt your pocket for sure.
Key Features:
Fully-responsive landing pages
Toggle video options
Plan Upgrades: Pro Lite at $9/year, Pro Standard at $19/year, and Pro Plus at $49/year (yes, per year). I told you it's a bargain, didn't I?
4. Wix

Essentially, a website builder (and a great one at that), Wix, is another excellent choice for creating video landing pages.
With its intuitive drag and drop design, you can easily add a video to your landing page and convert visitors into customers with interactive media at play.
You can also customize the playback options, video controls, and player borders with Wix.
Wix allows you to embed a video from YouTube, Vimeo, Twitch, Facebook, and Dailymotion. Plus, it gives you the freedom to upload your own video too.
And you can also add videos to your page's background. Want to know how? Read this.
Key Features:
Customize your video player
Free, secure hosting
Plan Upgrades: Connect Domain at $80/month, Combo at $125/month, Unlimited at $185/month, and VIP at $325/month
5. Bitrix24

What if a free video landing page builder can offer you automatic SEO optimization, live chat widget, autoresponders, and more?
Well, Bitrix24 is one such tool that comes loaded with features. And the free plan lets you design unlimited landing pages with capture forms and CRM integration too. Plus, you get free hosting and the option to use your own domain name as well.
Key Features:
Free hosting
Free unlimited bandwidth
SSL encryption
Fully responsive
Plan Upgrades: Start+ at $19/month, CRM+ at $55/month, Project+ at $55/month, Standard at $79/month and Professional at $159/month
6. ConvertKit

ConvertKit isn't usually the first tool that comes to mind when you think of a video landing page maker. But its free, simple, and completely customizable templates make it one of the top ones on the market for sure.
Email marketing specialists would know ConvertKit as a full-featured email service provider. However, thanks to its intuitive content block editor accompanied by quick metrics updates, you don't just get to create video landing pages with ConvertKit but also track their performances.
The ultimate goal is improved conversions, after all.
You can embed your YouTube or Vimeo video's URL on your opt-in if there is a content block menu. Or, simply use a template with a built-in video placeholder. The result will be excellent, regardless.
Key Features:
Unlimited landing pages
Fully responsive
Custom CSS
Custom domain name
Plan Upgrades: Complete starting at $29/month with a free 14-day trial
7. Renderforest
Right off the bat, Renderforest is a great branding tool. And it's one of our top choices for video landing pages as well.
The brand claims that you can build a page within an hour. Well, I couldn't disagree. Its drag and drop interface and content blocks and sections work great to create a landing page quickly.
But what about videos?
You can add a video URL, choose an uploaded video from your Media Library, pick a stock video, or upload one from your device. Renderforest offers plenty of options to create a seamless video landing page. Try it.
Key Features:
Built-in HTML editor
Anytime, anywhere re-edit functionality
Plan Upgrades: Lite at $6.99/month, Amateur at $9.99/month, Pro at $19.99/month, Agency at $49.99/month
8. ReadyMag
Readymag is a browser-based design tool which comes with a free version to let you give wings to your creativity without spending a penny.
Sounds good?
With its free plan, you can publish one project at a time, create unlimited draft projects, and ten pages per project. And it's available for just one collaborator.
To create a video landing page with Readymag, embed your online video on your page at just one click. Go to the page and click + (W) in the widget bar. Select 'Video' to add videos from YouTube or Vimeo.
At the time of writing, Readymag didn't support direct uploads for video files. However, the paid plans allow you to add videos from platforms that offer an embed code, e.g., Dropbox and Google Drive. You also get Google Analytics and GTM when you upgrade.
Want some quick video-landing-page-inspiration? See how Readymag rocks a video landing page like a pro: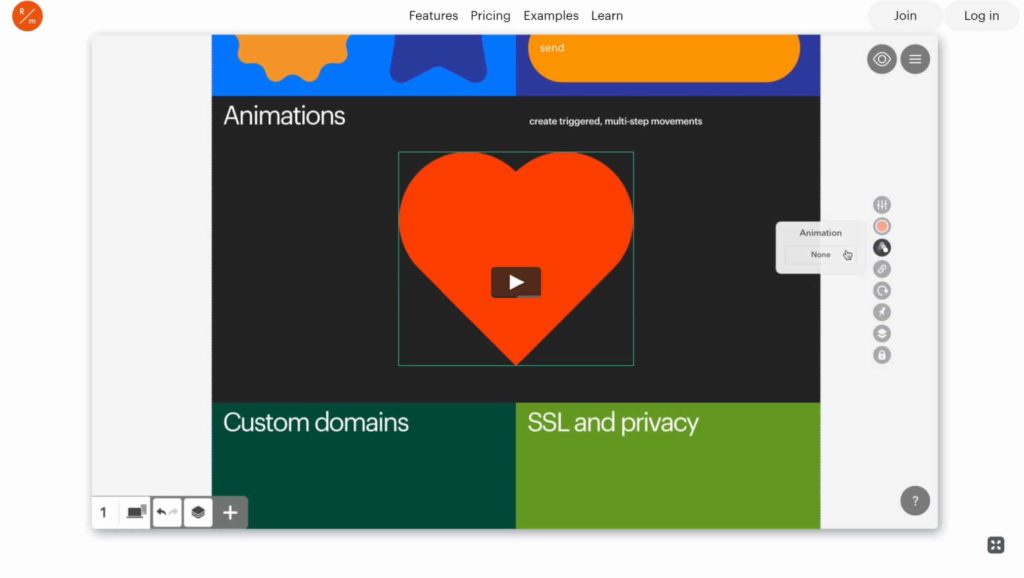 Key Features:
Add collaborators for shared projects
No credit card required for the free version
Plan Upgrades: Creator at $192/year, Custom starting at $384/year, Professional at $768/year
9. Grapedrop

How good are your design capabilities? Awesome? Mediocre? Meh?
Grapedrop is a fantastic page builder that lets you design your video landing page with absolute ease. Another drag and drop based tool, it lets you choose from basic elements or built-in blocks and style your page the way you want.
But what about videos, you might be thinking? Well, with Grapedrop, you can embed your online videos from YouTube and Vimeo. It's easy peasy.
And you also get hundreds of original typography from the Google library to make your video landing page all the more striking.
Key Features:
Full feature editor
Fully responsive
Fully managed cloud hosting
Plan Upgrades: Basic at $4.90/month, Premium at $19.90/month, Advanced at $34.90/month, Business at $74.90/month
10. ConvertFlow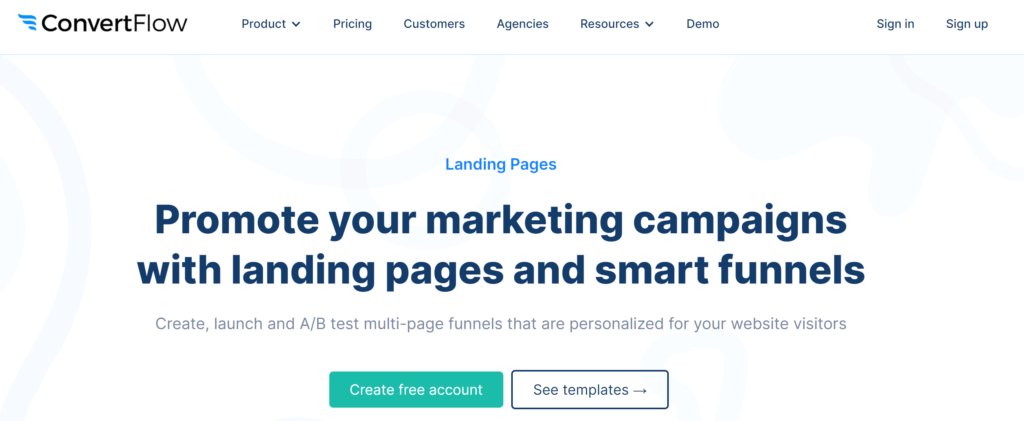 Even if you don't have a high-end marketing strategy in place, you'd still appreciate the conversion capabilities of ConvertFlow.
One of the best free tools to build landing pages, ConvertFlow, features professionally-designed templates to help you create, personalize, and launch your video landing page in a matter of minutes.
But how?
Its responsive visual builder lets you add your videos to the background by adding your YouTube or Wistia URLs. But the videos will work only on desktops.
Alternatively, you can embed videos to the foreground too. Find out more here.
Key Features:
Reporting integration with Google Analytics
Collaboration options
Plan Upgrades: Marketer at $29/month, Pro at $99/month, Business at $300/month+
Video Landing Page FAQs
How long should a landing page video be?
Under 60 seconds.
Ideally, the shorter the video, the better will be its viewership. So, anything in between 30-60 seconds is a good fit. And data supports it too.
Vidyard's 2019 Video in Business Benchmark Report shows how videos with less than 60 seconds length get the attention of a whopping 68% of people.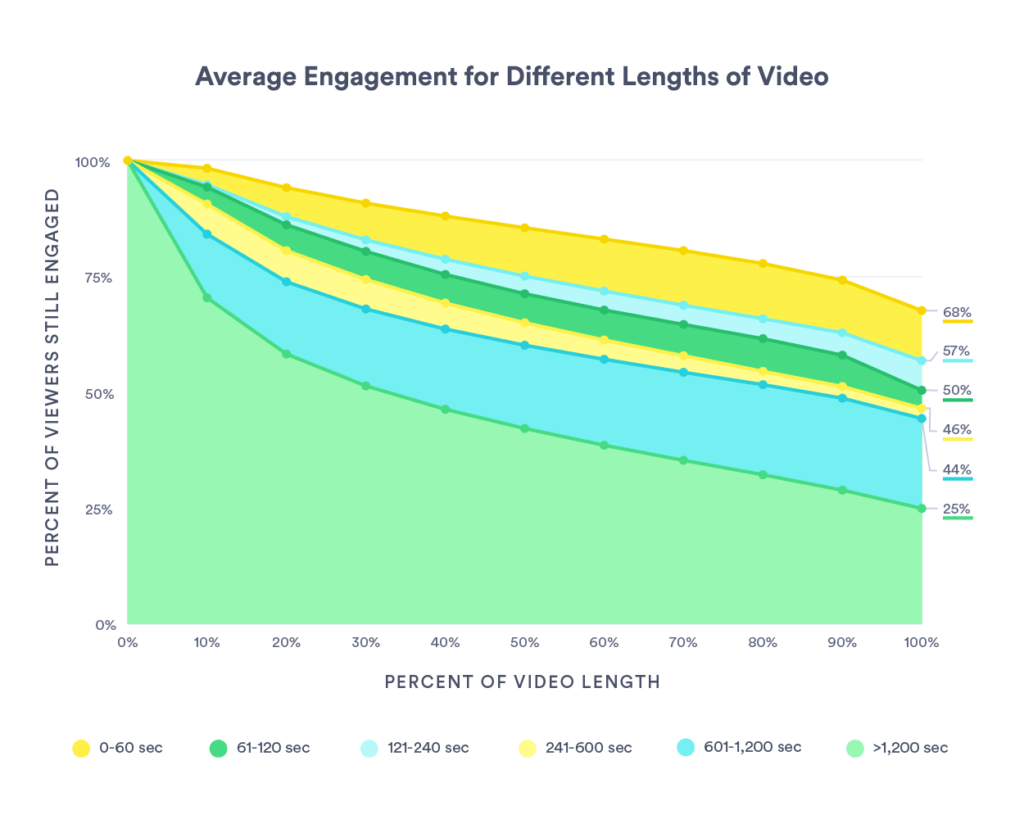 Do I need a website for creating a video landing page?
Not at all. It can be a stand-alone page to demonstrate a product or service or to deliver a message quicker with just a click. Most of the video landing page makers also host your landing pages. So, yeah, there's no need to have a separate website for your landing pages.
What makes a good video landing page?
Besides a compelling video, you'd need a heading, description, and call to action to make your video landing page more effective.
What are the different types of videos I can add to my landing pages?
There are many options. You can add round-ups, behind-the-scenes, interviews, corporate videos/company introductions, Q&As, explainers/how-to's, product reviews, product launches, announcements, presentations, case studies/testimonials, and live talks to your landing pages.
What Do You Think?
Creating a video landing page takes you one step closer to higher conversions.
So, which one of the video landing page makers listed above will you try? Let's talk. Leave a comment below to get the conversation started.
Oh, and yes, for some best practices on creating powerful video landing pages, read this.