How Long Can Instagram Videos Be [2020 Cheat Sheet]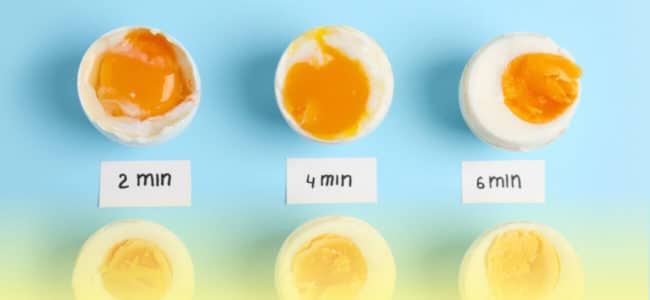 To say Instagram is exceedingly popular is underplaying its significance.
With over a billion monthly active users, it shows no signs of slowing down. If anything, the social media platform is on its way to higher growth, with businesses relying on it now more than ever.
According to Instagram, 90 percent of its accounts follow a business – that's a massive reach! No wonder it has opened a fantastic window of opportunity for those who want to grow their audiences with Instagram. And videos play a crucial role in doing so.
Instagram launched videos in 2013. Fast-forward to 2020, Instagram videos are a sensation. And they have become much more advanced too.
While all the statistics look great, how do you leverage this social media platform's reach when it comes to uploading videos that leave a significant impact on your audience? By creating compelling, relevant video content and making sure your Instagram videos are within their prescribed duration limit.
Yes, Instagram does have different lengths for different video formats. It means whether you want to upload an IGTV video, an Instagram Story, or want to Livestream, you need to keep their respective lengths in mind before you create them. After all, nobody wants wasted efforts.
So, let's take a look at the different Instagram video types and understand how you can make the most of them within their designated length.
Grab your cup of coffee and go on to read this cheat sheet. Also, don't forget to bookmark it for the future. You'll need it.
How Long Can Instagram Videos Be?
You may have noticed different Instagram videos. But what do they actually do, and how long can each one of them be? It's time to find out!
1. Instagram Live
Just like all the other major social media platforms, Instagram too offers the feature to Livestream. And it's an incredible way to connect to your audience and promote your brand. It allows your followers to interact with you by posting their questions in the comment box in real-time. This may not sound like a big deal to some of us, but it's vital for businesses and influencers who want to step up their communication game.
Note that once the Livestream is over, your followers will not get the option to replay it. Still, it's one of the best methods to encourage your viewers to tune in to your account for a dose of instant communication.
It might seem a bit overwhelming to some, but with Instagram Live, you can broadcast videos for up to 60 minutes. Whoa. Sixty minutes seem a lot, or are they?
When it comes to conducting workshop sessions or launching products, an hour may go by quickly. So, if you are using Instagram Live for any of these reasons and feel like an hour isn't enough, you can go Live again after 60 minutes to keep that connection on with your audience.
During a live session, the number of viewers is visible at the top of the screen, and their comments appear at the bottom. You, too, can comment and highlight important ones by pinning them to the top of the comment feed.
Best Practices for Instagram Live Videos:
Prepare a list of the points you want to cover in your Livestream so that you don't leave anything important during the broadcast.
Before you begin the Live session, test the sound and visual quality of the video. Better be prepared than disappointing your audience with technical glitches that could have been avoided beforehand.
One of the best uses of Instagram Live is to build excitement around your brand through a sneak-peek about upcoming events, offers, or product launches.
2. Instagram Feed
While you're busy figuring out how Instagram can help you expand your audience base, one of your most important focus areas is the Instagram Feed. It's your main profile – the place which lets you share content and connect with people.
Whenever you post new content to your Feed, it goes to your profile, which is why it's essential to make it interesting enough for others to follow your account. Stay true to your brand's voice by posting videos to your Feed that resonate with your fans.
In case you're wondering, Instagram Feed videos support .mp4 and .mov file types. As for the length, they can be anywhere between 3 seconds and 1 minute.
Best Practices for Instagram Feed Videos
Include captions to help people get your message even if they watch your videos without sound.
Upload your video in the highest-resolution of the file-size limits (4GB) to deliver high-quality visual content.
3. Instagram Reels
Now, let's discuss the latest addition to Instagram's video family, Instagram Reels. This cool feature lets you create, edit, and share videos overlaid with copyrighted music and adorned with effects like emojis.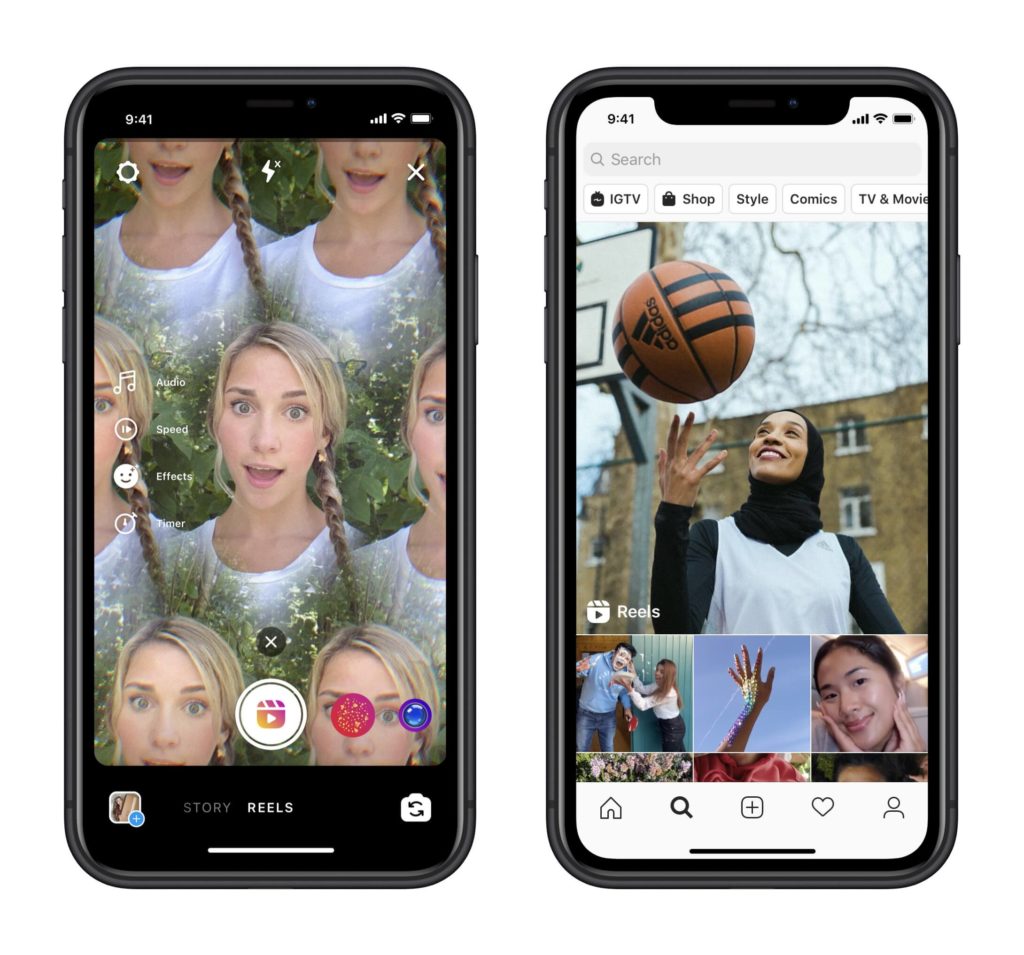 Similar to TikTok, right? Yeah, it's so similar that some even call it TikTok clone. But we don't judge here.
Whatever the Reels' biggest claim to fame may be, with this Instagram feature, you can share videos to your Stories, Instagram feed, or the Reels Explore feed – reaching the wider Instagram community. And that's one good reason to use it.
Plus, there's a "Featured" label too. Featured reels are a collection of public reels that Instagram chooses to help users discover entertaining and inspiring content.
So, what's the length of a Reel video? It's 15 seconds.
Besides letting you select and add music, Reels also comes loaded with plenty of video editing tools and effects. From a video countdown timer to the option to alter your video's speed, you can try different things to add fun to your videos with Instagram Reels.
Best Practices for Instagram Reels
Increase impressions by sharing your Reels with friends or on Stories, Feed, and DM.
Set your Reels to the public and improve your odds of being featured in Explore. It's a great way to grow your visibility across the platform.
4. Instagram Stories
 500 million and counting.
That's the number of accounts using Instagram Stories every day.
And that's huge.
Imagine a tool that lets you connect with your audience through videos whenever, wherever you want. But there's a catch. You can only do it for 15 seconds. Well, that's Instagram Stories for you.
With this feature, you can post both videos and images for 24 hours. After that, they will disappear from your Feed, profile, and Direct, unless you add them as a highlight. Plus, there's also an option to save photos and videos from your Stories or share them to your Feed.
Frankly, we think it's a pretty cool feature to give your audience snippets of what's happening in your life. And if creativity runs in your blood, you can add stickers, text, and doodles to make these stories all the more fun.
Supported file types include .mp4 and .mov, and the video length limit for stories is 15 seconds.
Hey, wait. Do you want to add videos longer than 15 seconds to your Stories?
We totally get it.
You can do that using tools like CutStory, Continual, or StorySplitter. Clip longer without any worries and split your videos into multiple 15-seconds stories – if only you have relevant content that's engaging enough to hook your audience for longer.
Best Practices for Instagram Story Videos
Include location and hashtags in your stories to improve accessibility.
Build a better connection with your audience by posting user-generated content on your stories.
5. IGTV
Before we dive into what an IGTV video's length is, check this if you want to create an IGTV video like a pro:
Fancy long-form videos? Instagram's IGTV is your buddy.
An app, which can be used with Instagram or alone, IGTV lets you record videos longer than Instagram Feeds and Stories. And you get the option to upload pre-recorded videos too.
Think of it as a YouTube substitute if you may. It's excellent for creating series, or videos to cover a topic with in-depth information.
Free to download, the length of IGTV videos start from 60 seconds and can go up to 60 minutes. However, the maximum length is 15 minutes when you upload it from a mobile device and 60 minutes when you upload it from the web.
Here's a quick look into the other video specs for IGTV:
Supported formats: .mp4, .mov
Aspect ratio: Recommended aspect ratio of 9:16 for a vertical video and 16:9 for a horizontal video
Minimum resolution: 720 pixels
Maximum file size: 650MB for videos less than 10 minutes and 3.6GB for videos up to 60 minutes
Best Practices for IGTV Videos
Write a compelling title to motivate your audience to watch your video.
Use feed previews to give your overall views a much-needed boost.
Add relevant hashtags to your IGTV video descriptions to help your videos get found by potential followers.
Instagram allows you to share a link to your IGTV content across social media platforms. Use it to extend your reach.
And with that, we wrap the list.
Next, let's check how you can create Instagram videos with Wave.video.
How to Make an Instagram Story or IGTV Video with Wave.video?
While you can always add videos via the native Instagram app, using Wave.video to create Instagram videos will give your brand an edge. Here's how you can do that in just a couple of clicks.
Step 1:  Choose "Story & IGTV 9:16" Aspect Ratio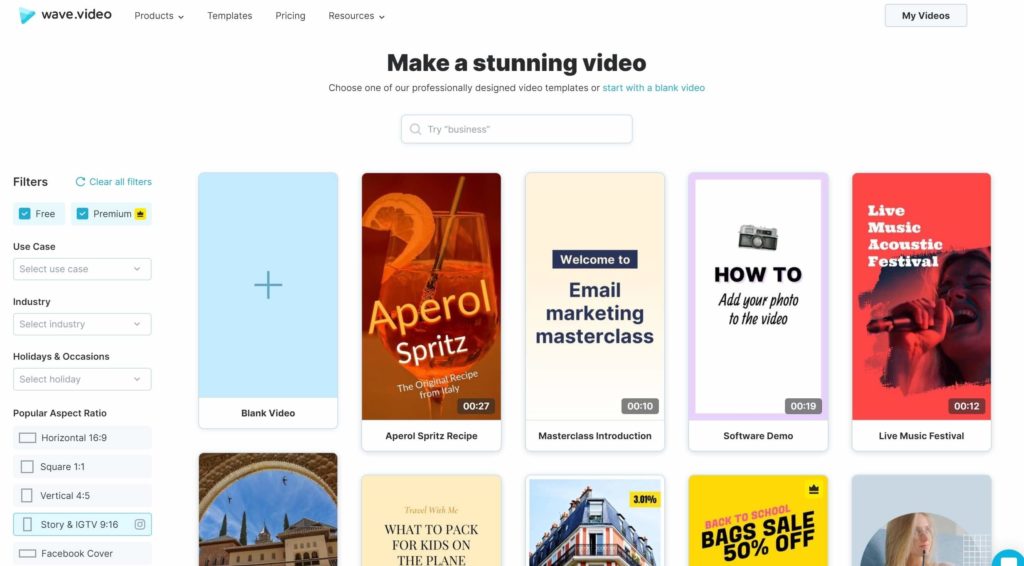 You can either upload an existing video or create one. If you are creating one, begin by selecting the "Story & IGTV 9:16" aspect ratio.
Step 2: Pick a template and edit
Edit your chosen template to convey your message in the best way possible. Change the text and add videos or images. You can also add captions, change the layouts, add your company's logo, and make your videos more fun with graphics and stickers.
Step 3: Resize, if needed
One of the best parts of using Wave.video to create your Instagram videos is that this online video editor allows you to resize your video specifically for Instagram, amongst other social media platforms. The available size options for Instagram videos are 4:5 (vertical), 1:1 (square), 9:16 (story) and 9:16 (IGTV).
Step 4: Add music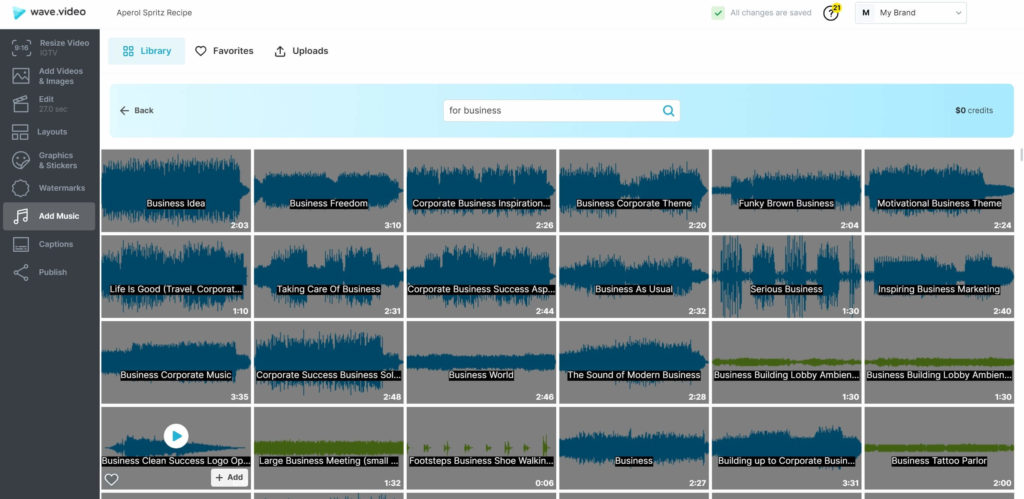 With over 300,000 royalty-free audio tracks to choose from, Wave.video makes it easier to add exciting sound to your Instagram videos. Pick one that lets you convey your message well, and you'll be all set to publish your video to your Instagram account.
And that's it.
This is how creating super-effective and convincing Instagram videos becomes a breeze with Wave.video.
Let Your Instagram Videos Do The Rest
Want to post a quick video? Instagram Story is for you.
Want to introduce a product with a long-form video? Go for IGTV.
Want to connect with your audience in real-time? Instagram Live is your game.
And there are In-Feed and Reels too. Different Instagram videos, different purposes, and, of course, different limits.
Instagram comes complete with a variety of video types to suit your needs. So, now that you know how long can Instagram videos be, it's time to create videos that are entirely personalized to create the right impact for your audience.
We would like to hear from you, though. Do you know any tips on how to make the most of Instagram videos? Let us know in the comments!