Why and How to Launch a Facebook Challenge: Step-by-Step Guide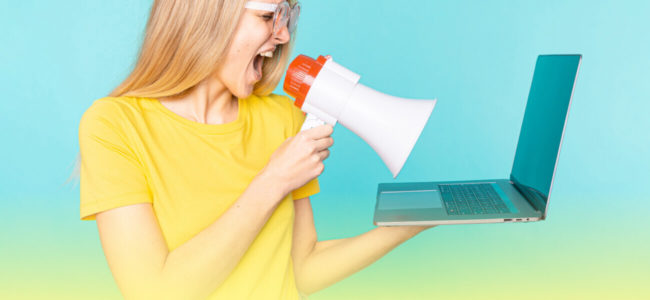 In recent years, marketers have been extensively experimenting with various educational content formats, especially with the rising popularity of the 'lifelong learning' concept and the aspiration towards personal development.
This has lead to the fact that users are overwhelmed with the amount of free content provided by various brands, get lost in the choice, and can't finish whatever they start.
These issues open new challenges for marketing professionals:
How to sell your free educational content?

How to maintain people's involvement with what you offer?

Which personal people's achievements will make them feel satisfied with your educational content?

How to make your educational content sell your main product or service?
Let's find out what will help us continue successfully communicating with the modern consumer.  
You might have noticed the recent boom of various interactive educational formats such as marathons and challenges catalyzed by the global lockdown. The main technique behind such activities is to divide a big topic into smaller content pieces and thus help people digest sophisticated information by portions. When complemented with simple tasks, this learning strategy can be effectively used for marketing purposes. Even when our #StayAtHome days will vanish, such activities are likely to stay.
The main technique behind challenges is to divide a big topic into smaller content pieces and help people digest sophisticated information by portions.
Fighting the same battle as other fellow marketers, last month Wave.video team revived the good old practice of conducting Facebook challenges in our community. We tried to adapt this proven method to modern reality and achieved good results:
After two challenges the number of community members increased by 

up to 26%

The total engagement for the posts related to two challenges was over

350 reactions

 and over 

1200 comments
We decided to share what we have learned and help each of you who want to experiment with Facebook challenges to get better results. 
What Is a Facebook Challenge?
Before we dive into technical details of organizing a Facebook challenge, let's briefly summarize what this format involves.
In a way, a Facebook challenge is a simplified version of an educational course. It's a much more cost-effective format in terms of the resources it requires to prepare, and it has a lower threshold for the participants. The primary stimulus for people to join the challenge is to learn a new skill. Unlike other more sophisticated educational activities, challenges don't take up a lot of people's time and effort. 
What we can call a classic Facebook challenge would include the following components:
A short series of live or pre-recorded masterclasses where you share your own ways and secrets of completing every step of the process. 

Daily assignments that people can accomplish after watching your tutorial and share the results.

Some marketers prefer adding a prize for the winner to boost engagement, although it's an optional element. If you prepare a challenge that people will enjoy participating without an extra award, you will build a much stronger emotional connection with your community in the long run.
Reasons to Launch a Facebook Challenge
Especially if it's your first time, the process of organizing a Facebook challenge will be challenging itself. Although, if done thoughtfully, it can bring you tangible results.  
Boost in the number of Facebook community members
Facebook challenges are not only focused on the members of your group. If your challenge solves a prevailing problem of your exciting and potential clients, you have a good chance to grow your Facebook community by promoting it with paid advertising, to your email subscribers and to the followers of your other social media channels. If your goal is to involve more people in your group, pay attention to these two important nuances:
If you have a closed group, you might want to lower the criteria and the process of accepting new members while promoting your challenge or even temporarily make it open.

Make sure all the promotional material link back to the announcement of your challenge inside the group.  
Spike in engagement 
The main goal of the challenge is to empower people not only to learn but to practice a new skill. Your posts will have an impressive engagement if you use all the available ways to encourage your participants to interact with you and with each other:

Make a live show instead of a pre-recorded tutorial to give your viewers a chance to ask their questions and share emotions under the post.

Use every chance to nudge participants to post the results of their work: in the description of the challenge, during a live stream, in the outro, in the comments to the post. 

Comment on every published work and inspire other participants to support each other.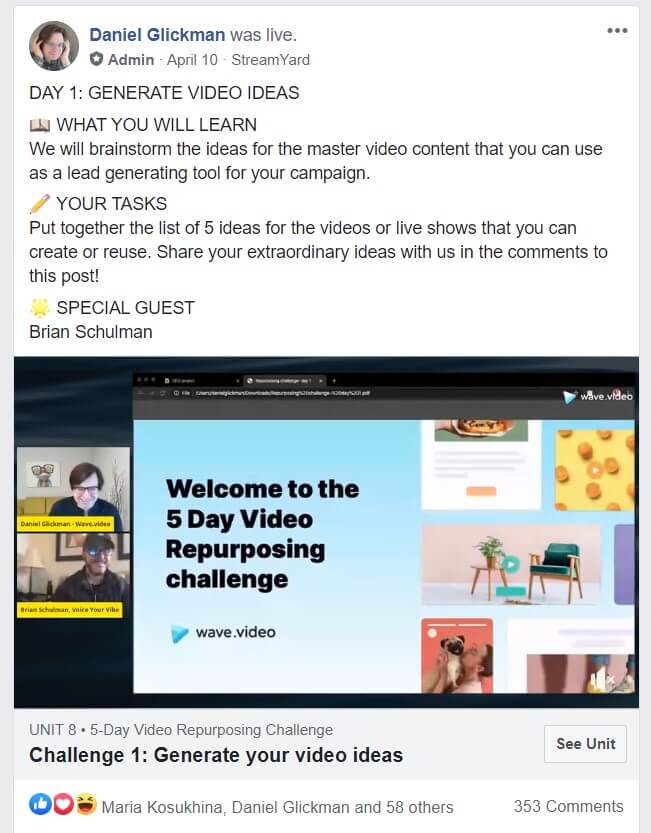 Impact on how clients use your product 
A Facebook challenge is a great way to present your new product or show how to properly use it, especially if you have a sophisticated offering.
Recently, Wave.video has introduced new Video Hosting, Video Landing Pages, and Email Campaign Tool – three instruments that have completely transformed the established Wave.video users' pattern who used to work just with our video editor. Facebook challenges turned out to be a great marketing instrument to walk our users through the new functionality, explain its value, show different workflows, and – what's the most valuable – let clients apply our ideas to their businesses and experiment themselves. For example, in the second challenge, we have demonstrated every step of a very simple and effective sales funnel that includes:
creating a video that showcases your product

creating a thumbnail that drives people from email to the video landing page

creating a landing page that leads viewers down the sales funnel
On the one hand, every step of the challenge introduced users to different Wave.video instruments. At the same time, the full process helped members of our community to solve a pressing problem for the lockdown period – how to seduce people buy your product when they can't come and touch it. And we explained how videos help.    
Real-time feedback on your product-related hypothesis 
The real magic behind such activities is hidden in the experience you have with your real customers. The very interactive nature of this format allows you to literally watch how your clients implement various scenarios of using your products. It can pull out the weak spots and help you reasonably reconsider product, sales, or marketing strategy.   
Challenges are a great way to get engagement from your audience. Whether you are looking to grow a Facebook group, increase subscribers, or sell more courses, challenges are a great fit! ALWAYS have a reason for your challenge. At the end of the day, why are you doing this? Make sure you are clear on your goals and have clear call-to-actions.
Growing loyal customer base
During the challenge, you will pay concentrated attention to a big group of your customers. You will help them overcome their business or personal issues. It's a great opportunity to showcase your company's values and attitudes. Also, such intense communication will allow you to grow your loyal customer base. 
Now, let's move from theory to action!
Step-by-Step Guide to Launching a Facebook Challenge
Step 1: Compile an engaging program 
The first step is probably the toughest and guarantees about 80% of your success. As for every marketing activity today, there is no universal formula that will help you create a 100% workable scenario for the Facebook challenge. Although if you take into account the following aspects, your challenge will have a higher chance to succeed.
Identify your audience's pain point 
You can use any method you have at your disposal to figure out what bothers your clients most at the moment:
create a poll in your Facebook group;

ask this question directly during interviews with clients;

explore the most frequently asked questions in your customer support channels;

and many more!
Create the solution
Once you identify a problem to work with, come up with one solution that your product can provide. Don't try to consider all the possible scenarios when preparing a program; otherwise, you risk creating a program that is too vague.
To succeed while completing your challenge, people will appreciate concrete advice. When analyzing and commenting on your participant's assignments, you will have a chance to analyze your customers' specific issues and help them solve it.
Plan fast results for your participants
When we work hard on any project, we can't help but expect people to pay enough attention to it. Although, we always have to try walking in clients' shoes. They have their work and family problems and joys, their days are filled with events. Even if they appreciate that you offer a solution to their problem, they would need to make an extra effort to explore it. Make sure it's a small effort that leads to a small win. Try to make people feel happy about themselves! 
Keep it short
The longer your challenge is, the more people you lose on the way, the more time your marketing team will spend on preparing and managing it. Three to five days format is an optimal option for both sides.
Step 2: Prepare all the visuals
It's better to prepare all the visuals in advance and reuse them for multiple channels when possible. For now, save it as a checklist to use once you're ready to launch your own challenge. 
We recommend you to maintain the same visual style for all the assets: 
The header for the Facebook group

Promotional video for the whole challenge

Regular thumbnail for the whole challenge

Thumbnails for the paid promo on Facebook for the whole challenge

Promotional videos for each day 

Regular thumbnail for each day

Thumbnails for the paid promo on Facebook for each day

Into videos for the live shows

Outro videos for the live shows
Bonus tip. If you create all the visuals in Wave.video, here's how you can streamline the process:
save a Brand with the colors and fonts of your promotional campaign;
start with a 'parent asset' (for example main videos), duplicate it, and easily adapt to any channel. 
Step 3: Set up a Facebook messenger bot
A Facebook messenger bot is the best solution for the reminder. Include a link to the bot to very promotional text, and all the people who express the interest will get an extra personal reminder about your challenge. The open rate for the Facebook bot that we created for our challenges was 97% and the CTR was 57%.
There are many great Chatbot solutions out there, but we will explain how to use Manychat. You will need to set up 2 flows: Registration and Reminders. 
Registration flow 
Inside Manychat, it's called Growth Tools. Growth tools help bring customers or leads inside of your messenger bot using calls-to-action or links that direct them straight into conversations with your bot. There are different types of Growth tools, including popups and banners that you can embed into your website, but the one we want is called Messenger Ref URL – it's a simple link that you can just copy and paste anywhere. When someone opens the link, they become your subscribers and get into an automated conversation with your bot in the Messenger app, or on Facebook, depending on where the link was posted.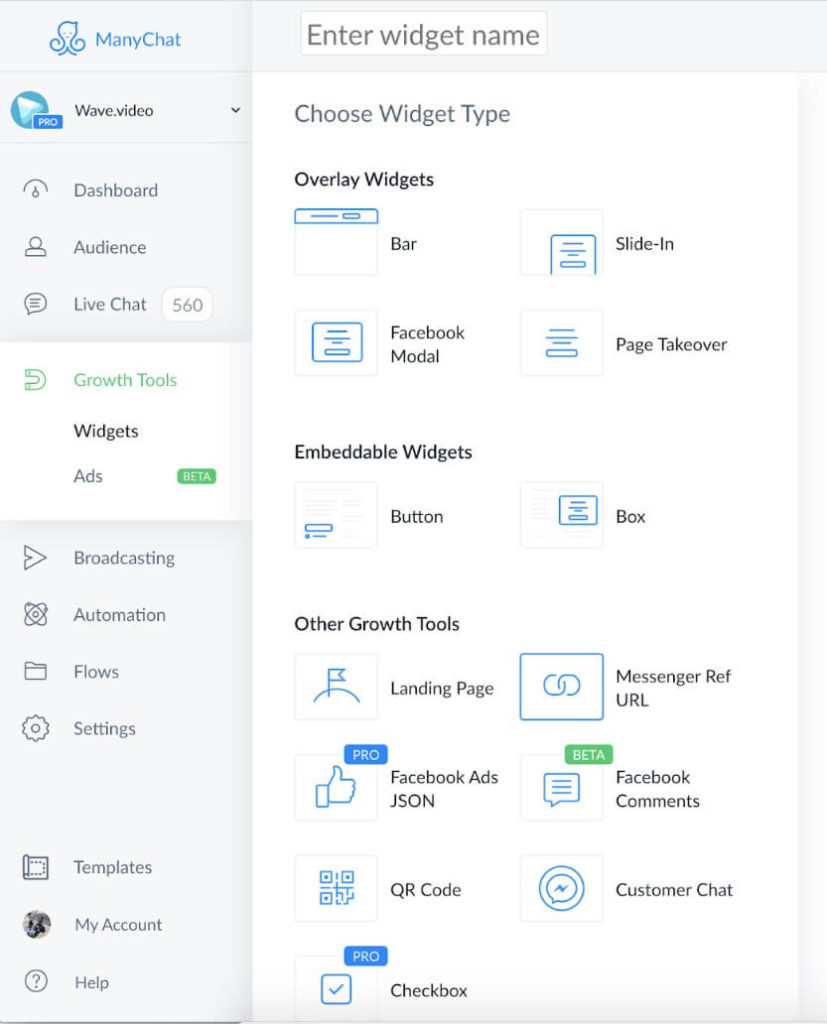 This automated conversation is called an Opt-in flow. Make sure to welcome your subscribers and ask their explicit permission to send them event reminders.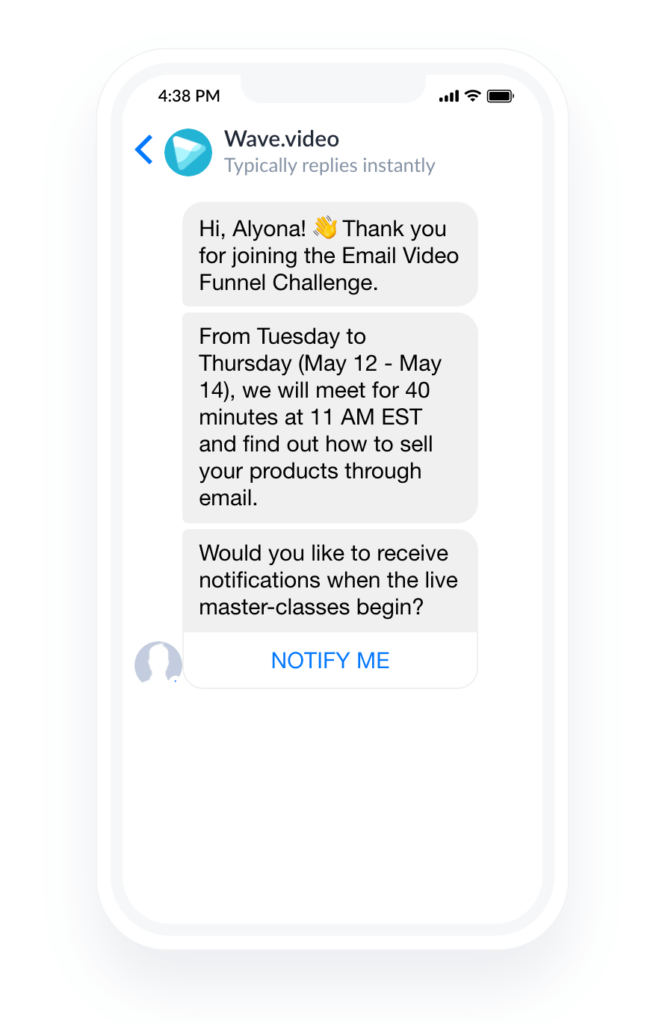 In our case, we created a sequence of messages that asks if you want to get reminders for the challenge. This sequence is triggered every time someone follows a specific link generated by Manychat. When users enter this sequence and click "Notify Me", they get a tag "Video Challenge Subscriber".
Reminders
The list we created above allowed us to send Broadcasts with reminders when the live webinars are about to begin. We usually schedule these reminders to go out 15 minutes before the live events to give the subscribers enough time to switch and get ready for some learning. 
Things to pay attention to when setting up the broadcasts:
Message tag: in our case, it should be Confirmed event update. Facebook has a strict policy regarding messaging people outside the 24-hour window since their last interaction, which means that without this tag your message will only be delivered to those who interacted with your bot in the last 24 hours. 
Content-type: Non-promotional or Mixed content.
Audience: everyone who matches the tag that you added when they subscribed to the reminders.
Step 4: Change the cover of your Facebook group
This is one of the small details where the devil usually hides. You don't have to launch a separate group for the challenge. As you might have noticed, launching a challenge is quite a resource-consuming marketing campaign and you might want to use its effect to grow your main Facebook group. You can use a small trick and temporarily change the cover of your group. It will also help people who land in your group from different channels to understand they are in the right place.
This is how the cover of Wave.video group looked during the challenge:
Step 5: Publish an invitation to your challenge in the group
The first step of your promotional campaign will be the official announcement in your group. All the traffic you will generate through different channels you will land on this post. Try to make it as short and structured as possible, but don't forget to include the essential components:
date;

description of the main value for the participants;

main components of your program;

simple instruction on how it works;

link to the Facebook messenger bot.  
Don't forget to mark this and all the posts containing lives as announcements so people easily find it on the top of the feed.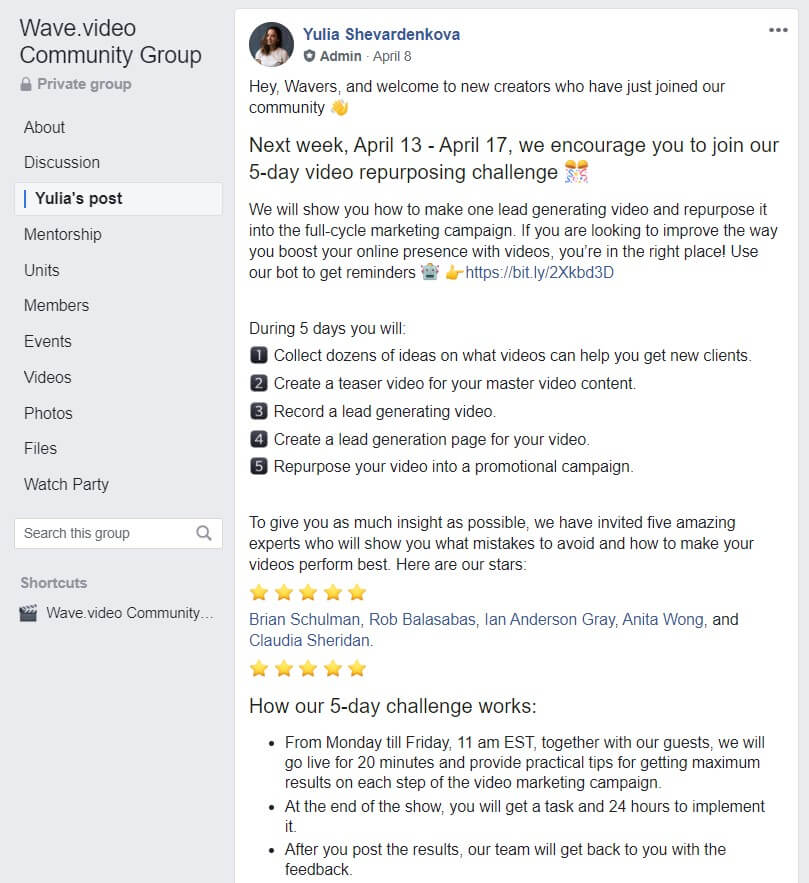 Step 6: Promote through different channels
Let's see what techniques besides having a great idea for the challenge will help you entice more people to join your community.  
Social media shout-out
On social media, we recommend you to promote both the whole challenge and each particular day. Thus you will have even more people joining thanks to one of the favorite diseases of our generation which is FOMO (Fear of Missing Out). As always, let your inner artist free to create catchy teaser posts. We recommend you to consider including the following components regardless of the channel:
explain the value for the participants;

add a link that sends people directly to the live (see how to create it below); 

use hashtags related to the topic of your challenge; 

tag speakers;

add a video!
Tomorrow, 11 am EST, join our 3d video repurposing challenge and learn how to run a #LiveShow like a pro together with @iagdotme & @cmoconfessor 💃🕺Great for both rookie and experienced hosts 👉https://t.co/zPUEuTD9FU pic.twitter.com/5f6zZHiNuh

— Wave.video (@wave_video) April 14, 2020
Boosted posts
If your budget for this campaign allows boosting your posts on Facebook you should definitely take advantage of this channel. Here are a few small tips that will help you make it better:
There are two ways: you can promote posts manually through

the Ads Manager

or through the Boost Post button. Both imply the same thing, however, the latter has a limited number of targeting and bidding options. So, manual promotion is preferable to promote posts more properly. 

You can not edit boosted posts, so check everything twice before hitting the button.

A thumbnail for the video ads on Facebook can not contain more than 20% of the text. Here is a small trick you can do in Wave.video to make such thumbnails. Upload a grid using Graphics & Stickers menu and fit all the text you have into five cells. You can download your thumbnail using the Email Campaign tool in the video's dashboard.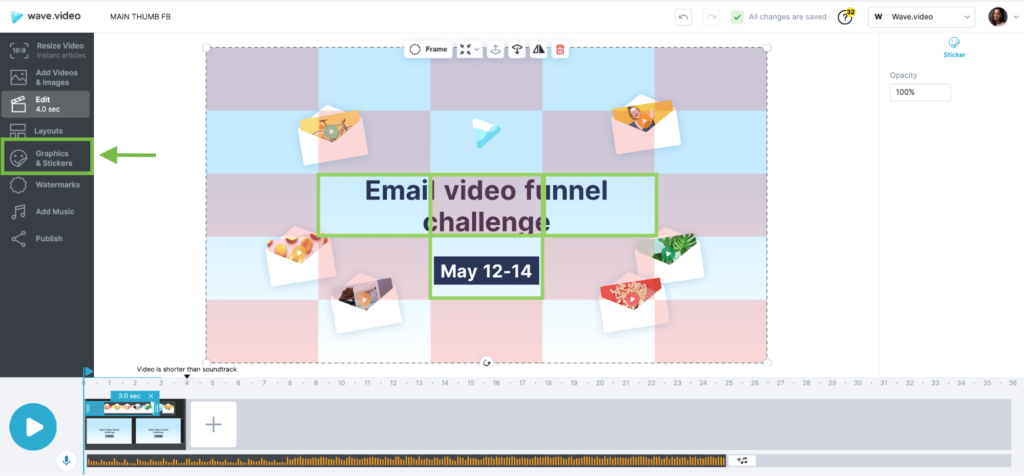 Email newsletter
Email remains one of the most powerful marketing channels that you don't want to ignore. If you have noticed a positive LTV trend for the Facebook group members, don't hesitate to offer your email subscribers to become your Facebook fans as well.
You can send out a separate newsletter or, as we did on the example below, you can add it to your product newsletter as an opportunity to explore your new offering.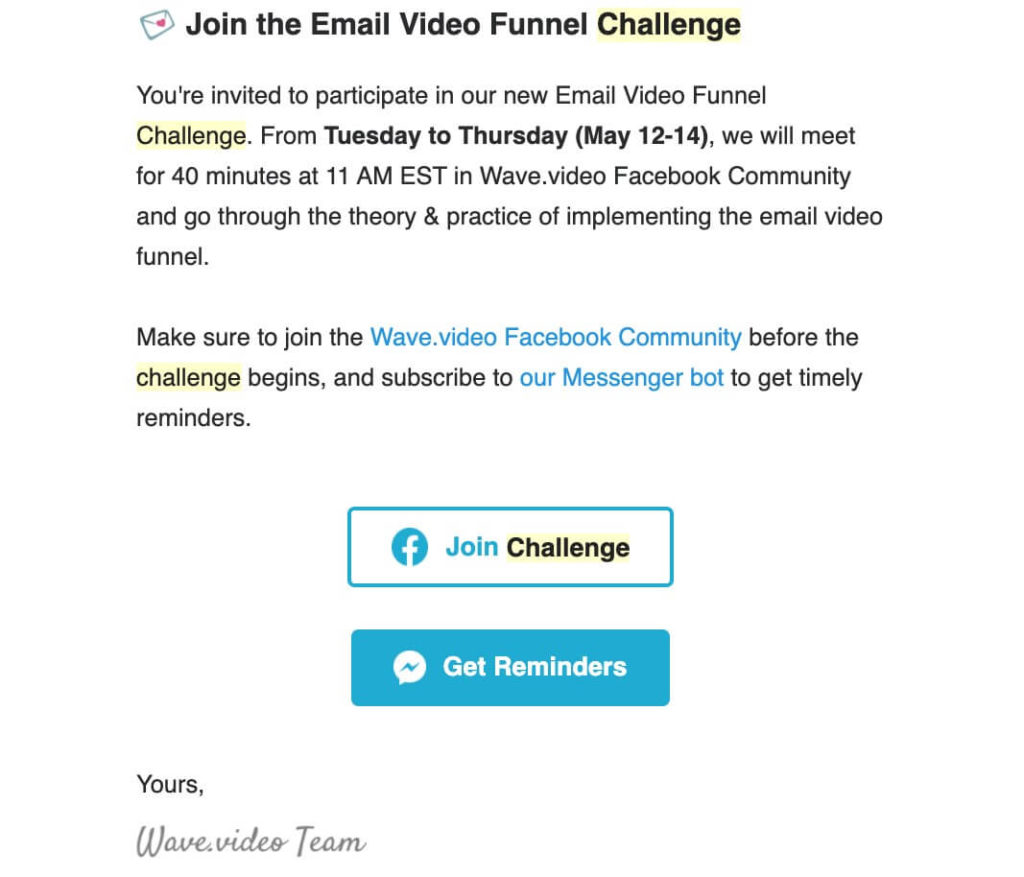 Step 7: Warm up the audience before the challenge
Don't miss the chance to welcome the new members who have joined your community and are excited to see what they learn in your challenge. Every extra touch not only helps you build a closer connection with people but also helps you increase the visibility of your upcoming posts related to challenges. This is especially helpful if your community hadn't been very active for some time before you decided to shake it up with a challenge.
Step 8: Get ready for the upcoming lives
During the challenge, you might want to focus more on communication with participants, so it's better to prepare all the assets in advance. If you use task management tools like Notion you can create cards for each challenge and keep all the information there. This is especially helpful when you have a couple of marketing managers working on this project. Here is what you need:
Description 
Create a very short and straightforward explanation of what will happen. This is especially important because Facebook does not offer any text editing tools (bold, heading, etc.) for the description of the live shows. Try to use caps and emojis to structure your description and help people to read it. You can narrow it down the following components:
Intro

Link to the Facebook messenger (for the reminders)

1-2 sentences about what people will learn

1-2 sentences describing the task

Inspiring kudos 🙂 

Links to the previous challenges (starting from the second day)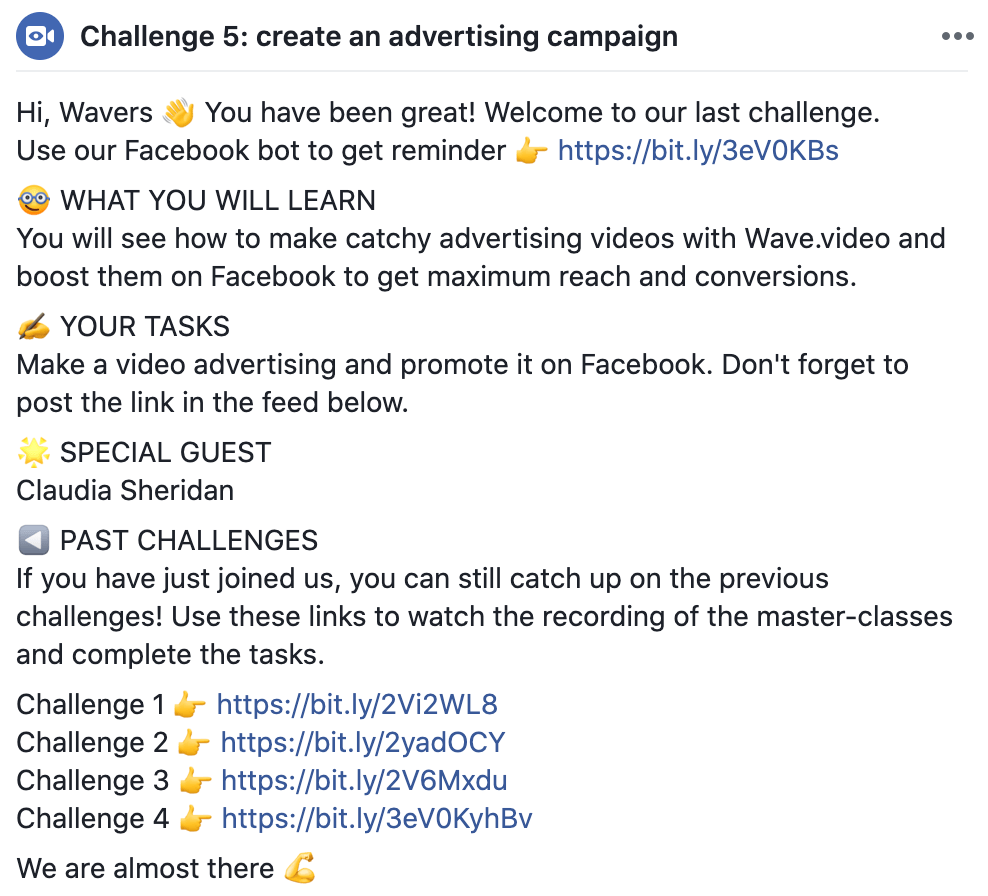 Video intro
No matter if you use in-build Facebook's tool for Live shows or broadcasting tools like StreamYard, Ecam, and BeLive you have a small lag at the beginning of the show that makes your broadcasting clumsy and less professional. We recommend you to create a simple into video containing:
10-sec countdown

Welcome message

Introduction of the hosts

The topic of the Live

Inspirational phrase
Here's a template that you can easily adapt to your live masterclasses:
Keep in mind that once you customize it to your case, you can duplicate your first intro and adapt it to each day of the challenge very fast.  
Video outro
At the end of your video, an outro can visually remind your viewers about their assignment, your upcoming masterclass, and the product. You can reuse the following template:
Step 9: Maintain people's engagement during the challenge 
Communication with your clients is the key to the success of your challenge. Make sure you have at least one member of the team responsible for the success of your participants. As I've mentioned at the very beginning of this guide, people nowadays tend to lose interest and enthusiasm very fast. Any good interactive educational program is based on active, supportive, and cheerful curators who constantly interact with the group. These people are responsible for how many of your participants stay until the end of the challenge and get the most out of it. Here's what they should do:
Reply on every comment before, during, and after the Live shows;

Provide polite and constructive comments under the assignments;

Post encouraging messages inspiring all and particular participants not to give up. 
Remember, the more people feel happy with the experience you provide to them during the challenge, the higher impact you get due to the power of word-of-mouse marketing.
Step 10: Promote your challenge for those who missed it
After the challenge is done, you still have a chance to interact with its participants and even get new once. 
Create an educational Unit inside the group and put all the masterclasses together (you can clean up the description and leave the value of the training and assignment).  

Publish thank you post to show again the appreciation to all participants. 

Tag the most active people and kindly ask them to share their experience, thus newcomers will see that your challenge is worth tacking.

Mark this post as the announcement and leave it at the top of the feed for a couple of weeks so new community members can see it and explore the content.

Use the link to this unit when next time you welcome new members of your community.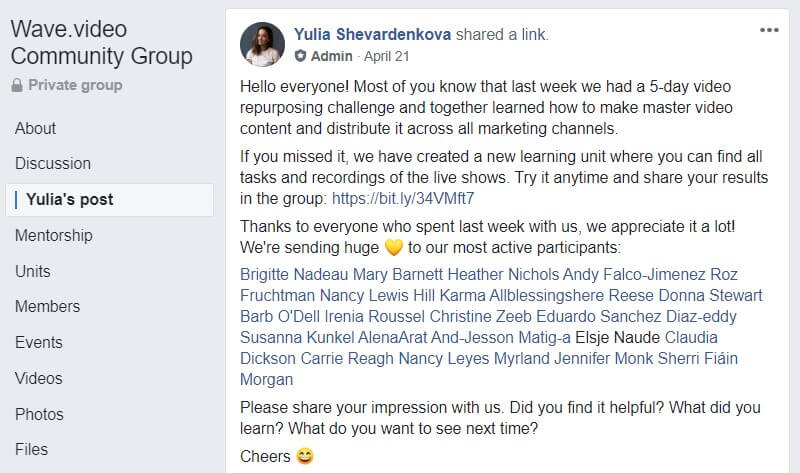 Over to you
Organizing a Facebook challenge is no easy task, but we believe that it's definitely worth the effort. When done right, it brings an invaluable opportunity to engage, entertain, and educate your audience — all at the same time.
So, are you planning to launch your own Facebook challenge? Feel free to share your ideas and concerns in the comments below!