LinkedIn Video Guide: Everything You Need to Know to Get Started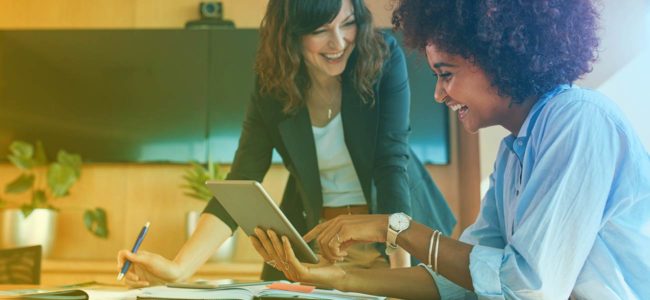 These days, almost everybody has a profile on LinkedIn, but only some of us publish videos there, and think about it as a great platform to apply their video marketing strategy.
Social videos are everywhere, but some platforms started supporting videos later than others. In this regard, videos on Pinterest, as well as LinkedIn videos became underestimated and hide a lot of opportunities for video marketing.
LinkedIn videos became underestimated and hide a lot of opportunities for video marketing.
Let's look at LinkedIn videos and discover ways of publishing videos on LinkedIn, some interesting examples of how you can use LinkedIn videos for your business, what tools you can use and what's so special about this platform.
Why get started with LinkedIn video?
The first possible answer to this question lies in the audience of LinkedIn itself and understanding why these professionals spend time there.
Here are just a few reasons why LinkedIn video is a great opportunity for professionals of all kinds:
LinkedIn is less personal than any other social platform popular today. So it's not the best place to publish cats, dogs, babies, and your wedding video. But if your videos are strongly associated with your personal brand or a product, competencies, and skills, it's one of the best places to publish your content.
On LinkedIn, our account connections are based on professional skills and interests. There is no better platform to show your professional interests in sharing content with other professionals, establish new professional connections, increase the awareness of your expertise and find new business opportunities.
Video on LinkedIn is still a new thing. Very small number of companies are really using it today. With the right strategy and tools, you can easily build a professional community around your content.
How to publish a video on LinkedIn?
First, it's important to know that there are only two places where videos can be published on LinkedIn: Company pages and Personal feed.
Company pages work great for all kinds of brands if the brand already has thousands of followers. Promoted (Paid) video posts on LinkedIn can only be published on a company page, never a personal feed.
However, if you have a small business or want to promote your personal brand, you might want to consider posting videos in your personal feed. Even if you are going to create a company page afterward, building an engaging community right in your feed will be very helpful.
And now, when you know about places where your video can be posted, let's look at 3 ways to publish a video on LinkedIn.
Using links to YouTube or Vimeo
If you host your videos on YouTube or Vimeo, you can just copy/paste a video link from these platforms on LinkedIn, and it's going to work.
However, just like the Facebook algorithm, the one behind LinkedIn feed doesn't show your post to many people in your community (by "community" here and later in the article I mean all connections or company page followers). People should click to watch the video and views will be counting on the hosting platform, not LinkedIn.
Interesting fact: YouTube itself posts only YouTube links. Vimeo publishes short LinkedIn Native videos.
Using LinkedIn Native Video
This is the most interesting option for us, and that's why:
You can upload the video to LinkedIn from your phone or computer. On mobile, you can add text and stickers. If you upload a video from your computer, you can upload subtitles (if you post in your feed) and thumbnails, title, subtitles (if you post on a company page)
Native video posts reach more people. The more people engage with your videos, the more people it will reach in their feed.
It's auto-played! Which means it will start playing automatically when people see it in their feed.
If you want to publish a video in your feed, just choose "Home" in the top menu. You will see your feed where you can share your videos.

You can preview your video before publishing and add captions clicking "pencil" button (using SRT files).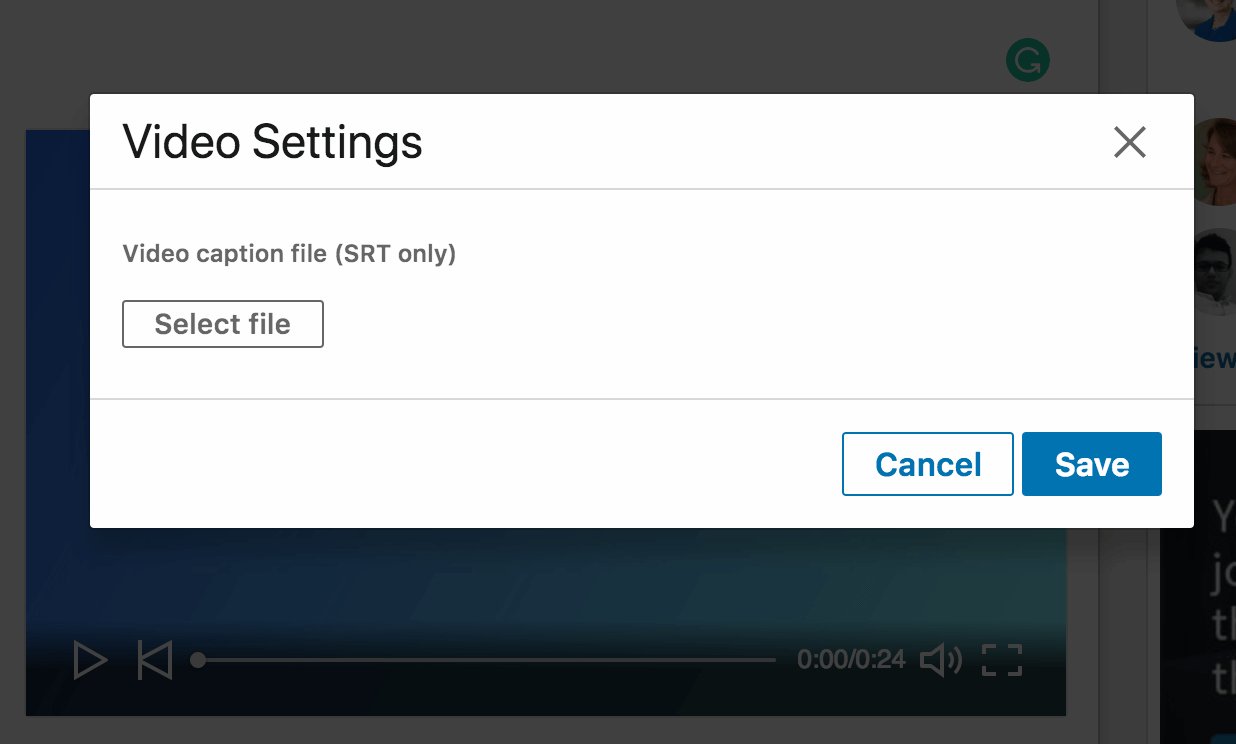 It's recommended to use a horizontal or square format. Your video can be up to 10 minutes long. Other more technical requirements you can find in the LinkedIn documentation.
You can still publish vertical videos on LinkedIn, as well. However, when played on desktop, the platform will add bars on both sides of the video so that it looks like this:
Pro tip: If you want other people to find other videos posted by you, come up with a unique hashtag and add it to all the videos you post on LinkedIn.
If you publish a video on a company page, consider using a title with a related keyword. This way, it will be searchable on LinkedIn, but not in Google (yet). And it will be helpful if one day LinkedIn becomes another YouTube.
Using LinkedIn video ads
Creating a sponsored video ad is a great opportunity to reach your targeted audience in every corner of the world. As I mentioned before, you can launch video ads only using a company page.
Depending on your goals, be it gaining more followers for your page and reaching them organically after, getting more eyes on your video or driving traffic to your website, you might want to try different approaches to your LinkedIn videos.
The video can be a serious story with a deep view of technology we are all in:
Or a dynamic presentation of the product and problems you solve with it:
Or a funny story, like in this example:
These are all great examples of how you can spread the word about your product, mission, or promotion. LinkedIn gives a bunch of possibilities depending on your goals. Here's how to launch your first LinkedIn video ad:
Sign in to Campaign Manager.
Click the account name where you'd like to create your new campaign.
Click the Create campaign button in the top right of the Account Details page.
Click Select to the right of Sponsored Content.

Name your campaign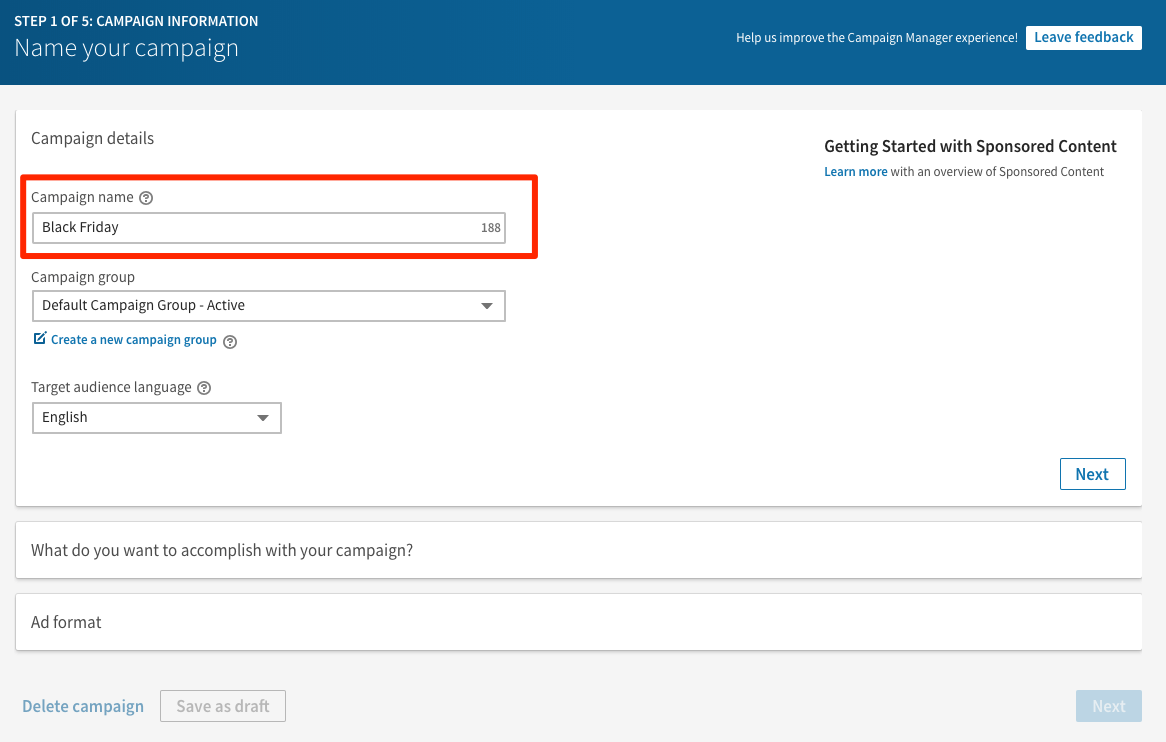 Select any of the three objectives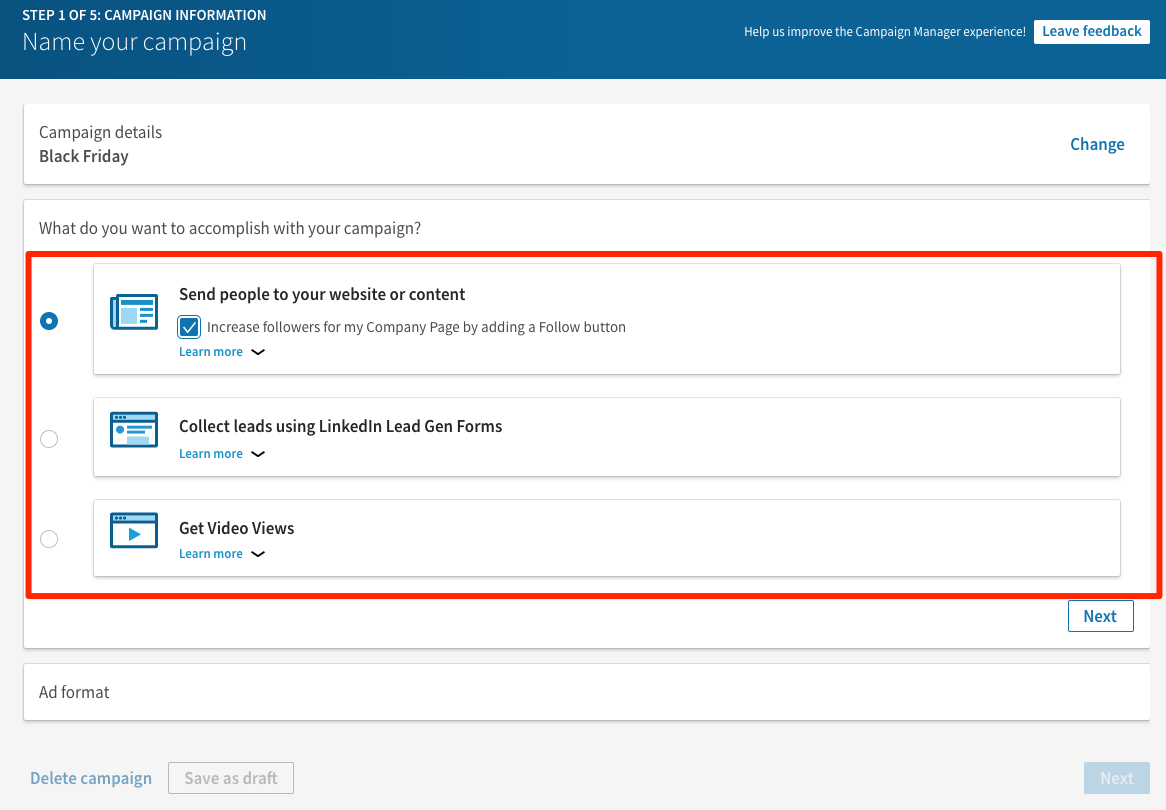 Select Video as your ad format type and click "Next".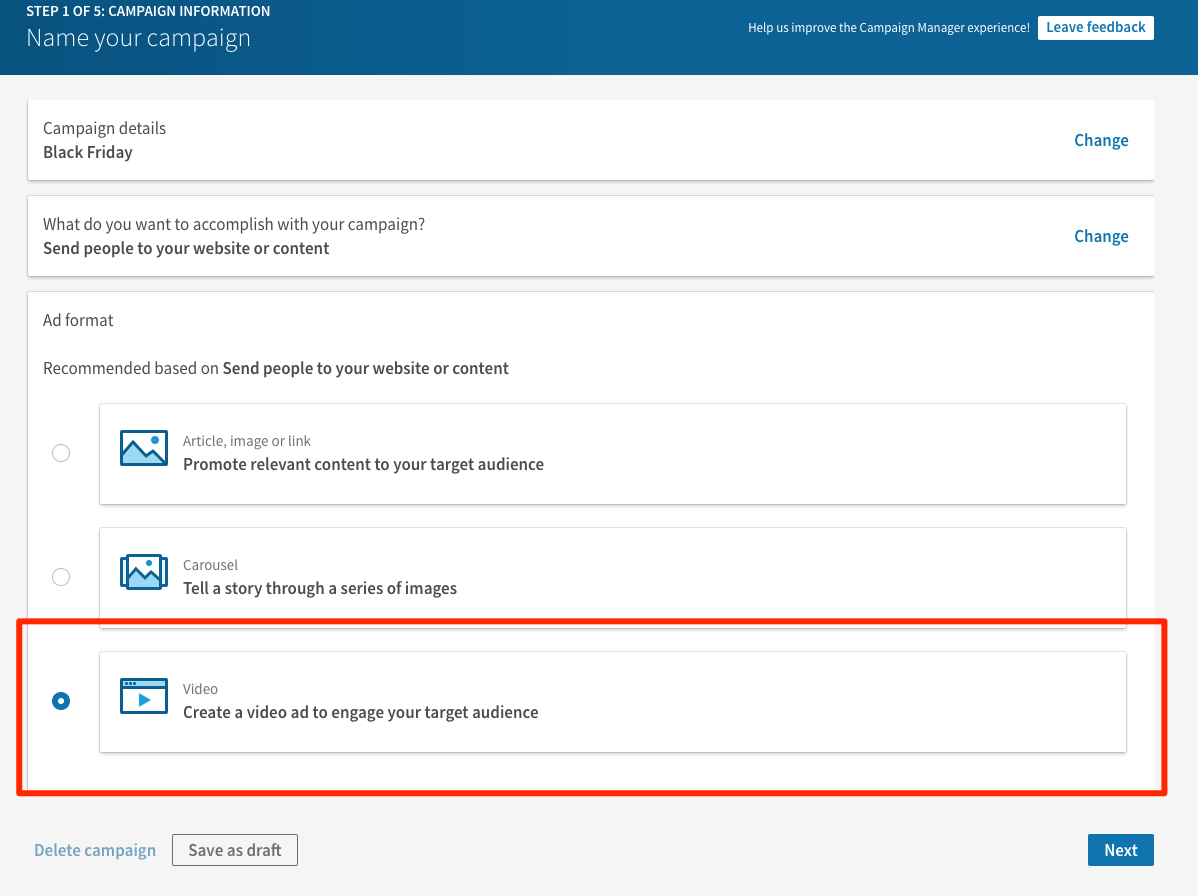 Click "Create new video".

Complete the fields and upload your video
After your video has processed, select the video by clicking the checkbox next to it and then click "Next" at the bottom right of the page.

Select your target audience criteria, your bid, budget, the duration for your campaign, and click "Launch Campaign".
Guidelines for creating your promo video ads
Video length should be from 3 seconds to 30 minutes.
Tip from LinkedIn: most successful video ads are less than 15 seconds long
Horizontal (vertical videos are not supported)
Up to 200 MB
File format: MP4
From 360p to 1080p
Thumbnail image size: 1200x627px
Every video can have an introducing text should contain 150 characters max, including URL
Ad headline: 70 characters or less
You can only upload videos from a desktop computer, not from your mobile device
Every video ad post usually consists of an intro text (with or without URL), a video itself with/without a custom thumbnail and an ad headline.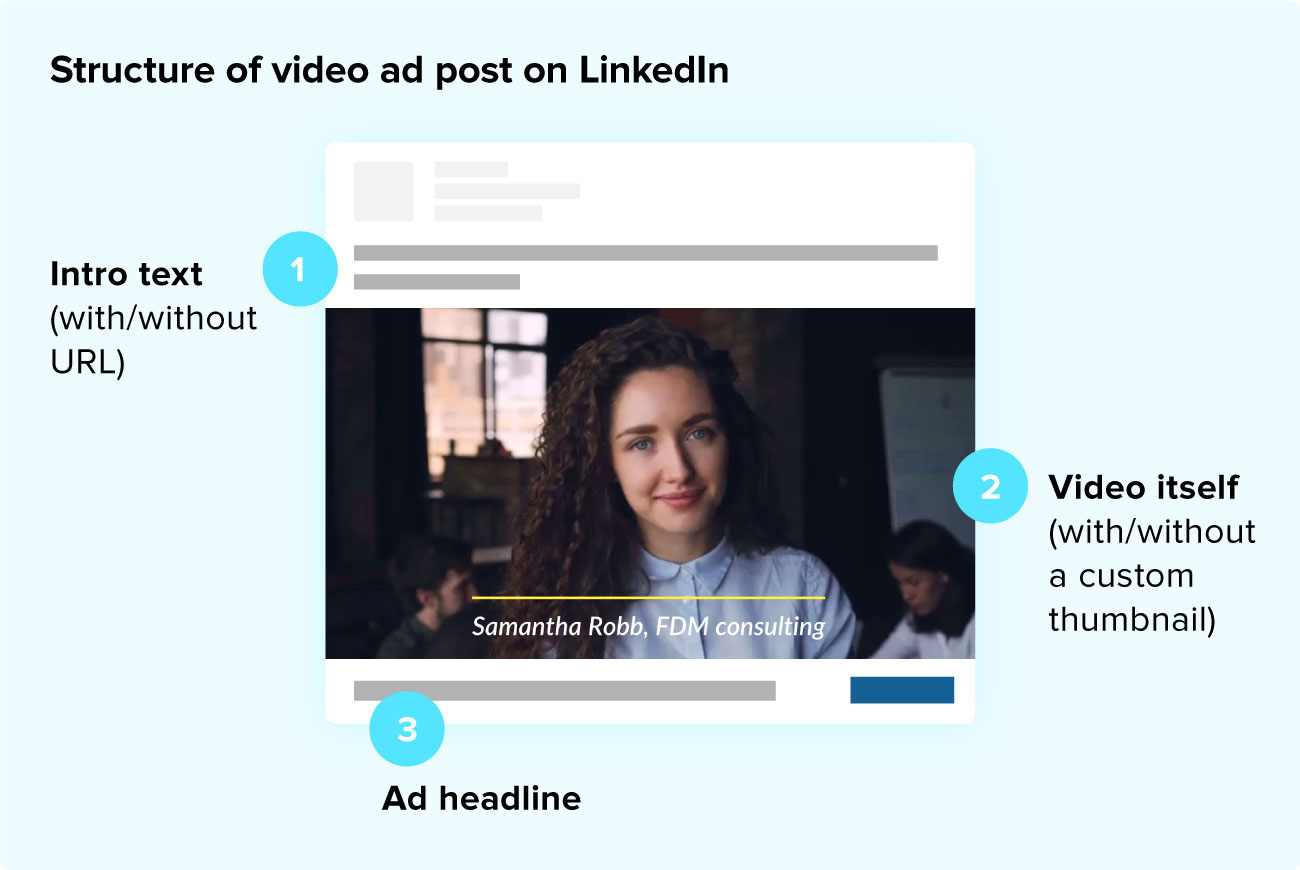 Video ads are a Sponsored Content ad format that appears in the LinkedIn feed of your target audience.
Interesting fact: LinkedIn counts a view as at least two continuous seconds of playback while the video is at least 50% on screen, or a click on the CTA, whichever comes first. You can find other interesting metrics of LinkedIn ads in the LinkedIn documentation.
5 great examples of LinkedIn video usage
Salesforce. Quality first, multichannel posting
No words needed. It's an expensive video ad which has a great story, beautiful footage, emotions behind it. It's also a success story video with a sophisticated wrapping.
When you make such a video, you are interested in distributing it everywhere effectively. They posted this video on YouTube, but apparently, they don't want to drive traffic from LinkedIn to YouTube. The easiest way to deliver this video to the LinkedIn audience of the company page is to publish your video as a native video!
Dropbox. Product-related videos
Do professionals all around the world use your product? Share product-related videos and tutorials as Dropbox does!
Andy Crestodina. Personal approach, strong CTA
Look at how Andy invites people to his session at a conference. It's an example of great structured, 1-minute video that everyone can create.
In the latest article about LinkedIn videos, Andy shares his insights on his home studio setup, helpful tools, and promotion tricks that help him generate hundreds of visits to his website.
Viveka Von Rosen. 8 tips to make a brilliant video
That's a great example of a LinkedIn video post. Succinct description, great topic, hashtags and the personality of Viveka Von Rosen resulted in 21k views in organic feed. These a quick list of tips that Viveka use for making videos on LinkedIn:
Keep It Short and Sweet!
Don't Forget the Description
Save Your Video to Find It Again
"Produce" at Least Some of Your Videos
Don't be Shy, Get Wave.video
Keep It (Somewhat) Professional
Video for Business
Get a Bigger Audience
Want to know more? Here's a great article by Viveka about LinkedIn videos.
Wistia. Work is fun, fun works
Only a few weeks ago, these awesome guys from Cambridge, MA made a move towards native LinkedIn video and already have more likes and comments than before! Having their own hosting video platform, they put only a few of their videos on YouTube. But it seems they found out that LinkedIn can be another great place where their well-made funny videos can be uploaded.
Here's how they cheer up their clients with video! It's a more personal way for the brand, and a great way to show how cool it is to be Wistia customers.
Conclusion
While working on this article, I've discovered dozens of companies that could be more successful if they start using videos on LinkedIn.
Do you want more visibility? Do you want more engagement and traffic to your site? LinkedIn can be a perfect match for your business. Watch through the examples, think what kind of content suits your business and your goals, and start publishing. Also, feel free to share the article with your connections on LinkedIn.
What is your experience and the biggest pain point with LinkedIn video? Share in the comments below.