11 Tools For Successful Live-Streaming: Essentials To Rock Your Live Videos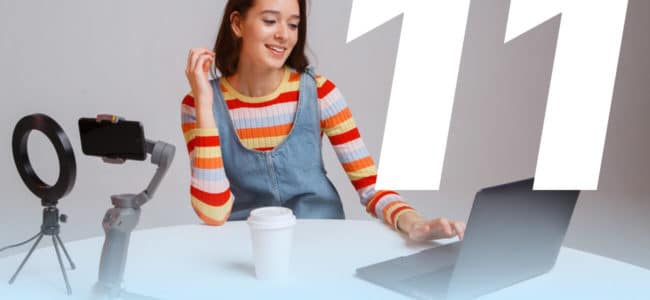 A lot has changed in one year.
Physical and social isolation became the new normal. Lockdowns and quarantines disrupted workplaces. And at-home consumer experiences grew larger than we could've ever imagined.
From the way we work to the way we consume content – almost everything has changed. And it has changed drastically.
As the world continues to make sense of how to connect and function with constraints abound, there's one industry that has seen massive growth: the live streaming sector.
You knew this was coming. Don't you?
https://giphy.com/gifs/11a8FLrVeoLnna
But what you might not know is that the number of live streaming events has increased by 300% between March to August 2020.
And the year over year growth stands at 99 percent. Wow.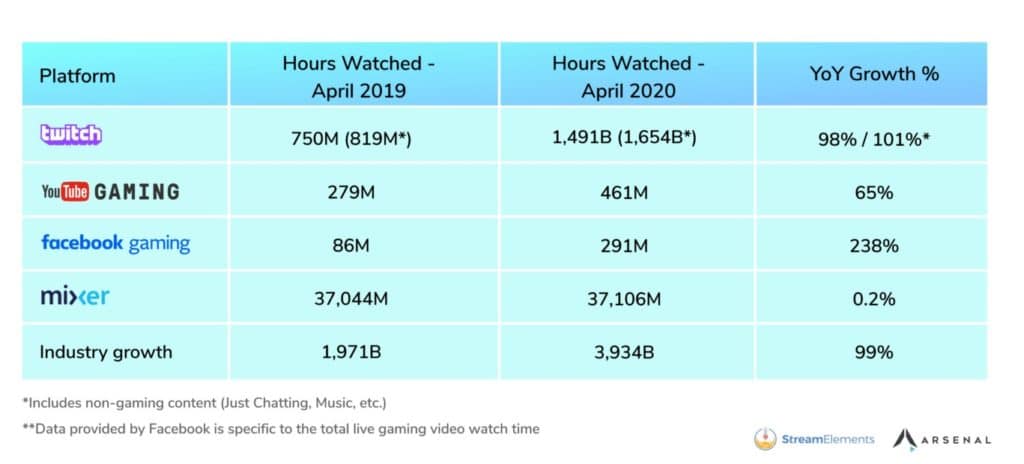 Source: Digital TV Europe
So, yeah. We can say the live streaming sector is on the crest of a wave right now.
Which makes sense why learning to live stream is the hottest skill to master nowadays.
Learning to live stream is the hottest skill to master nowadays.
From brands and educational institutions to video makers, vloggers, celebs, musicians, and whosoever wants to keep the show running – almost everybody wants to make the most of live streaming at present.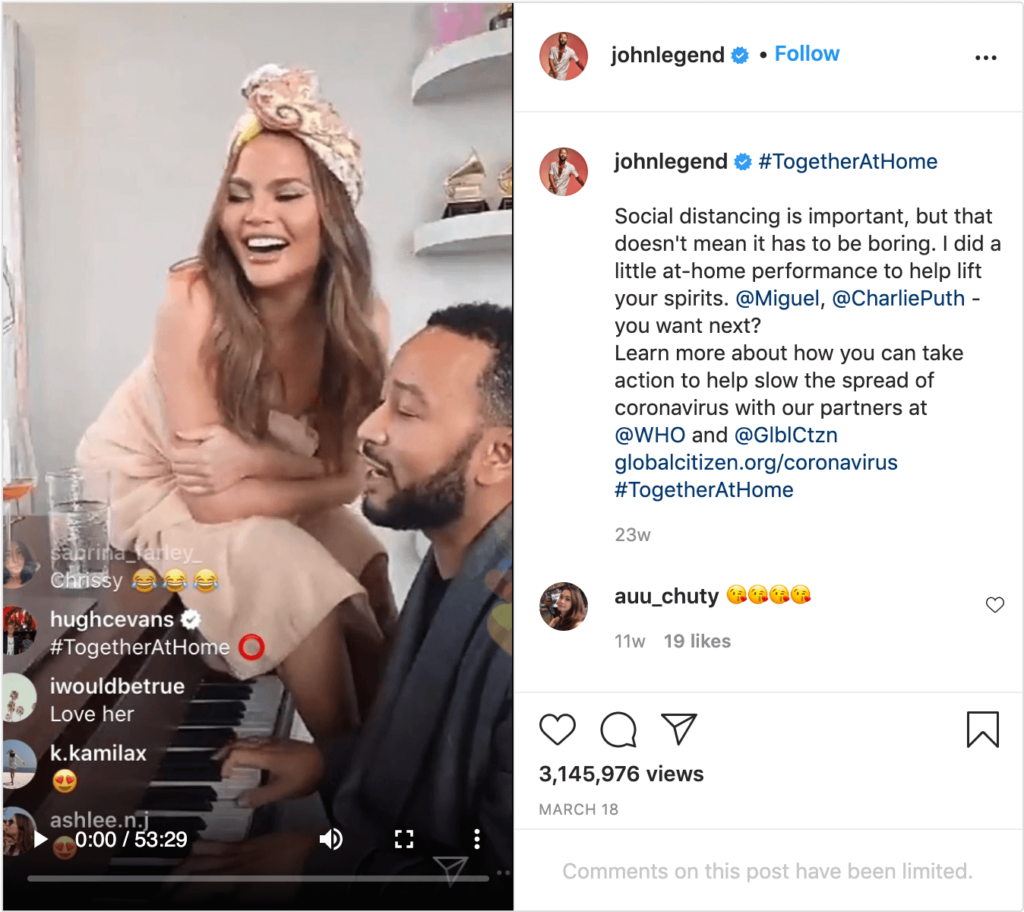 John Legend and Chrissy Teigen were live on Instagram to support #TogetherAtHome
But how? And what are the tools you need to get a highly efficient live streaming setup?
A stable internet connection with high bandwidth and the latest smartphone might be enough. But if you want to bring the quality of your live events to a completely new level, you need much more than these.
We'll get to the best live streaming tools shortly. But, first, let's quickly understand what exactly is a live streaming tool.
What is a Live Streaming Tool?
A live video streaming tool is any software or hardware that helps you broadcast live to a video platform. Now, this platform could be YouTube, Facebook, Instagram, LinkedIn, or any other.
With its features, the best live streaming tool can make your live videos better and much more professional-looking.
11 Best Tools for Your Live Streaming Setup
Let's check the essentials you need for the live video stream setup.
1. Computers/Mobile Phones
Beginning with the basics, you'd need a device to stream from. You can do it from your smartphone, console, a desktop computer, or a laptop. It all comes down to the quality and the level of comfort you seek.
Although a desktop is a popular choice for streaming live videos, a laptop ensures you have the portability and flexibility you need to stream from wherever you want, with a quality much better than a smartphone.
While you don't need a high-end rig to broadcast your videos, look for something which comes equipped with several USB ports and at least 8GB RAM along with a solid-state drive (SSD) – to be ready in case you want to level up your streaming sessions.
2. Video Cameras
Alright, now we're talking videos.
One of the most important tools among live streaming equipment is a video camera. However, with a smorgasbord of live streaming cameras out there, choosing the one can get overwhelming.
If you're a beginner, I'd recommend an entry-level video camera to get things started easily. With ideal lighting conditions, these can give you pretty good video quality. Plus, such a live streaming setup won't burn a hole in your pocket. But don't expect them to come loaded with features. Examples include entry-level camcorders, smartphone cameras, action-cameras, etc.
For those who need a mid-range camera with excellent image quality, prosumer cameras are worth checking out. A perfect mix of consumer and professional cameras, prosumer cameras come with some manual controls. Examples include prosumer camcorders, mirrorless cameras, and DSLRs.
Finally, there are professional video cameras with pro-connectors that are a great fit for pros who need excellent image quality in low light settings. With a high build quality and sturdier make, these last for a long time and come with manual controls that make video streaming easier for you. Examples include EFT cameras, professional camcorders, etc.
Ian Anderson Gray, our good friend and the master of life-streaming, shares his tips on how to harness the video gear.
3. Audio Live Streaming Equipment
Imagine this: you're streaming live, and the video stutters. What will save your grace?
Of course, a stable audio output.
Video streaming isn't only about giving your audience an excellent viewing experience. You have to ensure that the audio is captured well too.
A wrong choice for your audio live streaming equipment could spell the difference in engaging your audience and being abandoned by them during the broadcast.
While the built-in microphones on entry-level cameras and phones offer decent audio quality, you can improve it with a basic wired 3.5mm lavalier mic.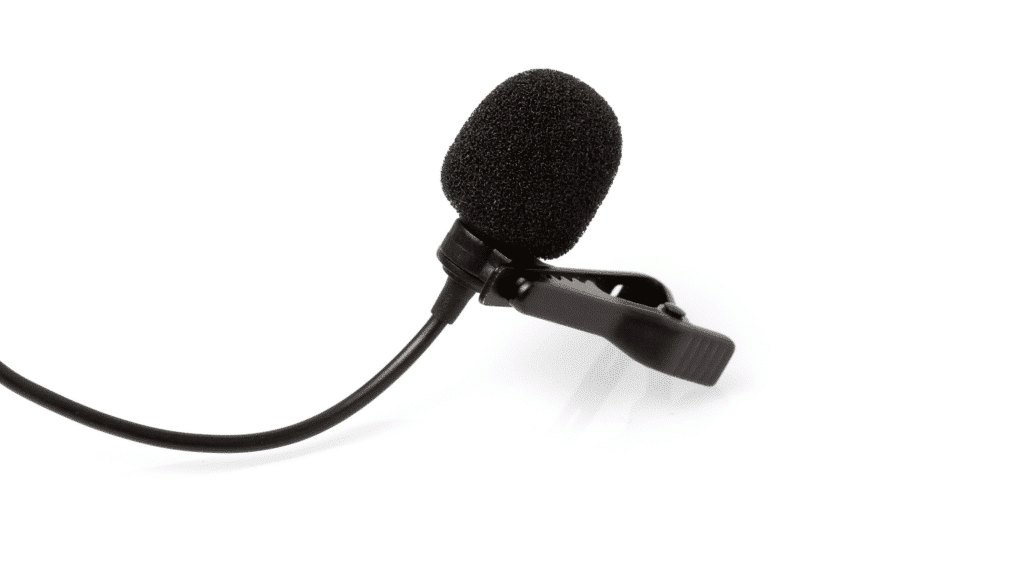 Similarly, professional live video cameras also come with built-in microphones that offer medium quality audio output. You can improve it with a USB or an advanced 3.5mm microphone.
A condenser microphone with a tabletop stand will be a good pick if your stream doesn't involve too many movements, and the setup is usually stationary without a lot of background noise.
But the best audio quality comes with XLR microphones.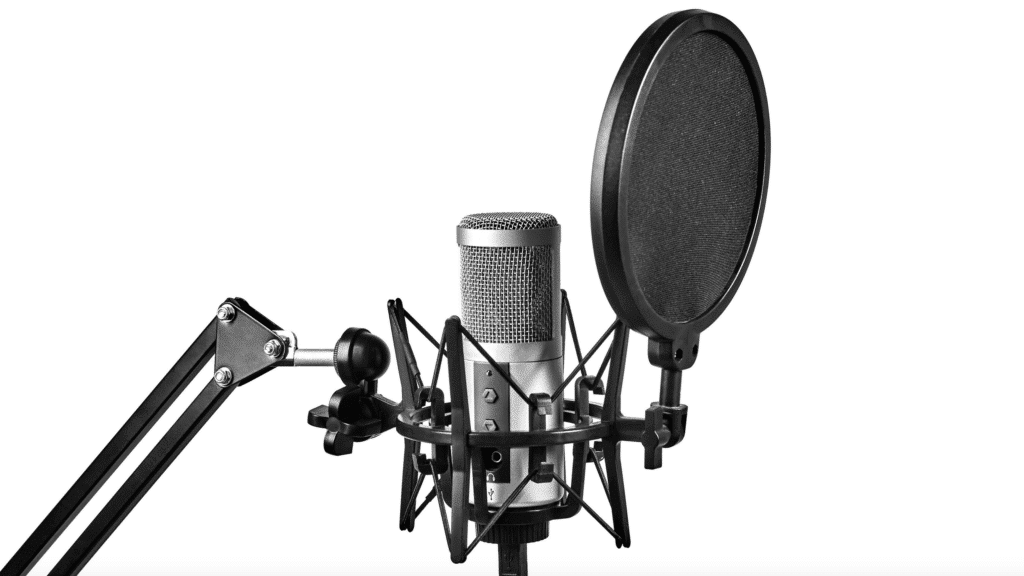 With their warm, precise sound, they are great for those looking for advanced live stream video setups. Some even come with brilliant hardware controls like faders and knobs to help your voice sound the way you want.
4. Mixing Live Video Stream Equipment
Another critical tool in your live streaming setup is an audio mixer. Apart from helping you use multiple microphones and audio sources in your stream, it will also help you adjust the sound levels, EQ, compression, and gain – giving you a good grasp of your audio output.
Although mixing your live streaming audio setup is optional, you can't ignore it if you're into multi-camera streaming or if you want to perfect the sound of your live videos but can't afford the luxury of studio equipment.
But where do you start? With a number of options, things can get a bit confusing here.
You can begin by figuring out how many inputs do you need and if you want to create frequent audio loops. Also, consider the camera angles when you're at it. Whether you need a mixer that offers various customization and voice-modification options or the one that's easy to control – you can find it all.
Audio mixers are powerful devices. Pick the right equipment to fine-tune the audio of your stream and create a seamless streaming experience.
5. Encoders
Tempted to skip the much-technical part? Well, I'll try to keep it simple.
For starters, note that the right encoder can make a world of difference to your live video streaming.
By converting your video files from one format to another – for example, converting RAW video files from your camera to digital files – encoders compress video files, keeping the quality intact.
So, if you've ever got annoyed with that instant buffering while streaming a video, know that encoding can reduce it. And it can also change the resolution, make a video compatible with your tablet, smartphone, or computer, and convert outdated files to modern formats.
That's a pretty useful tool, isn't it?
Encoders come in two categories: hardware and software.
Hardware Encoders – You can pick a hardware encoder if you need a dedicated processor to encode video and data into streamable content. Designed especially for encoding, these encoders are pretty robust, which makes them perfect for professional use. Although they come at a hefty price tag, their reliable results make them all worth it.
Some battery-powered encoders also come with 4G LTE and dual-band Wi-Fi wireless transmission, which enable live streaming from remote locations. Based on your requirements, you can either get a portable hardware encoder that's easy to carry around or a larger fixture that's permanent but comes with more capabilities than its smaller counterpart.
Software Encoders / Live Video Streaming Software – Just like other software programs, a software encoder also runs on a laptop, desktop, or just about any other computing device.
Their ease of access makes software encoders a good pick for beginner broadcasters. Go for them if you need low-cost encoding with ample customization options. Zoom, Periscope, OBS Studio, and Wirecast are some popular examples of live video streaming software.
6. Live Video Streaming Gear
No matter whether you're building a live streaming setup from scratch or want to upgrade the existing one, you'd need some accessories to add value to your stream.
From a reliable webcam and a selfie stick to a solid tripod, a smartphone tripod mount, a green screen, batteries, and LED lights – you'd need all of these and more if you're a seeker of top-notch video streaming quality. So, go on, add these to the list of best live streaming tools you need to get the ball rolling.
7. Live Streaming Platforms/Tools
The global video streaming market size is expanding rapidly.
And it's expected to reach over $184.3 billion by 2027.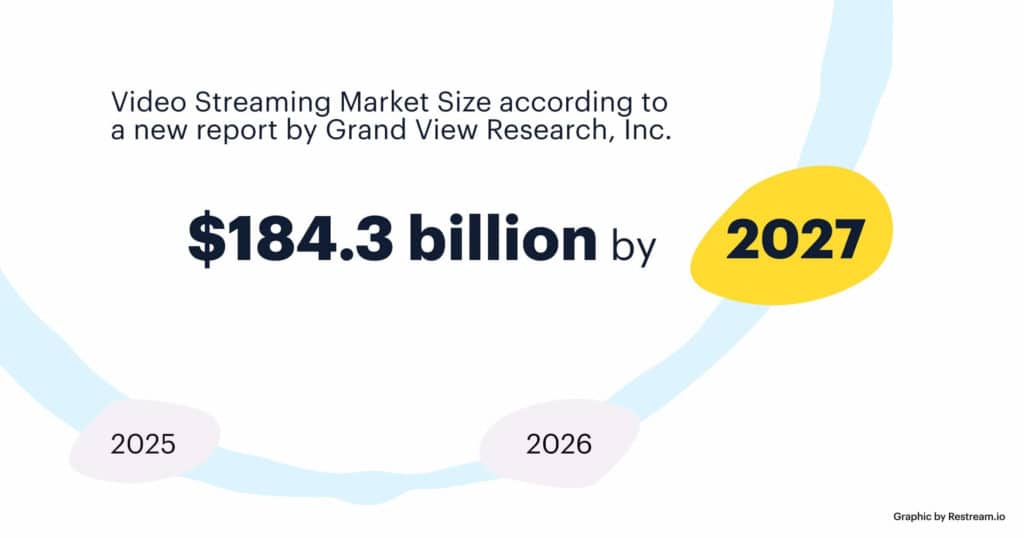 Source: Restream
Let that sink in for a few seconds.
No wonder why businesses and brands are keen to get on the live streaming bandwagon.
So, now that you know what equipment matters the most while streaming live, it's time to pick a streaming platform. But before you do that, make sure that your chosen platform matches your streaming objective and takes you to the right set of audience, well within your budget.
Here are some popular platforms for live streaming:
Native Live Streaming Platforms: YouTube Live, Instagram Live, Facebook Live, LinkedIn Live
Third-Party Live Streaming: Stream Yard, Periscope, Switcher Studio, OBS Studio, Zoom, Switchboard Live
8. Live Streaming Audio & Graphic Tools
Let me tell you a little secret: The special sauce in your live streams is the combo of great audio tracks and visual elements.
The special sauce in your live streams is the combo of great audio tracks and visual elements.
No good stream is complete without them.
Here's a quick look at some of the best tools for audio tracks and visual elements that can give life to your live-streams.
Audio Tools – Do you want to put pep into your video streams with amazing music without getting DMCAed? Head over to Voicemeeter, Pretzel, Monstercat, or Soundstripe and let your videos groove without those annoying copyright strikes and takedowns.
Tools for graphics – From stunning overlays to banners, logos, and panels, there's a lot that you need to make your streaming channel visually appealing. Luckily, there's a range of visual elements tools, which makes this task more straightforward than what you'd have thought. You can use tools like Wave.video, Canva, Snappa, Adobe Spark, and Crello to give your stream and your brand a unique and impressive visual identity.
9. Live Video Hosting Tools
Viewers spend 10 to 20 times longer on live video than on-demand content, which shows why live streaming is a powerful way to connect with your audience.
While you can create content using free live video hosting services like YouTube, professional streaming video hosting services can be a good match if you're looking for white-label service or want to broadcast in full HD with adaptive streaming.
You also get to enjoy more monetization options along with features like password protection, secure upload, embed permissions restrictions with paid streaming video hosting solutions.
Some top live video hosting sites include Dacast, JW Player, Livestream (Vimeo), and Brightcove.
10. Restreaming Tools
You may be asking yourself: "What should I do if I want to stream to more than one platform at once?"
Restreaming tools to the rescue.
A restreaming tool takes your stream and simultaneously broadcasts it to as many platforms as you want. It also gives excellent information about audience statistics. So, you can get answers to questions like who your audiences are and where they are most active, etc.
And some of these services can also become your streaming hub, without the need for an encoder. Amazing, right?
Examples of the best live streaming tools for restreaming include KWIKmotion, Restream, Castr, Wirecast Restream, and Switchboard Live.
11. Repurposing Tools
Oh, that awesome Facebook Live session you had with your audience. How you wished you could have reused it to bring more value to your audience.
Enter repurposing tools, and you're halfway there.
The same fantastic live stream can now be recorded and edited to create shorter length videos. You can then post these short videos on various social media platforms, or even better, on your website itself. You can also extract its audio to create podcasts and transcribe it to create engaging blog posts.
The options are virtually limitless.
You just need to know the art of repurposing, and of course, the right tool to do so.
Wave.video is one such excellent tool.

You can use its highly intuitive interface to embed your videos in a post, put them on video landing pages, or convert them into Instagram stories. Additionally, you can make your webinars password protected too.
Once your live streams are over, upload them on Wave.video and customize them to create engaging content in whatever format you like.
Need more inspiration on how to repurpose videos for every channel?
Watch this video.
https://www.youtube.com/watch?v=yq8DrMT4sH4
Live Streaming Tool FAQs
What Equipment Is Required To Stream Live?
A basic streaming setup would need a device to stream from, a video camera or webcam, and a microphone. To improve your stream's quality, you'd need additional equipment like an audio mixer and encoder together with some useful gear like a tripod, a light stand, and an LED ring.
Which Tools Do I Need To Live Stream Privately?
Most live streaming software offers the option to live stream privately. Popular ones include streaming solutions like JW Player, Vimeo, Dacast, and Wowza.
How Can I Stream Live For Free?
Many tools let you live stream your video at no charge. Some of these are Facebook Live, Instagram Live, LinkedIn Live, YouTube Live, Twitch, Periscope, and YouNow.
What Is A Live Stream Encoder?
Although you can stream live using a webcam, or just your mobile device, an encoder is a great tool to convert your content into a digital format to stream it live on your chosen streaming platform. A perfect tool for those with a relatively advanced live stream setup with multiple cameras and microphones, an encoder can be a software application or stand-alone hardware.
Conclusion
Video streaming is no longer a fad. It has become the rule.
And with the versatility of streaming video leading to impressive viewership on TV screens, it's slowly taking over television. After all, when Google says that the global watch time for live content is up 250% year-over-year, you got to understand its importance.
So, make it big in the world of live content with the best live streaming tools.
You know what equipment, software, and sites you need to have a rocking live streaming setup. Go ahead, connect and build relationships with your audience through live videos.
And once you've tested the waters, share your experiences in the comments section below. We'd love to hear from you.