Video Intro and Outro: Tips, Examples, and Free Templates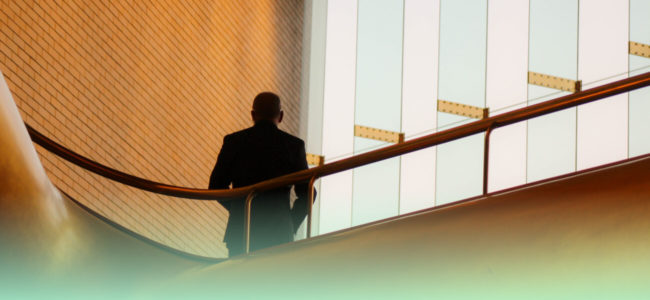 So, your brand is making it big with videos that seem to be reeling in audiences. Here's the kicker: You need more than awesome content and production value to make your videos work in the long run.
And that's what video intros and outros are for.
While they've been around for a long time now, not everybody understands how can they serve as a common denominator for high watch times.
So, if you're not already making them, you should be. But without the right knowledge, this simple task may feel like a shot in the dark.
Hey, don't fret.
We've put together this comprehensive guide with some actionable tips and free video intro templates (and outro ones, too) so you can stop researching and start creating.
But first, let's dive into what video intros and outros are and how they can help your brand thrive.
Video Intro – What is it, and why do you need it?
As the name suggests, a video intro is a short video introduction clip (usually less than 30 seconds), which informs the viewers all that they ought to know about your brand while setting the mood for the rest of the video.
It forms a strong base at the beginning of a video, giving your content the special touch it needs to click with the audience.
Good Mythical Morning YouTube channel is a shining example of how to get more mileage out of a video intro. This is how they brilliantly ace the video introduction game:

So, what are some distinct advantages to a video intro that you can't replicate with old-school video marketing techniques? A video intro helps you:
Attract your audience – With dwindling attention spans, one thing is for sure: keeping viewers interested in your video is challenging. A stunning (but short) intro can help you here by giving your audience a heads-up on what's in the video for them.
Improve brand awareness and recall – Consistent branding on your videos helps your audience connect with your brand while giving you a strong brand recall.
Make it look professional – No matter whether you're creating an intro by yourself with a video intro maker or hiring an expert, it is a sure-fire way to add a professional touch to your videos.
Video Outro – What is it, and why do you need it?
Also commonly known as an "end slate", an outro comprises the closing visuals at the end of a video. It's useful in creating a solid statement for your brand, helping it connect better to your audience.
Alisha Marie, a popular YouTuber, goes beyond creating an impression with almost every video of hers. Take a look at one of her video outro examples for some inspiration: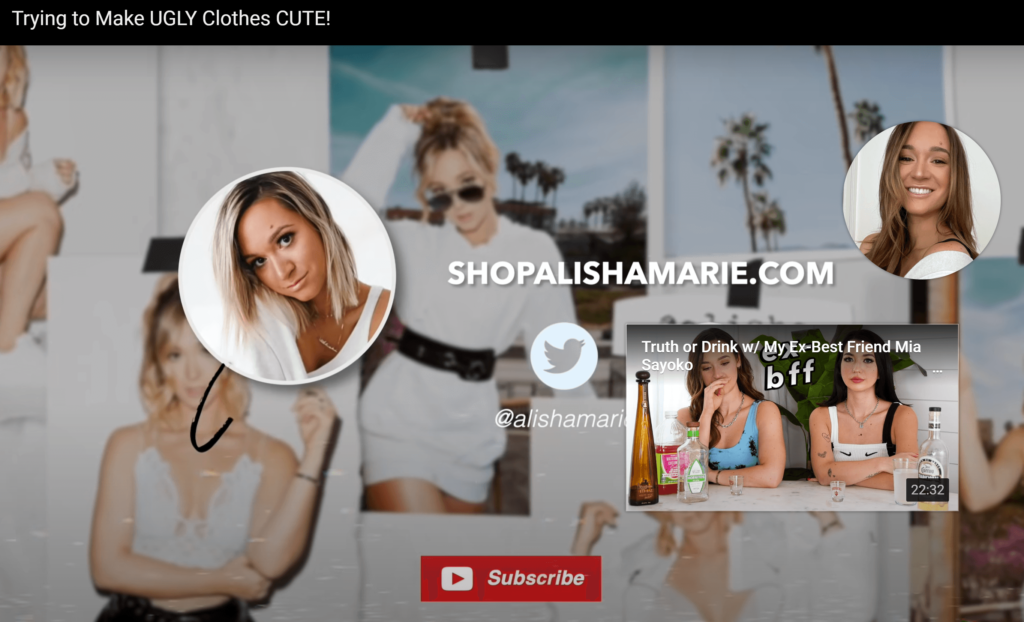 Now, coming to the importance of a video outro. It helps you:
Keep your audience on your channel – With outros, you can make your audience stick to your channel by linking your previous videos in the outros.
Lead them to the Call to Action (CTA) – By now, you may already be aware of how a CTA can inspire real action from those interested in your content. Including CTAs in the outros can, thus, help you influence the viewers to perform the actions you desire.
Stand out – A well-designed outro with your brand elements can be the unique sign-off you need to help your videos stand out.
Creating Killer Intros & Outros – Tips & Tricks
Before you pull your socks up and pursue video intros and outros for your video strategy, you need a good understanding of how to make them compelling enough to improve your videos' potential. Here are some actionable tips to get you started:
1. Identify your style
Take a moment and explore your brand's values, offerings, content, and, of course, your audience. Now try and identify the style you want to convey through all of your videos. This is the style you need to pick for your intros and outros as well. It's a significant step in making your videos synonymous with your brand identity and boosting your brand recall.
For example, all TEDx talks' videos have a specific style to stick to: from red, white, and black color palette to the Helvetica typeface, these elements form the core of the design of any TEDx event and its marketing, and their video intros are no exception.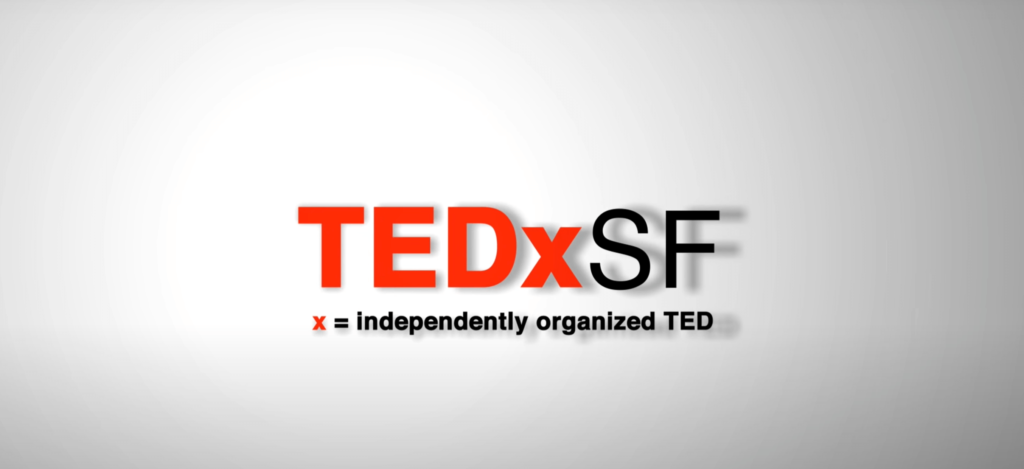 2. Hello, animation!
You need to make animation your friend if you're keen on making engaging and professional-looking video intros and outros. Luckily, you can create animations without investing a lot of your time, effort, and $$$.
Wave.video lets you create lively animations, including logos and everything else you'd need to make your video intros and outros effective and appealing.
3. Choose the right audio
Depending on your brand's style and tone of voice (playful, confident, friendly, humorous, serious, etc.), pick the right music for your intro and outro. But make sure that your chosen audio is in sync with the animation without being too overpowering to distract your audience from the key content. Because, in the end, the purpose of adding sound to your videos is to complement the visuals, not to dissolve your message.
Here's how LG aces its video intros and outros with music that hits it off with their audience.
4. Include a Call to Action (CTA)
If you're able to keep your audience hooked till the end of your video, congratulations. But, that's not a job well done until you're able to persuade your viewers to take the desired action. And that's where carefully implemented Call to Actions come into the picture. To maximize your videos' conversion rate, include CTAs in the beginning, middle, and towards the end (in the outro). In short, help your audience find a way to do what you want them to do.
Check out how The Great Courses Plus, a college-level audio and video courses provider, include CTAs in their video outros on their YouTube channel: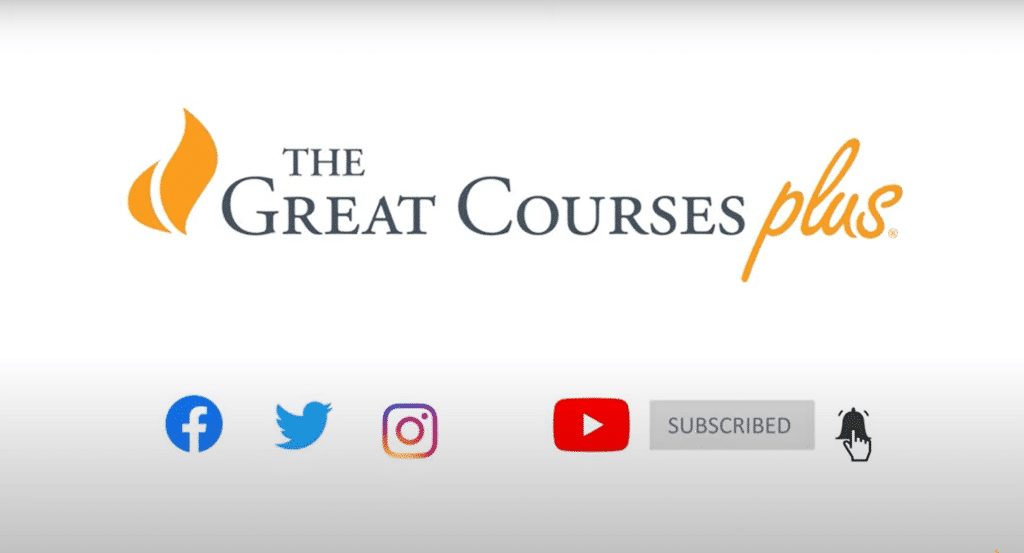 5. Keep it crisp and short
A good intro doesn't mean it has to be lengthy. Usually, an opening of less than 10 seconds does the work. Keep it concise with a few words or voiceover and never, ever complicate it with too many special effects. Follow the same advice for your outro. Keep it simple with a few interesting effects, engaging sound, your name, a few CTAs, your brand's logo, and you're done.
Remember, your audience wants to watch your videos rather than waiting too long for them to begin or end.
6. Build your brand
Building a brand is a continuous process. But you can take the help of your video intros and outros to get closer to a well-established brand. Design your intros and outros keeping your brand's color scheme, visual style, and logo in mind and differentiate yourself from your competition.
7. Be consistent
Following your brand guidelines wouldn't bring in the results if you're not consistent. So, make sure your intros, outros, and the entire videos are in sync with your branding. Stay consistent with the content style, colors, logos, and tone of voice you use in your videos. It will help you create an engaging brand experience for your audience.
How to create a Video Intro & Outro with Wave.video
Creating video intros and outros doesn't have to take a lot of time and resources. With Wave.video as your go-to video intro and outro maker, you just need to put your creative hat on and be all set to make a stunning clip in just three steps.
So, get ready. It's time to talk video success.
Step #1 – Log on & pick a template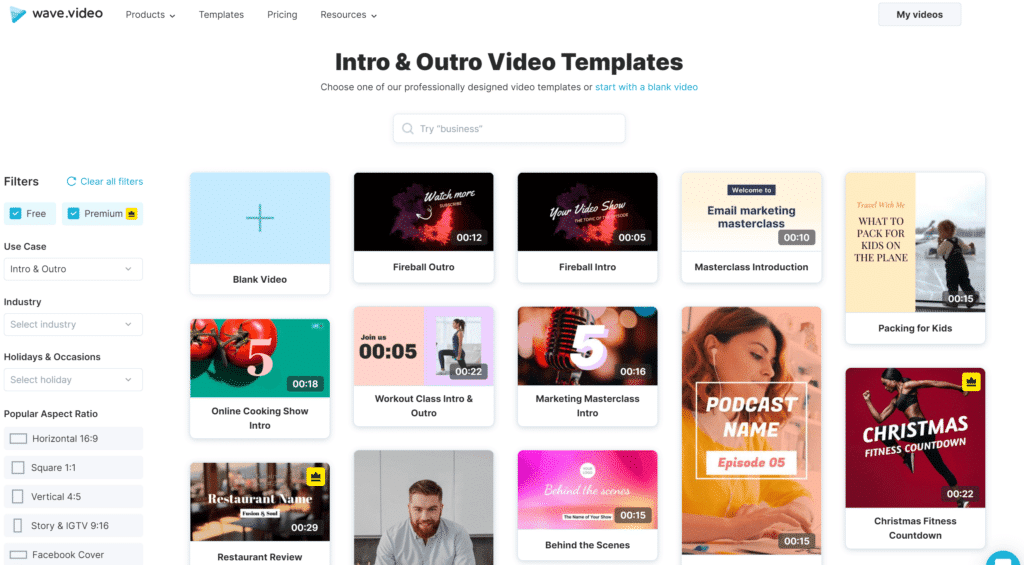 Begin by logging into your Wave.video account and pick one of the fantastic, pre-designed video intro and outro templates for you.
Step #2 – Edit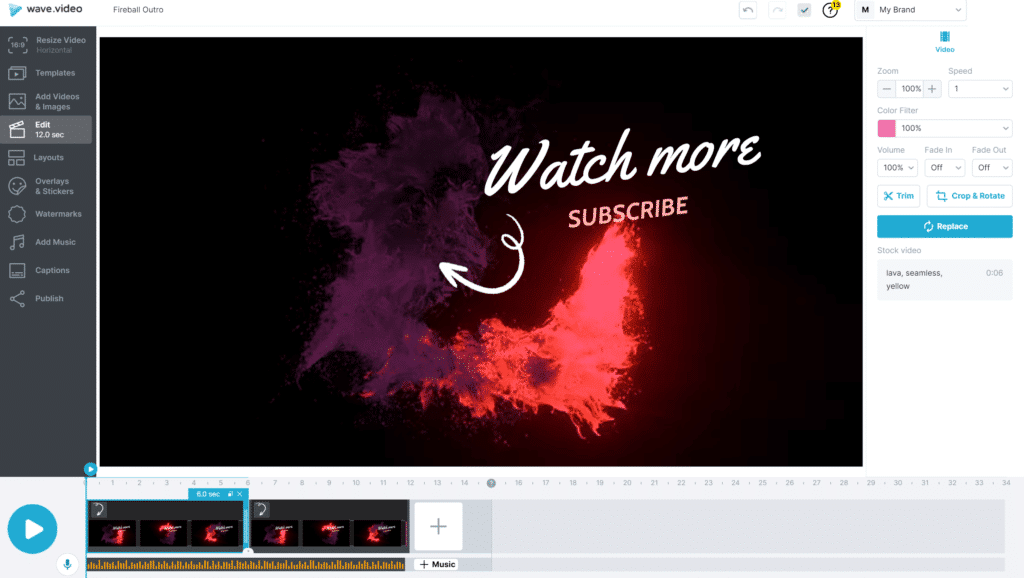 Once you have found the perfect template, get editing. It couldn't be easier (believe me). If you want to start from scratch, our vast library of animations, images, and videos can get you going. Also, don't forget to browse our incredible music collection to give your intros and outros a polished feel.
Step #3 – Upload your logo and publish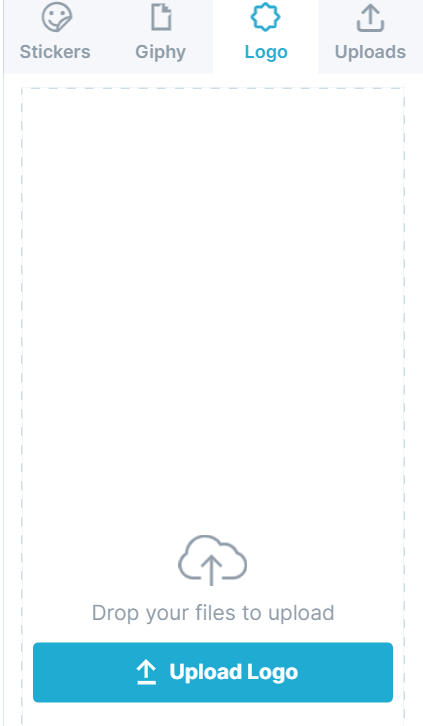 After you have edited to your heart's content, it's time to let branding do some wonders. Upload your logo and any other branding element you want before you publish your clip. And you'll be all set to make a splash.
Video Intro & Outro Ideas
Now, it's time for some template-inspo. Check out some of our top video intro and video outro templates that can help you rack up huge viewership in the process.
Workout Video Intro & Outro
Perfect for your workout and fitness videos, this template is sure to keep your viewers engaged for more.
Podcast Video Intro & Outro
When repurposing your podcasts into videos, make sure you have the right visual introductions and endings. This template is what will help you set the tone for those perfectly repurposed podcasts.

Talk Show Intro & Outro
Promote your talk show with this bright template. The stunning display of colors with minimal animations will help you start on the right foot.

Behind the Scenes Intro & Outro
Want to make a deep connection with your audience while building intrigue? Pick this behind the scenes video intro and outro and give your viewers a peek of what goes behind creating a brand as awesome as yours.
Travel Intro & Outro
Share your travel story with this attractive template and inspire people to explore the world.

Makeup Intro & Outro
Your makeup sessions may be great, but you need this amazing template to make them all the more stunning yet professional. Edit it to suit your style, and you're sure to leave an impact on your audience.

Cooking Show Intro
When cooking is your passion, don't let your about-average video editing skills come in the way of making your cooking show successful. Choose this template and use our video intro maker to play around and attract more viewers.
Q&A Video Intro & Outro
A Q&A sesh is the perfect way to promote your brand. But what's the perfect way to promote your Q&A sessions? Well, this template. Go on, edit it, and add more life to your Q&As without skipping a beat.

Ready to create?
Now that you know the key elements of a good intro and outro, get on with our video intro and outro templates and begin your creations.
What do you think about our video intro and outro maker? Does it make your task easier with the host of stunning templates we've got for you?
We'd love to hear your thoughts in the comment section below. Let's get the conversation started.