Choose Your Best: 7 Video Marketing Platforms to Grow Your Business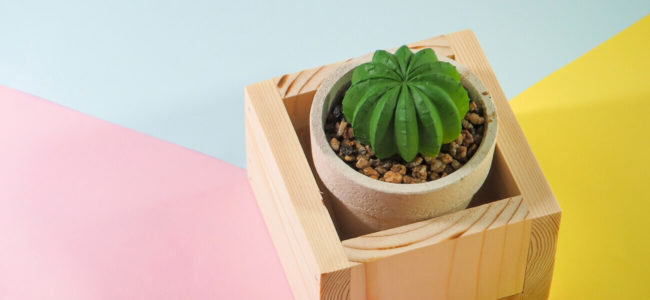 There's really no overstating the importance of using video as part of your company's content marketing plan. In fact, nearly 50% of today's online search engine inquiries are video searches related to specific services or products. If video marketing isn't already a substantial part of your brand's marketing strategy, it probably needs to be.
And when it comes to hosting those videos, there are plenty of free and easy-to-use platforms out there—with YouTube being among the most popular. But there's a big difference between simply uploading a video and promoting a video so that it reaches your target audience. Being able to properly market your video content can help you grow your brand in ways that free hosting platforms like YouTube simply cannot.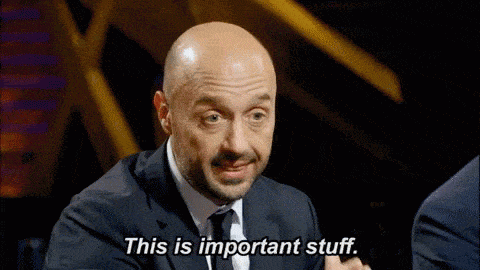 Fortunately, there is no shortage of excellent video marketing plans available to you. These platforms make it easy to promote your content, track each video's performance, and so much more. To save you some time and hassle of researching the dozens of video marketing platforms that are out there today, we've done some of the work for you by compiling a list of the top seven video marketing options for businesses. This can be a great starting point for your brand as you begin your search!
Why Your Business Needs a Video Marketing Platform
Still not entirely convinced that your business needs to spend money on a video marketing plan? We get it. It's not an easy thing to wrap your head around—especially if you're working with a limited marketing budget and have grown used to relying on free video hosting platforms like YouTube for your content.
Compared to a video hosting platform, a video marketing platform for business goes well beyond allowing you to upload and share your content to include things like:
player customization
easy blog and website embedding
data analyzation
Where most businesses benefit most from using a dedicated marketing platform is in the robust customization options offered. Specifically, the right video marketing platform for business will make it easy for you to control exactly how and where viewers see your video.
Now that you have a better understanding as to why your business needs a video marketing platform, how can you determine which option is best for you? Explore our picks for the top seven video marketing platforms available today to inform your search!
1. Wave.video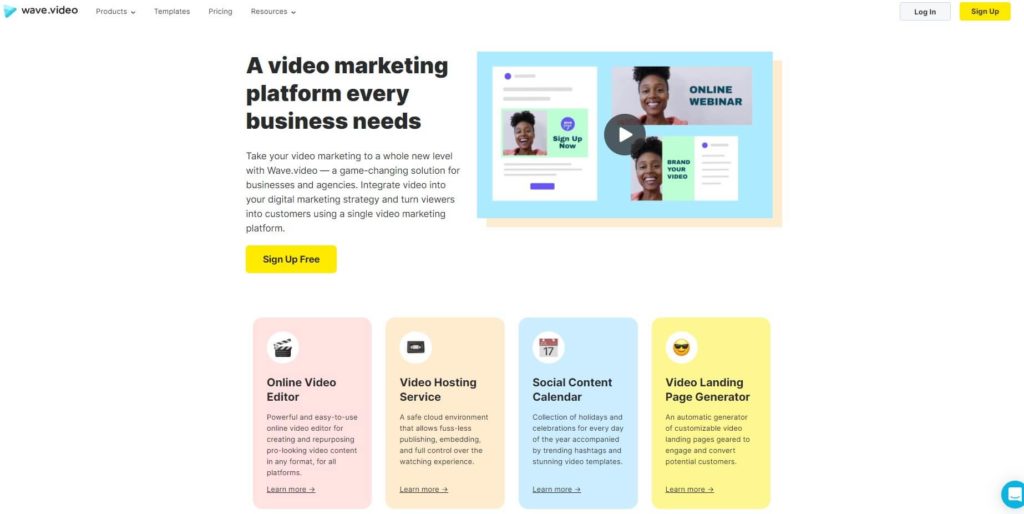 The first game-changing solution for businesses of all sizes in our list is known as Wave.video. With its user-friendly platform, you'll have access to a powerful online video editor that will help you create professional videos in any format and for any platform imaginable. Wave.video also comes with a cloud-based video-hosting service that makes it simple to publish, embed, and share your videos as soon as they're uploaded.
Meanwhile, Wave.video's social content calendar is a great resource to help you come up with engaging content ideas for your brand's social media page. With new content ideas every day, including manually curated content suggestions, you'll never be at a loss for your next video topic. Wave.video also includes hundreds of free professionally designed video templates to help you get started!
Last but not least, Wave.video includes an automatic landing page generator for each video you upload, making it easier for you to engage and convert potential customers.
The best part? You can sign up for Wave.video free! With the free account, you'll enjoy basic video editing, five free video embeds, and unlimited social media native shares. However, if you upgrade to the Business plan, you'll enjoy additional features, such as:
100 million royalty-free video clips and images
SEO-boosting tools
reseller rights
custom domains
50 brand presets
customizable video player
2. Filmora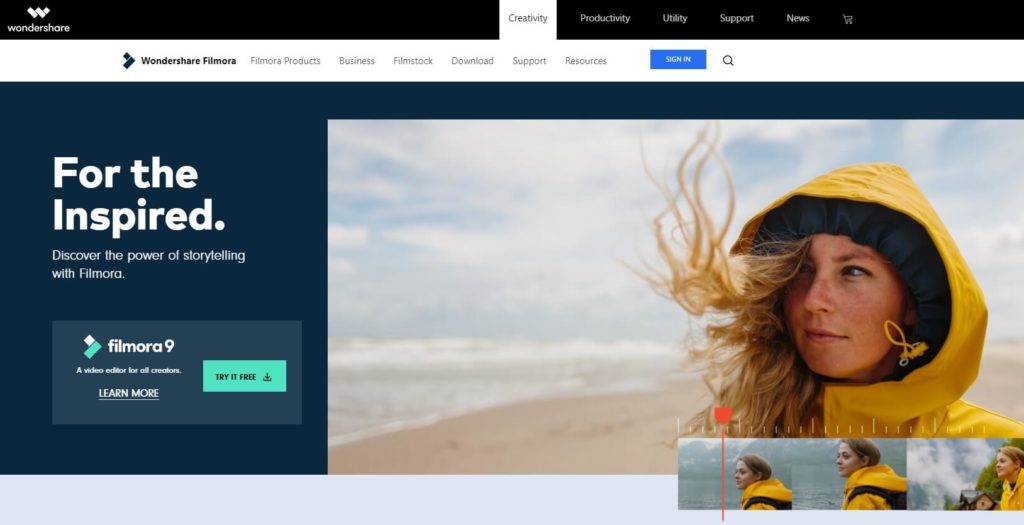 Looking for a video marketing platform with robust editing features? Filmora is an excellent choice. Offering a wide range of overlays, filters, stock photos/videos, and more, Filmora makes it quick and easy to create and publish professional videos. This platform also offers an innovative green screen feature that lets you get even more creative with your message.
Filmora has a number of plans available to suit your needs, including the popular Filmora9, which integrates video marketing to help spread awareness of your brand through video. From analytics and other integration features, you'll be able to get a better feel for who is viewing your videos (as well as many other valuable insights).
3. Vimeo

If your business is on a limited marketing budget, Vimeo may be worth a look. Offering plenty of video-editing features even on its free account option, this platform also offers some basic analytics that can come in handy when your brand is just getting started with its video marketing strategy.
Vimeo's user-friendly interface makes it simple to create stunning videos from the convenience of your computer or even a mobile device. From there, you can instantly share, embed, and publish your videos to your own website or platforms like Facebook, YouTube, and Twitter.
In terms of analytics, Vimeo has quite a bit to offer as well. Specifically, you can use analytics to find out how people are finding your videos, which devices they're using to watch them, and even where your viewers are located. Additional reporting allows you to see how your videos perform on social media, including pinpointing the exact moment in your video where viewers may begin to drop off. This allows you to get a better feel for what's working in your video marketing strategy versus what may need to be tweaked.
4. Powtoon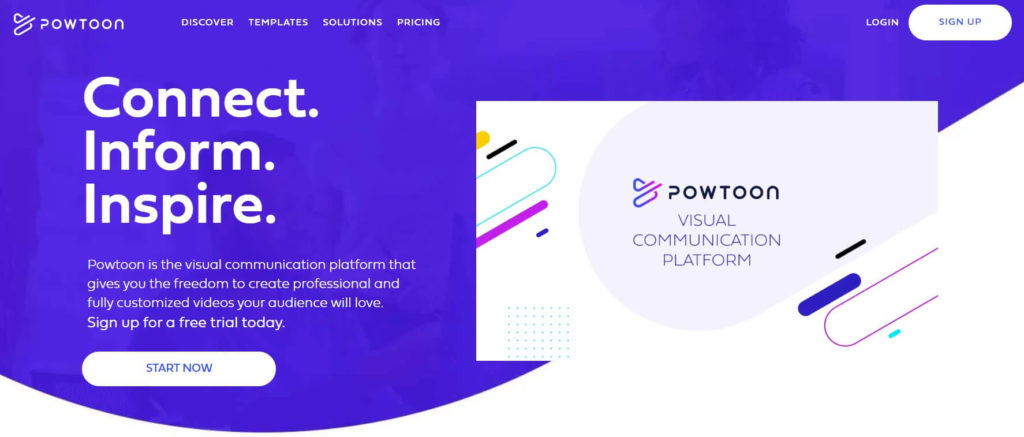 Still feeling a little overwhelmed by the actual video-making process? If you're looking for a platform that will literally walk you through each step of creating your video, Powtoon is worth a look. There are also plenty of pre-made templates and stock videos to work with on this platform, making it easy for you to achieve the look and feel you want for your video without putting in a lot of work. Once you're happy with your video, Powtoon also allows for direct exporting and uploading to YouTube—so you have one less thing to deal with!
When you create a business account with Powtoon, you'll enjoy access to a wide range of features, including:
shared media libraries for easy collaboration
24/7 support with a one-hour average response time
asynchronous collaboration through the Powtoon platform
While the reporting and analytics for Powtoon may not be as extensive as some of the other platforms on this list, this option is still worth looking into if you want to make video creation as simple as possible.
5. Wistia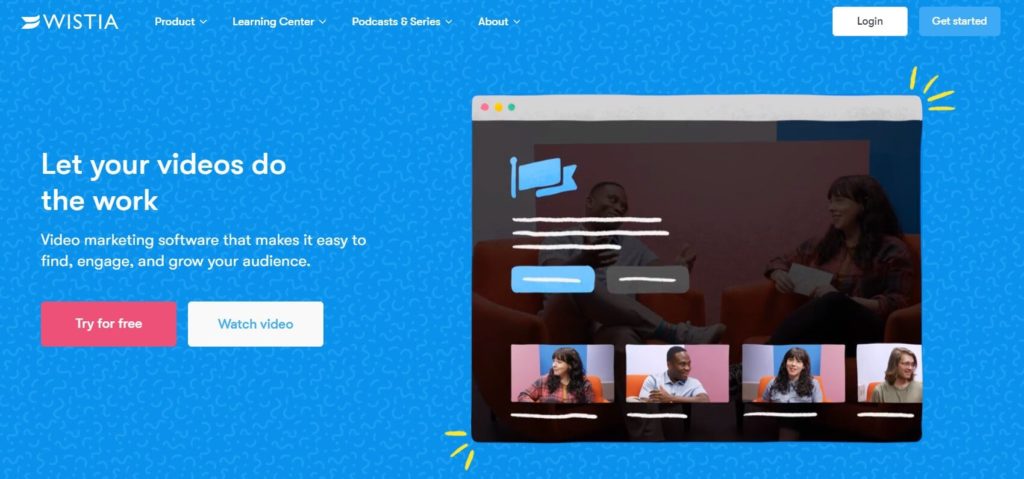 When it comes to video marketing platforms that focus on lead conversion, Wistia is a top contender. In addition to its clean and modern video creation interface, Wistia offers a wide range of analytic and marketing features that you cannot overlook. One of the most unique features you'll enjoy with a Wista account, for example, is the "Turnstiles" feature that allows you to prompt a viewer to enter his or her email address or other contact information to watch or continue watching a video. This is an excellent choice if you want to turn your video views into valuable leads.
Wistia also has a lot to offer in terms of analytics and reporting. Individual reports are easy to read and understand, even if your experience in the video marketing realm is limited. Meanwhile, reporting features like heat maps allow you to track where each video's viewers "drop off," which can inform your future video creation.
6. WeVideo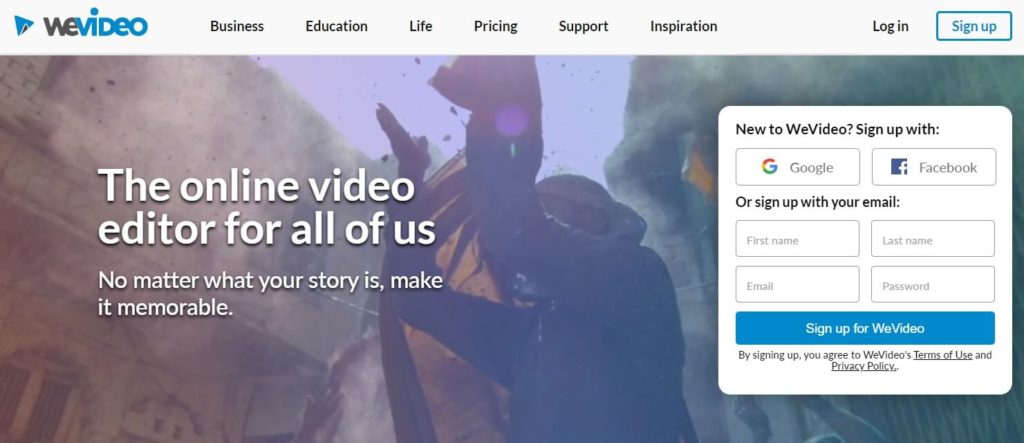 If you're looking for a straight-forward and easy-to-use video creation tool that also encourages collaboration with other members of your creative team, WeVideo is worth a look. This platform includes access to more than one million royalty-free video clips, music clips, images, and more to make your videos look truly professional. Meanwhile, customization is a breeze with features that allow for easy transitions, motion effects, calls-to-action, and even green screens.
Perhaps the best part of WeVideo is the pricing; paid accounts start at just $4.99 per month, and business accounts are just $29.99 per month. All business accounts include a team license with three seats, the ability to publish unlimited videos, total brand management, and premium editing features for both iOS and Android devices.
7. Vidyard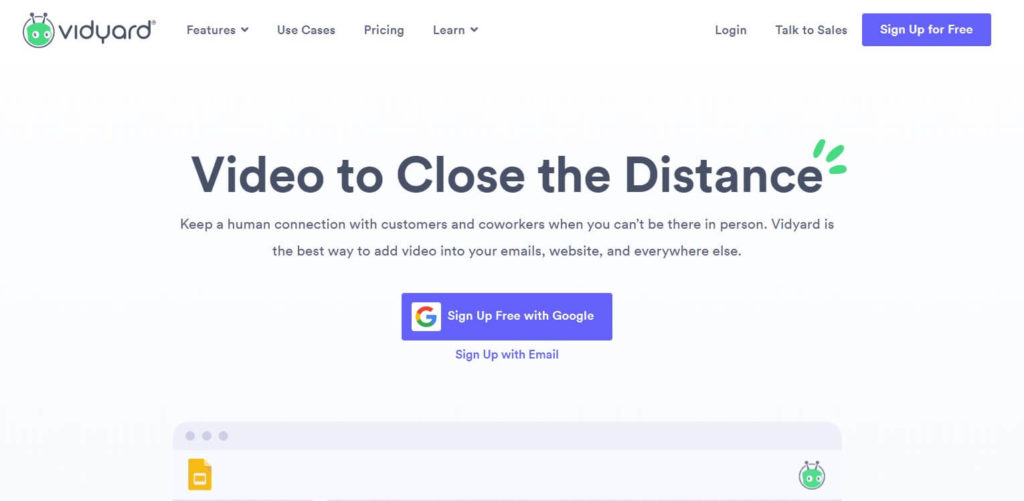 If you're really looking to take your video marketing to the next level, Vidyard has a lot to offer both in terms of creation and analytics tools. One of the things that stands out most about this video marketing platform is that every plan is totally customizable. This means that you can pick and choose which features you need so you're never paying for anything that you're not going to use.
From customizable players and easy user analytics to email gating and everything in between, there's a lot to love about Vidyard. This platform even offers A/B testing on video thumbnails, which makes it easier for you to determine which version of a video is likely to perform best for your brand. Another innovative feature that Vidyard is pushing is the ability to create personalized videos that will insert a person's name or company name into the content you create!
Which Platform is Right For You?
As you can see, there are many video marketing platforms to choose from these days. Ultimately, the option that is right for you will depend on a number of factors, including your company's marketing budget, your level of experience/familiarity with video creation, and the specific analytic features you're looking for.
At the end of the day, what's most important is that you choose a video marketing platform that suits your brand's unique needs not just now, but as your business continues to grow and scale as well. We hope that our list will ease your search!