Video Monetization Strategies: Which One is Right for You?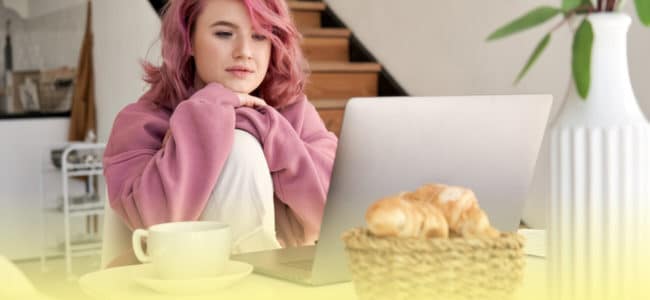 There's a good chance you've been looking for ways to grow your brand and video caught your eye. And that's a good thing. It's a powerful medium and one the world can't seem to get enough of. 
But how do you choose the best way to monetize your videos?
Here's the thing, video monetization strategies are important. Choosing the right one will have short and long-term implications for your brand and its revenue potential.
Before you decide, let's dig into three of the most popular video monetization strategies today. We'll cover how they work and help you make money, and explore the pros and cons of each. We'll also look at hybrid options and how they can help you grow your business even more.
Understanding AVOD, SVOD, and TVOD
AVOD, SVOD, and TVOD are the most commonly used video monetization strategies today. Here's a look at each model:
AVOD: Ad-based Video-on-demand
AVOD stands for ad-based video-on-demand. The AVOD model generates revenue through ads that are shown before and during videos. Ads are targeted at your audience because they fit a specific demographic and exhibit certain behavioral traits. Live streaming video platforms like YouTube track and data on their users to help advertisers reach the right target audiences.
Channel owners generate revenue based on the number of ads that show before and during videos. It's important to know that the number of ads along with a video or the number of views are not concrete indicators of how much money a channel will make.
Most AVOD platforms use complex algorithms to decide the earnings per ad, and certain ad placements are worth more than others. 
Platforms that offer AVOD monetization options often also use revenue-share models. Revenue-share allows platforms to deduct a portion of the income a channel should make for ads shown (the fee charged to advertisers). This portion of revenue is used to offset hosting costs by the platform provider. 
Examples of popular AVOD platforms include YouTube, 4OD, and Tubi.TV.
Pros 
No or low overhead costs. Hosting is free and offered by the platform you publish videos on.

Works well if you have a massive audience (within the right niche) that watches your content, creating the potential to get more views and possibly revenue. 
Cons
Requires a large enough audience and a niche that has many advertisers.

Revenue depends on advertiser spend which can be unpredictable.

Most platforms also enforce compliance policies that are often subject to sudden changes that lead to less earning potential.
TVOD: Transactional Video on Demand
TVOD or transactional video-on-demand is a monetization model that allows you to offer content on a pay-per-view basis. You can charge per video or video collection, giving viewers a chance to enjoy your material without committing to a monthly fee for a large bouquet of video.
TVOD also includes live streaming, a way to host live video events and stream them to your audience.
TVOD examples you may know to include Google Movies and iTunes. 
Uscreen also provides TVOD as a monetization strategy. It's typically used by brands that offer courses, selling them for a premium one-time purchase. Fader Pro and Inkworkshops are great examples. 
Aspiring electronic dance musicians turn to Fader Pro to learn how to produce amazing music through on-demand video courses.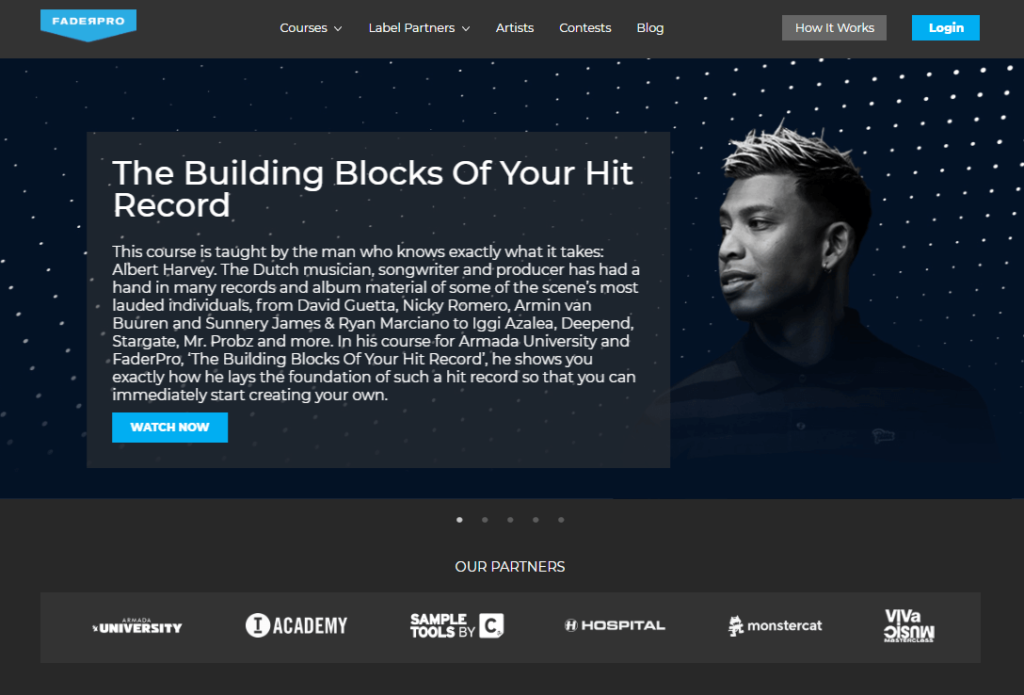 And Inkworkshops teaches people the tricks and techniques for creating stunning tattoos.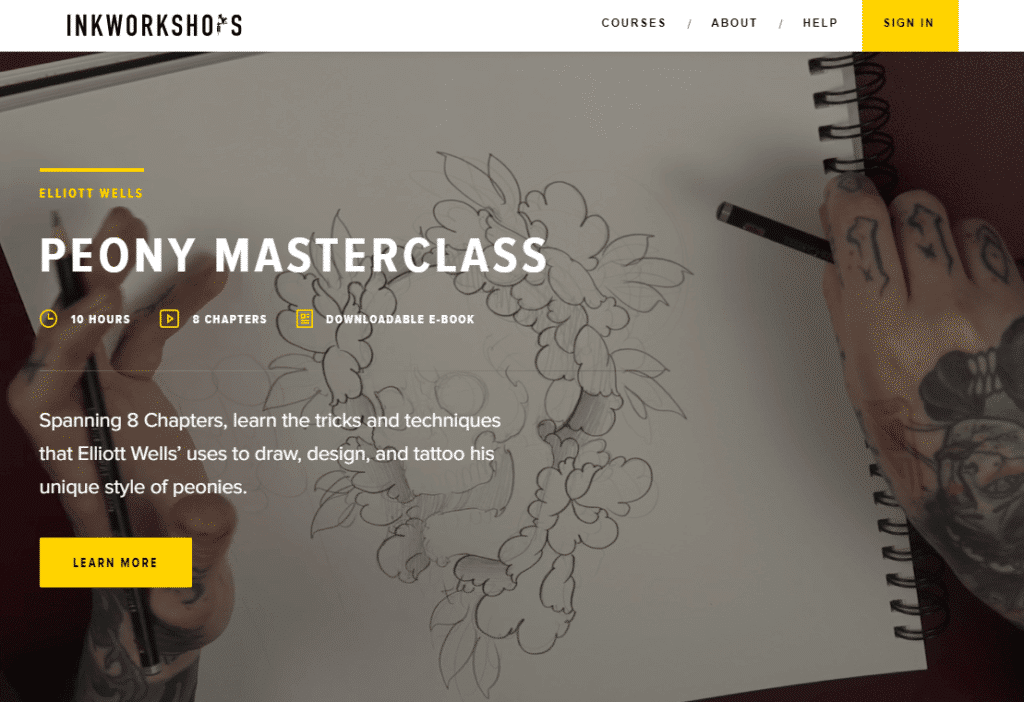 Pros 
TVOD is a smart choice if you're selling a video or movie, or bundling a course, workout program, or topical content.
Cons
One-time purchases result in fewer opportunities for recurring revenue. 

One-time purchases are also typically 3x to 10x higher than SVOD subscriptions and potentially harder to sell more of. 
SVOD: Subscription Video on Demand
SVOD stands for subscription video-on-demand. SVOD gives users access to a complete library of videos for a small recurring fee. 
Fees can be charged on a daily, weekly, monthly, or annual cycle, depending on the service and content offered. Users can watch as many videos as they want on any device with internet access. 
SVOD examples you may have come across include Netflix, Hulu, and HBO.
As an SVOD platform provider, Uscreen is home to many channels that choose SVOD as their video monetization model. 
Take KweliTV. It's a channel dedicated to streaming undiscovered, award-winning indie films, documentaries, kids shows, and web series that celebrate black culture across the globe. Viewers gain access to a growing collection of 400+ titles for just $5.99/mo or $21.89/yr.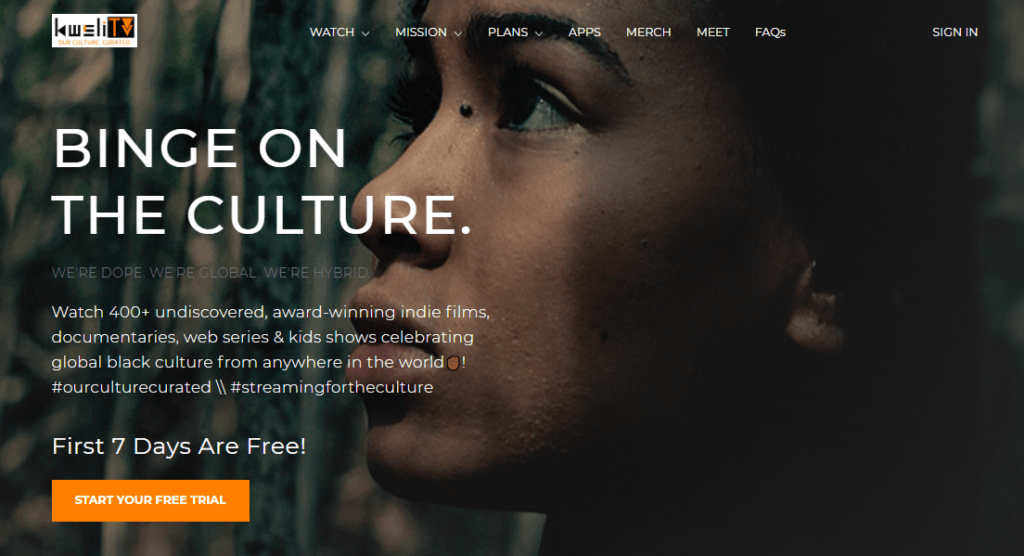 Pros
Most scalable option, allowing you to generate a more linear revenue growth stream over time. 

People are open to and love the membership models, especially for a low and affordable monthly fee with tons of value vs a one-time fee and limited access.
Cons
You'll need to add content continuously to provide value to customers

Limited to the purchasing power of your audience. You'll need to find the best subscription fee to net the most customers, or risk pricing yourself out of the market. 
SVOD and TVOD hybrid models
Want the best of both worlds? It is possible to use a hybrid of TVOD and SVOD monetization models. By offering subscriptions and one-time purchases, you can appeal to a larger audience and keep them within your ecosystem.
SVOD and TVOD work well because they are both transactional, making it easy to offer upsells and cross-sells to your audiences.
It's crucial to know that you're tied to the purchasing power of your audience. Should you price yourself too low, increasing your fees could lead to lower retention rates. And if your fees are too high, you could price yourself out of the market. 
Your goal is to perfect your marketing and create great content that attracts a larger audience to help you scale. This is easier with SVOD than TVOD. 
Birdietime is an online golf training site. They offer SVOD and TVOD options. As a client, you can become a member for a monthly or annual fee, or purchase single coaching plans.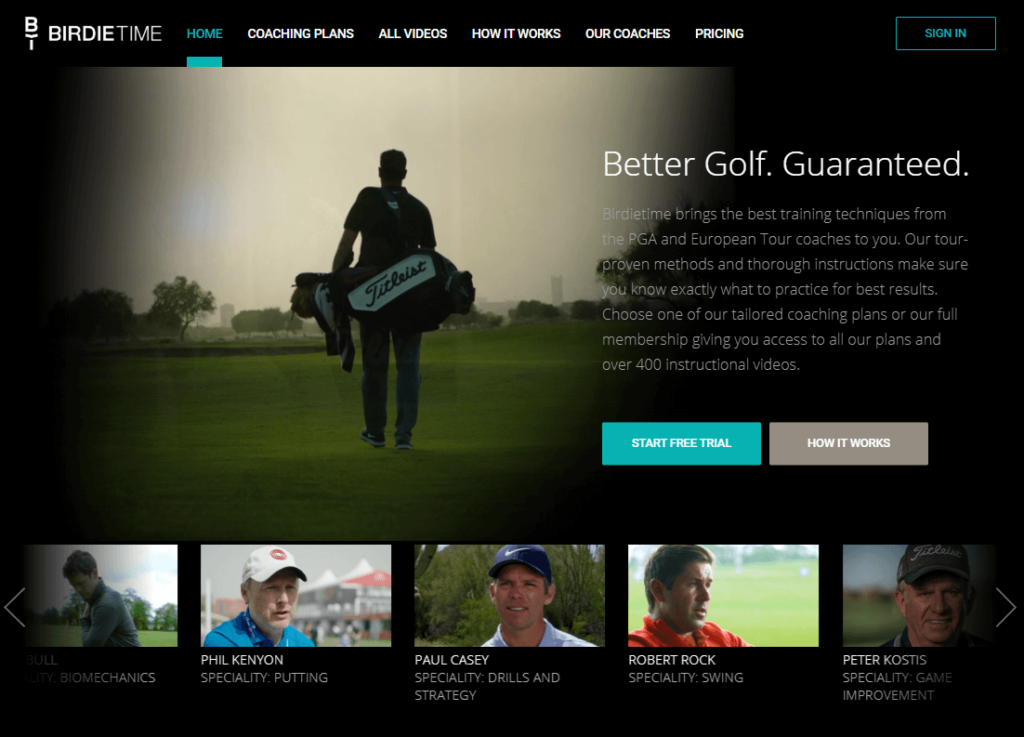 How to pick the best video monetization model for your brand
Now that you know how each of the most popular methods for monetizing videos, let's look at how to pick one. Deciding which strategy to pick is less guesswork and more scientific. It involves research and planning. 
Here's a four-step process for choosing yours.
Step one: research your competition and audience 
Research is the cornerstone of all winning business models. To know if your idea will work, you need to identify who your competition is, what they offer (products, price), how they promote it, the marketing channels they use, and why customers choose them.
When it comes to identifying your ideal or target customer, start with primary research. Speak to people to identify what they want out of a channel like yours.
For example, ask if your content should be created as a series with episodes, or if it will be better received as a one-time purchase for a premium. 
Would building an easy-to-use video membership site be of value? And, how much are they willing to pay for content?
As you gear-up to establish your target market, create a persona. Build a document based on the demographics and psychographics of your perfect customer. There are tons of free templates you can use to get started. If you need a little inspiration use this one from DigitalMarketer.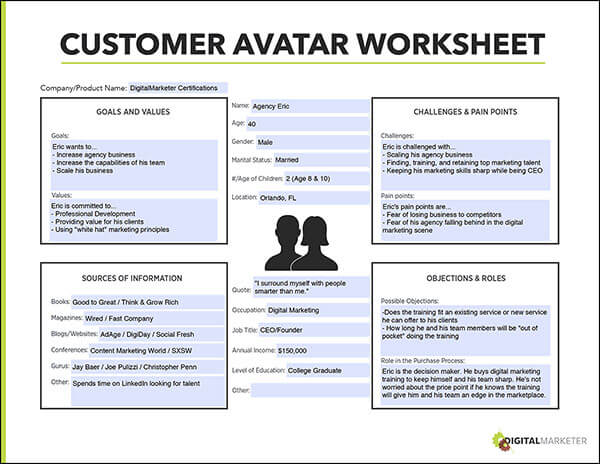 Questions to answer when performing research: 
What types of content will you create? 

Episodic videos, courses, or single/standalone videos like movies, or both?

What does your ideal customer want from a service like yours?

What makes your service unique and more appealing than the competitions'?
Step two: set realistic goals
Setting realistic goals isn't always exciting. Entrepreneurs are naturally wired to think and be audacious. But you'll need to focus your ambition when setting VOD monetization goals. 
To realize your vision, you need to be able to support it with the right planning and resources. For instance, picking a TVOD model means creating a product that has broad-enough appeal, and will sell well each month. 
Going the SVOD route would mean producing more content that people can enjoy each month, justifying the monthly subscription fee. 
That said, also consider how much revenue you plan to generate and ways of getting there. For example, access to the right technology, like the ability to easily build and use membership video apps could propel your brand to new heights. 
Also, think about what percentage of your current business revenue your new video channel will generate. How soon do you see yourself achieving this goal based on your monetization model?
Questions to answer: 
What is your primary goal for creating a VOD service?

Given your research and current position, is your goal realistic?
Step three: choose your monetization model
Two main points to consider are how you charge for your content (monthly recurring or one-time fee), and how you deliver your content (a collection of videos in the form of a course, or one video).
Consider your direction in step one and the type of content you've decided to create. 
Video can serve as a  long-term revenue generator if you find the right fit for your brand. SVOD, for example, means more steady revenue over time than TVOD. TVOD offers higher average sales values but they are not recurring. 
A question to answer when setting goals: 
How will you monetize your videos?
Step four: build your offer
Creating immense value has long been understood as a smart way to grow brands. It helps generate higher ROI for marketing spend, too. With VOD monetization models, it's possible to create attractive offers using various content like live streaming, free trials, and freemium offers.
Here's how each works:
Free trials
Free trials are a great way to attract new customers. You're able to promote your site to a wider audience, offer a trial of your channel content to give viewers a feel for what you create. As with all trials, if they like what they see, they can become paying customers. 
Freemium
Freemium solutions typically offer video content at no charge but make offers to viewers to generate an income. This could be the sale of anything from services to merchandise.
Live streaming 
Live streaming can be used as a drawcard for audiences and is a great solution for quick market penetration. While you can charge for each live stream event that's filled with premium content, they can be hard to scale. Live events require planning and to generate revenue consistently, you'll need to run them regularly.
Once you decide how you'll attract new viewers, combine it with your core product (monetization strategy). By bundling your offer and core product, you create a highly effective sales funnel.
Barre Now is an online training and certification channel for yoga and fitness instructors. They offer new viewers seven days' worth of free access with the choice of joining as a full member for $9.99/mo or $89.99/yr.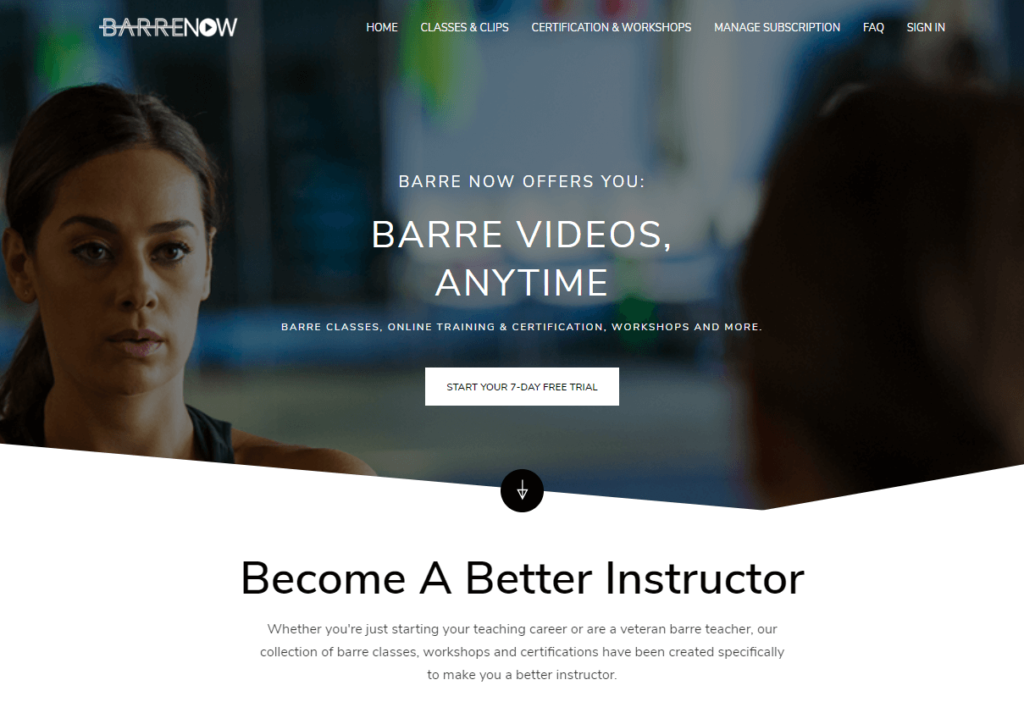 Questions to answer when creating your offer: 
Which option will your offer include: a free trial or be based on a freemium model?

What is the core product you will sell (subscription or one-time purchase)?

Will you offer live streaming as an upsell, part of an SVOD subscription, or a free offering?
Conclusion
Video can help you scale your brand, but you need to pick the best option for your business. Consider your audience and business goals, and plan and build your video monetization strategy for maximum growth.
About the author: Amir Shahzeidi is the digital marketing manager at Uscreen, an all-in-one video monetization and OTT platform provider that empowers video entrepreneurs and creators to monetize their content and build thriving businesses around their videos.