What's New in Wave.video: Stickers, GIFs, Advanced Color Picker, and More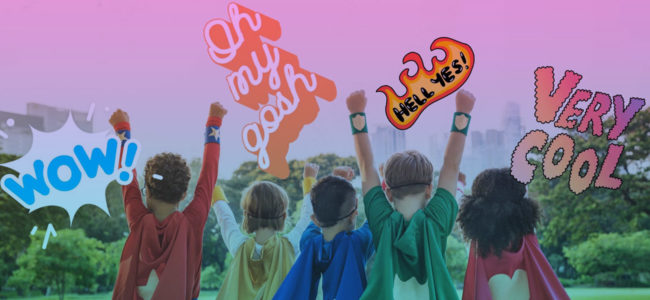 Wave.video team is constantly working on improving and optimizing our awesome video making tool.
We regularly add new features to make users' experience with the product smooth and enjoyable. This update is no different! Animated stickers, GIFs, and new color picker were added to the editor to take your video making practices to the next level.
So, let's take a look at what has changed in Wave.video this time. We hope you're as excited as we are!
Animated Stickers and GIFs
Every social video should have a key idea behind it. The primary goal of a video is to transmit this idea to an audience.
With the latest Wave.video update, it's easier than ever to make a video that supports and complements your message. How? With the exclusive animated stickers and GIFs that you can now add to your projects!
Explore our extensive collection of bright stickers and GIFs designed to match all intents and purposes. The stickers were made by the amazing Wave.video designers, which means that you won't be able to find them anywhere else – exclusive, useful, fun!
Choose the ones that suit your video best, and add them to the project with a simple drag and drop. You can also adjust stickers and GIFs by resizing and rotating them.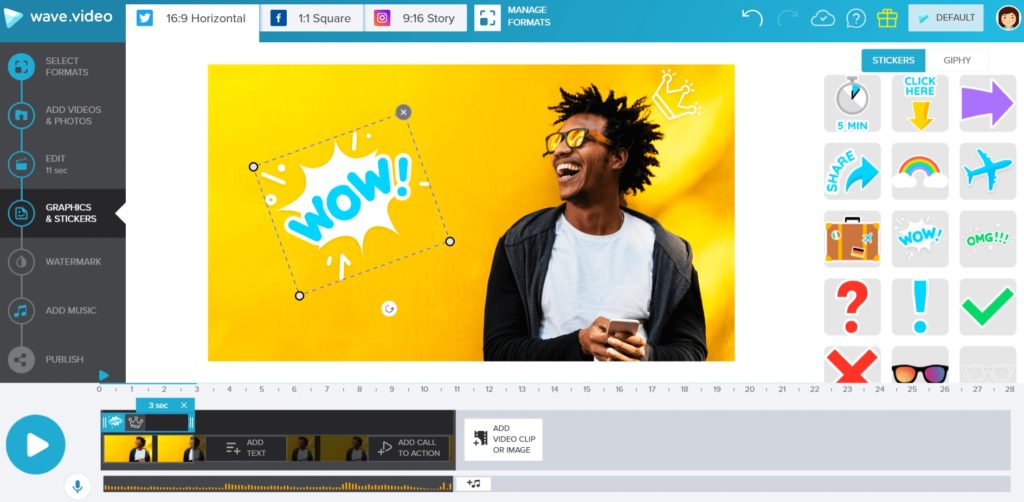 How can it benefit my videos?
Stickers and GIFs do look amazing, no doubt about that. But how can they make your videos more effective in terms of audience engagement? Well, there are a few undeniable benefits of using these elements in your videos:
Makes videos more emotive.

Bringing out emotions in your audience with video is no easy task. Stickers and GIFs can easily make your videos more touching, funny, and exciting!

Universalize videos.

In the digital world, emojis are a language everyone can understand. People around the globe often use similar emojis, stickers, and GIFs to express themselves. Isn't it great that you can now make your videos more comprehensible for any person in the world?

Makes your videos unique. If you use stock footage but want videos to look unique and memorable, stickers and GIFs are your go-to! They will bring individuality to your videos without much effort.
Want an example? Take a look at how we used stickers to jazz up dull office videos (starring your humble Wave.video team!):
Make your videos even more fun with Wave.video stickers & GIFs
Introducing a new way to create engaging social videos: animated stickers and GIFs
Advanced Color Picker
We've already discussed how important colors in your social video are. That's why it was essential for us to make Wave.video color picker as functional and intuitive as possible.
The new, advanced color picker is more efficient and user-friendly. It makes the process of switching between colors way easier and faster. Let's see how it works!
Dimmer
With the new color picker, you can experiment with dimmer even more! There are now four categories to choose colors from:
Project colors – colors previously used in this particular project.
Image/video colors – color suggestions based on the background visual.
Brand colors – colors that have been added to the brand via Branding (read on to learn more about this).
Default palette – a number of most popular colors that suit pretty much every video.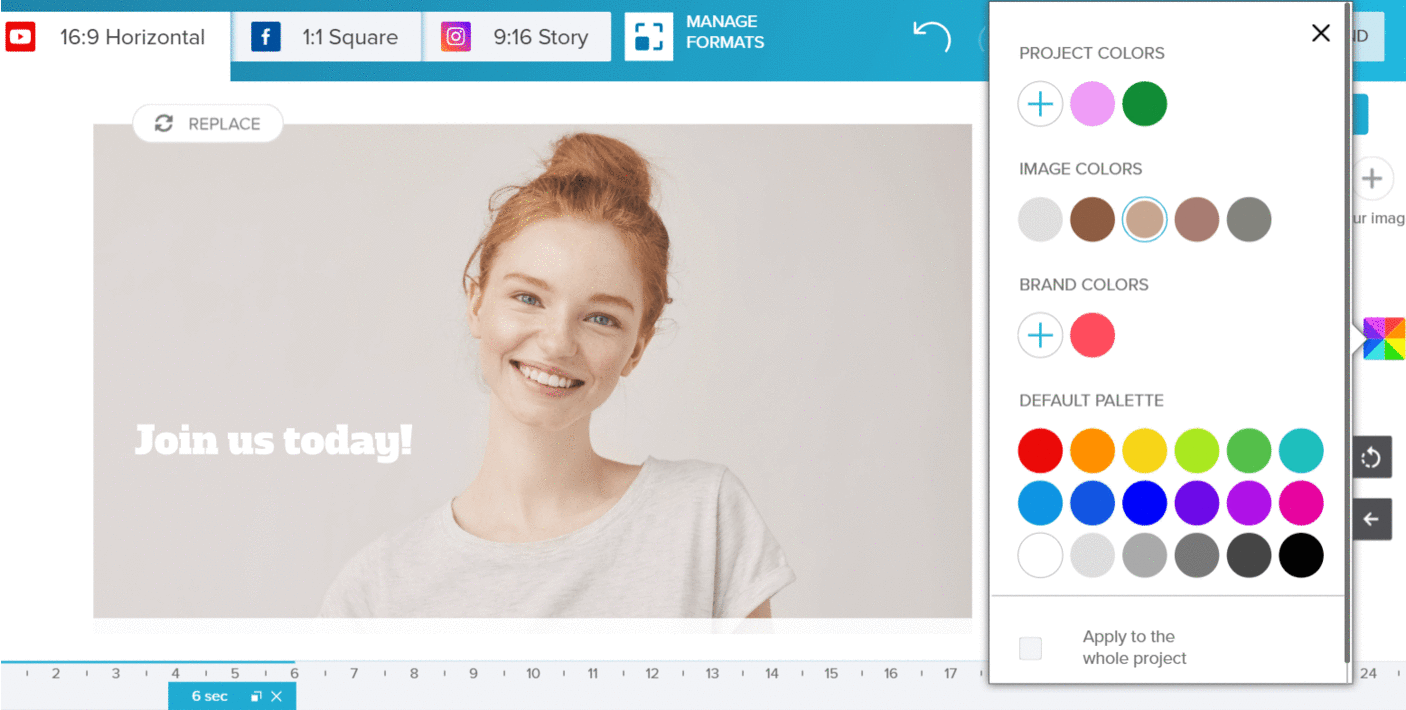 Bonus: With the new color picker, you can apply dimmer to the whole video with a single click. To do that, tick the box next to "Apply to the whole project".
Brand Colors
"Brand colors" is now one of the categories in the new color picker. To add your own brand colors, go to your Branding page, choose a brand you want to choose colors for, and click on "Brand Colors" tab.
You can add up to 22 colors per brand and have instant access to them when choosing a dimmer. An ultimate timesaver!
Bonus: New Halloween and Columbus Day Video Templates
October is finally here! This month brings at least two great occasions to post engaging videos on social media: Halloween and Columbus Day.
Don't want to spend too much time making them? We've got you covered with our brand new video templates!
Halloween Video Templates
"Halloween is an opportunity to be really creative" –  Judy Gold
The same rule applies to video marketing. Create awesome videos for the spookiest day of the year with our Halloween templates!
Columbus Day Video Templates
The anniversary of Christopher Columbus' arrival in the Americas is celebrated on October 8. Post a video in honor of this occasion!
Check out our Columbus Day templates to find videos that will work for your audience the best.
What do you think about the new features? Which one is your personal favorite?
Share your thoughts in the comments!