7 Ways to Grow Your Digital Marketing Agency and Increase Profit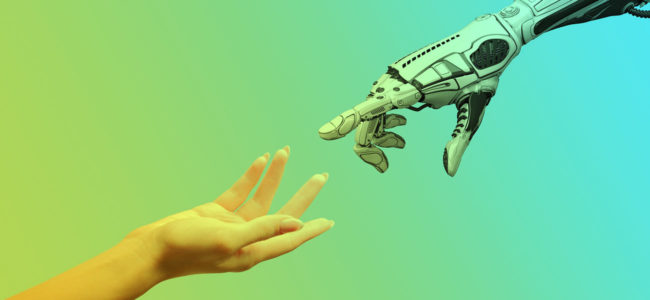 Did you know that the earliest creative agency dates back to 1786, London?
At that time, the only job of advertising agents was to act as a media buyer on behalf of their clients. Then by the 1870s, agencies became more involved in the creative process themselves and expanded their services to include in-house production – the model for marketing agencies today.
Despite the years that have passed, the goal of all agencies from any era is still the same: getting their client's message across to the right audience.
The goal of all agencies from any era is still the same: getting their client's message across to the right audience.
One thing that has changed, and almost unrecognizably so, is the space in which past and present agencies operate. With the rise of the Internet and the World Wide Web, we now have access to a wealth of information whenever we want and need it. The virtual sphere has turned into an ever-evolving landscape that has given modern-day marketers endless opportunities to reach an audience much wider than they've ever known.
Not many people know how to start their own SEO business. As an online marketing agency in the digital era, you have every advantage to attain your goals and boost your sales. Use this as your guide for growing your own digital marketing agency and maximizing profit.
Pro tip: the guys at FatJoe came up with a great guide "How to Generate More SEO Leads Than You'll Know What to Do With: 9 Bulletproof Methods". If you are serious about generating SEO leads for your agency, make sure to check it out.
1. Create a Smooth Onboarding Process
We all know that clients are the keys to every agency's success. The most important step in establishing an agency-client relationship is making sure the client onboarding process is as smooth and straightforward as possible.
From the initial proposal to the kick-off meeting, an excellent onboarding process leaves a good first impression. It helps you turn interested clients into long-term partners, proving that you have everything they need to move forward with the contract. Send out satisfaction surveys to your clients to know which parts of your onboarding process convinced them to seal the deal as well as the areas on which you can still improve.
2. Obtain the Right Tools and Data
Having everything you need helps you make better decisions. As a digital marketing agency, technology is a crucial investment that enhances your access to useful tools and key data points. Every agency should look for the perfect integrated system and technology that make it easier for them to provide unparalleled service.
Some of the useful technologies for digital marketing agencies include:
SEO Rank Checking: Google Search Console, SEMrush, MOZ
SEO Keyword Analysis: Google Adwords, Google Trends, SEMrush, Spyfu
Digital Analytics Tools: Google Analytics, Kissmetrics, Adobe Analytics
Site Audience Comparison: Google Analytics, Alexa
3. Integrate Conversational User Interface into Your System
Apple's Siri, Google's Assistant, Amazon's Alexa and Microsoft Cortana are becoming more and more present in a consumer's daily life. These conversational user interfaces are built to provide answers for customers when immediate assistance is unavailable.
Improving your digital marketing services should include enhancing the user experience of your client's website to fit their customer's needs. For simple product questions or work hour schedule inquiries, a chatbot is an excellent solution. Thereisabotforthat, Botlist, and Chatbottle are famous bot search engines that you can integrate into your client's website.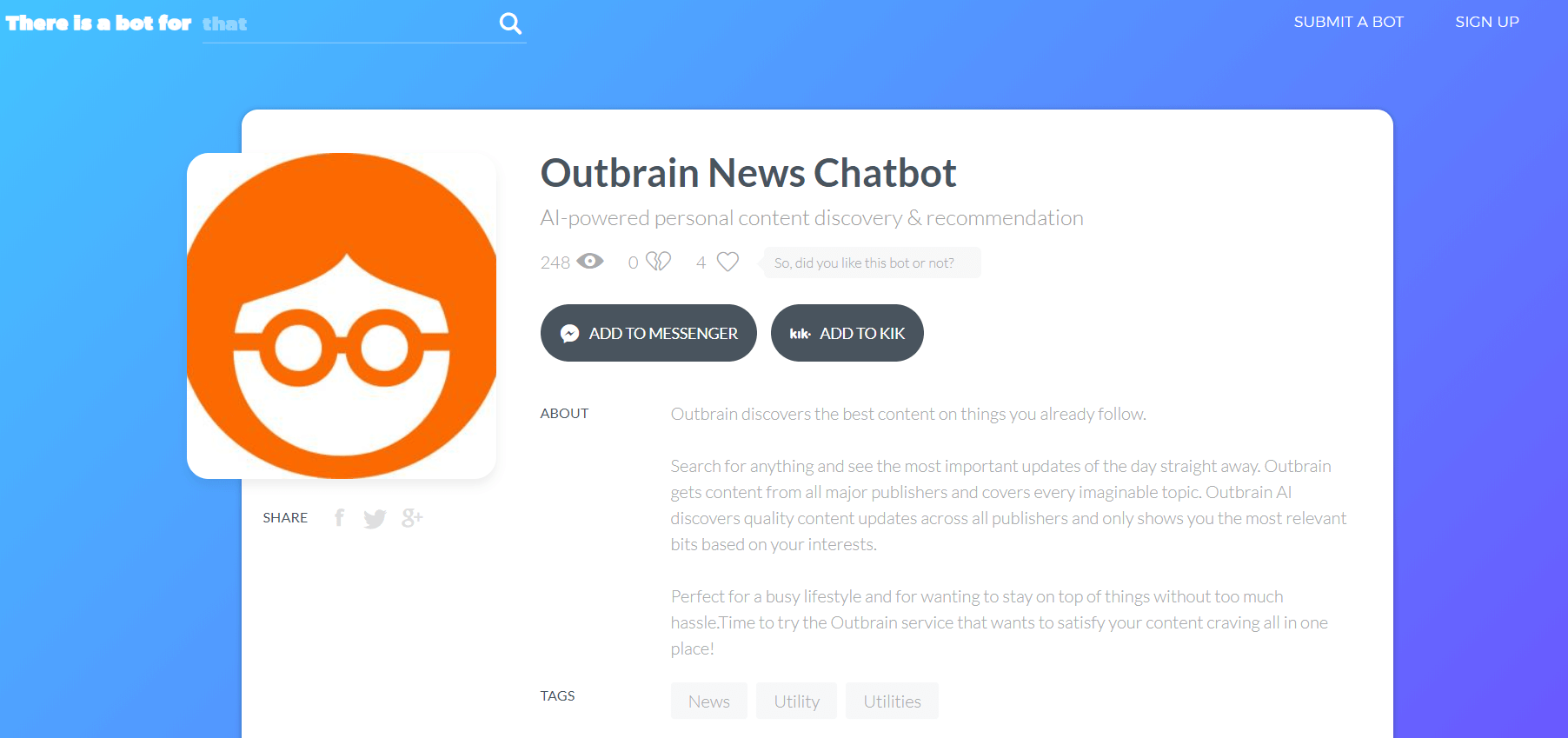 An example from Thereisabotforthat
With conversational user interfaces, brands can naturally interact with customers online and make sales even during ungodly hours.
4. Utilize Artificial Intelligence
Today, a personalized marketing strategy is critical in helping your clients stand out amongst their competitors. Artificial intelligence (AI) is designed to give you just that.
AI is closely tied to machine learning and improving performance through data analysis with little to no human intervention. In the digital marketing industry, AI predicts what the customer wants to buy, interprets client behavior and, as a result, becomes the secret to driving conversions. It can simplify buying processes, automate reporting and analyze algorithms to learn which type of audiences respond to various products and ads.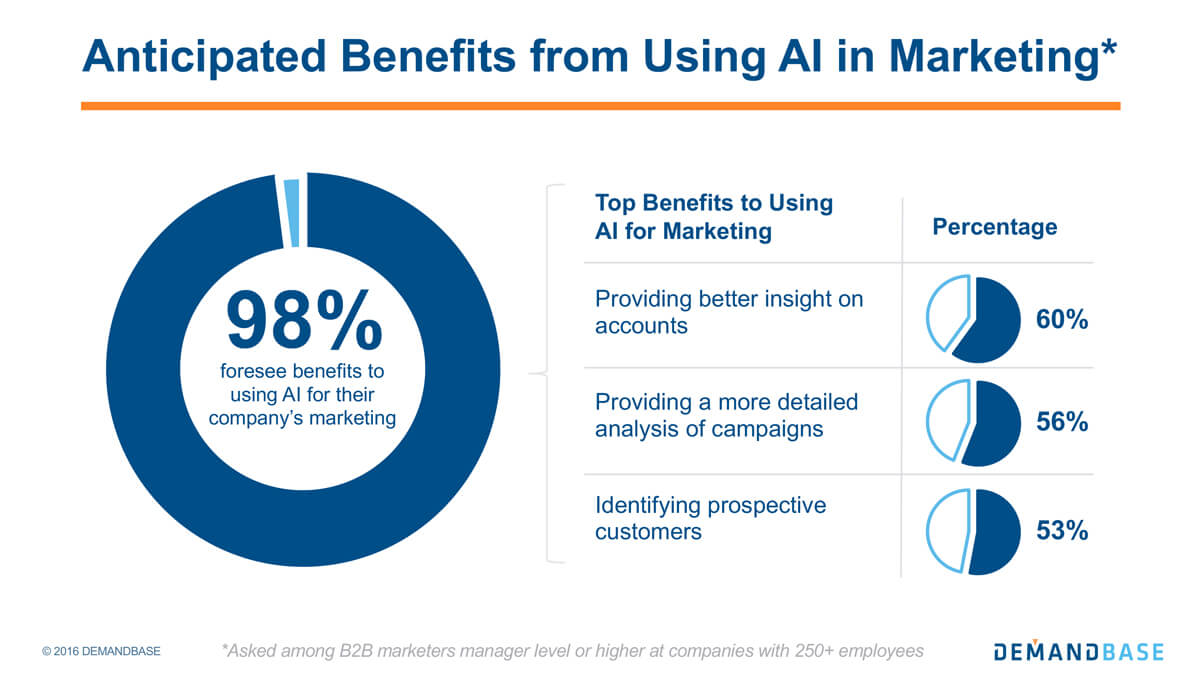 Use AI technologies to monitor SEO performance, manage profits, and deliver personalized experiences for your clients and their customers. Provide smart voice search tools for better customer service and AI content generators to help streamline your content marketing strategies.
Integrating AI into your agency not only speeds things up, it also increases the efficiency of your team while providing accurate data that is integral to your success.
5. Provide Live Video Marketing Packages
Ever since marketing has gone digital, the line between the brand and consumer is becoming more and more blurred – but for the better.
According to a poll conducted by Livestream and New York Magazine, 80% of those surveyed would rather watch a brand's video than read a blog post while 82% prefer videos over social media posts. Live videos, more specifically, are currently outpacing the growth of other types of online videos, giving brands a 113% increase in ad views.
Almost every social media platform is jumping into live video and frequently adding new features into their system. The beauty of live video, says Susan Piver, is the human component. It mimics face-to-face conversations and activates the senses, giving viewers an experience of real-time interaction. Offering this service to your clients allows them to build stronger, closer relationships with their audience.
Jessika Philips - How (and Why) to Do Live Video
Discover the webinar with Jessika Phillips, a social media strategist and founder of NOW Marketing Group
6. Optimize Your Own Website
Part of your job as an agency is to make sure your client's website ranks on Google. However, in improving the website of your clients, you may have overlooked the importance of maintaining and strengthening the SEO of your own website. Quality website content is important in providing valuable information to your customers, especially during their decision-making process.
Have your team produce monthly checks and reports on your business website to make sure your SEO is always on track. Create targeted keywords and make sure your content utilizes them, attracting both traffic and sales.
7. Build Case Studies from Your Successful Clients
Based on research from eMarketer, client case studies are one the most popular self-promotional strategies used by marketing agency executives.
The survey revealed that a whopping 62.6% of respondents voted in favor of case studies being effective in generating leads. Plus, they're quite versatile. They can be used as email drip campaigns, act as lead magnets on websites and serve as assets for your sales team when closing deals with partners.
Digital marketing agencies can speak to willing participants and tell their story to future clients. Backed up by accurate data, a case study is one way you can gain a potential client's trust and boost your sales in no time.
Pro Tip: Create an engaging video with a success story of your customer using Wave.video! Customize this video template for your business by clicking the "Customize" button below:
Final Thoughts
There is no shortcut to victory. But, with these tips, you can work your way towards stronger strategies and establish yourself as a well-rounded, successful digital marketing agency.
Which tips will you translate into action? Share in the comments!
About the author: Itamar Gero is the founder and CEO of SEOReseller.com, a white label SEO company and digital marketing solutions provider that empowers agencies—and their local business clientele—all over the world. When he isn't working, he's traveling the world, meditating, or dreaming (in code).