12 April Holidays That Must Be On Your List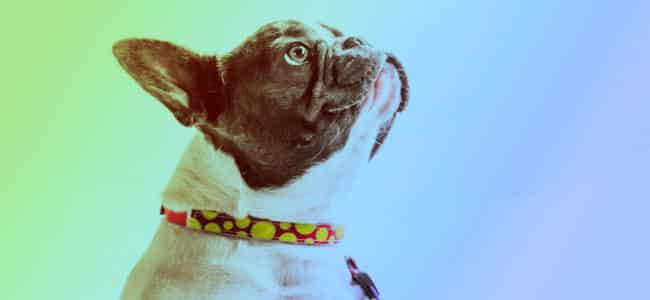 With Spring finally around the corner, we figured you'd want to start organizing your social media calendar as well as your home. (Spring Cleaning frenzy!)
These are 12 events we think you can't afford to miss in April.
Monday, April 1st: April Fool's Day
You knew this was coming. Whether you like pranks or not, companies have revolutionized quirky humor into massive marketing successes.  Based on Twitter Analytics, April Fools gets an estimated 888 million impressions! About 34% of those impressions come from Japan, and 25% come from the USA.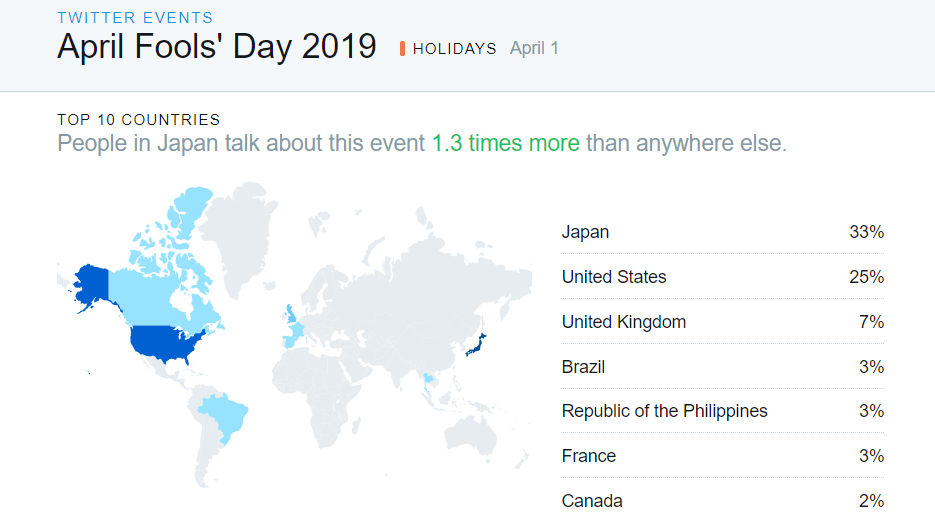 In order to follow in their footsteps, we suggest brainstorming with your creative team to provide something truly ridiculous to customers. Bait and switch them to click your ad or Instagram story. How? Well, Vito Corleone was not the end-all-be-all to the non-negotiable offer. Why not offer a car? Or a massive contracting license that gives them all the rights to their favorite movie or franchise? Or how about re-electing a new CEO based on how much "social currency" they can get on a specific photo for April Fools?
When they click your ad to find out if you're telling the truth, let them down gently… but then offer them a truly fantastic coupon code, a free goodie, or access to a top secret blog post that will change their world!
Friday, April 5th: Lollapalooza Brasil 2019
Lollapalooza takes place in Brazil. It is a truly spectacular music festival you cannot miss. The event takes place from April 5th to the 17th.
Don't forget to take tons of photos with landmarks in the São Paulo Autódromo de Interlagos. There will be hundreds of filters on Snapchat, hashtags, and even Instagram-ready booths for you to take mindblowing pics. If you're not sure how posting content on Instagram might be helpful to you or your business, here's a handy blog post on how to capitalize your social media prowess to do so!
Also, don't forget to check out the line-up! Arctic Monkeys are among the many playing in Brazil.
Saturday, April 6th: The Grand National 2019
This is the largest horse-race & betting competition in the UK! It boasts 1 million GBP as prize money, too.
The Grand National website offers many tips and tricks in order to help you make bets, educate you on the types of horses that race, and give you a detailed history of previous winners and why they won.
We suggest making a fun GIF of a particular horse you are in favor of winning! If you don't know how to make a GIF from a blog, click here to read our easy how-to blog!
Sunday, April 7th: World Health Day
For 2019's World Health Day, the World Health Organization (WHO) is dedicated to this over-arching theme: "Universal health coverage: everyone, everywhere." Their slogan is "Health For All," which you will probably see all over social media in hashtag form as #HealthForAll, often in conjunction with #WorldHealthDay.
Today is #WorldHealthDay! This year #LetsTalk about #depression, the leading cause of disability worldwide https://t.co/OQ2M8dfwix pic.twitter.com/sX2Lfd9nCC

— World Health Organization (WHO) (@WHO) April 6, 2017
You can show your followers why promoting awareness for World Health Day is so important. You can come up with a couple of facts that drive the point home in a short 15-25 second clip, optimized for Instagram, Facebook, and Twitter.
Here are a couple of quick bullet points yanked from our free social inspirational calendar to give you an idea:
WHO states that "at least half the world's people are currently unable to obtain essential health services." Also, "Almost 100 million people are being pushed into extreme poverty, forced to survive on just $1.90 or less a day because they have to pay for health services out of their own pockets."

Facts like these can open your followers' eyes to the glaring issue that is worldwide healthcare.
Wednesday, April 10th: National Sibling Day
According to the Chicago Tribune, did you know that in the USA approximately 80% of the population have siblings? No wonder this day is trending on social media!
If you're stumped on how to celebrate this event, have no fear. Have you heard of the Siblings Day Foundation? You should mention them in any and all posts you create to increase visibility and awareness. You can also take to social media and post sibling photos with the appropriate hashtags.
Or, simply create a video with Wave.video! Don't know how? It's super simple, and we've got all the social platform formats you need for easy push-posting directly from our website. Navigate over here for more information.
Thursday, April 11th: National Pet Day
Because we often idolize and adore our pets more than (most) human beings, National Pet Day is a gigantic event online.
People like Barack Obama, Ryan Seacrest, and organizations like Coca Cola, E! News, and Good Morning America love to celebrate National Pet Day with us! Post a photo of your furry friend and watch it collect likes, retweets, and more!
It's #NationalPetDay aka "post cute pet pics day". We're loving these precious fan photos! Upload yours here: https://t.co/44ZCI3AoGf pic.twitter.com/qqEYw7KqLn

— The Coca-Cola Co. (@CocaColaCo) April 11, 2017
Friday, April 12th: International Day of Human Space Flight
Space. It's cosmically puzzling to think of space and the rest of the galaxy… and many other galaxies spread across millions and billions of miles far, far away… alright, I'll let the Star Wars references take a back seat.
The United Nations resolved to name April 12th the International Day of Human Space Flight in order to "celebrate each year at the international level the beginning of space era for mankind, reaffirming the important contribution of space science and technology […]" as per the official website.
"I see the Earth. It's beautiful!" Thrilling to listen to the voice of the first human to reach space, 57 years afterwards #Gagarin #HumanSpaceflightDay #CosmonauticsDay #Поехали Credits to @FirstOrbit pic.twitter.com/DWGvQBBazU

— Human Spaceflight (@esaspaceflight) April 12, 2018
We think you can post your favorite or most puzzling questions with a beautiful galaxy or planet background on Twitter or Instagram. Similarly, you can create a listicle video of the most thought-provoking fun facts about space, astronauts, flight in Space and more. The more inquisitive and mind-blowing the facts, the more engagements you will get, we believe.
Saturday, April 13th: Songkran Water Festival (Thailand)
Take a trip to Thailand this year and experience a Water Festival as you've never dreamed of. Starting on April 13th, Songkran actually extends into the 15th of April. Songkran is the Thailand New Year, so remember that when you choose to celebrate.
Songkran attracts half a million visitors to Thailand per year. If that doesn't scream trending, we don't know what will. Do not miss out on this action, and make sure to pay your respects to a culture and tradition that dates back for more than 100 years.
Post photos or create a blog post on why the Songkran Water Festival is important to the Thai culture. We think it's worthwhile to educate others about worldly traditions. A listicle video with a couple of quick facts does wonders, too!
Wednesday, April 17th: Thrissur Pooram Elephant Festival
Thrissur Pooram Elephant Festival is what the Indians call a post-harvest festival. These used to be held back in ancient times when a harvest of a specific crop or seasonal harvest went well or poorly.
The Thrissur Pooram Elephant Festival is located in Thrissur, a city in the middle of what is called the "Kerala state" in India. This is significant because Kerela is a bustling epicenter for all things cultural and national to the Indians.
This festival lasts approximately 36 hours and boasts nearly hundreds of elephants and an exotic firework display. In fact, they are essential to every event held in Kerela.
To ensure you don't miss out, browse hashtags for the Thrissur Pooram Festival on Twitter, Pinterest, and Facebook. Furthermore, if you're a travel blogger, this is an excellent opportunity to showcase what you have to offer over others! If you're not quite sure how to do that, we have a blog post that discusses all the helpful ways to promote your travel blog to ensure you stand out from the rest.
Sunday April 21st: Easter Sunday AND UK Queen's 93rd Birthday
Given the religious nature of this holiday, we urge our customers to use discretion in posting.
One alternative post is to create a timelapse/collection of Easter across multiple cultures. Repurpose it with a fun fact template in our Templates tab!
Did you know that the Queen of England has two birthdays? According to Royal.UK, the Queen was born on April 21st and celebrates privately with several gun salutes. Royal.UK says, "but the occasion is marked publicly by gun salutes in central London at midday: a 41 gun salute in Hyde Park, a 21 gun salute in Windsor Great Park and a 62 gun salute at the Tower of London."
Her public birthday is held on the second Saturday of June. So why the separation? BBC states, "The double birthday tradition was started more than 250 years ago by King George II in 1748." This is due to weather complications. King George II's birthday was in November when a public and outdoor event could probably not be hosted.
So, instead, he decided to "combine it with an annual military parade in the summer," to ensure good weather for an extravagant and public birthday party.
We suggest compiling your favorite photos of the Queen and pushing them to social media platforms like Twitter or Instagram with a simple "Happy Birthday!"
Monday, April 22nd: Earth Day
Earth Day is a day to celebrate Mother Nature and our beautiful, big, green and blue planet. This day is often used to better the earth with community service, raising important topics that often go overlooked, and sometimes just sharing your favorite photographs of the beautiful world we live in.
You can help raise awareness of our planet by doing a bit of digging and sharing informative articles on carbon footprints, the way we mass produce food, and so much more.
Try to stay informative and relevant to the day, as it is easy to forget the purpose when you're having fun making content!
Wednesday, April 24th: Tribeca Film Festival
The Tribeca Film Festival is held in New York City. Not only does it boast award-winning films, but the Tribeca Film Festival is stuffed with activities and seminars for those in communications, films, PR, and more.
In order to contribute to the conversation, if you're attending: post your favorite titles or filmmakers. They'll be sure to appreciate it. Give them recognition and you'll be sure to be rewarded with a retweet or a mention.
If you want to post an Instagram Story of your time at the Tribeca Film Festival (which we highly suggest you do!) and you don't know how to do that, we have a blog for that too!
Remember to check back every month for our calendar-must haves! Besides, you can always find more holidays and events in Wave Social Calendar.