12 Best Video Ad Makers To Create Your Own Video Ads Like A Pro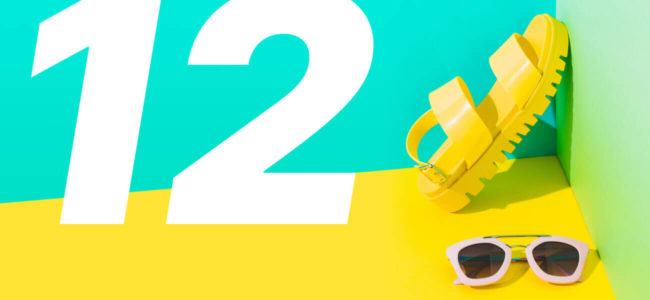 Video advertising is the dominant force in your digital strategy. You simply can't ignore it.
But it requires continuous efforts. So, where do you begin?
The answer lies in choosing the right video ad maker.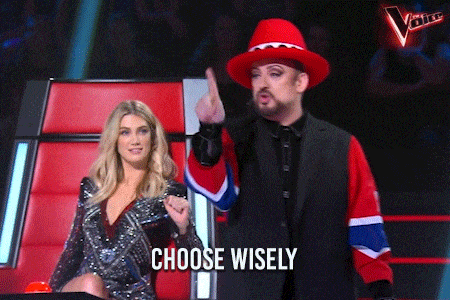 In an age where consumers don't really care if your video is made with a high budget featuring the biggest Hollywood stars, what else would you rely on? 
I'm not saying this. Google is.
When Google asked 12,000 people worldwide about what they watched in the last 24 hours, the results were astounding. The presence of famous stars was the least important reason to watch a video.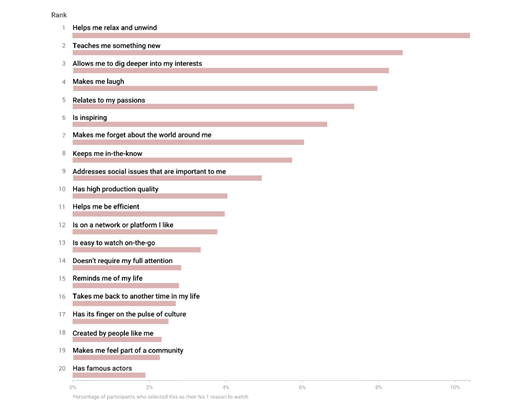 Even "high production quality" ranked quite low.  
That's why it makes sense not to worry about the budget when creating video ads anymore. After all, who needs a famous star, now that you can create equally compelling videos without breaking the bank?
Thus, the focus should be on producing effective video ads using the right video ad maker. 
The good thing is that creating compelling videos for your digital ads no longer requires you to be a digital geek. With the help of the right tool, you can easily create video ads that set your brand apart. Educating your consumers at every part of their buying journey calls for a video advertising strategy that rests on a seamless experience. That's where the best video ad maker can help you.
So, how do you decide on a video ad maker – given that there's a glut out there? To help you save some time, here's a list of tried and tested tools that can create engaging video ads with just a few clicks. 
Let's get started.
1. Wave.video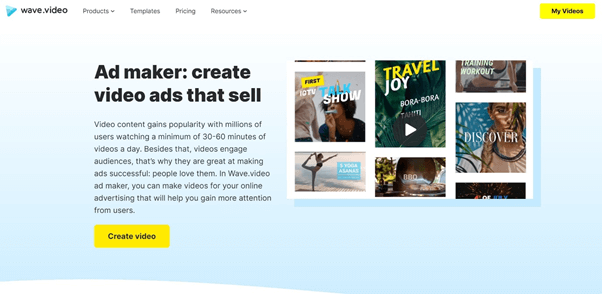 With its drag-and-drop interface, Wave.video is a godsend for video marketers. No exaggeration there. Use it and see for yourself. 
It comes with plenty of features like the option to resize your videos, add videos and images, change layouts, add graphics, stickers, watermarks, music, captions and do a lot more at a few simple clicks. You think of a functionality, and Wave.video probably already offers it.
With the free plan, you get access to 2 million royalty-free video clips and images, 5 free videos, a 15-sec editing limit, unlimited social media native shares, and one brand preset. You can upgrade to get more of these functionalities with the "Creator" and "Business" plans that start at $20 per month. 
How To Use Wave.video For Creating Awesome Video Ads
Creating video ads on Wave.video is a matter of a few clicks. It's so simple anyone can use it. 
Here's how you can do it too.
Step 1: Sign up and log in

Step 2: Click on "New Video"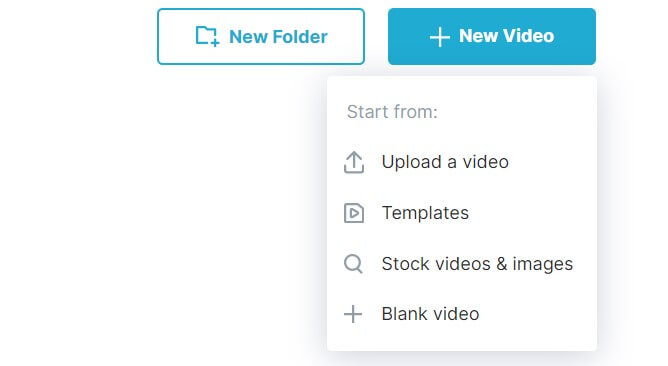 You can upload a video, choose a template, pick one of the stock videos and images, or begin working on a blank video. For this example, I'd be choosing a template.
Step 3: Pick a template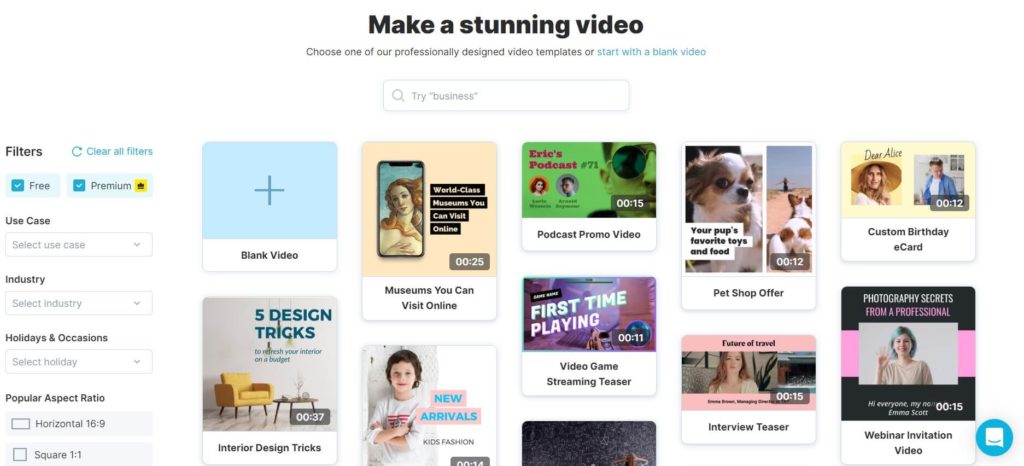 Wave.video offers hundreds of professionally designed templates that are ready to use. You can pick one with filters like "use case", "industry", "holidays & occasions," and "popular aspect ratio". There's also an option to enter a category on the search bar to find specific templates related to your video ad.
Step 4: Edit the selected template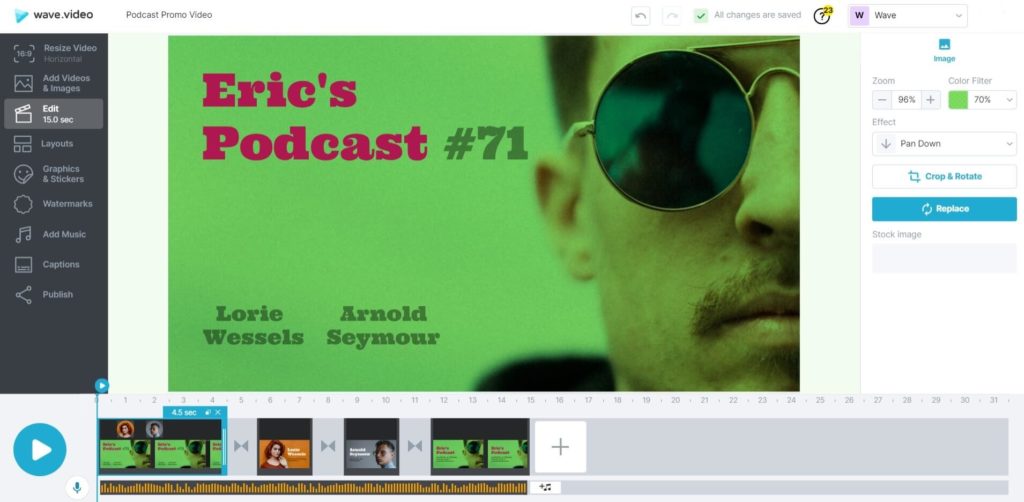 Once you have chosen a template, it's time to get your creative wheels spinning. From adding graphics and stickers to changing the text font, colors, and even the background – there's a lot you can do with Wave.video to customize your video ads.
Simply click on the text box and pick the font, color, or size you prefer from the settings on the right.
To change or add pictures, videos, or music, check out the built-in stock library. You'll get everything you need to make your video fantastic – thanks to over 300 million assets.
Step 5: Publish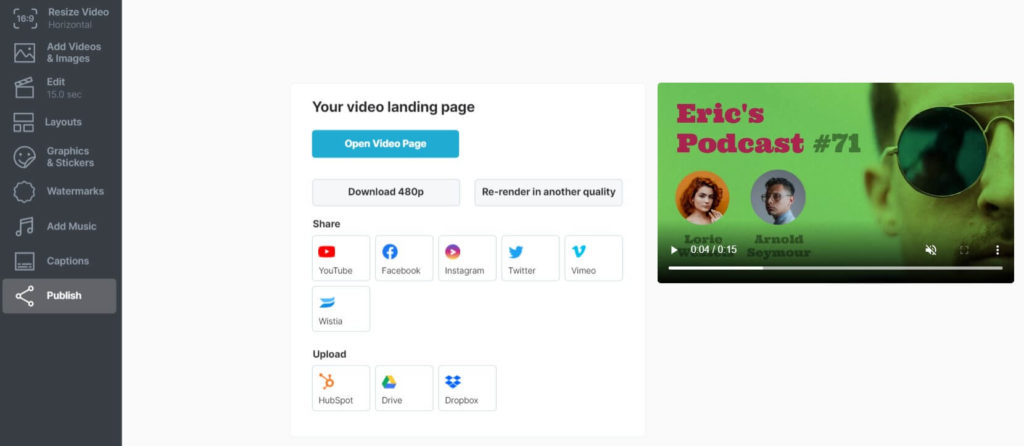 Once the editing is over, it's showtime! Publish your video, and you'll get the option to copy your video's link, embed it, or share it on social media sites. You can also upload it on HubSpot, Google Drive, or Dropbox. 
With the creator and business plans, you also get the option to download the video in mp4.
If you're looking for a go-to video ad maker with endless editing capabilities and a rich collection of templates, music, and whatnot, Wave.video is solid gold.
2. Adobe Spark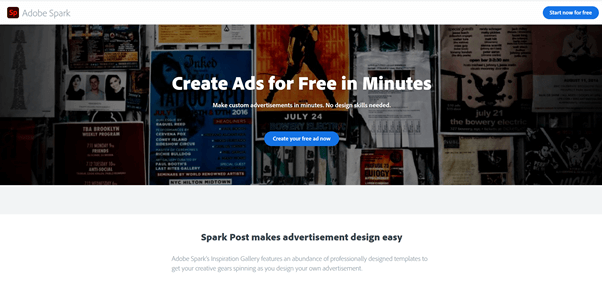 More than a popular name, Adobe Spark is one of the easy-to-use video ad makers you can get your hands on at present. With multiple storyboards, layouts, and themes, it lets you create ads in a few minutes. And there's an Inspiration Gallery too, which is loaded with stunning templates that you can edit to create your own ad.
What makes Spark stand out from most of the video ad makers is the wide range of professionally designed fonts. And they're available for free. You can use these pre-designed fonts to add a personality to your ads in less than a few seconds.
To get you started, there's a free "Starter" plan. You can upgrade to "Individual" or "Team" plans to access custom and premium ingredients.
3. Soapbox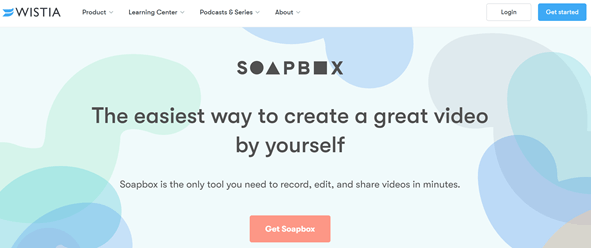 Wistia's Soapbox is a Chrome extension that lets you record, edit, and share video ads. 
A one-of-its-kind tool, Soapbox records your screen and webcam to create awesome videos on the go.
If you're someone who loves recording videos to create compelling digital ads, this one's for you with no need to export, download, or upload your creations. And once done, you can share them instantly.
With the free version, you can create and share unlimited videos, customize player color, generate a custom thumbnail, edit videos even after you've shared them, and do a lot more. But to download the videos or add your logo, you'd need to upgrade to the premium plans – "Solo" or "Team". 
The premium plans also provide insights like when did people watch your videos and for how long. 
4. Renderforest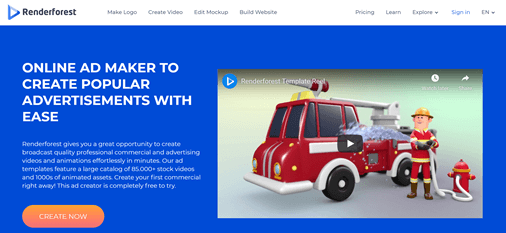 Today, when video advertising is the new norm for companies, Renderforest attempts to make it a part of their digital marketing strategy with its extensive catalog of stock videos and animated assets. 
While you get access to a host of whiteboard animation, 3D and 2D animation and explainer video templates with this tool, I do feel that the interface lacks visual appeal and isn't as good at customization as its other counterparts. Maybe because the brand wants to keep it simple, as it says, "Simplicity and quality are at the core of what we do".
The range of animated templates that Renderforest offers makes it one of the best video ads makers for explainer videos. Plus, it provides several subscription plans to help you choose the one that suits your needs the most. And if you want to use a specific product, you can also "pay per product" rather than going for a full-on subscription plan.
5. InVideo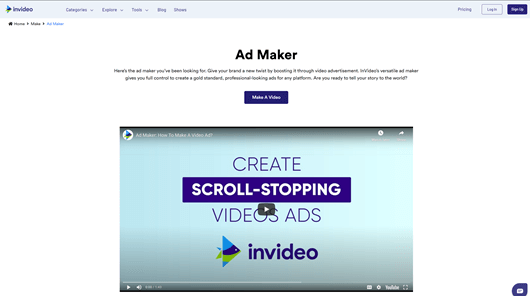 InVideo is another quick and powerful video ad maker that helps you bring your vision to fruition with its AI-powered interface. It has a library full of easy-to-edit templates along with images, music, and animations to suit your needs. It also gives the flexibility to create videos keeping the platform in mind like Facebook, YouTube, Instagram, etc. 
The free plan lets you create and export up to 60 videos per month. But they will come with a watermark. You can upgrade to the "Business" or "Unlimited" plans for features like 15 minutes video duration, reseller rights, automated text-to-speech, and more.
6. Biteable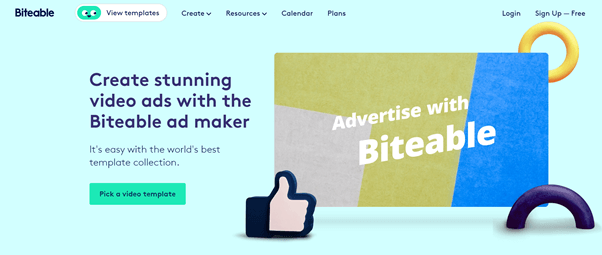 Biteable is an advertisement creator that's a cinch to use. It's USP is undoubtedly the simple interface it features. So, if you have a video ad idea and don't want to spend a fortune or a lot of time creating it, Biteable is your friend. 
Its free plan with unlimited watermarked exports and access to over 1.8 million images and clips is excellent for those on a budget. And you can always upgrade it to premium versions and enjoy custom branding, commercial usage rights, HD 1080p resolution, amongst others. Plus, those working with teams can enjoy its new collaborative feature too. 
7. Animoto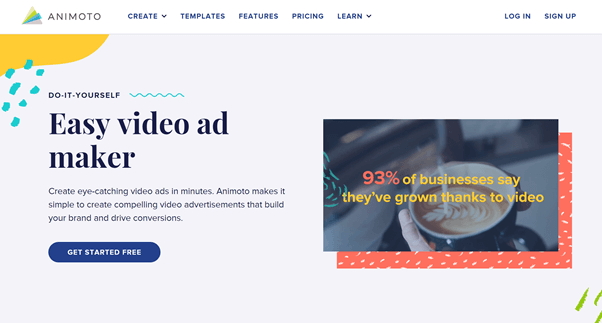 Animoto strives to give you a great tool for creating video ads. And it succeeds in doing so. Well, to an extent.
While it helps you create video ads tailored to the platform you want to publish them on, the free version with standard features somewhat restricts your creativity. For example, you get just 3 standard fonts with the free plan. Pay $33 per month for a "Professional" plan, and you can increase these to 40+ professional fonts.
If it weren't for the pricing, Animoto would have been a game-changer in the world of video ads with its high-quality pre-built storyboards. Give it a try to experience its user-friendliness and some of the most awesome storyboards ever. 
8. Animaker

All video ad makers work similar, right? Not really. 
Some tools offer much more ease and creativity to bring your vision to life with templates and assets abound. Some offer convenient pricing. Animaker aims to do it all. But does it succeed? Yes, it kind of does. Its fast interface and streamlined functionality help you create great videos in less than a few minutes.
But, like with any other fantastic tool, its free plan comes with some restrictions. On the free plan, your video ads will feature an Animaker watermark, and you get just 5 downloads. An upgraded version, the "Starter" plan will give you 6 premium downloads without watermark. Then there are "Pro" and "Enterprise" plans to help you expand your video ad creating capabilities with features like custom fonts, commercial rights, etc.
If you are looking for a tool that helps you drive traffic with simple to create but compelling video ads, try Animaker.
9. Movidmo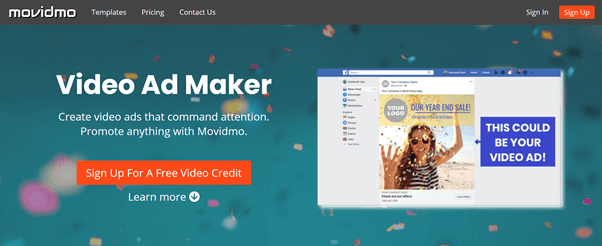 If you're looking for a video ad maker with plug and play templates, go for Movidmo. 
Although it features a host of stock footage, including videos on almost every topic, the best thing about this tool is its flexible pricing. There's no monthly subscription to make professional-quality ads using Movidmo. You can either pay as you go with videos that start at $5, or buy credits in bulk and use them to get discounts. 
With its unique take on pricing, this platform is quite useful for those who need flexible spend controls while creating video advertisements.
10. Magisto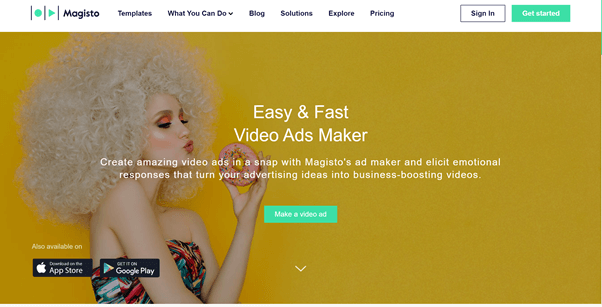 Magisto is an excellent pick for those who love celebrating milestones through video ads. It offers ready to use video templates that let you remind important dates to your audience. Your viewers stay connected, and you get more leads.
The downside? There's no free plan. Oops, that might hurt! Given that there is a long list of video ad makers that come with free plans which do a fairly amazing job at creating professional-looking video ads. 
To get unlimited downloads with access to the editor, you'll need a "Premium" plan, which starts at $4.99 per month. But it's more suitable for sharing video stories with family and friends. 
If you want to create powerful video ads for your business, choose the "Professional" or "Business" plan to get going.
11. MotionDen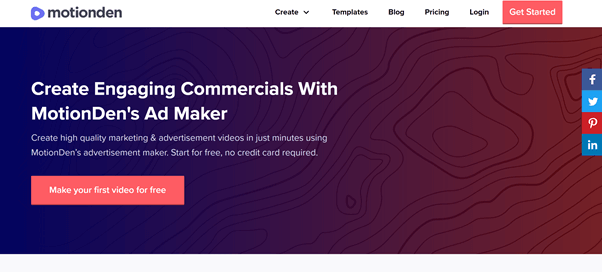 Do platforms asking for credit card details annoy you more than anything else? If so, then MotionDen should be a part of your video marketing strategy. This video ad maker doesn't require you to share your card payment information, and you can create up to 5 videos with full design control.
You don't even have to deal with downloads or software configuration – no muss, no fuss. All you need to do is to select a marketing video template from its library templates and edit it on the browser itself. 
The con is, of course, the MotionDen logo/watermark on the free videos. If you want to remove it, you can pay as you go with a charge of $9 per video or get a subscription of $39 per month, wherein the latter will also give you full HD quality videos.
12. Bannersnack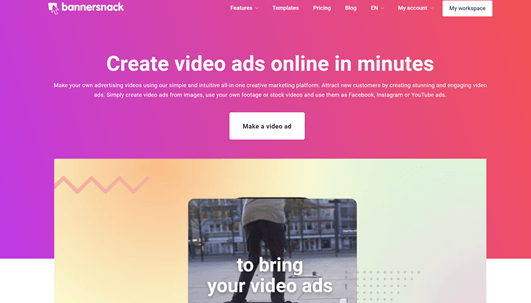 If you're a digital marketer, you probably already know Bannersnack.
With an easy to use drag and drop design, this tool lets you create eye-catching video ads. The software is pretty intuitive in itself. However, it does have a few pain points with respect to the quality of the stock images, or its resizing capabilities.
All in all, the learning curve is there, but you can expect good quality results.
And the fact that you can design, animate, and generate over 50 designs at once is quite incredible. Note that you'll have to upgrade to the "Pro" plan to enjoy this capability, which means shelling out at least $ 18 per month.
Choose. Create. Promote. 
There's no denying that videos are far more fetching than plain texts and static graphics. However, when it comes to ads, videos can get boring – if not done right. With the right efforts, they can bring in customers like no other medium.
84% of people say that a brand's video convinced them to buy a product or service. Imagine the power a video ad has!
So, pick a video ad maker and either start from scratch or choose a pre-designed template to let your content breathe relevance in just a few clicks. No technical know-how needed, no steep learning curve. Go ahead and be your brand's very own video ad maker with the right tool!
Have you used any of these video ad makers? Leave your comments to let us know which software gives you the flexibility and speed you need to create video ads that are watched, not skipped.