How to Make a Slideshow with Music: A Step-by-Step Guide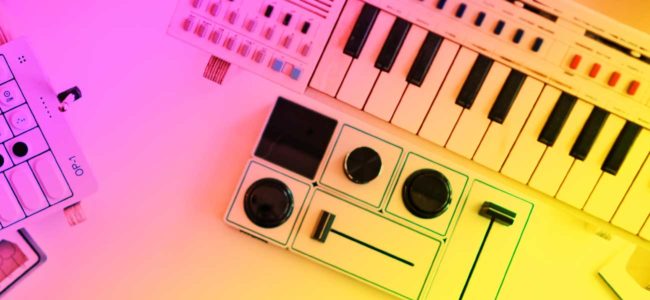 We live in an age where, digitally, the world can truly be your oyster. With so many services, both free and premium, available to business owners and consumers alike, it's easy to create compelling content without having to fork over an arm and a leg in the process. At a time when digital savviness can make or break your brand, it's crucial to know where to apply light touches for big impact.
Slideshows, in particular, are a great way to pack in information while also putting important photos or products on display. Unfortunately, a simple slideshow may not be enough to hold someone's interest online.
A remedy for that is adding music to compliment your project. After all, who doesn't love music? If you're not sure how to add tunes to your slideshow, it's no problem. Just boot up Wave.video and follow this painless guide.
Why Make a Slideshow with Music Anyway?
If you're scrolling through your feed on Facebook or Instagram and encounter a well-made slideshow from one of your favorite brands but it's completely silent, are you likely to finish watching said slideshow through to completion? Odds are, probably not.
As a business, one of your main goals is to keep users engaged with your content. If brand loyalists aren't interested in fully watching your silent slideshow, you'll be hard-pressed to convince non-loyalists to even tune in.
As a business, one of your main goals is to keep users engaged with your content
Adding a musical backdrop instantly changes things. Not only does it add depth, but a catchy riff keeps users absorbed too. Music plays to the viewer's emotions as well. 
Want your audience to get excited about your special news or product? Include an upbeat, happy jingle to keep their mood high throughout the slideshow. If your intention is to tug at people's heartstrings, a sad song can achieve that. Creating a slideshow with music is a good way to keep users, both old and new, captivated with new material.
How to Make a Slideshow with Music Using Wave.video
Step One: Select Your Desired Formats
To start, you'll need to determine the formats for your slideshow. If you plan to share it on Facebook, Instagram, and LinkedIn, select the specific styles that best serve your project's intent.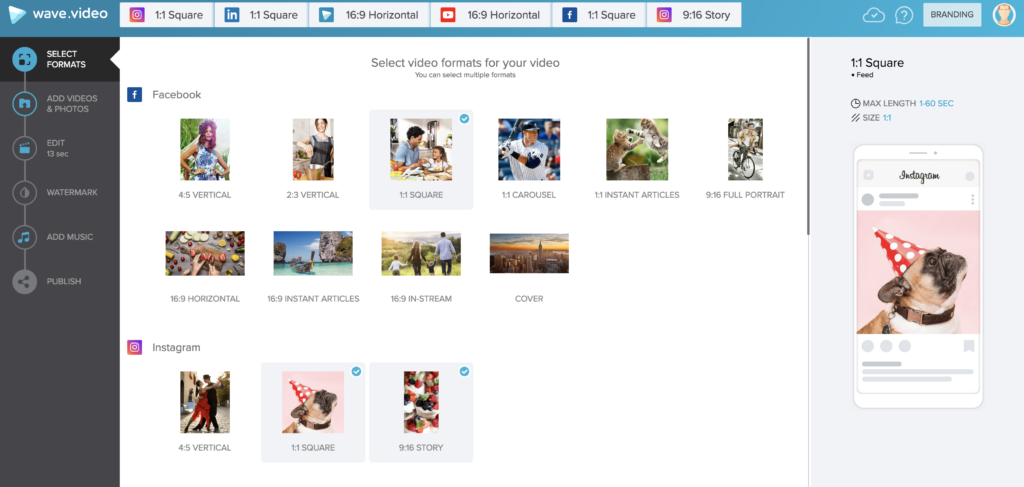 Here's a pro tip: square formats are perfect when making slideshows with music, especially on mobile for Facebook and Instagram.
Regardless of the social channels you ultimately plan to share on, though, there are more than enough formats to ensure a comfortable viewing experience for your audience regardless of whether they are tuning in from their phone or computer. Just pick the ones that suit your fancy and you're good to go. That's it. Don't you love when things are easy?  
Step Two: Choose the Content for Your Slideshow
You can't have a slideshow without content, so the next step is choosing the proper mix of images and videos to serve as your building blocks. If you'd rather have a slideshow comprised entirely of images or entirely of video, that's perfectly fine too. After all, it's your creation. With loads of images and videos to choose from in our collection, the sky's the limit.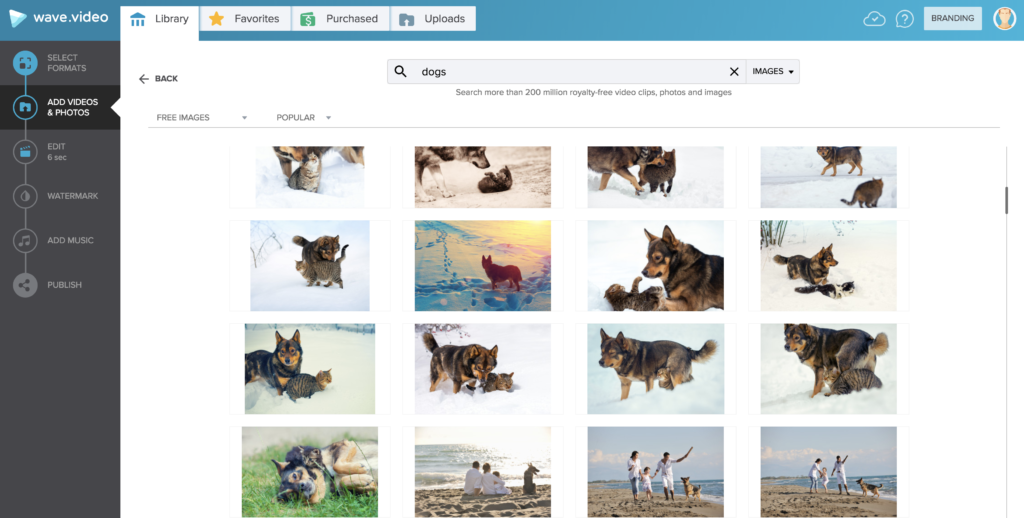 The thing to be aware of here is to choose content that's appropriate for the slideshow's intended purpose. If you can construct a project entirely from our library, awesome! 
But, stock content doesn't always hit the personal notes folks are looking for. If this is the case with your particular vision, choose to upload your own images and video footage. 
Integrating your own content is easy. Just click the "Uploads" tab on the upper portion of the screen and from there you can transfer your personal videos and images into Wave by clicking the "add" button.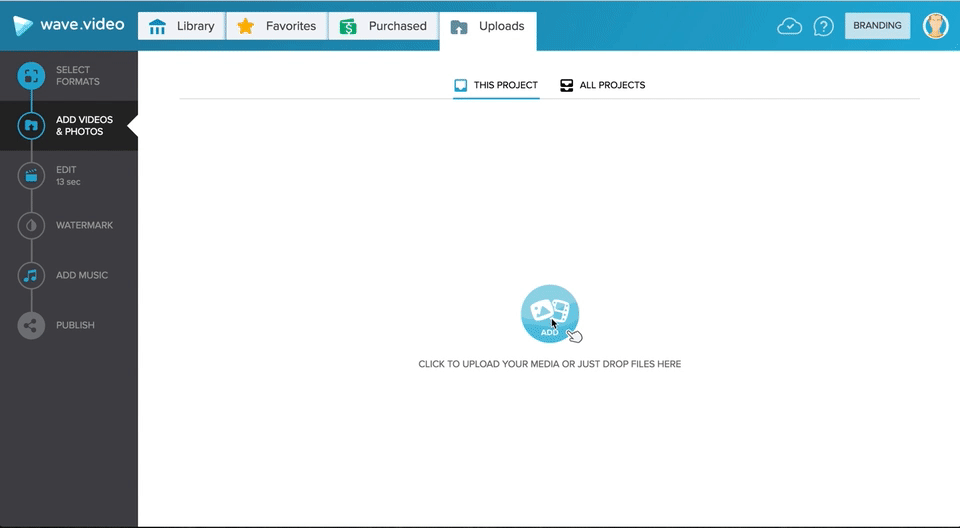 Another way you can add your own content is by simply dragging and dropping files from your desktop or other folders into your browser window.
Once added, your uploaded content will remain under the "uploads" tab from there on in. To include them in your slideshow, hover over the image or video you'd like to include and click the "add" button. Choosing to blend your own material with that of our library can help ensure your project has a mighty influence on your audience.
To add a new slide, you simply click the "add video clip or image" button on the lower portion of the screen. If you're interested in watermarking your slideshow with your brand logo, you can upload your logo and place it wherever you see fit after clicking on the "watermark" tab on the left-hand side of Wave's interface.

Step Three: Add Important Text & Stylizations
While you can certainly choose to let your photos and videos speak for themselves, it's typically best to go the extra mile and give your audience something short to read as images glide across the screen. A good rule of thumb is to keep things concise. 
Ultimately, you don't want a wall of text getting in the way of your beautiful slideshow. Having a slogan or a few key phrases appear on screen is the most ideal scenario. If you're going to include full sentences on any one slide, limit it to one or two illustrative sentences.  
You don't want a wall of text getting in the way of your beautiful slideshow.
Don't be afraid to play around with different fonts and colors either. Each slide shouldn't have a different font style though, as that can detract from making your slideshow look like a cohesive piece. So, depending on the length of your project, stick to one to three font variations. This will give you the chance to change things up while not overwhelming your audience at the same time.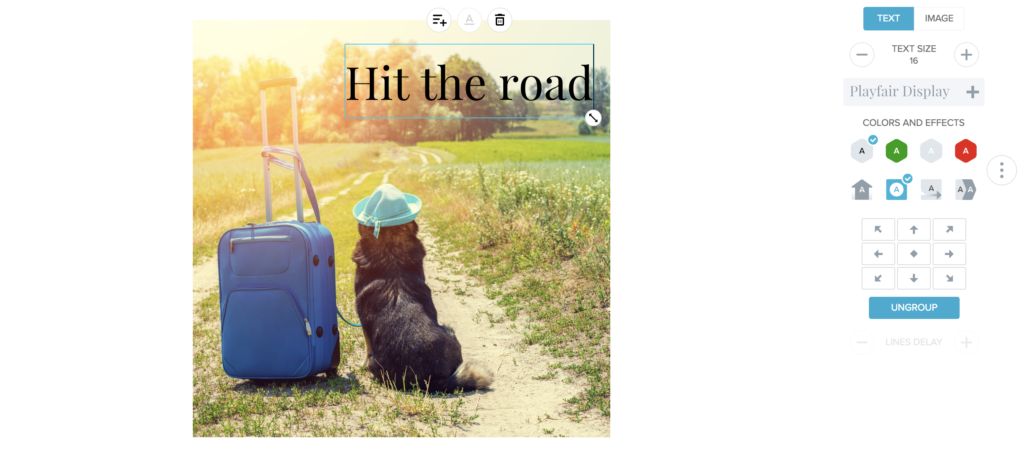 Remember, slide transitions are important too! This is an area where you can have a bit more fun as well. Unlike fonts, it's hard to overwhelm viewers with transitions.
Besides, it's boring to have every slide make its entrance in exactly the same fashion. Keep things exciting by experimenting with the animations available to you. Throw those creative doors open and cross dissolve your way to success.    

Step Four: Music Time
You may be surprised to find a large amount of stock audio, of varying lengths and styles, available to you once you click into the music portion of Wave.video. From music selected with business use in mind to inspiring melodies, there is a bevy of options to choose from. If you're going to create a slideshow with music, having a library bursting with choices is where it's at.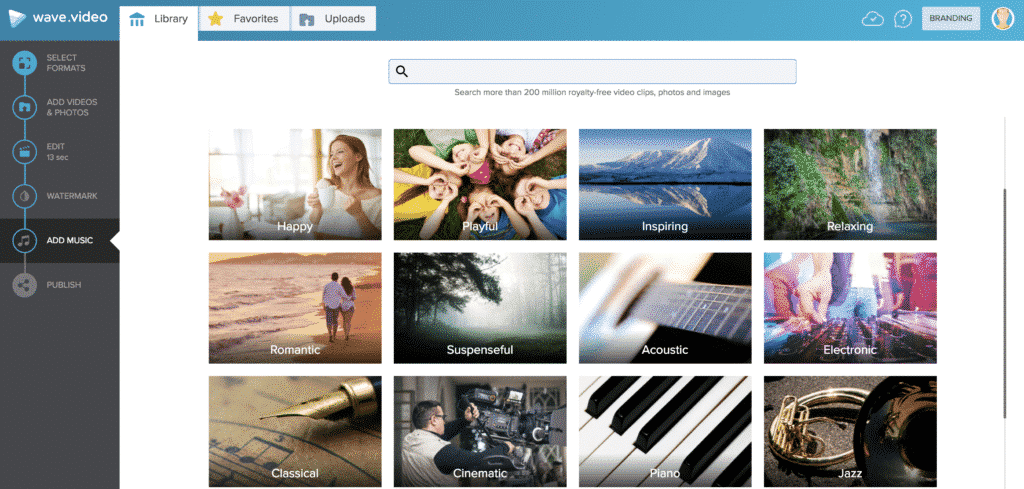 The beautiful thing here is that you can mix and match stock audio with your own music uploads, which helps make your musical slideshow even more unique.
Since our audio offerings range from eight seconds to over three minutes in length, you can choose just how long they play during your slideshow once you've clicked the "add" button after hovering your cursor over your chosen audio file.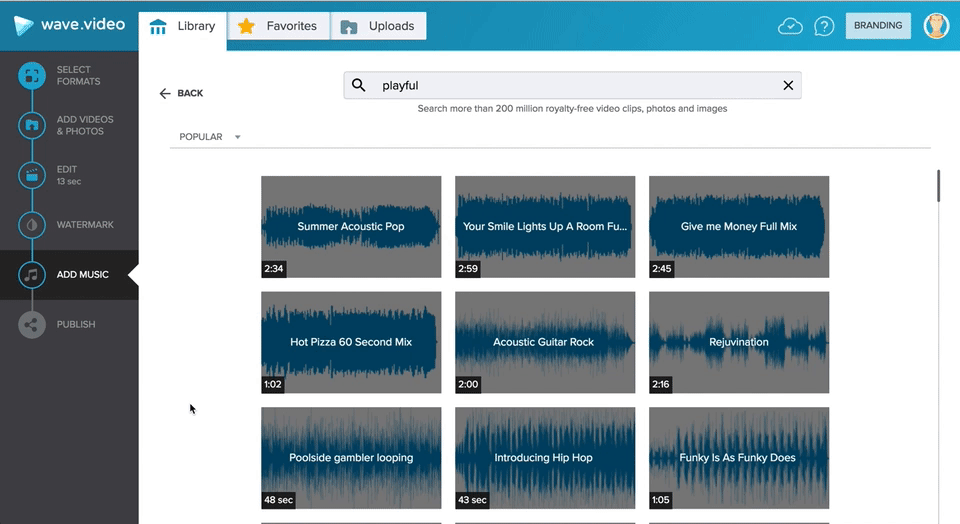 It's important to note that the length of your slideshow and the music you select should complement each other. Meaning, if your slideshow is relatively short, say 10 to 15 seconds, simply stick with one song because trying to jam in two can make such a short video seem disjointed.
On the flip side, if your video is 30 seconds or more, don't shy away from experimenting with two or three different music clips. Changing up the audio in longer videos not only gives your musical slideshow more personality, but it'll also help keep your audience engaged.
After selecting some music, you'll be brought back to the editing screen where you can begin determining how long your song choices appear in your slideshow via the time toggle slider at the bottom of the screen.

If you find one of your choices wasn't up to snuff, just click on the audio sample and then click the blue "X" on the right-hand side. The song will be removed from your slideshow and you can select another. Simply click the "add audio" button on the time toggle slider and you'll be brought back to the music library. From there you can upload further audio or choose other samples to make your slideshow more audibly dynamic.
Step Five: Share with the World
Once you've ensured everything is to your liking, it's time for the final step. Hit the "publish" tab and review your chosen formats laid out above your slideshow. If you've forgotten one, just click "manage formats" on the upper left portion of the screen and you'll be taken back to the formats page.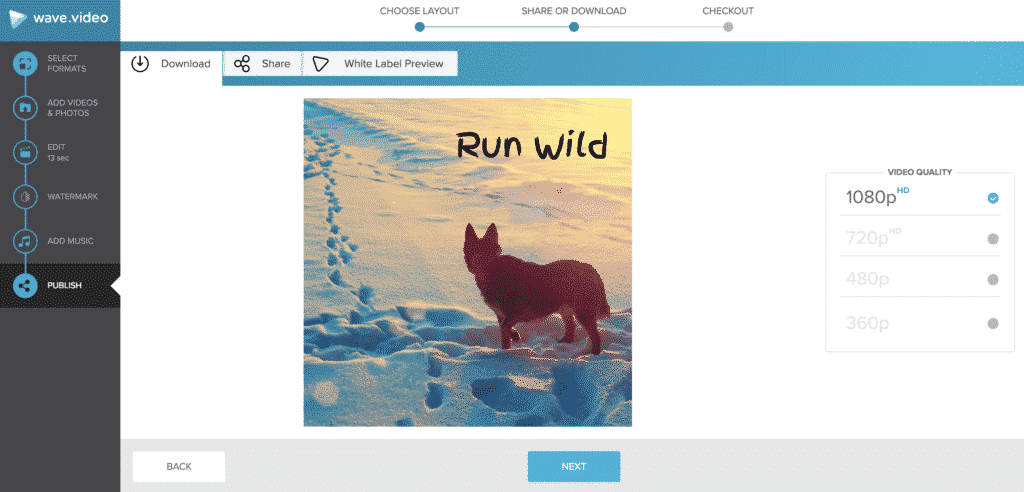 Once everything is said and done, select your desired video quality and voila! Your slideshow is now available for download. Once you have your project in your digital possession, go ahead and share it on social media.
At last, there you have it, an easy guide on how to craft a snazzy slideshow with music to boot. You don't have to be especially technical to create compelling slideshows for your business or personal use. If you ever do run into trouble, this guide will be here to help. Now, release this baby out into the wild and let your creation be seen and heard!