How to Use Instagram Live Streaming to Get More Customers for Your Business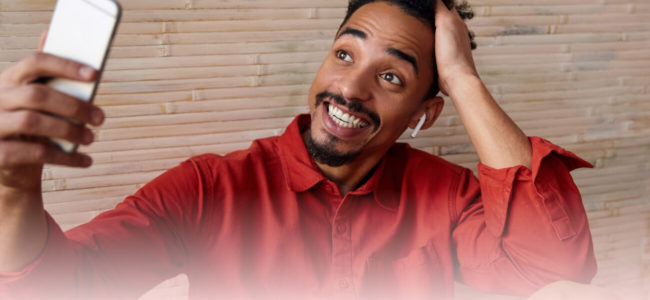 As of the Covid-19 pandemic, resorting to Instagram live streams is a good way to connect to your customers or get more customers on Instagram. Regarding the popularity of Instagram live videos, considering them as an Instagram marketing strategy can thrive your business remarkably. Therefore, learning how to go live on Instagram and make professional videos becomes an important task for you as a business owner. 
Why Should You Try Instagram Live Stream to Get More Customers?
The Instagram live stream is a great feature that allows you to go live on Instagram and stay in touch with your followers and customers directly. They can ask you questions or talk about the issues of your product and get an answer from you immediately. Therefore, such a feature builds a strong relationship between you and your customers or customers-to-be. 
Instagram Live builds a strong relationship between you and your customers or customers-to-be.
In addition, Instagrammers respond well to Instagram live streams. There are 500 million daily users on Instagram, approximately 80% of whom follow a business on Instagram. Live streams have contributed a lot to the growth in the conversion rate of many businesses because of the direct interactions. So, not using Instagram live videos can be a huge loss for your revenues. 
4 Tips on How to Go Live on Instagram to Get Better Results
So now that you are convinced to take Instagram live stream into consideration, it is time to learn how to go live on Instagram.
1. Define a Realistic Goal
Well, you cannot just open your Instagram app and press Go Live without having well-structured plans. In fact, you should think about your live video goals weeks or days in advance. Like any other Instagram marketing strategy, not having a plan or a clear goal will get you lost on your way. Moreover, you will soon find yourself unmotivated because you do not get promising results. 
Think about different stages for your Instagram live stream. Divide your time to as many parts as you think are necessary and finally, finish your live stream on time and appropriately. 
2. Use the Best Tools to Create Your Video
Making creative videos on social media is easily possible by using different methods. Following some steps can clear the blurred way in front of you and get to what you want sooner. In addition, you can use the available tools for successful live streaming.
3. Cross-Promote Your Live Stream on Your Website and Social Platforms
Regardless of the number of followers that you have, you should promote your Instagram live stream before you actually go live. You can do it through Instagram posts, Instagram stories, websites, email, and your other social media. Make it a countdown and create excitement so that you get a lot of viewers when you go live.
Cross-promoting not only increases your live visitors but also helps grow the number of your Instagram followers that are willing to convert. Furthermore, you can use Instagram follower apps to get a larger group of followers.
4. Save and Share Your Live Streams
When you end the live stream, you should strictly remember to save and share it on your account. It is useful for improving your future live streams because you recognize contextual or technical weaknesses. On the other hand, those who could not manage to engage with your live video will have a chance to view it and become a customer. 
Instagram Live Video Ideas to Attract New Customers
Let's now look at some ideas for a more attractive Instagram live video:
1. Invite a Famous Person to Your Instagram Live Stream 
Partnerships and collaborations are very common on Instagram and have a huge impact on businesses. The audience has already found trust in one party so it is easier to convince them to do something.
If you invite a famous person such as a micro or macro influencer to your live stream, you can enjoy the overflow of their followers to your Instagram live. Therefore, you get a lot of viewers for your live stream on the one hand and can hope for a great conversion from them on the other.
Here is how @ctilburymakeup invites @alessandarambrossio for its so-called Happy Hour: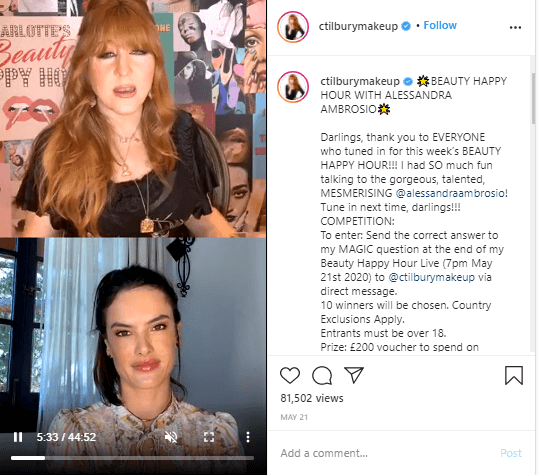 2. Reveal Behind-the-Scenes
If you want to put a more real live stream on display, you can think about ways such as showing behind-the-scenes, relating your background, introducing the initial idea behind your business, etc. Such personalization makes stronger ties between you and your followers and can lead to worthwhile results.  
3. Tutorials on How to Use a Product or Service
One attractive subject for a live video on Instagram is to instruct your viewers on how to use a product or service. During the live video, you can talk about the unique privileges of your product or its advantages in comparison to other similar products in the market. If your business is a service provider, you can still talk about your strong points and qualifications. 
When represented completely, ask your viewers about the questions they may have in their mind and answer them promptly. In the end, show them the ways they can buy your product and service and wait for the conversion.
During the lockdown, @barilla went live several times to teach different recipes using its products:
4. Day-to-Day Operations to Increase Brand Awareness
Without doing daily activities and regular posting, you cannot expect to have hundreds or thousands of viewers on your Instagram live video. It is not only about your Instagram and also can be generalized to all your business operations on other platforms. Hence, try to boost your branding with video marketing and Instagram live videos. 
@lushcosmetics has partnered with @vilanuevaedgar to talk about building political power to keep up with the worldwide trend: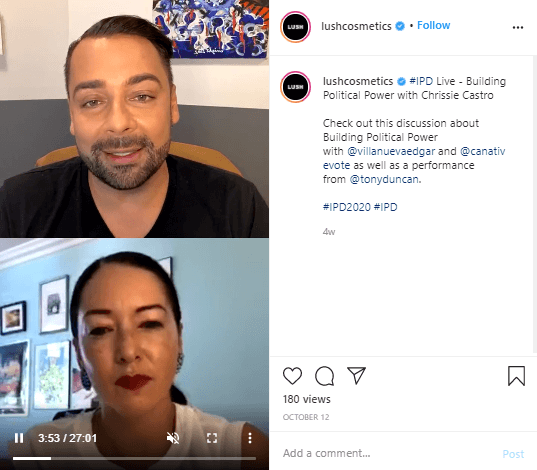 5. Interview One of Your Customers
Another idea is to ask one of your loyal customers to take part in your live stream as an interviewee. Many things can be shared during the live videos such as the best experiences, best products or services, thoughts, suggestions, customer service, etc. As such live stream can give a feeling of self-importance, many of your followers may get encouraged to become a customer so that one they are interviewed on your Instagram live video. 
6. Hold Q&A and AMA Sessions
Question and answer live streams are also another popular idea. Regarding the niche of your business, you can devote some live streams to question and answer or Ask Me Anything sessions.
If you are a make-up brand, you can answer questions related to your foundations and the types of skin they are suitable for. If you are an English teacher, you can introduce books for different levels of proficiency, and answer questions about which courses to take part in, etc.
Here is a Q&A session @sephora has organized: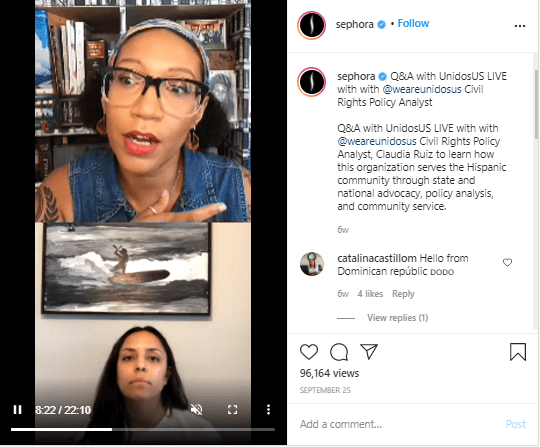 7. Promote New Products and Services
A live stream can be also about the next line of your products or services. You can talk about new features, options, characteristics, capabilities, etc. The more exciting you promote your product or service, the more eager the audience will become. So, just before or a little after the launch of your new line, you can prepare the ground for its sales just through your live video.
Top 3 FAQs About Instagram Live Streams
Still have some questions about Instagram live streams? Keep on reading! The following paragraphs may address your considerations. 
How Do Instagram Live Streams Work?
Live videos on Instagram can take one hour long. However, if one hour is not enough for you, you can immediately start another live stream and save the initial one. Your followers can get notified when you start a live video if they have turned their Live notification on. You can pin a comment or turn to comment off when you are on a live stream.
Are Instagram Live Streams Saved?
Yes, you can save your live stream right after you end one. If you share it on your feed, your followers who have missed watching it can watch it later. The save button is in the upper-right corner. You can save it to your camera roll. 
How Long Do Instagram Live Streams Last?
Instagram has a one-hour limit for live streaming. Depending on the length of your subject, you can start two or more live videos. 
Conclusion
As in-presence events and sessions have been postponed due to the Covid-19 pandemic, taking Instagram live streams as a replacement has largely grown among businesses. With the many active users on the platforms, the strategy has proven to be effective if undergone correctly. So, keep up with the tips above, and good luck!
About the author: Parichehr Parsi is a born writer and a freelance copywriter in the fields of travel, fashion, and Instagram marketing. She currently writes for SocialPros and online magazines in Italy. Parichehr loves reading, writing, and researching. Find her on LinkedIn!