How to Boost Branding With Video Marketing: A Step-by-Step Guide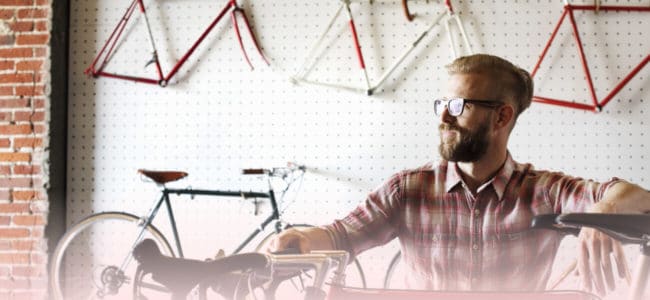 Video marketing is hot. Think I'm exaggerating?
Check out these video-marketing stats:
92%

of brands say that videos are the backbone of their marketing.

82%

of all consumer internet traffic will include videos by 2022.
Impressive, right?
It is. One of the top applications of video marketing is brand building. Media-rich videos allow brands to highlight their value proposition. By combining audio, visual, and text content, brands can make complex product/process information easier to digest. 
One of the top applications of video marketing is brand building.
Plus, the multi-sensory stimulation helps keep audiences glued till the end. And, we can't forget that viewers retain videos for longer, giving brands a top-of-mind advantage.
But creating, publishing, and marketing videos doesn't come cheap. 
Last I heard, the market share of the digital video industry has reached $135 billion. It would be a gross waste to let all that investment go down the drain, wouldn't it? To extract maximum ROI from video marketing, you need to follow a result-oriented video marketing strategy. 
In this post, I'll explain, step-by-step, how to build an unbeatable strategy for your brand. By implementing my strategy, you can leverage videos to increase your visibility, engagement, authority, and sales.
Let's get started.
8 Simple Steps to Build a Killer Video Marketing Strategy
If you have jumped onto the video marketing bandwagon without proper planning, you can't hope to drive concrete results with it. With the right marketing strategy, your videos can be a gamechanger.
Let's take a look at the process you need to follow to build your video marketing strategy.
1. Define Your Marketing Objective
First and foremost, you need to determine the goals you hope to achieve with video marketing. Videos can have varied purposes and target audiences in all funnel stages. They have been found most useful in lead nurturing, but don't let that influence your objectives.
Why so?
Because if you create videos with a narrow objective like scoring leads, you miss the whole point of video marketing. Videos should educate and engage people so that they become memorable and shareworthy. The leads will come eventually. 
Here are the most common goals of video marketing:
Educate customers

Boost

brand awareness

Increase audience engagement

Generate leads and sales

Drive website traffic
Bear in mind that video marketing is an integral part of your overall marketing strategy. It should not be an afterthought. So, align the goals of your campaign with your broader business goals.
2. Plan for Video SEO
It is pointless to create incredible videos if they don't reach the right audiences. All of your content may stay undiscovered if it isn't SEO-friendly.
Video SEO ensures that your videos show up in the SERPs when searchers type relevant keywords. You can use tools to boost the organic reach of videos. They conduct keyword searches to find the most popular keywords for you to target.
Then what?
Include the keywords in your video titles, meta tags, and descriptions so that Google crawlers can understand the context of your content.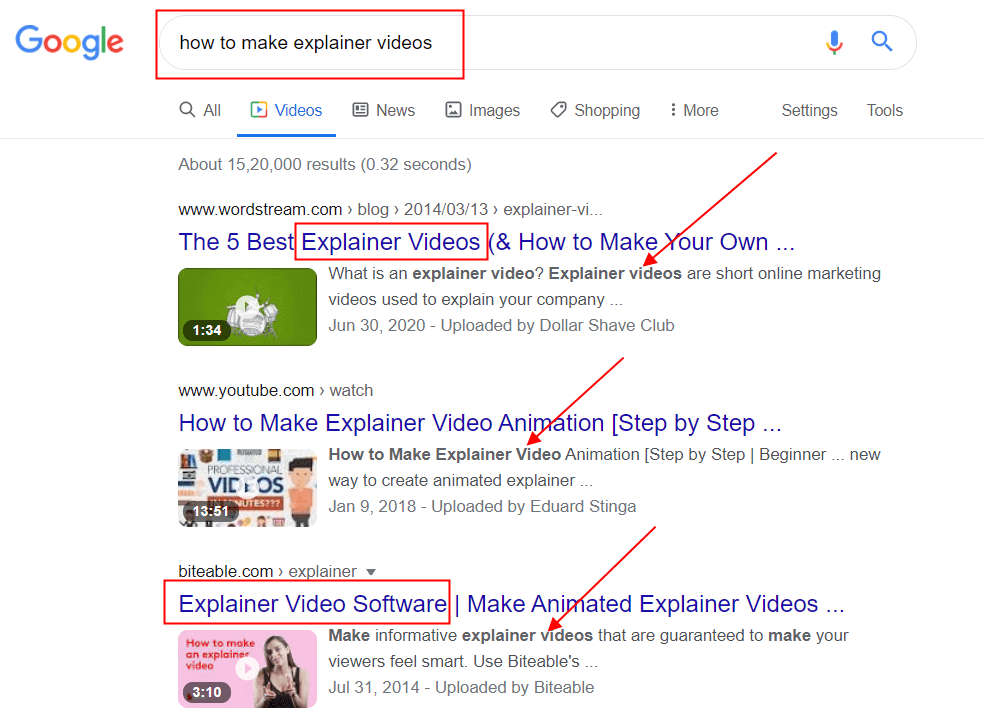 Since crawlers can't grasp video content, so add keyword-rich transcripts to your videos. This way, crawlers can index your videos correctly.
3. Craft Engaging Videos
Now we come to the crux of video marketing—creating actual videos. Depending on your marketing goals, decide on the kind of videos you want to make. Consider your target audience's needs, interests, and pain points, and create videos that cater to their demands. 
If you serve on-target video content, you can reach those shoppers who rely on videos to discover new brands/products (they comprise 30% of the entire mobile-using U.S. population).
For instance, realtors can create video walkthroughs of their listed properties. Their audience (home buyers) searches for video content that can guide their buying decisions. Most property portals don't offer video content.
Wave.video helped real estate broker, Margaret Hamilton, multiply her reach and sales by creating stunning videos for her clients. Here's an example of an effective Wave.video template for real estate:
4. Leverage Storytelling
Use video stories to connect with people on an emotional level. Unique stories set you apart from your competitors and make your content more memorable. 
You can get innovative with your video stories. Your brand's journey, behind-the-scenes (BTS) content, and user-generated visuals are some popular story ideas. Since humans are hard-wired for stories, your videos are sure to receive a phenomenal response.
Need inspiration?
Take a cue from Dollar Shave Club's video stories. They sell razors and personal grooming products. To promote their double-razor share pack, they created a video titled, "Our Razors Are Borrowed for a Reason." The video shows many people sharing a single razor, a cringe-worthy habit that is bad for hygiene.
The DSC team didn't create a preachy, boring post about personal hygiene (don't we all hate those?) Instead, they conveyed the same point through a gripping video story that received 35K+ views. Needless to say, the promoted product was a runaway hit.
5. Explore Varied Video Types
To keep the audience hooked, focus on providing them with diverse video content. If you keep producing the same kind of videos, your engagement and subscriber rates are bound to dip. 
The solution?
Venture out of your comfort zone and experiment with different video types. Video marketing offers limitless opportunities to marketers who can break the stereotype.
Take eCommerce brands, for instance. They prefer to publish customer testimonials to build buyer trust. But embedding product awareness videos in eCommerce websites has proven to lower bounce rates massively.
Similarly, influencer-created product reviews, like the one Van Damme posted for Volvo, help boost brand credibility.
Here are some popular video types you can create to keep your channel alive and kicking:
Explainer videos

Video interviews with experts

Case studies

Webinars

Event videos

Useful hacks and troubleshooting videos
To start with, create sample videos in formats that are popular in your niche. Track audience engagement and identify the most successful formats. Then, put together a content stock and plan a publishing schedule.
6. Market Your Videos
Creating great videos is no good unless you promote them strategically. Unleash omnichannel marketing to get your videos in front of the right audience.
Embed videos on your websites to keep visitors engaged. Leverage the incredible reach of social media to garner more likes, shares, and comments.
If your videos go viral on social networks, your organic reach on Google also widens. Optimize the videos for each target platform.
To improve your content's visibility on social media, collaborate with influencers in your niche. These ace content creators can create sponsored unboxing videos and testimonials for you.
Lewis Hilsenteger's unboxing video, in which he promotes iPhone XS, received 5 million+ views.
Anything else?
Yes. When influencers campaign for your brand, you earn their audience's trust by default. The audience you gain this way is qualified and engaged, which means a better ROI for your video marketing. 
7. Use Eye-Catching Thumbnails
Design captivating thumbnails to make your videos stand out on the SERPs. You can't hope for traction with dull, drab thumbnails when so many competitors are vying for the same keywords. Eye-catching thumbnails help make an impressive first impression, which is essential to beat the competition.
To grab eyeballs, use bold typography and bright color palettes in your thumbnails. Including people or faces can also stop people mid-scroll. 
When I Googled "vegetable gardening YouTube," can you guess which video ranked first? The one with a lady in the thumbnail, of course! I don't know if the content justifies the ranking, but the thumbnail sure does.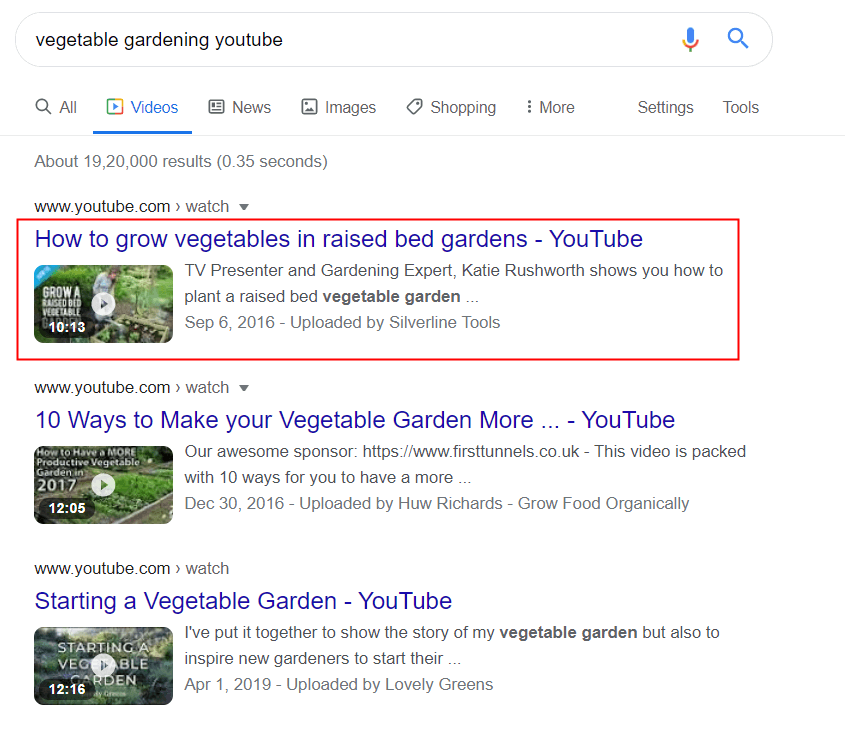 What's more?
It's advisable to adhere to your brand's style guide while creating thumbnails to put your brand center-stage. Gradually, people will start associating your content with its trademark style. 
8. A/B Test Your Video Ads
Another profitable application of video marketing is advertising. If you are still using static ads, it's time to rethink your strategy to include video ads. They have excellent success rates, especially on social media. 
Need evidence?
According to Wave.video's "The State of Social" study, 48% of marketers use video ads to drive website traffic, 21% to promote new content, and 14% to increase website conversions.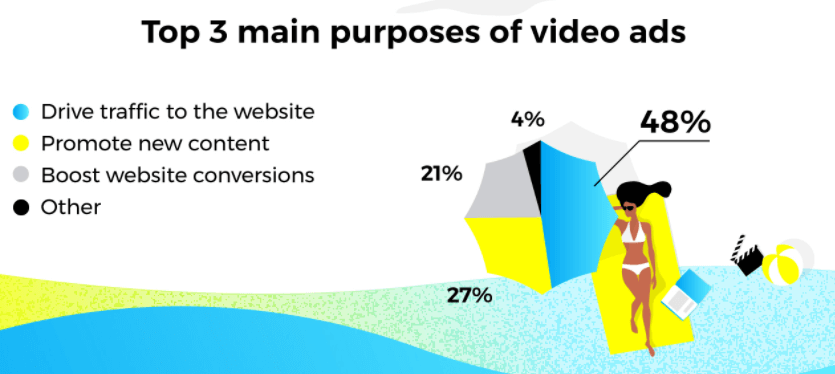 In your video ads, include clickable links to redirect viewers to your website. Combine your visual assets with stock images to take care of the branding bit. Don't forget to introduce your brand's name in the first three seconds and enable text overlays for viewers who prefer the sound-off mode.
Want a pro tip?
Optimize your ads for mobile by using vertical videos. 95% of marketers, including mega-brands like Nike and National Geographic, do it. Landscape orientation sometimes disrupts the user experience for mobile users who hold their phones vertically. Viewers can get so frustrated with videos flipping that they abandon ads mid-roll. You wouldn't like that, right? 
Ready to Create Your Video Marketing Strategy? 
Video marketing offers a wealth of opportunities to brands and marketers. But to make the most of them, you need to base your marketing on a robust strategy, like the one I've explained above.
Do you need more tips on digital marketing? Leave your requests in the comments below. I'll come back with answers as soon as I can.
About the author: Shane Barker is a digital marketing consultant who specializes in influencer marketing, content marketing, and SEO. He is the co-founder of Attrock, a digital marketing agency. He has consulted with Fortune 500 companies, influencers with digital products, and a number of A-List celebrities.