Ways to Cause a Buzz Around Your Product With Instagram Video Content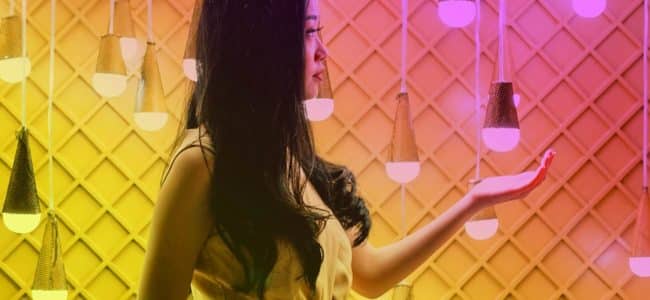 As one of the fastest-growing and the most engaged social media platforms for brands, Instagram has become a powerful marketing tool.
The platform has great sales potential, so it rolls out various business-specific features like product tags and in-app checkout to allow brands to turn their Instagram accounts into social storefronts, and therefore drive e-commerce sales.
But:
According to Business Instagram, there are over 25 million businesses and 2 million advertisers on the platform, so it can be difficult to cut through the noise and hope for the attention of your target audience. 
If you're not a big brand like Starbucks, Nike or Chanel that have already built a massive following, it's important to know how to cause a buzz around your product, interest potential customers, and start selling on Instagram.
Fortunately, there's a simple solution: give Instagram video content a try.
Why Instagram Video Content?
As a marketer, you might know that video content is taking the world by storm, and Instagram users also love videos:
The bottom line? To engage your Instagram audience and grow your business, it's important to create product video content.
Before listing video content ideas that cause a buzz around your product, let's find out three main video formats on Instagram:
in-feed video posts (limited to 3-60 seconds)

Instagram Stories (a 15-second limit)

IGTV and Livestream (limited to 1 hour)
From disappearing short-form Instagram Stories to the IGTV videos and Livestream (up to one hour in length), there are many ways for businesses to make the most out of video content on Instagram. So, are you ready to create videos that convert? Let's find out how to do it!
Instagram In-Feed Video Posts
Back in 2013, when Instagram video posts were first introduced, they were limited to 15 seconds. Today, users can upload video posts up to 1 minute in length or even post up to 10 videos as one swipeable Instagram carousel.
With three orientation types (square, portrait, and landscape), companies have endless opportunities for creating brand videos that generate tons of engagement.
Why should you post in-feed videos? To create a cohesive Instagram feed that informs followers and visitors about your products and brand values.
Create Lifestyle Videos
As a business owner or marketer, you know everything about your product, and sharing a list of your product features seems to be a good idea.
However, modern customers crave authenticity, and they are focused on themselves. Instead of bombarding customers with advertising content, more and more companies use visual storytelling to tell their followers what they can expect after buying the product.
Thus, lifestyle videos are popular on Instagram – they get many views, likes, and comments.
Take a look at how H&M does this on Instagram:
View this post on Instagram
When making purchase decisions, people want to buy not your products, but the solutions they can bring. Once your video content caters to your customers' ideal lifestyle, your followers are more likely to pay attention to your brand and consider your products as an option.
Feature User-Generated Content
The concept of user-generated content isn't new on the market. Posting UGC videos help to build brand trust and cause a buzz around your product. Why? 92% of customers trust their peer recommendations above all other sources of advertising.
GoPro is an absolute leader in implementing a UGC strategy. The company tracks brand mentions to find and feature videos created by its customers, and these posts get much engagement: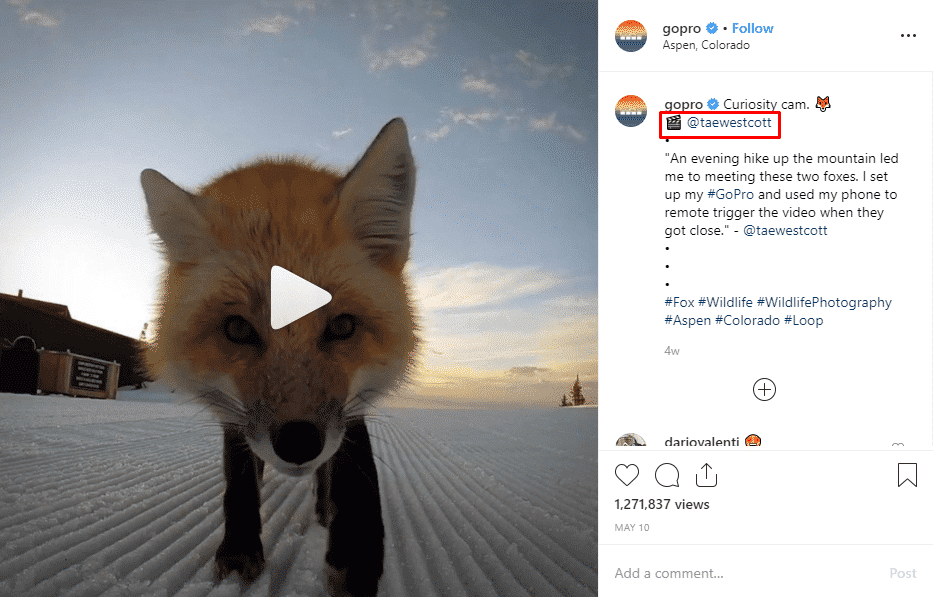 Here comes the ugly truth: we all want to be a part of something significant.
It's a common human need to feel unique, important, and special, so Instagrammers are happy to produce user-generated videos for a chance to be featured on the brand account. For brands, this means an opportunity to encourage UGC and spread the word about your product on Instagram.
Collaborate with Influencers
No matter what your business niche is, creating an effective influencer marketing strategy can bring great business results.
Since Instagram bloggers are getting more and more popular among users, it's no wonder that brands want to collaborate with niche opinion leaders to enter their already-established communities and cause a buzz about their products on influencers' profiles.
Case in point:
In collaboration with an American actress and singer Zendaya, Tommy Hilfiger has created different Instagram videos to inform followers about the partnership, feature their products, and increase brand exposure. What is more, the company uses a branded hashtag that helps followers track posts with Zendaya.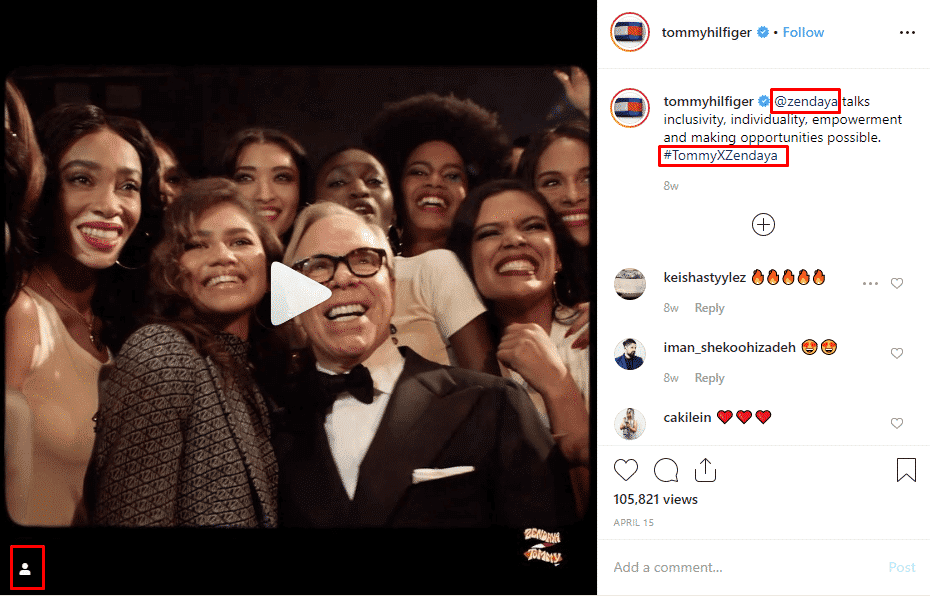 But if you're not a large company like Tommy Hilfiger, working with a world-known actress can be difficult in terms of prices. Thus, small-medium businesses can give niche micro or nano influencers a try – those who have a smaller but engaged following on Instagram. 
Publish Creative Product Videos
In 2019, traditional ads don't work anymore – 64% of people find them annoying and intrusive. However, customers don't mind the good ads – creative, eye-catching, and interesting.
With a great number of ads on the market, it takes time, effort, and knowledge to create an effective ad that grabs attention and tells followers more about the product, and big brands know that the payoff is huge.
Let's take Oreo, for example. In honor of Games of Thrones final season, the company reenacted its intro with 2,750 cookies and it went viral:
If you can create commercials that WOW your followers, your video can go viral, and therefore attract new customers even if they don't follow you on Instagram. 
Instagram Video Stories
Over the last three years, the phenomenon of Instagram Stories has gained in popularity: Today, over 500 million accounts use this short-form content daily.
Stories generate the fear of missing out, so this content format gives brands an opportunity to engage followers and get business results fast. Moreover, it's easy to appear in the Instagram Explore page with Stories geostickers and hashtags, and therefore increase brand exposure.
Instagram Story Video: How to Get Started
Instagram story video is a great instrument for all kinds of business
Why should you add videos to Instagram Stories? To create a sense of urgency and encourage followers to take action faster without overposting. 
Tell About a New Product Launch
If people follow your brand on Instagram, chances are that they like your products and support your company. Thus, they are more likely to be interested in future product updates, and telling them about your product launch is a great way to spread the word about your company.
To avoid clogging the main feed up with product announcement, you can upload short product videos that show off your future product in action. For example, activewear brand Lululemon informs its followers about the new products, sharing videos with short product descriptions: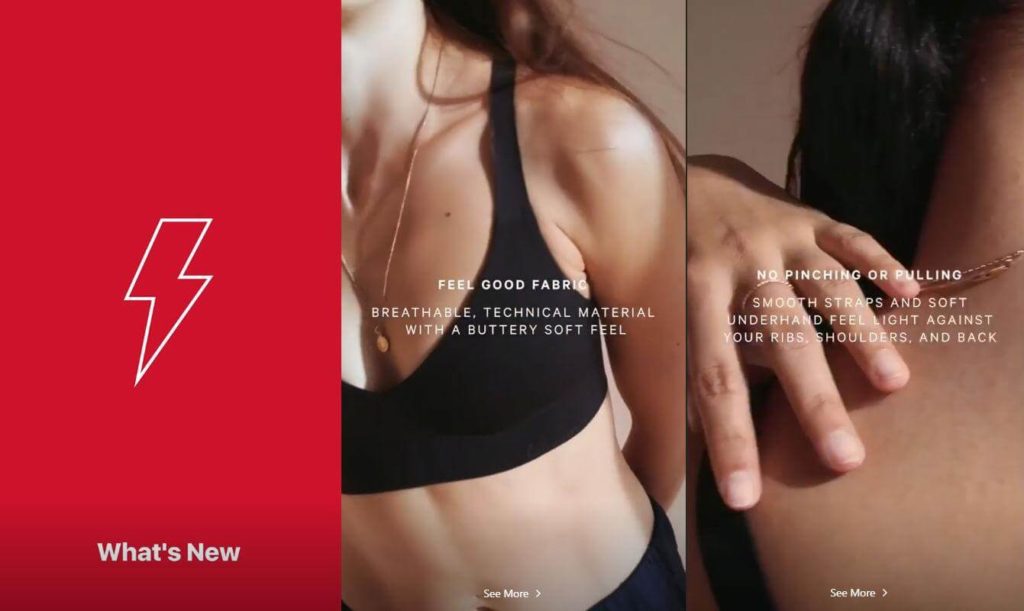 And if you want to reach even more followers, you can group these videos into Instagram Story Highlights so that your visitors can see what's new without scrolling the feed. The more people are interested in your new product, the more sales you can expect.
Share Time-Limited Offers
If you want to turn followers into customers fast, use time-limited offers as they encourage followers to take action faster. Once you share a great deal that is available during a certain period of time, you spark interest in your product. As specified in a consumer survey by the OFT reports, 80% of customers have used time-limited offers within 12 months.
Short-lived Instagram Stories is a perfect place to promote your time-limited offer. Since people are afraid of missing out something important, they watch Stories often, so you can create a sense of urgency.
What is more, having 10k+ followers, you can make the most out of clickable IG Stories and insert a website link that has the product description, price, and information about the offer. Why? It's a good way to keep interested followers who want to know more about the deal without leaving the app. Just take a look at Bali Body example: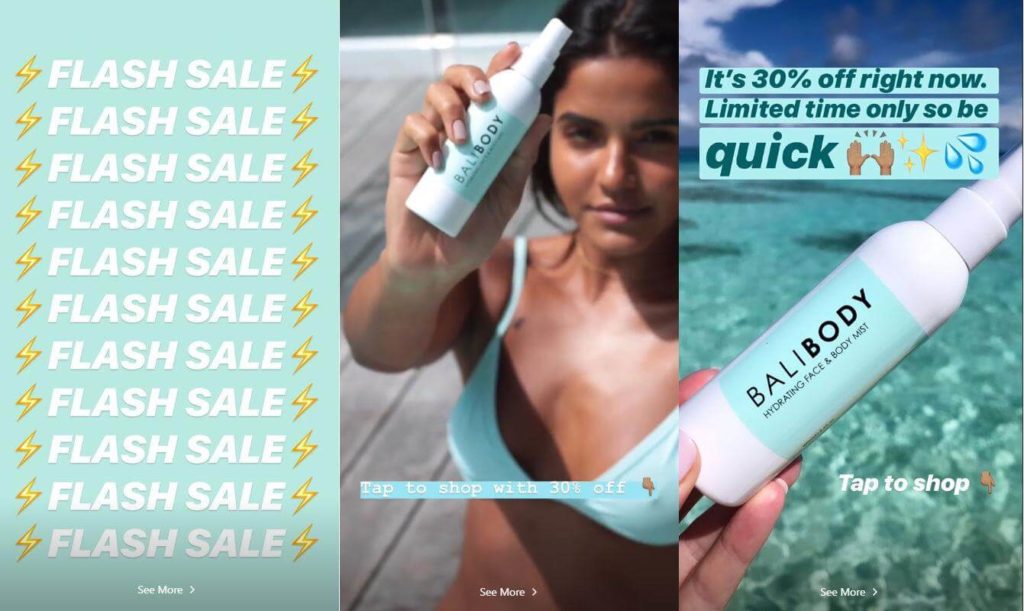 Announce Sales and Clearance
Wouldn't it be great if you could buy a product without paying the full price? For most people, the answer is yes. It's in our nature to love sales, so it's no wonder that 30% of social media users follow a business profile to get updates on upcoming sales.
With short-lived Instagram Stories, you can not only interest potential customers but also encourage them to take the desired action faster. Most brands know the power of announcing flash sales via Instagram Stories, and Bare Minerals is a good example of this strategy in action: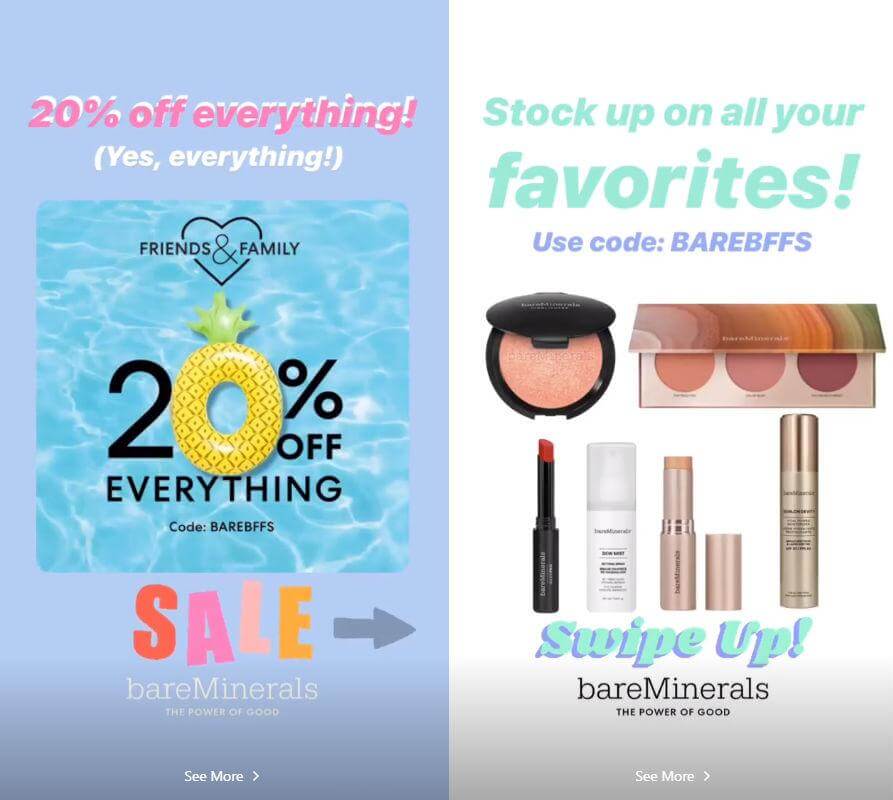 Slashing prices is a proven way to attract customers and encourage them to buy your product. However, you need to choose an optimal discount that can bring better business results.
If you're doubting whether running a sale or a discount can grow your revenue, seek out math help to calculate the profit margin. 
Take Users Behind the Scenes
Living in the digital era, customers don't trust faceless business brands – they want to buy from authentic companies that take care of their potential consumers.
Thus, more and more people are interested in behind the scenes content. Not only does it humanize your brand, but it also builds relationship and trust as well as helps to interest potential customers.
For example, ASOS invites fashion bloggers to become ASOS insiders and then the company introduces these people via Instagram Stories. ASOS knows that their followers might want to find out more about these influencers, so the company shares short intro videos with profile tags: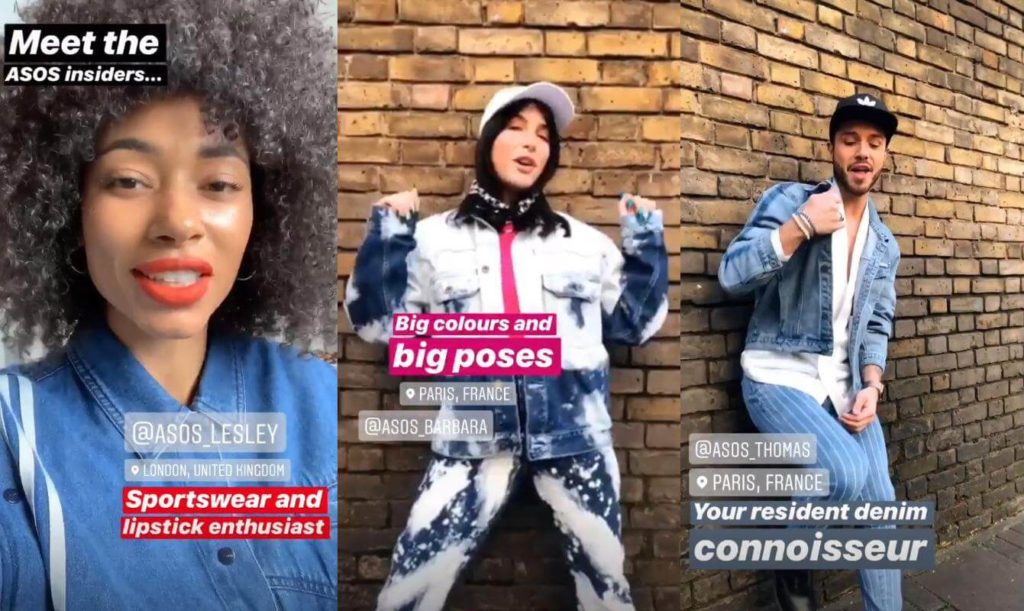 From featuring influencers to posting an interview with your CEO and showing off the product creation process, there are many ways to take users behind the scenes and tell them something unique. Remember that people want to be a part of a secret community, so sharing behind the scenes moments can interest them and build brand trust.
Instagram Live & IGTV
As specified in one study, 80% of users would rather watch live videos from a brand than read a blog. Thus, it's no wonder that many Instagrammers watch Livestream.
With the growing demand for video content, Instagram decided to launch its long-form in-app TV channel, also known as IGTV. Just within one year, many successful brands use IGTV to get business results. All in all, using a long-form video content format is a great way for brands to spark followers' interest and tell more about the product (or how to use it) right on the platform.
Why should you go live and upload IGTV videos? To prove your expertise in the niche and educate your followers about the products and brand values with the help of long-form video content.
Solve Your Followers' Pain Points
People love sharing their thoughts on social media about brands they find great. Since people are egocentric, it's more likely they will fall in love with your product if it helps them solve their pain points.
In fact, customers don't care about your business or product if it doesn't suit their needs and wants. Thus, companies need to understand their customers, predict their pain points, and create educational videos that are aimed at solving them.
As a social video maker, Wave.video is a popular tool among SMM managers who want to promote businesses on social media, so inviting users to watch a webinar about social media video strategy could help them solve their problems: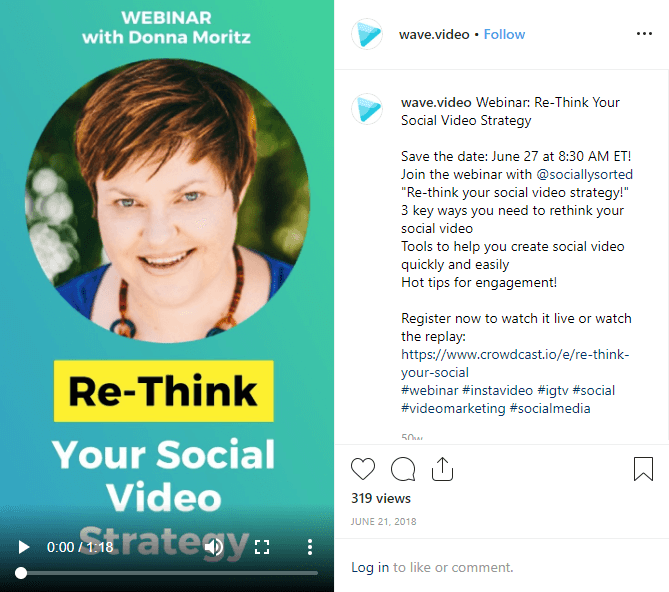 If you can help your customers solve their problems, they will never forget you. What is more, you become a niche expert which means your product is worth giving a try. Thus, share educational videos that can improve their knowledge and skills.
Run Q&A Sessions
No matter how good your product is, your potential customers may have questions and concerns about it.
Just like the FAQ page on the website, you need to answer to common questions about your product on Instagram  – whether you choose to go live or create a long-form Q&A video for your IGTV channel, the main idea is to help potential customers understand your product better.
To make the most out of your Q&A video, get ready for it in advance: announce this session via Instagram Stories or posts and invite followers to put their questions about your company or product. With Instagram Stories questions sticker, you can collect followers' questions and organize the session the right way. If you want to go live with your Q&A video, invite viewers to ask questions and choose the best ones to reply in real time: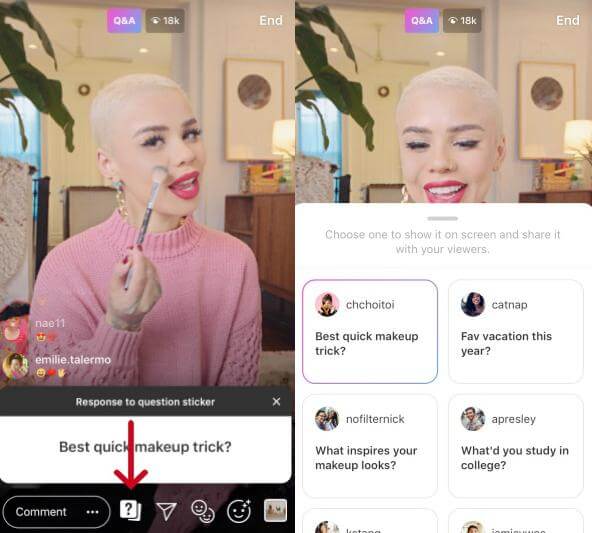 Share Tutorials and How-tos
Showing off your product on Instagram isn't enough to cause a buzz around it.
If you want to stand out from the crowd and hook your followers, you need to add value and provide them with the knowledge they want to obtain. Simply put, you need to share your expertise and post tutorials and how-to video that can educate your audience.
For example, you can create a video that explains how to use your product and how to make the most out of it  – good video tutorials always grab attention. Check out what beauty tutorials and how-to videos Sephora shares on its IGTV channel: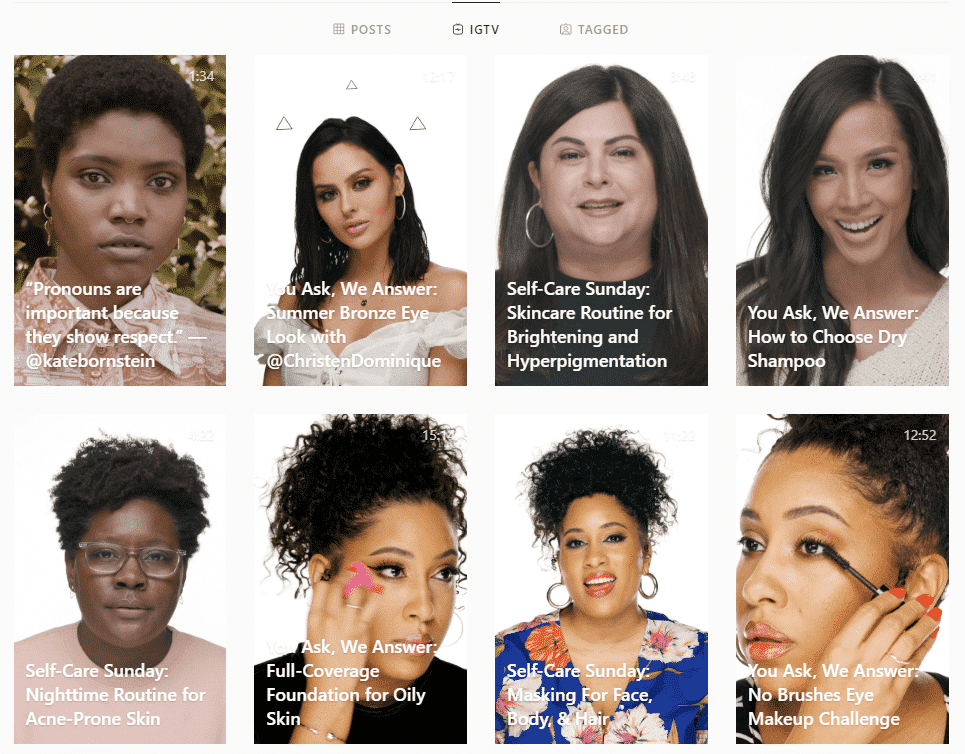 If you create and share educational videos that get views on Instagram, this means you're a niche expert, and therefore your followers are more likely to trust you and recommend your brand to their peers and friends. In other words, you can get more followers who consider your product as a buying option.
Publish Unboxing Videos
It's no secret that modern customers are savvy, and they want to read online reviews before making the purchase decisions to understand what other customers say about the product.
What is more, unboxing videos are among the most popular forms of video content, and they are getting even more popular among social media users: since customers commentate and review their experience, potential consumers find these videos extremely helpful.
With the popularity of IGTV, brands can learn from Zappos that shares customers' unboxing experiences on their business profile. Customers want to help other people make the right choice, so they share unboxing videos that brands can feature on their profiles. Moreover, it's a good way to tell more about the product and increase brand trust: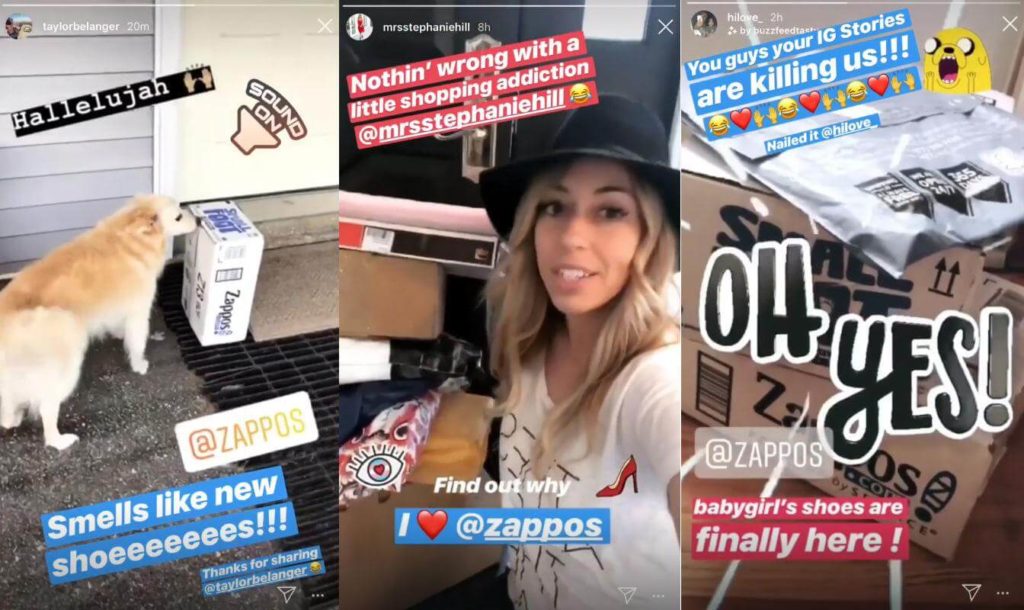 If you don't get unboxing videos from your customers, don't be upset. You can invite niche influencers who can review your products with comments to provide followers with unboxing experience. Unlike the advertisement with a focus on product features, unboxing videos are about real people and products, so they attract more viewers.
The Bottom Line
The popularity of video marketing is on its rise. As a versatile and engaging content format, Instagram videos attract customer attention and make them want to speak about your product on social media when done right.
Moreover, Instagram is the future of social commerce, so spreading the word about your product on the platform means acquiring more customers.
About the author: Hugh Beaulac has over 6 years in digital marketing, so he works as a freelance SMM manager and content strategist behind MC2 website. With a passion for writing and Instagram marketing, Hugh has been featured on SemRush, CrazyEgg, WordStream, SmartInsights, and other well-known blogs.