What's New in Wave.video: New Fabulous Video Templates, Advanced Sound Editing, and More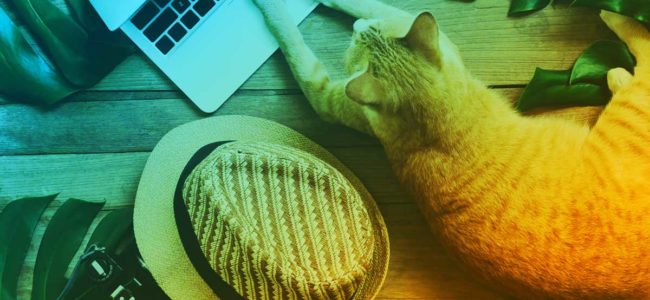 Woot woot, the new Wave.video update is here! We made this one especially awesome. To name a few new features: new templates, text positioning, sound editing, and much more.
Read on to find out what the new updates are about. I do hope you find them as fabulous as I did.
Easy-to-navigate Stock Library
Wave.video is the only video maker that comes with the largest 200-million stock video and image library. We desperately wanted to make it easier for our users to navigate it. Here's what we came up with.
Favorites Folder
When choosing a video clip or image for my videos, I would catch myself "liking" some videos and thinking that it would be awesome to save them for later and use in a different project.
And now I can! It is now possible to save a video, image or audio clip to Favorites. The selected assets will be stored there, and you will have access to them across all the projects you create.
In order to add an asset to Favorites, simply hover over it and click the star sign.
In addition to that, we implemented a new technology for the library. It makes loading video clips and images super fast, helping you find a suitable visual in no time.
Just try searching for a visual yourself. You'll be amazed with how fast it has become.
How will it make your life easier?
This feature is a game-changer when it comes to creating marketing videos. Using the Favorites folder, you can collect stock videos and images you like in one place and access them easily throughout all of your projects. 
For instance, you might be working on one project and already have the next one in mind. Or else, you might just feel inspired by some stock footage and decide to create a video out of it later.
Either way, with this new feature, it's all been made much easier.
Purchased Assets Folder
In addition to the folder Favorites, Wave.video now has a folder "Purchased". Here, you can find all the premium assets you have ever purchased for any of your projects.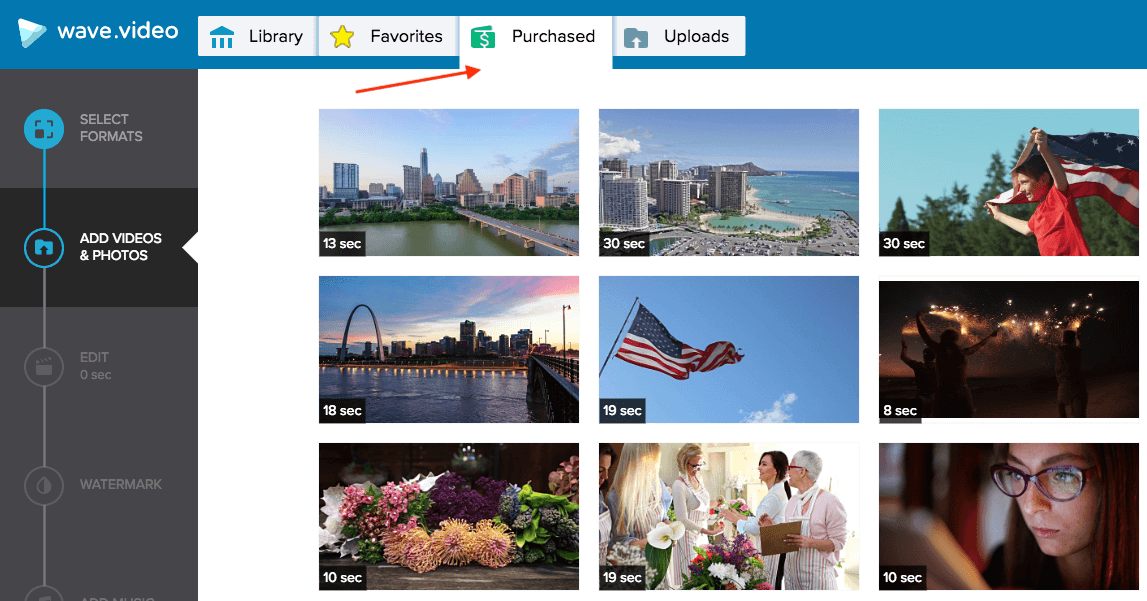 The coolest part about this folder is that it allows you to see all the assets you have already paid for and re-use them again in any number of projects.
How can you benefit from this new feature?
With this new folder Purchased, you can save a ton of money on premium assets. Simply pay once and then create as many videos as you need with these beautiful high-quality premium assets.
Free text position
This particular feature opens up new exciting opportunities for making more creative marketing videos.
In Wave.video, it is now possible to put the text in any place you want it to be in your video! Here's how it works.
In order to start moving the text line around the video clip or image, simply hover over the line and start dragging it. If you have two or more lines, by default, they are going to be grouped together. It makes it easier to adjust them on the canvas together.
If you want to move the lines separately, just click the button "Ungroup" in the text panel on the right-hand side.
Need to return the text to one of the 9 default grid positions?
No worries. Simply click on the necessary position on the grid.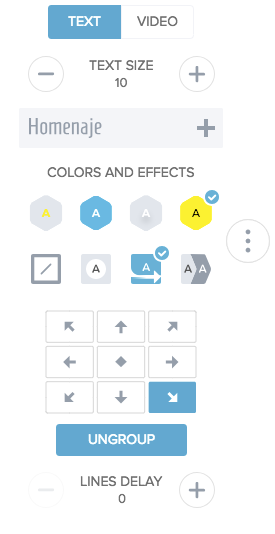 You can also bring the text lines back to one of the 9 default grid positions by clicking on the button "Group".
Why is the free text positioning so awesome?
This new feature will help your creative juices flow freely. Now the text won't obstruct the visual. Since you are not limited to the grid anymore, you can put text anywhere on the canvas, depending on the visual you have as a background.
Here are just a couple of examples of what the free text positioning allows you to do.
Video as part of the text message
Play with text
Advanced audio editing
In Wave.video, it's possible to add several video clips or images to one project. This gives creators an opportunity to make compelling videos and use the power of storytelling for their video marketing.
Well, the great news is that now you can also have several audio tracks in one video, too.
In addition, you can trim the audio clip to choose the part that would best suit your video.
You can also apply fade in/out effect to the audio clip to make it sound nothing less than a symphony.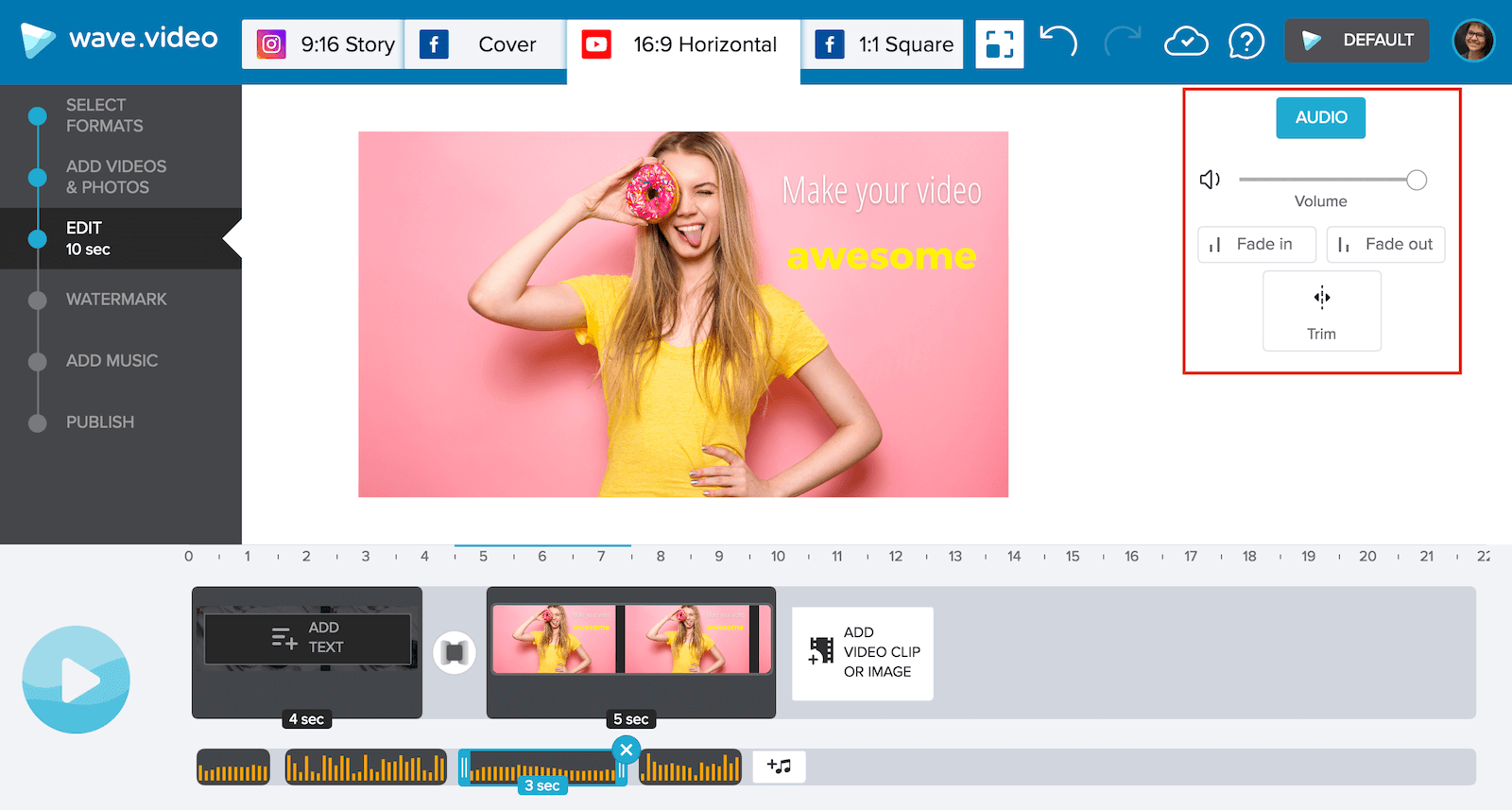 How can audio editing help you?
With the ability to add several audio tracks to one video, you can make your video more versatile and customized.
Here are just a few options:
Mix and match music with voiceover
Accompany every clip with its own matching music
Add audio effects to your video
New templates
In addition to all the new awesome features, we have also added a whole bunch of new beautiful templates. In fact, we have revamped the whole template page completely.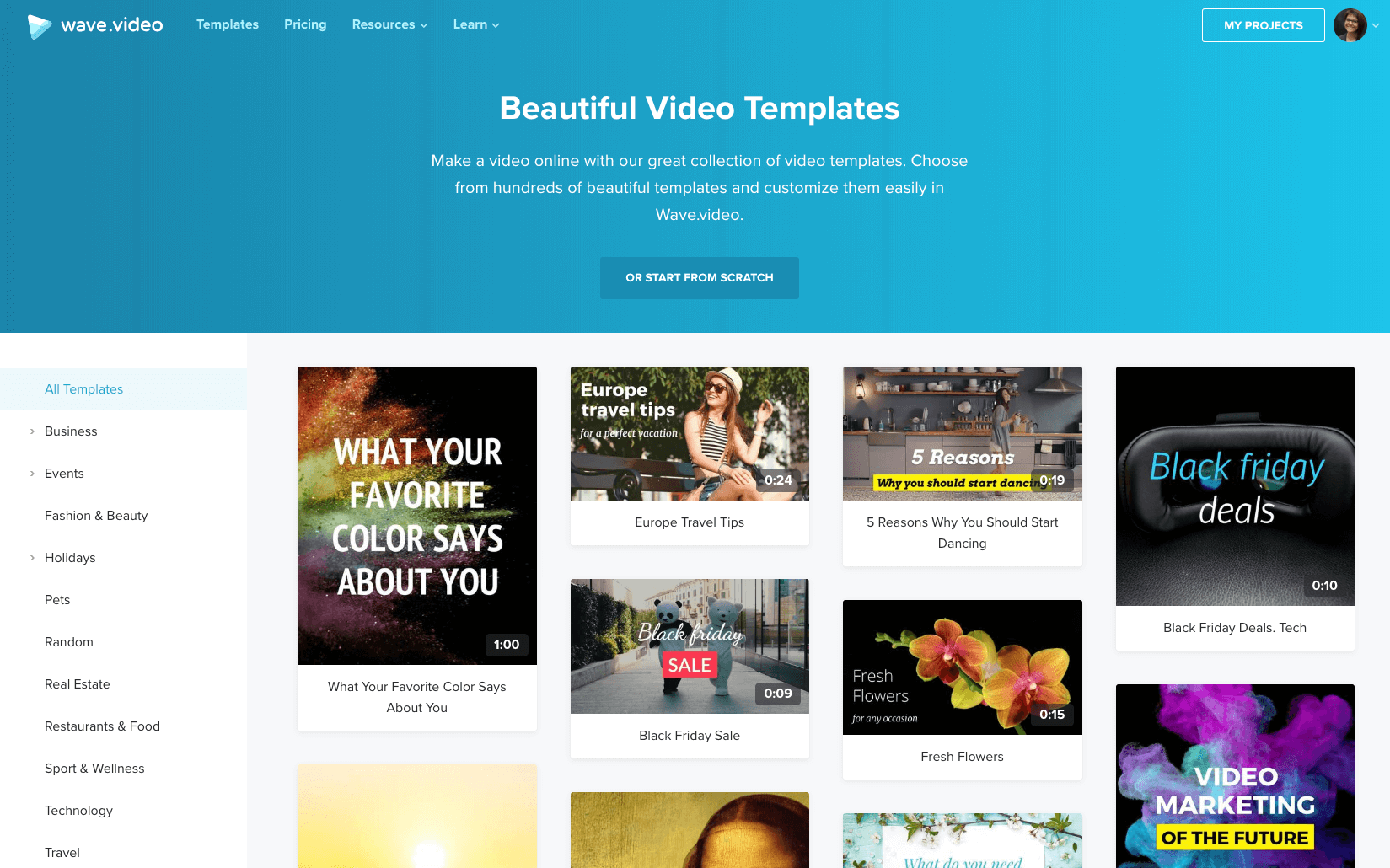 Now, all templates are divided into categories, making it easier to find the ones that will suit your needs. You can also search the templates by a search term.
Check out all the new templates here.
How are you going to use the new features? Share in the comments below!