16 Best Video Marketing Tools For 2021 That Actually Work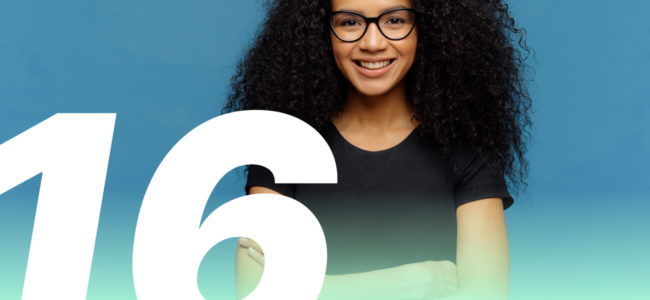 Marketing is no longer about the stuff you make but about the stories you tell.

Seth Godin
In this fast-paced world, various alternatives are available for marketers to market their products and services in a way that makes them stand out from the rest. Amid rapid advances in technology, one marketing strategy is making waves high and quickly, and it only seems to be getting popular and expansive with each passing day – video marketing.   
More than 500 million hours of videos are watched on YouTube each day, and 87% of online marketers use video content. These statistics show how video marketing is proving to be a powerful and significant part of marketing strategy now, more than ever before.
When we talk about video marketing, it is all about staying up to the trends and employing state of the art technology to keep things running smoothly. Anyone who has worked as part of a video marketing team would know how important it is to pick the right video marketing tools to succeed in the game.
Keeping in mind that there is such a long list of options available in the market, it can be quite an uphill battle to find which one is the best of the lot. That's the reason why we have come up with the list of 16 best video marketing tools that every team must seriously consider using.
Take a look at the list to find that perfect combination of tools to boost your video marketing efforts:
Best Video Marketing Platforms
1. Wave.video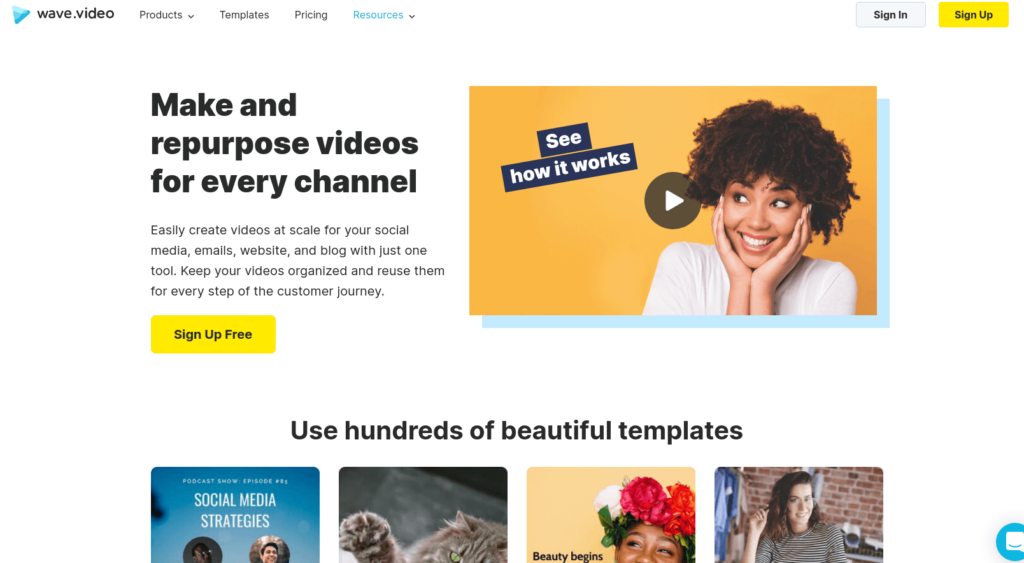 Wave.video labels itself as a "one-stop-shop for all things video marketing." It is an online video marketing and hosting platform that is excellent for creating, repurposing, and embossing short promotional videos, videos for a blog or website, video ads, social media videos, and much more. It is a convenient tool for small business owners, marketers, and vloggers who want to grow their brand with the power of video. Wave.video is a robust and user-friendly video hosting solution out there.
Pricing – Free Basic plan is available. The Paid plan starts from $20 per month.

2. Vimeo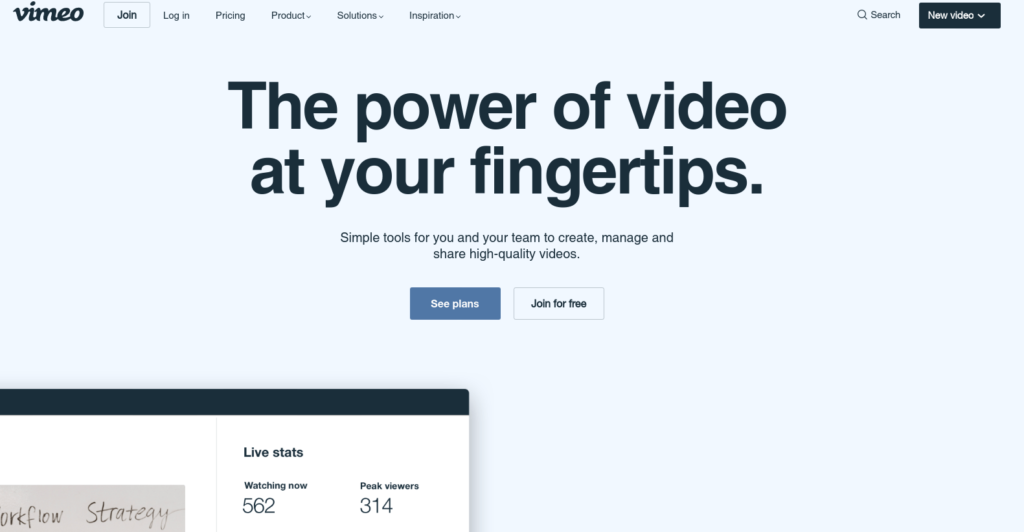 Vimeo is the world's leading professional platform that you can use to create high-performing videos, go live, and do a lot more to boost your marketing efforts. Vimeo is also widely popular as one of the best high-quality video hosting sites for video marketing. You can add team members to your account so you can collaborate for reviewing and make notes on your videos. You can embed your videos and add clickable calls-to-action that will help you drive more user engagement. You can go for their paid plan that allows you to live stream also adds to your storage limit while also unlocking analytic features. 
Pricing – Free 30-day plan is available. The Paid plan starts from $20 per month.

3. DailyMotion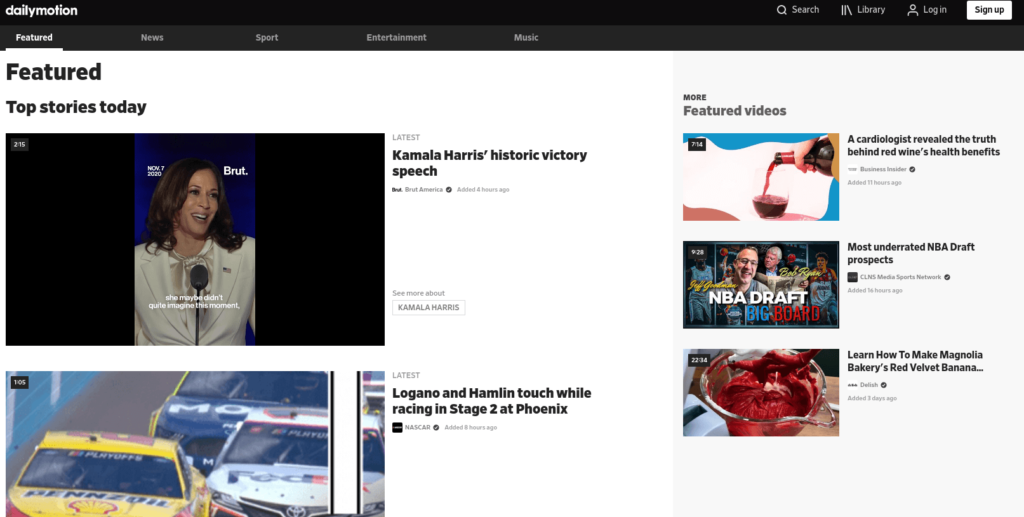 DailyMotion claims to be the second-largest platform for watching videos online, with 300 million users worldwide, who watch 3.5 billion videos on this platform every month. DailyMotion is also one of the significant competitors to YouTube. You can enjoy browsing and upload videos by searching based on tags, channels, and user-created groups. The maturity of the content streamed on DailyMotion sets it apart from other video-streaming sites, including YouTube. You can find millions of videos on DailyMotion, and a lot of fresh content is updated every day with high-quality videos.
Pricing – Free for viewers and uploads. The Paid plan starts from $7 per month. 
4. Instagram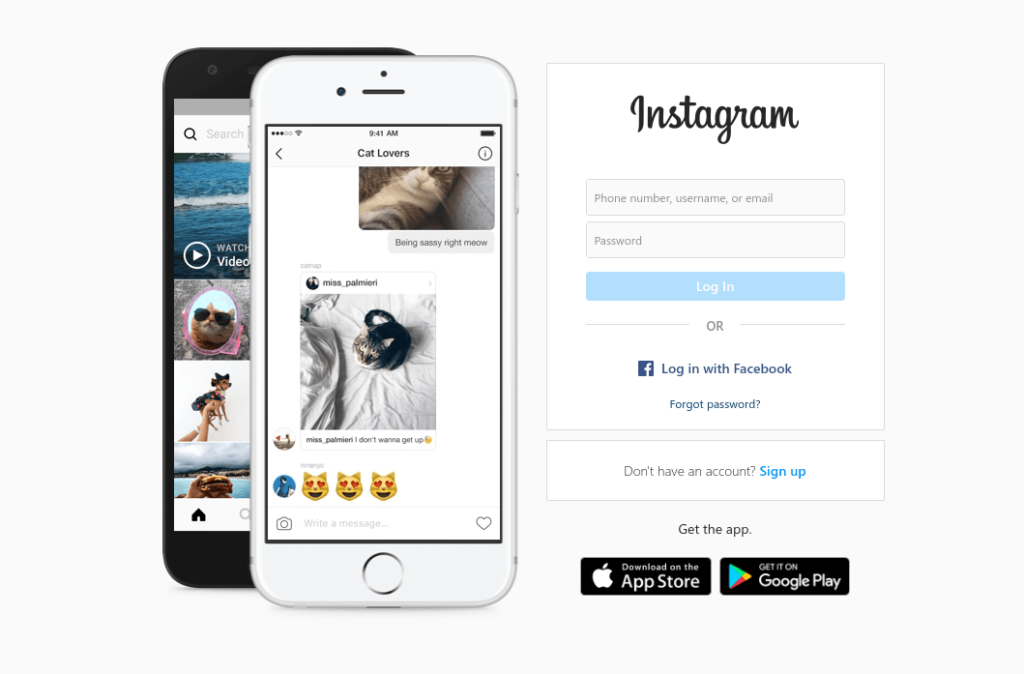 Instagram is one of the most popular and widely-used social media applications today. Instagram sees over one billion active monthly users and 500 million daily Instagram Stories. Instagram has developed into a global platform, allowing brands to humanize their content, recruit new talent, showcase products, and inspire their audience. You can increase your brand awareness and introduce new products without hard selling to your customers. You need to post the right kind of content to stay relevant to current followers while also bringing in new ones. Use free Instagram tools to view statistics like impressions, engagement data, and more. 
Pricing – The average Instagram ads CPC (cost-per-click) is around $0.50 – $1.00.

Best Script Writing Utilities
5. Final Draft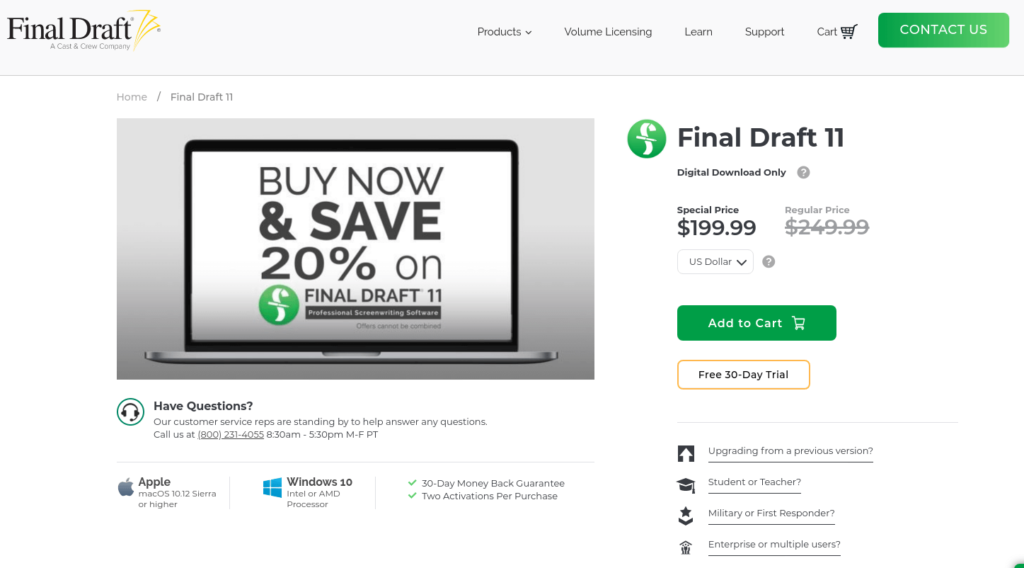 Final Draft is one of the best screenwriting software to help you write a screenplay from the initial concept to Fade Out. Designed specifically for writing scripts for film, television, and theater, Final Draft 10 screenwriting software has been an industry standard for decades, and famous writers and filmmakers use it. Final Draft 10 includes SmartType, Story Map, Beat Board, Alternate Dialogue, and more to enhance your screenwriting experience further. Other useful tools include tagging, reporting, real-time collaboration, an index card view to aid scene arrangement, over 100 templates, and a mobile version. Final Draft 10 has just about everything you need to screenwriting most easily and powerfully possible. 
Pricing – Free trial is available. The Paid plan starts from $199.99.

6. WriterDuet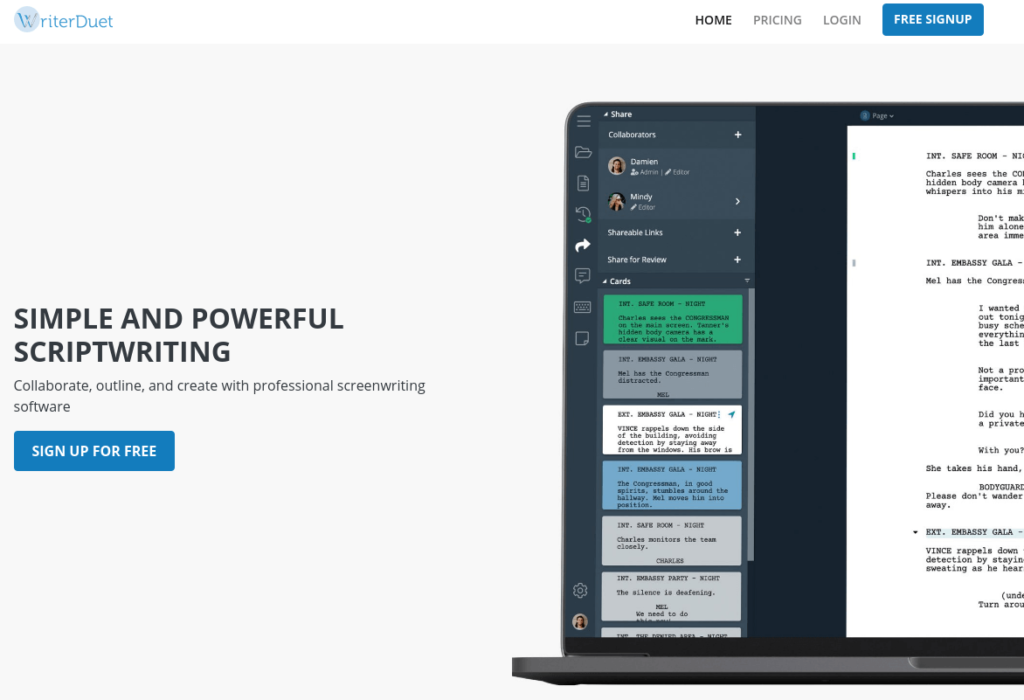 WriterDuet is a professional screenwriting software for writing and editing screenplays and other forms of mass media. WriterDuet is an excellent screenplay writing software for remote writing partners. This app offers real-time collaboration, an in-app chat box, and a commenting feature (private or shared). Its Revision Tracking feature breaks down script changes by calendar date. It gives writers specific help in formatting their works according to film or television industry standards. While WriterDuet is suitable for writers working on their own, it's efficient best when utilized as collaboration software.  You can use it on Mac, iPhone, iPad, and Android devices, making it versatile and accessible to almost anyone. This app offers a list of impressive features that make it the right choice for writing a solid screenplay in general.
Pricing – Free trial is available. The Paid plan starts from $7.99 per month.

7. ProofHub
ProofHub is an award-winning team collaboration and project management software application that does more than just simplifying project management and enhancing team coordination. Among other powerful features, ProofHub offers an Online proofing tool to help you deliver your best work using markup tools. A lot more than just a collaboration tool, you can review, proof, manage, time track and approve files using the online proofing tool in ProofHub. Markup tools allow you to annotate files to add precise and actionable feedback for specific regions. You can invite chosen team members to collaborate on designs and documents. They can add comments to leave their feedback. Once done resolving all suggested changes and feedback, collaborators can approve files with just a single click. 
Pricing – Free plan is available. The Ultimate Control plan is priced at $89 per month, billed annually.

8. Fade In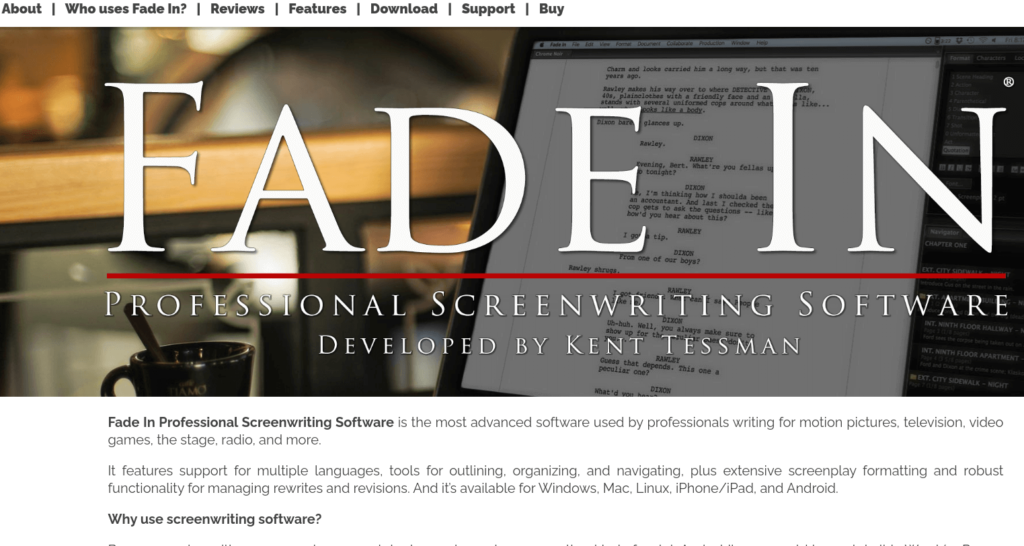 Fade In is an advanced professional screenwriting software used for professional writing for video games, television, motion pictures, radio, the stage, and more. Fade In supports multiple languages, tools for outlining, organizing, and navigating, plus extensive screenplay formatting and robust functionality for managing rewrites and revisions. It's available for Windows, Mac, Linux, iPhone/iPad, and Android. Fade In is considered an affordable alternative to Final Draft and Movie Magic screenwriting software. This screenwriting software offers handy tools like a script breakdown tool, index cards, templates, revision tracking, and reports, including cast reports, dialogue reports per character, and more. This app has everything you'd want from screenwriting software – It's stable, elegant, stable, full-featured, stable, affordable, and stable.
Pricing – The Paid plan starts at $79.

Best Live Streaming Services
9. Facebook Live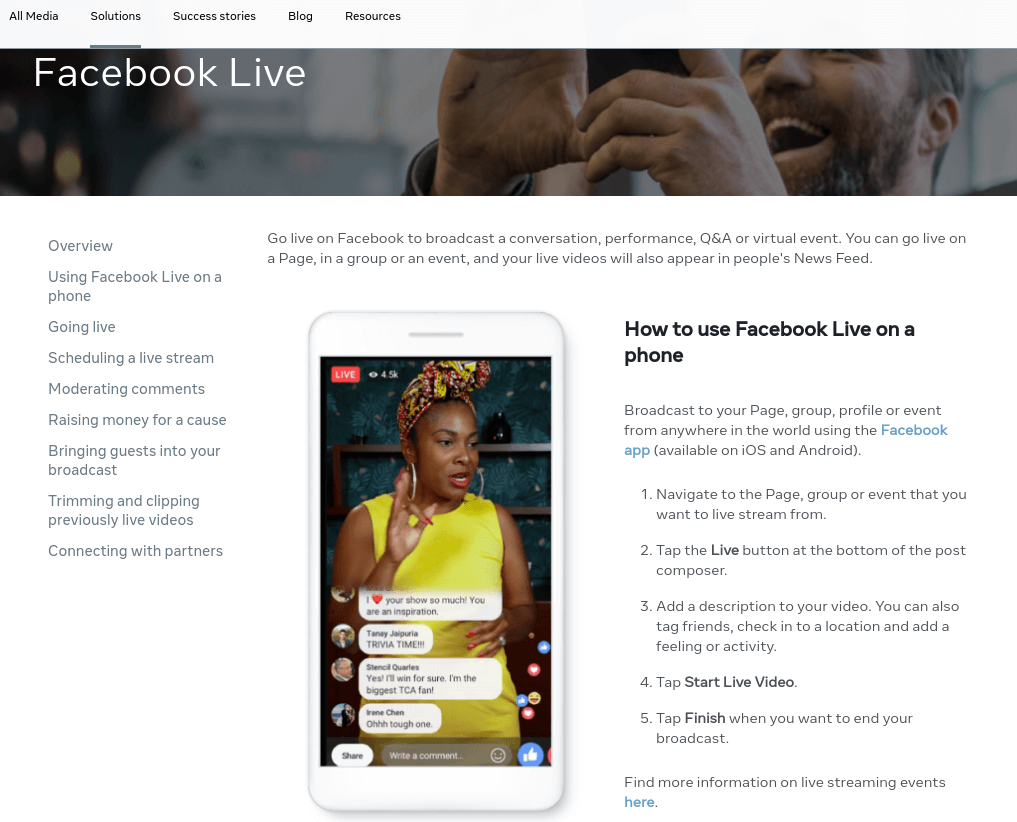 Facebook Live is a video streaming service launched by Facebook on the 6th of April, 2016. All it takes to live stream your authentic video is a single click on the stream icon, and you are all ready to create, share, and discover live videos. Facebook Live even allows for two-way conversations between clients and companies with emoji reactions and comments in real-time. Anyone with a phone and FB account can have the power to broadcast to anyone in the world. You can add filters and masks to add fun colors and animations to your video, send invitations to friends, and get live emoji reactions and comments. 
Pricing – Free 
10. Uscreen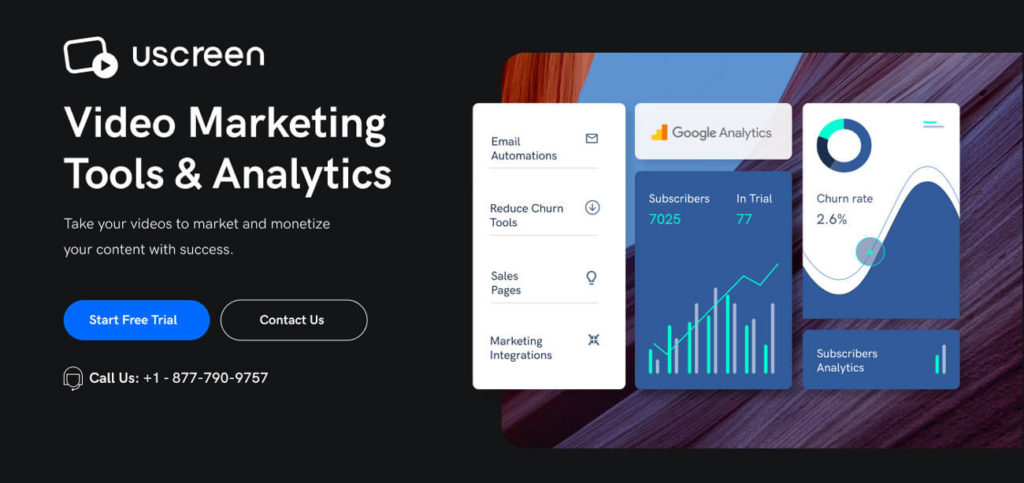 Uscreen is a turn-key video monetization and marketing platform. It lets you create and grow your own video streaming site, monetize your content, launch branded apps, and market your service all-in-one place. Users are able to sell access to their videos and live streams using a variety of different monetization strategies, including SVOD, TVOD, pay-per-view, and more. The platform comes with a set of robust video marketing and analytics features, including coupons, gift cards, landing pages, and product pages. The built-in automation tools allow you to grow your platform and go to market quickly. These include abandoned cart sequence, reduce churn tool, subscription upsells, free give away funnels, and more.
Uscreen's platform offers a truly immersive branded streaming experience both on-demand and live, across all devices. You can host live streaming events and interact with your audience via live chat in real-time, all the while generating revenue and growing your video business.
Pricing – Free trial is available. The paid plan starts from $49 per month.
11. Muvi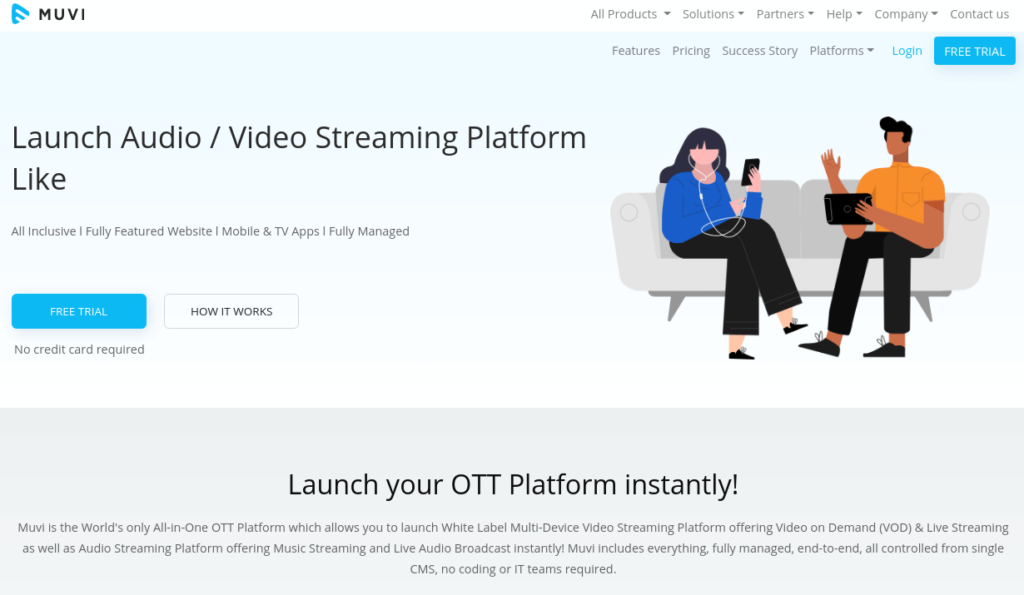 Muvi is an end-to-end, multiscreen, all-in-one platform that allows you to instantly launch your brand's streaming platform like Netflix, YouTube, and Hulu, right from your iOS and Android phones. Muvi offers a range of Live Streaming, and On-demand plans. With one-tap live streaming, single signing, and social sharing capabilities, Muvi empowers marketing professionals to securely broadcast to audiences across web, mobile, and other connected devices. Muvi works silently in the background for you while your brand is at the forefront always. Your video streaming mobile Apps will bear your logo and will display your message to the users. Muvi's mention is hidden and remains invisible to the audience.
Pricing – Free trial is available. The paid plan starts from $399 per month.

12. StreamShark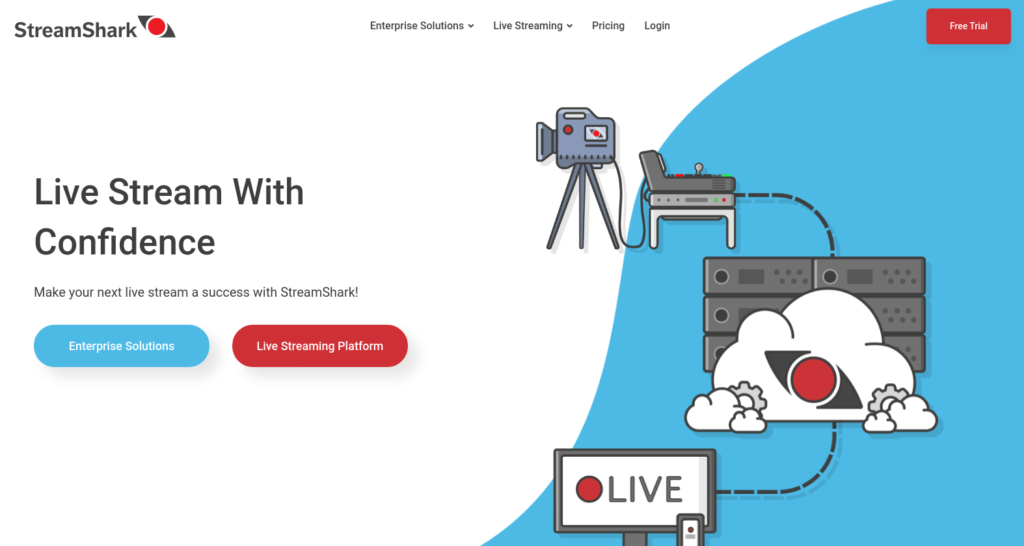 StreamShark is a streaming paid platform, which provides a wide range of professional video streaming tools. StreamShark has top-of-the-line privacy services and analytic capacities. It offers a host of valuable features for people who want to be sure that their streams will be secure and protected. StreamShark combines a significant number of video tools with storage capabilities and powerful analytics. This software is integrated with Google Analytics and Facebook Live, and allows the options of monetization. Additionally, you can also manage the privacy settings for your streams. All these reasons make StreamShark essential for the broadcasting of closed events. StreamShark offers multiple advanced features, like a possibility to broadcast the 360-degree video for an immersive effect. The service is available in more than 100 locations around the world. 
Pricing – Free trial is available. The paid plan starts from $199 per month. 
Best Storyboarding Software
13. Plot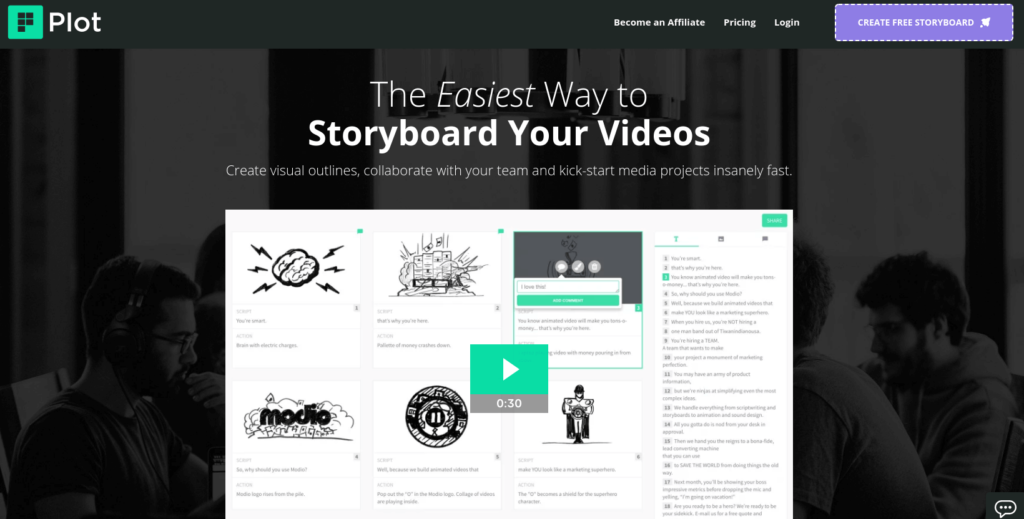 Plot is an extremely fast online storyboard maker that lets you write, draw, and collaborate with your team. Plot boasts of impressive users like Vistaprint, Workday, and WeightWatchers. Every feature offered by Plot aims at making processes as fast and efficient as possible. This app helps you save time and avoid the frustration of mismanaged paper storyboards. This program allows you to run any operating system and still get access to a drawing pane. You can easily draw your frame, import them directly to your project, along with added dialogue and stage directions. The app is visual and you can easily change scenes by simply clicking and dragging different pieces around the page. For $10/mo you get unlimited projects, unlimited boards, and unlimited add-on users. 
Pricing – The paid plan starts at $10 per month.

14. Storyboarder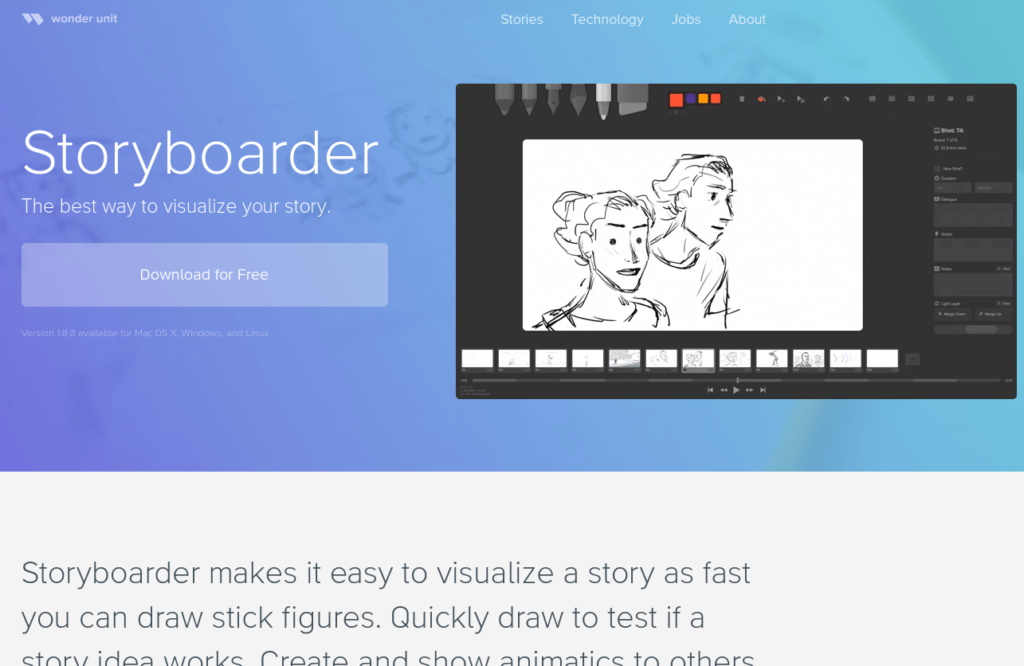 Storyboarder is easily one of the best options for visualizing a story as fast as possible. You can quickly draw shapes and characters to test if a story idea works, create, and show animatics to others. The software has a clean interface with all the necessary tools at your disposal. You can also write dialogue and enter timing information and shot type. This storyboarding tool comes with a play feature so you can demo your boards in a slideshow preview, much like a real animatic for animation. Storyboarder works collaboratively with Photoshop, which means you can make your board more precise, and it will be automatically updated. Storyboarder lets you export to Premiere, Final Cut, Avid, PDF, or Animated GIF. It is an excellent tool for client presentations, mucking around, and practicing on your own.
Pricing – Free
15. Studiobinder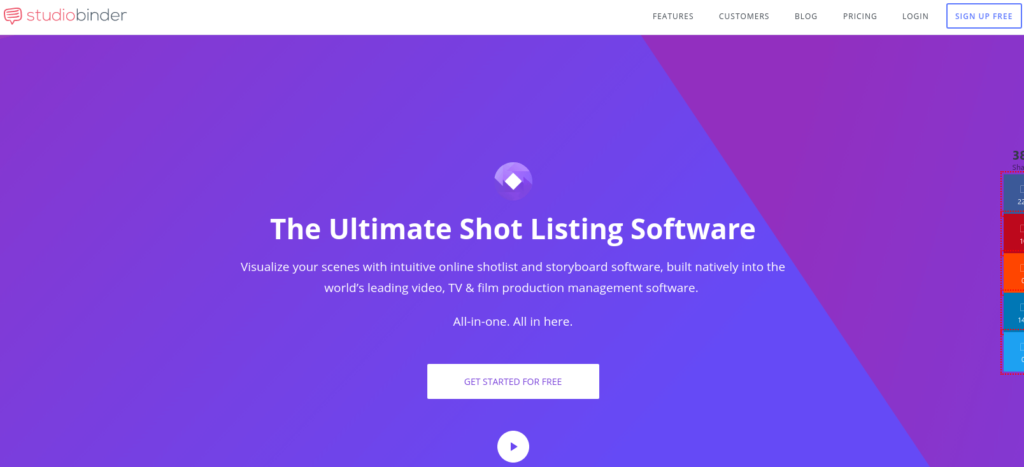 Studiobinder labels itself as the "ultimate shot listing software." it allows you to visualize your scenes with intuitive online shotlist and storyboard software, built natively into the world's leading video, TV & film production management software. Studiobinder offers you a better way to manage video projects and their accompanying schedules, media files, scripts, production contacts, cast and crew, and more under one roof, at one centralized location. You can quickly swipe from shotlists to storyboards view with a simple click. You can visualize your entire project before you even scout locations or finalize your shooting schedule. Studiobinder makes team collaboration easy as it has project management features, which enables you to assign tasks and add comments. Nifty presentation mode allows you to preview your project from within the team. 
Pricing – Free trial is available. The Paid plan starts from $29 per month.

16. Canva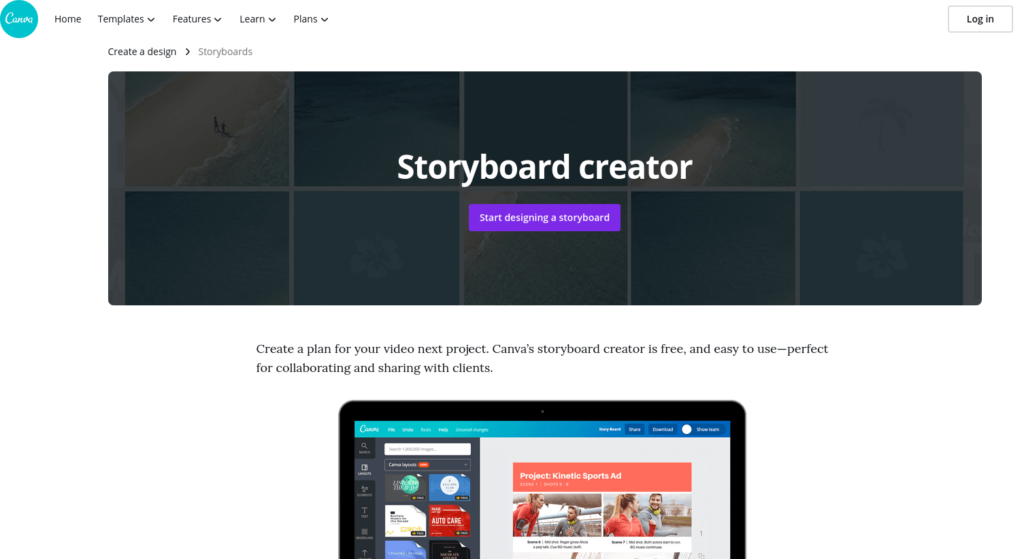 Canva is a graphic design platform used to create social media graphics, presentations, posters, documents, and other visual content. Canva makes it easy for you to create storyboards, with a library of templates to choose from, one million stock images, and frames and grids to organize your scenes. You have the option to select your preferred font type, color and include headers and subheaders. Canva combines all editing and publishing tools in one online design platform. Canva comes equipped with a collection of templates that can that you can apply to various industries. You can grant access for collaboration and share the design with your team as a PDF file or through email.   
Pricing – Free trial is available. The Paid plan starts from $12.95 per month.

Conclusion
Are you leveraging (one or more) the best video marketing tools listed here? If not yet, it's time you buck up and up your ante! Video marketing has emerged as the most potent way for brand promotion online. You've got to back up your engaging content marketing plans with high-quality videos to leave a lasting impression on your online audience. 
Connect visually with your target consumers by creating incredibly impressive videos that can help you to generate leads, engage the audience, and instantly persuade them to take action. 
About the author: Nandini Sharma is the Assistant Marketing Manager at ProofHub – a powerful project management software loved by more than 85000+ teams and businesses worldwide. She brings unparalleled expertise in digital marketing through her years of experience in the field; especially when in the area of brand building, targeting a large audience and building strong connections with them. When not busy creating winning marketing strategies, she can be found involved in art and craft activities.