How To Choose A Video Hosting Service: 9 Things To Look For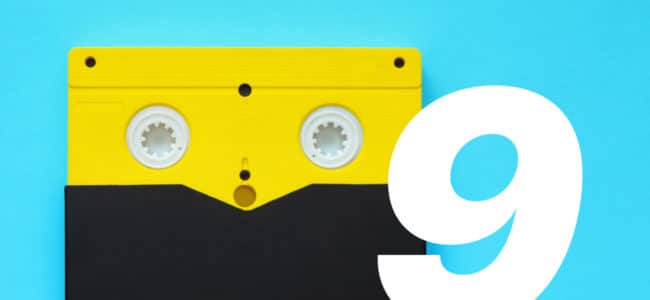 The toughest part of video marketing isn't creating perfect videos. It's about helping your audience watch them – without pauses and freezes.
And without taking forever to load.
In a HubSpot survey, 62% of consumers said they pay more attention to videos and skim or multitask other content types.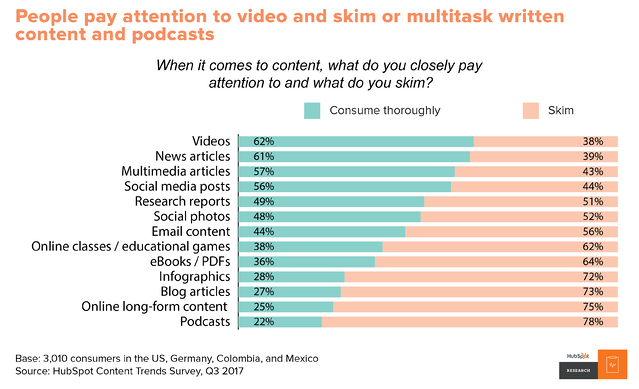 Source: HubSpot
Well, it's not surprising.
Especially when each new generation has watched more videos than the previous one. There's a recent report highlighting how millennials watch videos for 2.4 hours a day, and Gen Z sticks to them for over 3.4 hours.
What does it mean?
With each new generation watching more videos, you need to make more of them. Video marketers are expected to create engaging videos and publishing them consistently.
With each new generation watching more videos, you need to make more of them.
But let's admit it, that's challenging. More so, when you're self-hosting your videos with limited bandwidth, storage options, and video reach. Of course, along with those never-ending format and file size restrictions.
That's precisely why brands need online video hosting. And, no, you don't have to spend a fortune on it. You can easily find free video hosting services that let you upload, store, and share your videos without any fuss.
But how to choose the right solution that would gather all needed features into one bundle?
Below we've broken down 9 essentials a video hosting service must have to help brands keep their video feeds from ever getting overloaded or, uh, frozen.
But first, let's check what online video hosting is and why does it matter.
What is Online Video Hosting?
In simple terms, video hosting allows you to upload and share your videos on the web. And it's different than self-hosting in a sense that it lets you embed the video for sharing.
In this scenario, you upload the video on a third-party's site or cloud server, rather than on your own.
Think of it as a way to take your videos to a broader audience base, with fewer restrictions. Although not all online video hosting services give you the creative and uploading freedom you want, some do let you upload your videos in different formats and sizes.
And some offer plenty of features that you'd never want to go back to self-hosting. You can trust me on this.
But, Do You Really Need A Remote Video Hosting Service?
Short answer: Yes.
Long answer: Of course, you do. Whether you pick a paid or free video hosting service, the chances are high that you'll get better control over your videos and understand your audience well with third-party video hosting.
Besides simplifying the hosting process, it also eliminates the bandwidth and storage constraints and costs, which often come in tow with self-hosting.
And it's easy.
You don't need to be a web geek to host a video online. All you need to do is upload your video, make some edits, and get the link or embed code to share your videos.
Free Vs. Paid Video Hosting Services
While free widely known video hosting sites like YouTube and Vimeo are great, they're not perfect for businesses looking to capitalize on video marketing.
For starters, they don't give you the freedom and control you seek to present your videos the way you want.
Plus, when you embed a video from, let's say YouTube, you end up marketing YouTube instead of your brand. Even worse, once your video gets over, your audience is highly likely to turn to other recommended videos on YouTube, which could, very well, be your competitors'.
Plus, when you embed a video from, let's say YouTube, you end up marketing YouTube instead of your brand.
So, yeah, you won't be able to keep your video traffic to your site when you pick a free video hosting service.
And then, there is this never-ending struggle with ads ruining your audience's video viewing experience.
Want to deal with that 'Skip Ad' frustration? No thanks.
Things your video hosting service should be capable of
There's no better starting point for that much-needed video hosting inspiration than Wave.video.
From customizing the video player to enabling on-the-go edits – a good video hosting service like Wave.video offers all this and more. No wonder why, it's the perfect choice to create and publish video content for so many businesses around the world.
Now, let's check the essentials your video hosting service should have to make your video marketing efforts fruitful.
1. Video hosting service should come with easy video embeds
A video hosting site that lets you embed your videos with ease is nothing less than a boon. Embedding your videos means you can add them easily to your website, blog, articles, and even landing pages.
Embedding your videos means you can add them easily to your website, blog, articles, and even landing pages.
Look for a service that automatically generates embed codes for your videos. You can then paste these embed codes anywhere you want your videos to play – without letting them eat your storage space.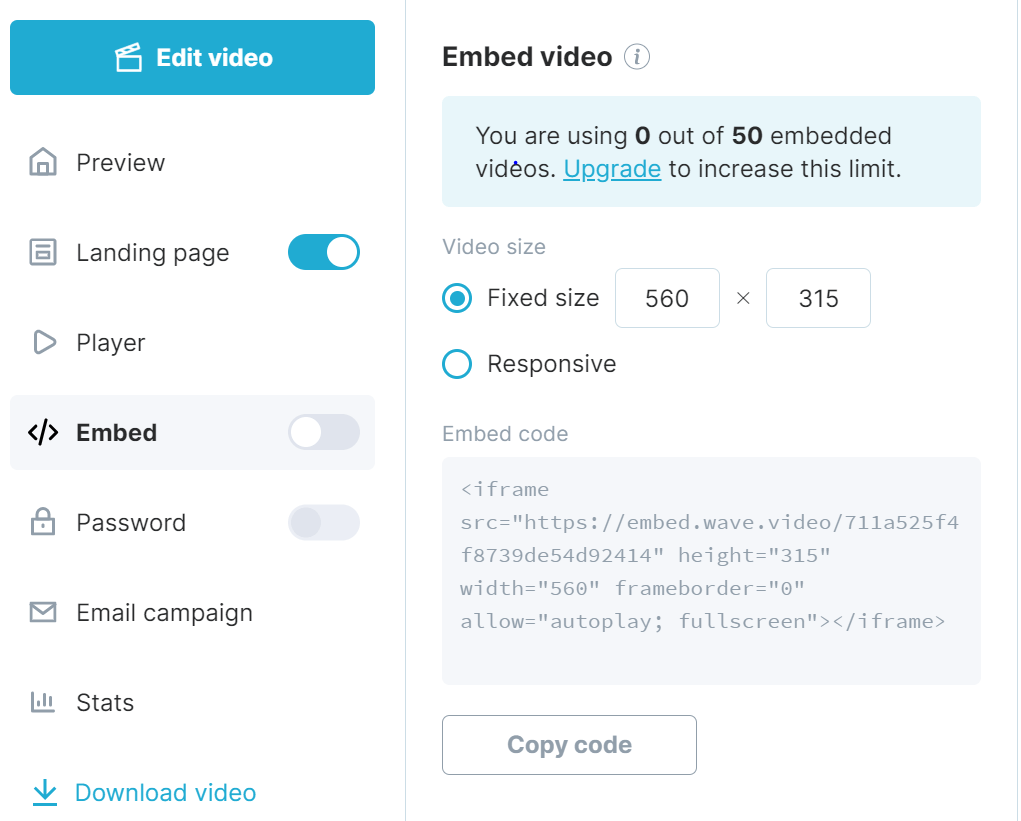 Smart much? Want to know how to embed your videos using Wave.video?
Here's a step-by-step guide to keep you going: The Ultimate Guide to Embedding Video on Your Website
2. Customizable video player is a must-have for a video hosting solution 
If you want to white-label the video player, make sure that your video hosting service offers video player customization options.
When you opt for a site like Wave.video, you can merge the video player's appearance with your branding by changing its color. You can do this by choosing the color on the color wheel or entering the hex code of the color you want.
With Wave.video, you can merge the video player's appearance with your branding by changing its color.
Apart from this, you can
choose a thumbnail
select the way your videos start and end and
customize the control options like volume, fullscreen, playbar, play button, quality, speed, and more.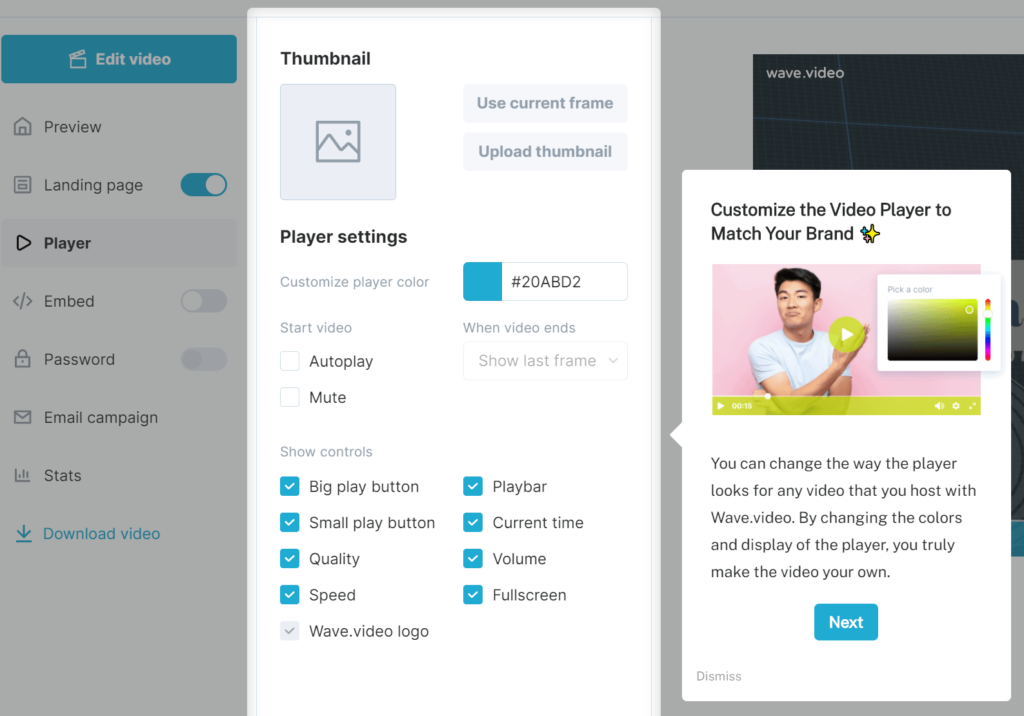 Whether you are a minimalistic video player fan or want your audience to have full control over their viewing experience, a customizable video player will come in handy.
Pro Tip
By setting up the controls, you can also simulate the GIF format. Loop a muted short video, set it for autoplay, and switch all controls off. It will give you the same impression as a GIF, though you won't need to compromise the image quality.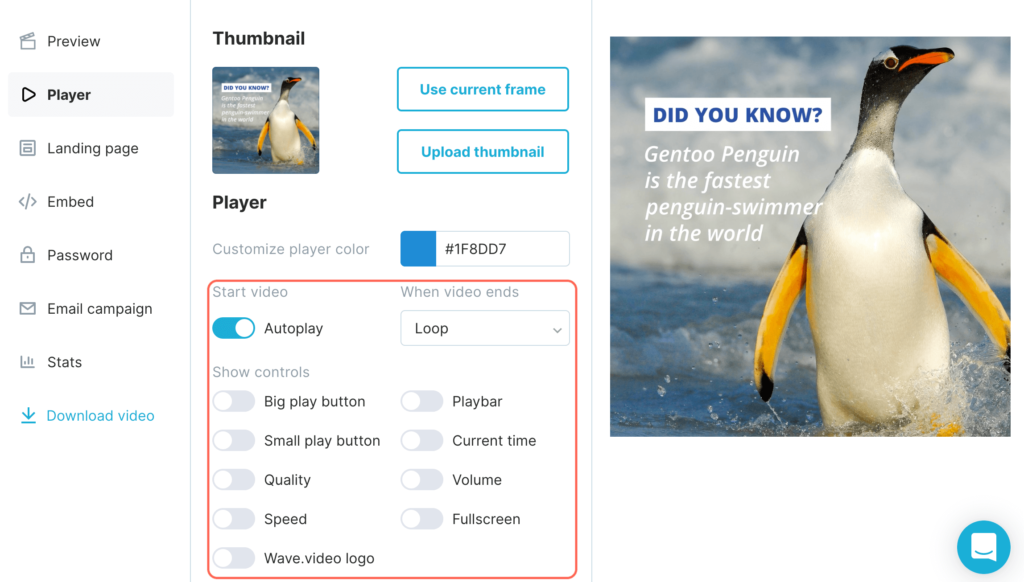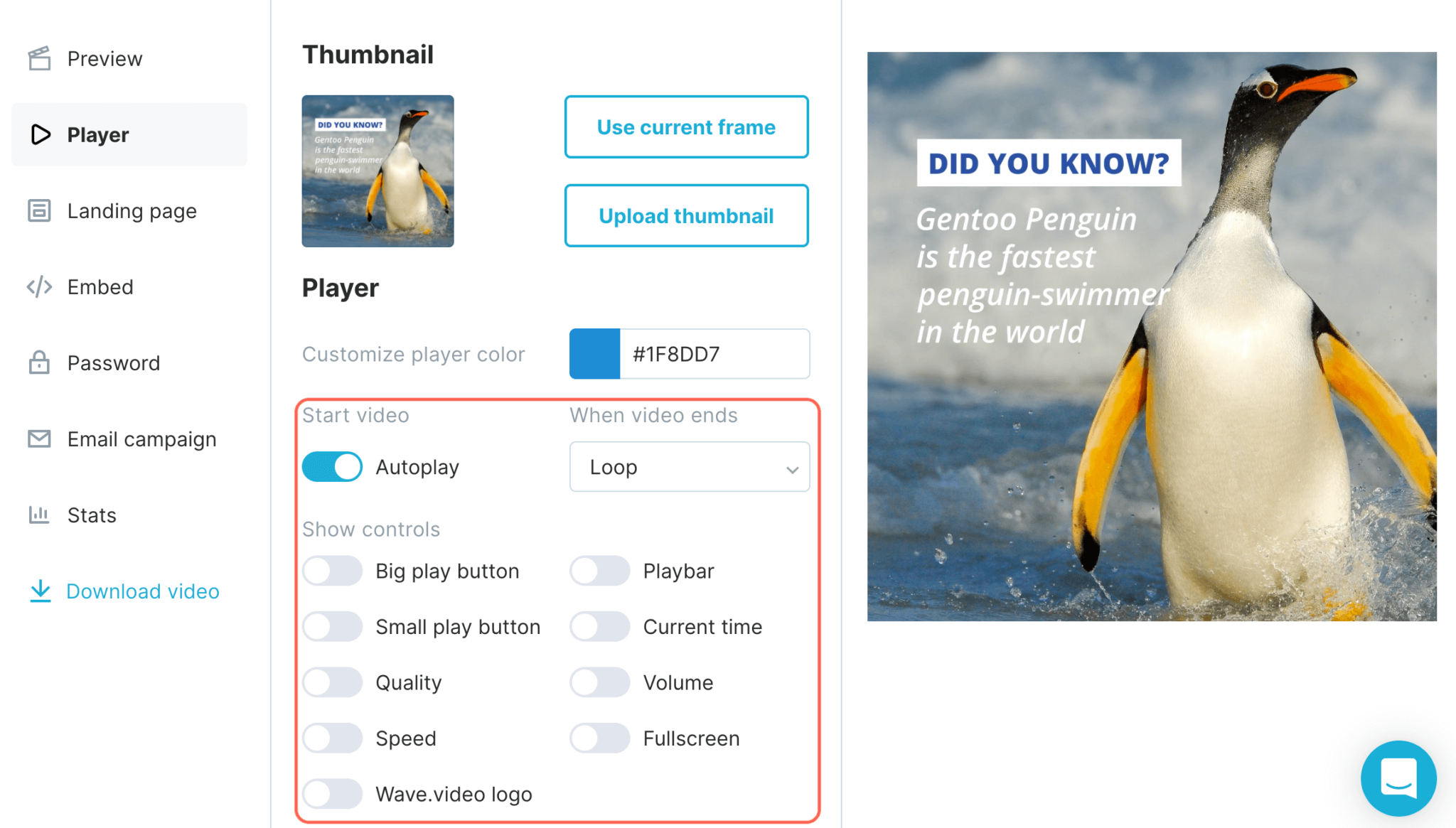 3. Video hosting service that generates video landing pages
Pick a video hosting site that creates landing pages for your videos. What are the benefits you may ask? Well, there are many. First, video landing pages engage your audience for longer than usual. Then, they are perfect for adding clickable call-to-actions as per your video funnel.
Here's what you can enjoy from Wave.video's video landing page generator: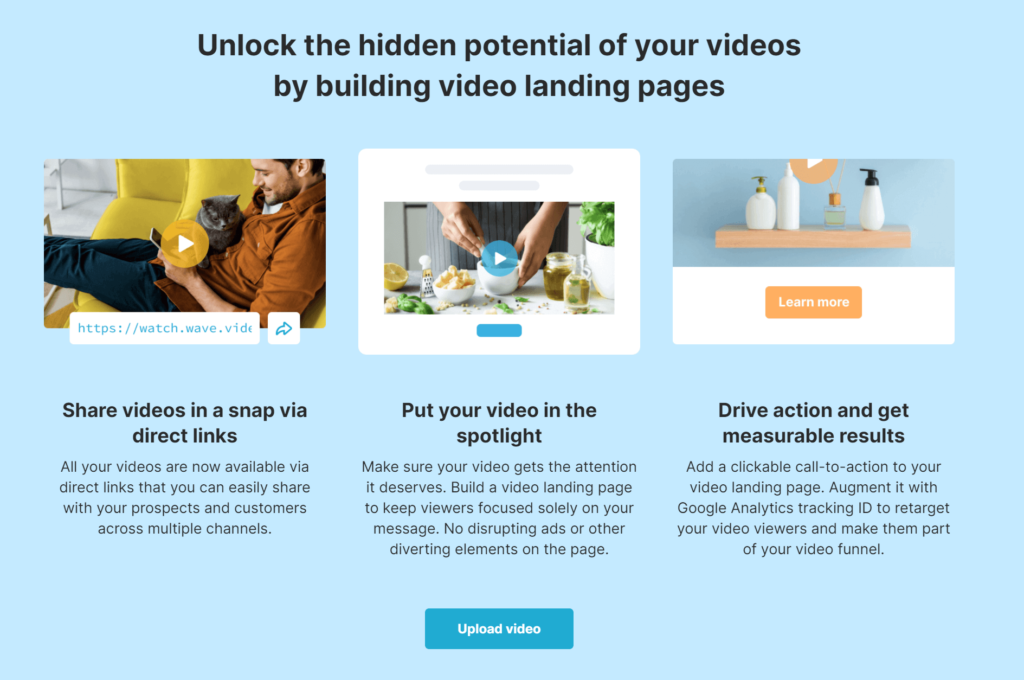 Although the most commonly-created types of video are explainer videos, you can always do more with them.
Whether you want to promote a new product/service or distribute educational videos, landing pages with videos make an excellent tool for that.
Well, hello, improved CTRs.
4. Email campaigns as part of your video marketing strategy
No matter what industry you're in, you need to stay in touch with your target audience. And there's no better way than emails to do that.
So, why not increase the impact of your emails with videos specifically created for your audience? To make video-rich email campaigns, you'd need to pick a hosting service that lets you embed videos in emails.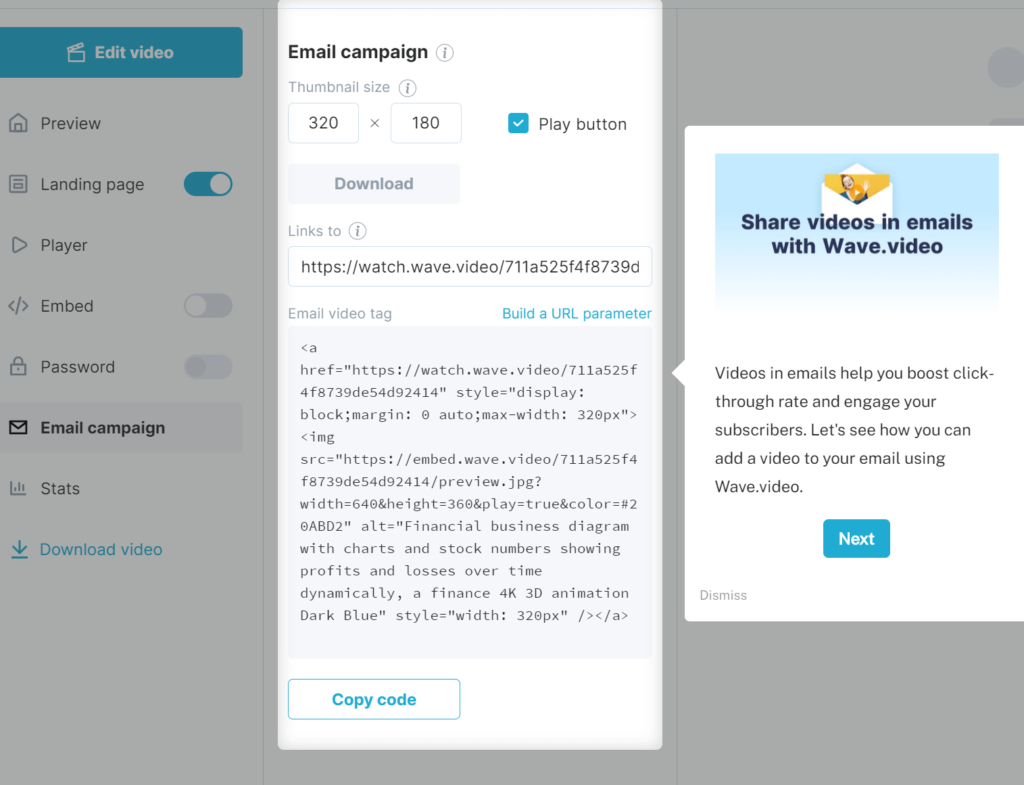 Wave.video can help you get started quickly – that too for free. This is how: Embed Video in Email: Why, How, and When
5. Video hosting solution that helps you organize videos in folders 
Video marketing requires continuous efforts and continuous storage. A video hosting service that lets you store your video files in properly organized folders is an incredibly fantastic tool.
With an easy-to-use online backup and cloud storage, your hosting service might be the only thing you need to save, view, sync, and share your video files. And with a site like Wave.video, you get to create and edit videos as well.
Properly organizing your projects into folders means easier accessibility when you need to level up your day-to-day. For instance, I keep videos for blog posts in separate folders.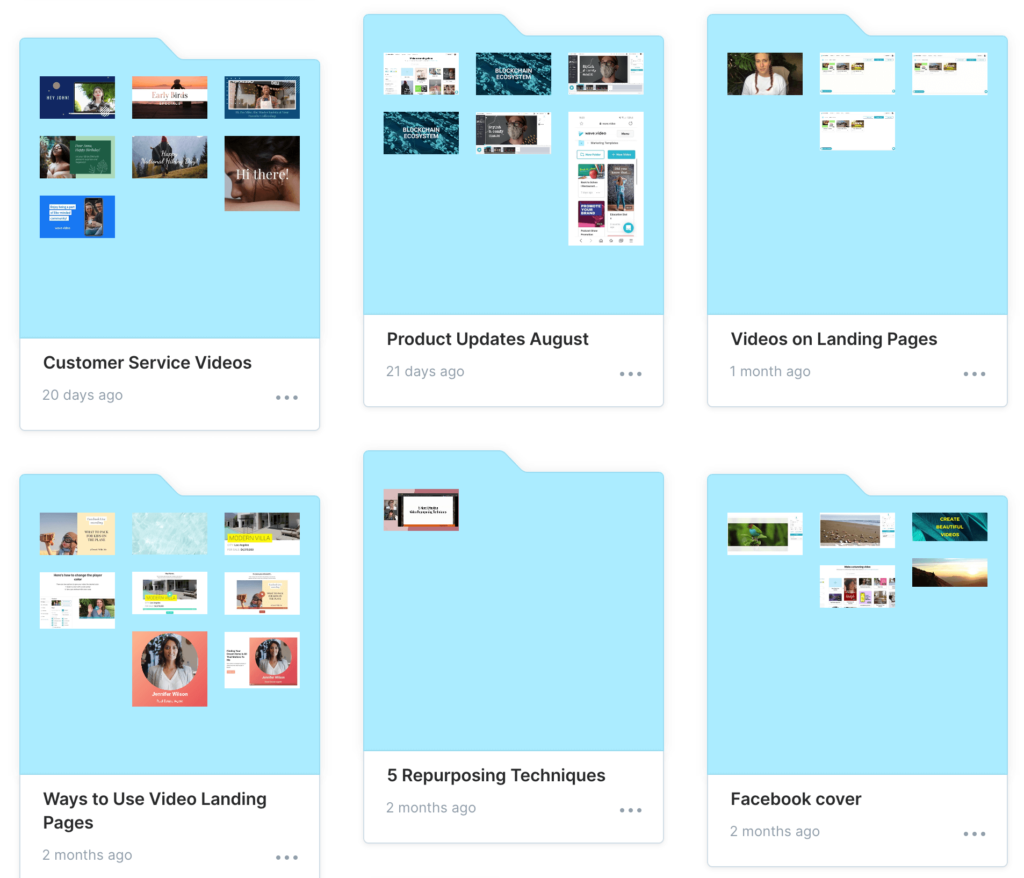 6. Video rich snippets generated automatically
Video rich snippets are a godsend for your video marketing strategy. They not only lead you to more video clicks but also improve your website's traffic and rank on the search giant, Google.
Go for a video hosting site that frees you from manually adding Structured Data Markup to your site. That's a sigh of relief, isn't it?
Some even offer you freedom from installing third-party plugins too.
Think, Wave.video? Sure, we won't let you sweat. We ensure that your video rich snippet is generated just from the title and description you enter on your Video Landing Page. So, do add compelling ones while you're at it.
The video rich snippet is generated from the title and description on your Video Landing Page, so do not forget to fill them in.
In this blog post, you'll find more information about how to use Wave.video to generate video rich snippets.
7. Video hosting solution allowing for responsive video embeds
It is an era where video watching experience is not going to slow down anytime soon.
But most of the free video hosting sites don't offer responsive video players by default.
That's why it makes sense to choose a video hosting site that lets your videos scale in all types of browsers, desktops, laptops, tablets, and phones – allowing your audience to watch videos on different screen sizes.
A responsive video player, like the one from Wave.video, expands to fill the width of various screens while maintaining the videos' original aspect ratio.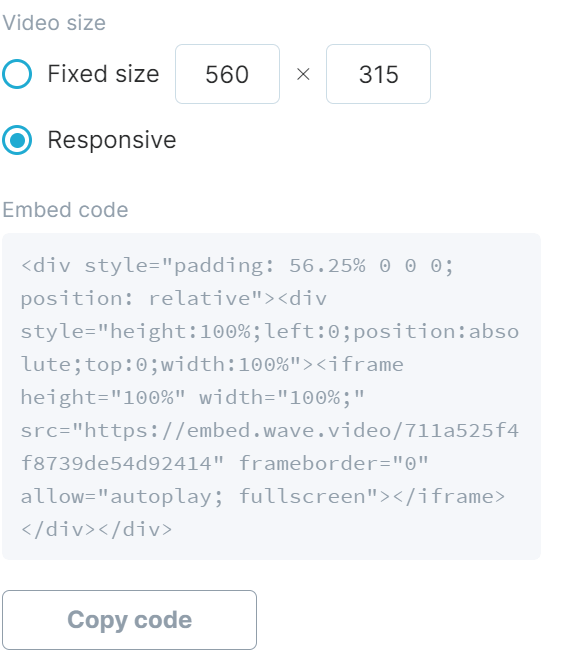 So, no more distorted page layouts or black bars spoiling your videos.
8. Video hosting service that provides you with statistics
With more than 60% of shoppers saying that online videos give them ideas or inspiration to make their purchase, you'd need more insights about your audience, won't you?

Source: Think with Google
How awesome would it be to have a video hosting service that lets you track your videos' performance? So, look for a video host that provides useful information about your audience's behavior.
A detailed analysis of your viewers' consumption time, location, and pattern, along with the details of your top-performing content, will help you effectively engage with your audience.
What would be the results?
Better audience engagement and lower drop off in the long run – provided you use the statistics right.
A little more love and a lot less guesswork.
Wave.video will soon include statistics into its video hosting offering, the work is now in progress. Stay tuned for updates!
9. Video hosting solution that can password-protect your content
Professional video hosts like Wave.video can let you control who watches your videos. If you want your video content to reach a set of audience, you can choose a video hosting service that offers password protection.

When you set a password for your video, you can create content without having to worry about unauthorized people accessing it. So, if sharing videos securely is one of your top priorities, make sure you pick the right host.
Ready To Scale Your Video Content With The Best Video Hosting Services?
Listen: You can always choose a native, free video hosting service and be okay with the limited features. Or, you can pick a third-party video hosting service like Wave.video to scale your video content as you host it seamlessly.
Hopefully, these essentials can help you start shortlisting the right sites.
Our Product Marketing Manager, Olga Bedrina, included a nice list of some of the best video hosting sites in this detailed post. Check them out.
Which video hosting service do you use and what do you love about it? Let us know in the comments below.