What's New in Wave.video: New Free Plan, Enhanced Text and Video Editing, and More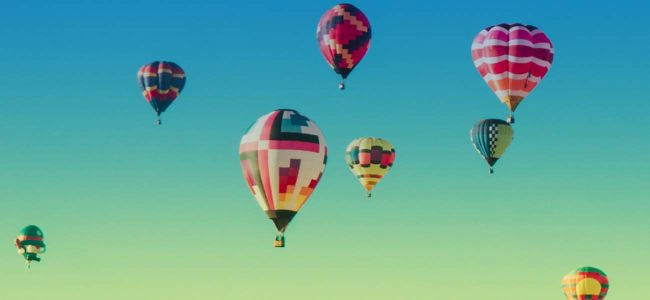 New year, new features! We're well into 2019, and I hope your year started as energetic as ours did. We have been working hard to bring new updates to Wave.video, and I sincerely hope you will find these features awesome.
Here's what's been brewing:
New pricing, including the Free plan
In 2019, video is overtaking the Internet. Marketers are updating their marketing strategy making sure they add video to the must-have list of tools. As people don't want to read as much, video is becoming the #1 form of communication.
What's New in Wave.video
Learn about our new features, the Free plan, and much more. The biggest release in the Wave.video history!
Here at Wave.video, we want to empower everyone to start creating videos and grow their brand. We also want to make video creation as affordable as possible.
That's why we came up with two brand new pricing plans – Free and Creator. And this might be a game changer for content creators.
What is a free plan?
The Free plan allows users to create video content for social media, blog, or any other content marketing needs. The videos created on the free plan will not be watermarked, so you can easily use them to support your brand identity.
Here's a short breakdown of what the free plan has to offer:
Create videos in 2 popular formats – square and landscape
No Wave.video watermark
Over 1.5 million royalty-free stock videos, photos, and illustrations
No limits on the number of videos you create
Wave's video editor which has just the features you need for creating branded videos
Who is the free plan for?
The Free plan is basically for anyone who wants to create short-form video content. With the free plan, you can create video teasers for YouTube to promote your content across all social media channels, blog post promotions, intros and outros for your videos, and so much more. All of it – with the easy-to-use and FREE video editing software.
Creator plan
In addition to the new completely free plan, there's also a new Creator plan. A little more advanced but still super affordable.
Who is the Creator plan for?
The Creator plan is for businesses and individuals who are just getting started with video content. If you are a content creator, personal brand, blogger/vlogger, or just an individual who wants to create personal video content for social, the Creator plan is right up your alley.
What can you do with the Creator plan?
Here are just some of the use cases for the Creator plan:
Promote your content on social with videos
Create intros and outros for your videos
Add text and graphics to your videos
Repurpose your videos for different social channels
Announce events
Add videos to blog posts
Get started with video content creation
Create video stories to engage your audience
and so much more! With the Creator plan, you can make videos in 4 popular formats (square, landscape, Instagram Stories, and Facebook cover) for ANY social video platform.
The Creator plan is easy to learn, and it provides you with the video editor and free video content, all in one place. At only $9/mo.
What's going to happen to other plans?
If you are one of our paying customers, we've got some awesome news for you, too! Pro and Agency plans got cheaper, too (both monthly and annual subscription). Check out the new pricing to see how much you are going to be saving from now on.
New Domain
If only you know how many times people didn't quite understand what our tool name is.
"Animatron Wave?"
"Animation?"
"Wave.video by Animatron?"
Enough is enough. To make things easier and help people find us faster, we are finally moving to a new domain – https://wave.video. Welcome!
Free Stock Library
With this release, we added a new completely free stock library of images and videos, coming from Pixabay & Unsplash. This library is available on all plans, starting from Free.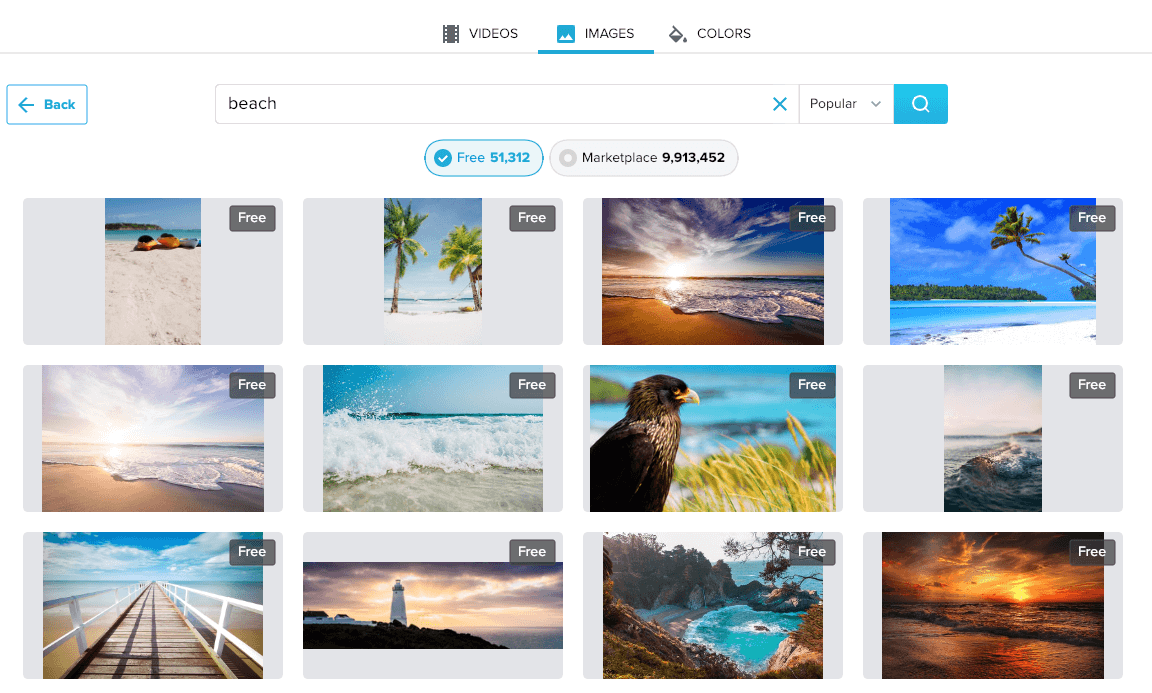 You can filter the images by Free or Marketplace in the library.
With the free stock library, you can edit the images and videos freely in the Wave.video editor. You can also combine them with your own footage, to give your videos a unique and branded look. You can also add text, graphics, and logos to the images/video clips. No limits to your creativity!
How will this benefit your business?
With this completely free stock library, you can save money on stock images and video clips. Get more content you need – all in one place.
Enhanced Video Editing
In addition to the new free stock library, the video editing features got updated, too. We hope these updated will help you make videos even easier and faster than before. Here's what's new.
Simplified text editor
You can now change the text color, size, and font right on the instrument panel. No need to switch to Branding.
Choose from 300+ Google fonts available in Wave.video or upload your own. Easily change the font weight, size, and color right from the editor.
Video filters
Perhaps, the video filters is one of my favorite features in Wave.video. And it got even better with this release❣️
We've updated the color picker to make it easier for you to set the video filter to the colors you need. You can also change the opacity of the filter and apply it to the whole project (your whole video) at once.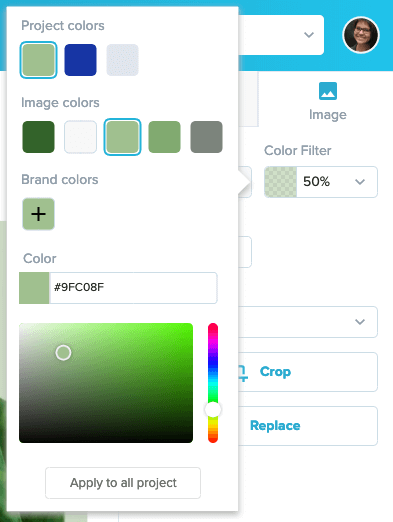 How is this helpful to your business?
With the updated color filters, you can now apply Instagram-like video filters to your project, giving your videos a customized and branded look. Read more about using the dimmer in our knowledge base.
Upload your own stickers
We've only heard it a hundred times: our users want to be able to add static images on top of their videos. And we heard you! Now, you can upload your own stickers, images, and even GIFs to Wave.video and add them on top of your video.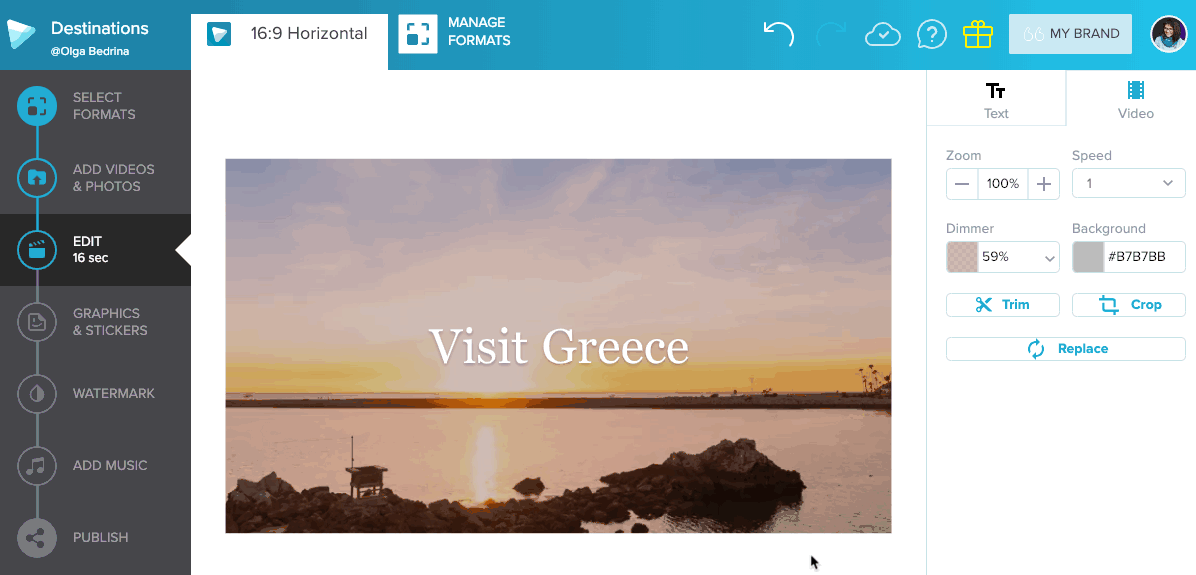 How is this helpful?
With the ability to upload your own images, stickers, and GIFs and add them to your videos, the possibilities are endless. For instance, you can engage your audience on a whole new level by adding emotional GIFs or animated stickers.
You can brand your videos and make them recognizable by uploading home-made GIFs and stickers. You can also put any additional information as an image on top of your video and do so much more.
Edit your project name in Wave.video
Once you start creating many projects in Wave.video, organizing them might become a headache. For starters, you can create folders and sort your projects accordingly.
With this release, you can also rename your project right from the editor. No need to switch to the My Projects window. A huge time saver.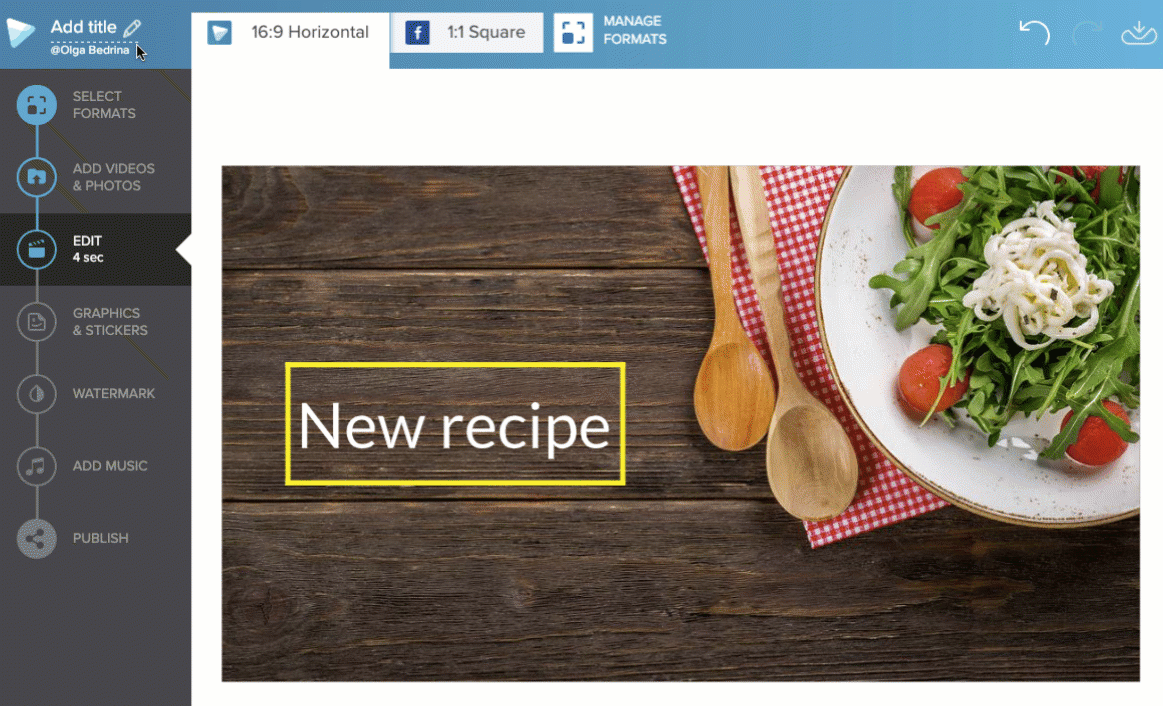 Hope you find the new features awesome! If you need any help at all, just shoot us an email at support@wave.video. We'll be happy to walk you through the new features and answer any questions.
Happy creating!