9 Best Video Transitions [+Free Templates]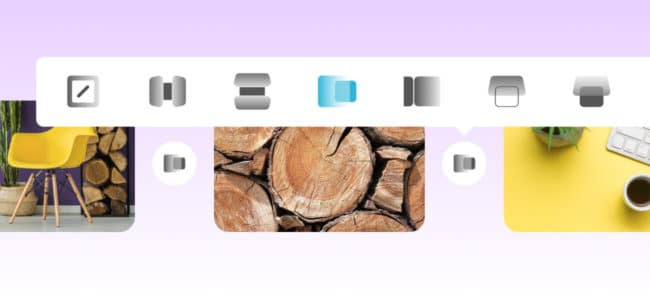 When you make a video, chances are, it doesn't consist of just one cut. There are exceptions, of course. For instance, due to their nature, webinars and live videos are often made in one take.
However, most videos are made of several building blocks or clips. There's one thing that can help you "glue" them together and make your video feel like it's one story and not just a collection of random pieces.
That is – video transitions.
What are video transitions?
In video editing, a transition is what shows between two video clips. It's a technique used in post-production to join the video clips together.
Sometimes, a video transition can be as simple as one video clip following the other one. This works great for films where the director wants to focus the viewers' attention on the content, not the visual effects.
More sophisticated animated video transitions are a great way to make video ads, social media videos, promo videos, and explainer videos.
The ultimate goal of any video transition is to smoothly guide the viewer from one scene to the next.
9 best video transitions to use in your videos
When it comes to choosing the best transitions for your marketing videos, you are not without a choice. From subtle animations to more advanced techniques, there are hundreds of transitions to try. The only problem is that most of them require solid knowledge of tools like Adobe Premiere Pro or After Effects.
Luckily, with online video makers like Wave.video, you can master video production without any special design skills. Here are 9 video transitions that you can try for your next video.
Pro tip: if your video is short (for instance, social media videos might be as short as 15 seconds), you can also make them in one take, i.e. just with one scene. To make sure they don't seem monotonous, try using different animated text effects or adding stickers/GIFs to the video.
Video transition: Doorway
A "doorway" is a video transition when the new scene changes the preceding one as if through open doors. This technique is great for travel videos or vlogs. At some point, the preceding scene is visible together with the new one. So, this video transition is great for videos that have the same storyline, without abrupt cuts or sudden changes in the plot.
Fade to black video transition
The fade to black transition effect looks great with darker videos. By this, I mean the videos that have a darker color palette. Having one color scheme in your video helps you to keep the video consistent and pleasant to the eyes of viewers.
You can also use this video transition when you want to create a suspenseful atmosphere in your videos.
Cross dissolve transition
When you use the cross-dissolve transition, the scenes smoothly "dissolve" into each other. That is, the next scene follows the previous one as if subtly blending in with it.
This transition is great for history-related videos.
Swipe left video transition
This type of video transition resembles a slide show. One scene follows another with a slide to the left-hand side. Use this type of transition for listicles or any kind of videos where you need to mention several items, one by one.
Pro tip: to make the call to action at the end of your video stand out, use a different type of transition, like in the video above. Also, use the same background video or image for the first and last scenes to support your point.
Blur video transition
The blurring technique helps you to create a calm and relaxing atmosphere in your videos. Use it for serene travel video ads or blog videos about yoga.
Pro tip: to create the right tone, accompany your video with appropriate music. The visuals are important but it's the music that will really help you to add a final touch.
Fade to white
The fade to white video transition is similar to "fade to black", except here one scene follows the next one with the slight whitening effect instead of black (hence the name).
Use this type of transition when you make a video out of images or staged clips. This will give the final video a crisp photo flash effect.
Zoom in/out
Zooming in/out of the next scene is a creative video transition. It allows you to connect the two scenes, where the next slide appears from zooming into the previous one.
This transition is perfect for longer videos where you need a bit more time to tell a story and tie it all together.
Pro tip: Combine the zoom in/out animation effect for your image with the zoom in/out video transition. This will give your video a dynamic look, like in the example below.
Entrance video transition
Your video doesn't necessarily have to consist only of video clips or images. To freshen your video content, try using solid colors as a background. This works best for text-heavy videos or video quotes.
When you use solid colors as a background, it's a good idea to use geometric transitions (Doorway, Swipe left, Entrance) to make the video look like it was animated by pros.
Here's an example of a video with the entrance video transition:
No video transition
Sometimes the best video transition is no transition at all. When you omit the transition between the clips, it will help you to create a dynamic video effect or even give your videos a cinematic look.

How to add video transitions in Wave.video
You don't have to have stellar design skills in order to use transitions in your video. Here's how you can use them with just a click of a button in Wave.video.
Step 1. Open any video template or create a new video from scratch.
Choose one of the pre-designed templates or go with your own design.
Step 2. Add more than one video clip
In order to add transitions between the clips, you will first need to add more than just one clip to your video. After all, that's what transitions are for – "gluing" the building blocks of your story.
To add another video clip to your video, simply click the "+" sign on the timeline. Read this article to learn more.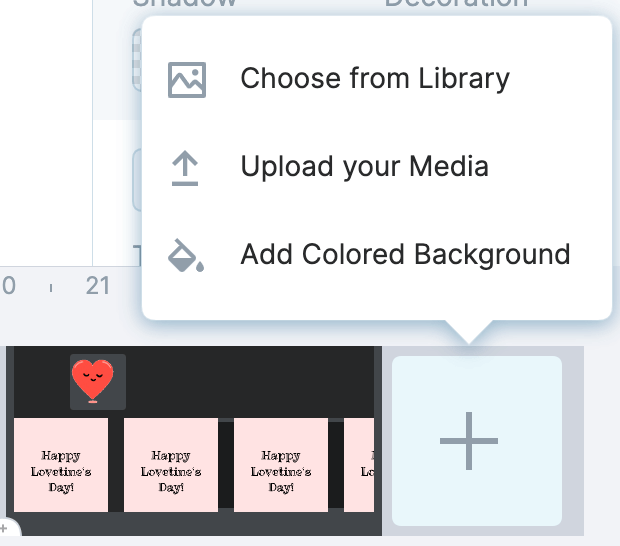 Step 3. Choose a transition
Now that you have several clips (or scenes, as you can also call them), you can add video transitions between them. To do that, simply click the little plus ("+") sign between the scenes.

You can choose between 9 different transitions or go without any at all.
Tips for using video transitions
Once you discover how easy it is to use video transitions, you might want to go crazy with them in your next video.
Don't.
When it comes to transitions, "The fewer, the better" is your golden rule. Don't try to impress your audience with all the fancy animations you now know how to add to your video. Instead, stick to these 3 simple rules.
Rule 1. Be consistent.
It is possible to combine several types of transitions in one video. However, we recommend that you take things slow and stay consistent with video transitions. It's best not to overwhelm your audience with all the different visual effects.
Rule 2. Match the transition with the type of video you're making
Some transitions are more dynamic and suit energetic videos more. This might be the case with video ads, for instance. Other transitions are slower and go well with more relaxed videos.
Whatever the case, try searching for balance and accompany your videos with video transitions of matching style and character.
Rule 3. You don't have to use any transitions at all
Feeling a little uncertain of what type of transitions to use? No worries: it's ok to omit video transitions at all, especially since there are other ways to brand your videos.
Over to you
A great video transition can go a long way, especially since adding transitions doesn't have to be difficult or require any special design skills. Stick to just one type of transition or experiment to see what works for different videos – it's your call.