How to Make a Fashion Marketing Video for Your Clothing Brand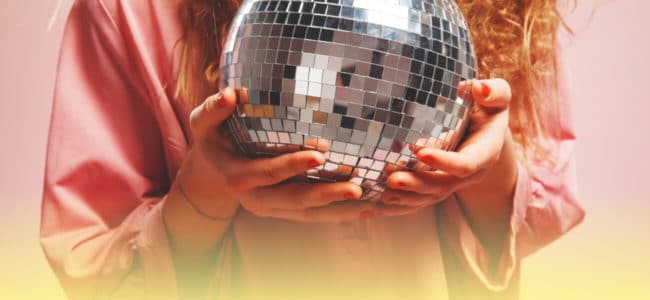 Video content; that's the future of digital marketing. The statistics continue to highlight this. For example, one study shows that 87% of marketers have added videos to their marketing strategy. Another 83% of video marketers say that using video content to promote their brands gives them a good return on investment (ROI). Across the internet, video consumption also continues to double year after year. With these numbers, refusing to add video content to your marketing strategy could do significant damage to your brand, especially if you're in the fashion industry. 
For most brands, though, the issue isn't a reluctance to hop on the trend. Instead, it's how to get started, especially when it comes to planning a video marketing campaign and creating the kind of content that boosts brand engagement. This article will walk you through how to create a fashion marketing video for your brand. I made one with Wave.video Editor using videos from Studio Z Photo Booths, New York. 
I'd recommend Wave.video Editor for anyone looking for software to create quality visual content. It's straightforward to use, with all the nuts and bolts you need to make great videos. It took me a little less than ten minutes to create the marketing ad and then convert it to other formats for different platforms. You can take a look at the video and see how effortless the process was:
We're also going to look at planning a great marketing campaign for your brand. Getting the most out of digital marketing is all about using the right strategy. You don't want to pour in effort and resources and not get anything out of it. So, we're going to talk about everything you need for effective brand promotion.
 Let's get started, shall we?
Planning Your Fashion Campaign
In the fashion industry (and every other business), brand promotion is all about getting your brand name out, right in front of your target audience. But it doesn't stop there. You don't just want them to know about you; you want them to buy from you, and you want to sustain that patronage while still increasing your client base and growing the brand.
To achieve all of this, you need an effective marketing strategy, and I'm not talking about posting occasional photos of your clothing line on Facebook and Instagram with witty calls to action. I'm talking about consistent promotion across all available platforms. Here are some of the best marketing strategies to increase brand awareness and engagement:
Invest In Your Brand Website
Having a website for your brand is one of the primary marketing strategies in today's digital age. However, it's one thing to have a website, and it's another to invest in it consistently. Many fashion entrepreneurs build a website for their businesses and hardly spend time using it or updating the interface for a better user experience.
The fact is the fashion industry is all about visuals, and this doesn't just have to do with clothes alone. Everything you do as a fashion brand should reflect the aesthetic nature of the business. Make your website colorful and engaging. Consistently update it and put out creative content. The fashion world is competitive, and you need to be at the top of your game to stay relevant. 
Create a YouTube Channel
YouTube has over two billion visitors monthly, with over one billion hours of videos streamed per day. With these figures, adding YouTube to your marketing strategy could do wonders for your brand in increasing awareness and engagement.
You could put up content on fashion tips, trends, product demos, ads and promotions, and explainer videos. Inserting a call to action at the end of your content could also drive traffic towards your website. The possibilities are limitless. 
Leverage Social Media 
Virtually everyone has a social media account nowadays, and that makes it the perfect platform to find and engage your target audience. Applications like Facebook and Instagram are terrific at increasing awareness about your business. Instagram, especially, does a great job of creating visual content.
It shouldn't only be about selling your stuff, though. Connect with your audience through other engaging fashion-related content. Style guides and trends are one form of content you can build around. Giveaways are also another way to drive engagement. Overall, use social media to put your brand name at the forefront of the fashion conversation. 
Don't Leave Out Email Marketing
Use Email marketing to get your audience in the loop about your brand's vital aspects, like new products, promotional offers, sales discounts, and restocked items. It's quite handy in sustaining patronage, so ensure you invest in an effective email marketing campaign. 
Work Closely With Influencers 
Fashion influencers have a significant following that you can leverage to increase your client base beyond your reach. Connect with a network of influencers and get them to review and recommend your products to their audience. This strategy boosts brand awareness and sales. You could even decide to work with different influencers across multiple platforms like Facebook and Instagram. 
Fashion Video Content: Dos and Don'ts
Creating quality video content isn't easy. It becomes trickier when you realize that the average human has an attention span of eight seconds. That's eight seconds for your audience to decide if your video is compelling enough to continue watching or not. And, some folks might not even wait that long. 
That's why you've got to be at the top of your creative game if your video ad will rake in the conversations and traffic your brand needs. Here are some basic dos and don'ts of fashion video content creation: 
Using Layouts 
Layouts are one way to make your fashion marketing ad more colorful and appealing to your audience. An eye-catching template could do wonders for your content in making it more engaging. If you look at the video I created, you'll notice nothing too fancy about the layout I used. We made the footage with the 360z Video Booth from Studio Z Photo Booth during a winter gala.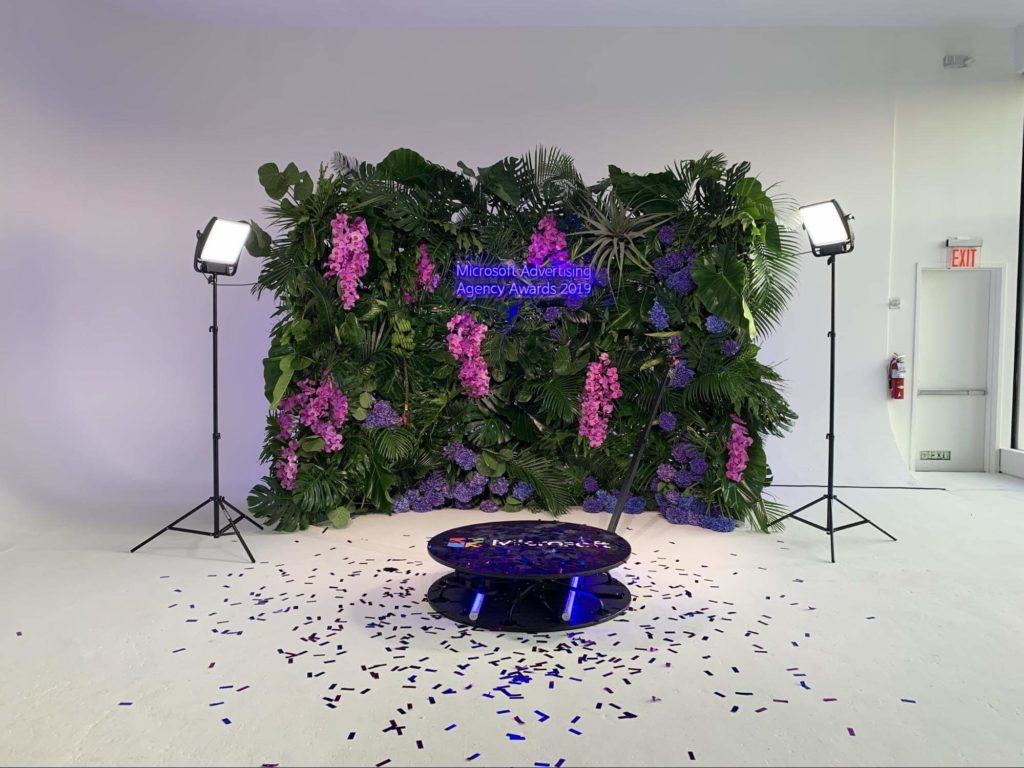 Photo by: Studio Z Photo Booth
The theme was holiday party fashion trends, and I opted for a minimalistic style while editing it with Wave.video Editor.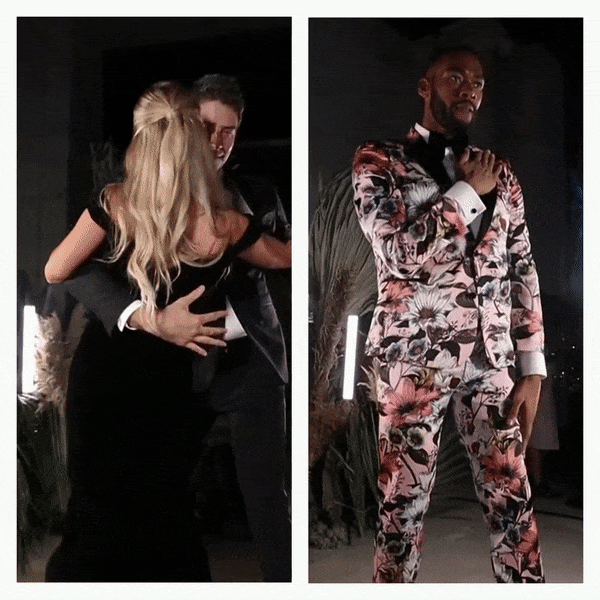 However, there are over a hundred templates you could choose from for your ad, and adding them is relatively straightforward. Just click the Layout option from the left sidebar and pick the template that suits you.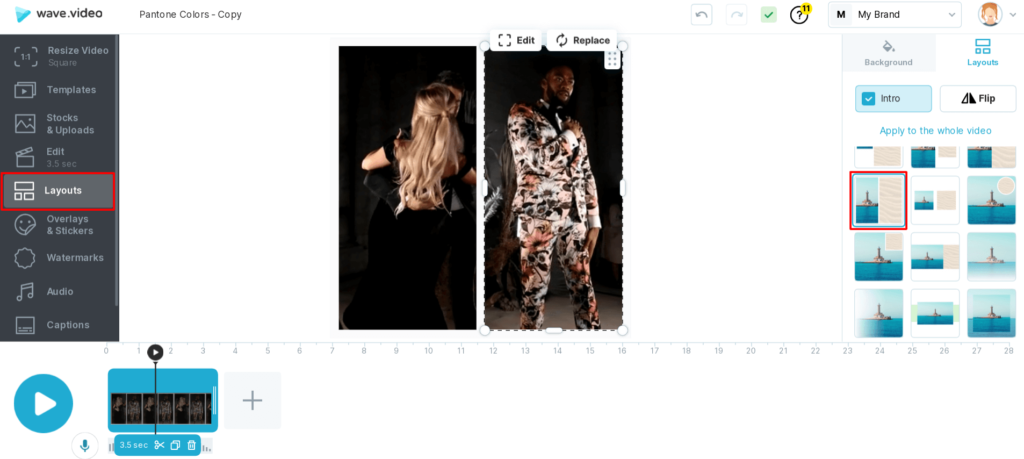 Should I Use Emoji in My Fashion Marketing Video?
Using emojis on your brand's video marketing ad is definitely something you should try. Studies have shown that emojis have a positive effect on driving conversations in digital marketing. For example, Twitter posts with emojis had 25% more interactions than those without. For Facebook, this figure rose to 57%. The results were similar for the content created on Instagram.
If you're still not sure whether you should try them out, you could create two videos – one with emojis and another without – and run an A/B test to see which one does better in terms of engagement. To do this, go to My Videos in the Wave.video Editor software and duplicate the footage. 

Next, click Edit Video on the copied version and select Overlays and Stickers on the left sidebar. You'll see a list of available emojis.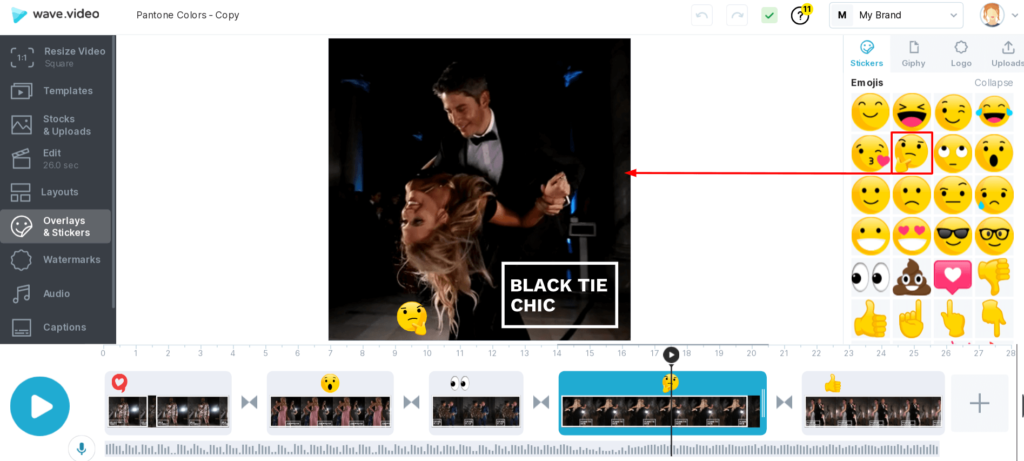 Select the one that suits your content, and you're good to go. Run the A/B test and see which option works for your brand. I played around with the emojis on Wave.video Editor for a second video and the results were really amazing. Check it out:

How to Make a Video More stylish: Which Filter to Use?
Lighting is essential to making great video content, and you need the right pre-production gear to put it in place. However, if you don't have access to the right equipment to incorporate great lighting into your video, Wave.video Editor has some great options you can work with.
You can choose from a comprehensive range of fashion-looking videos with quality lighting effects. You can also play around with filters to add some style to your work. Again, Wave.video Editor makes it relatively easy to do this. Click on the Edit option on the left bar and tweak the filter settings to your preference.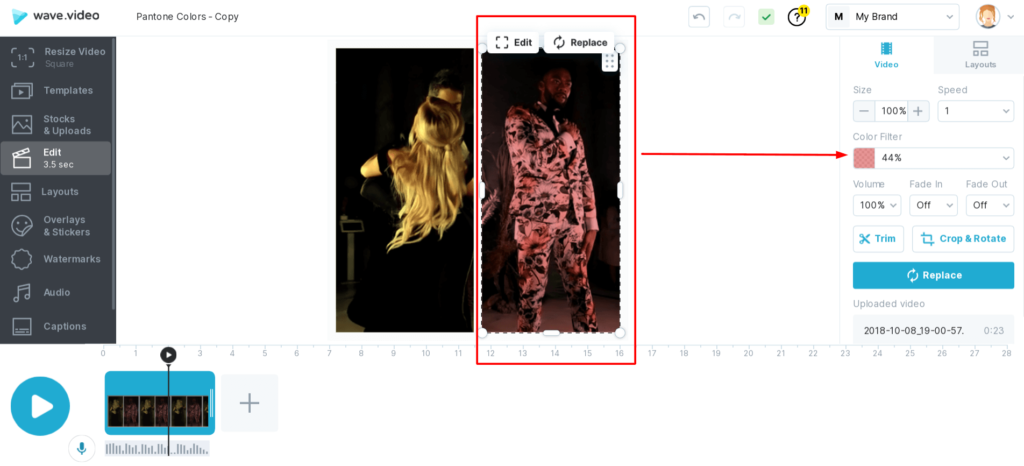 Adding a Call to Action
A call to action is a crucial part of any digital marketing strategy. It's what gets the audience to take action that involves buying from your brand, subscribing to your YouTube channel or email newsletter, or liking your Facebook page. Your video ad is just another piece of entertainment without any marketing purpose without a call to action. The reason you're putting up the content in the first place is to get your audience to patronize your brand in one way or another, and a call to action gets them to make that move. 
If you don't have any ideas of what to use as your call to action, there are some options in the Overlay and Stickers option of the Wave.video Editor to choose from. I've attached an image so you'll see your available choices. 

Resizing a Video for Instagram and Other Platforms
If you're making your ad for more than one platform, you must resize and convert it to the format required. You'll find the Resize Video option in the top left sidebar of Wave.video Editor.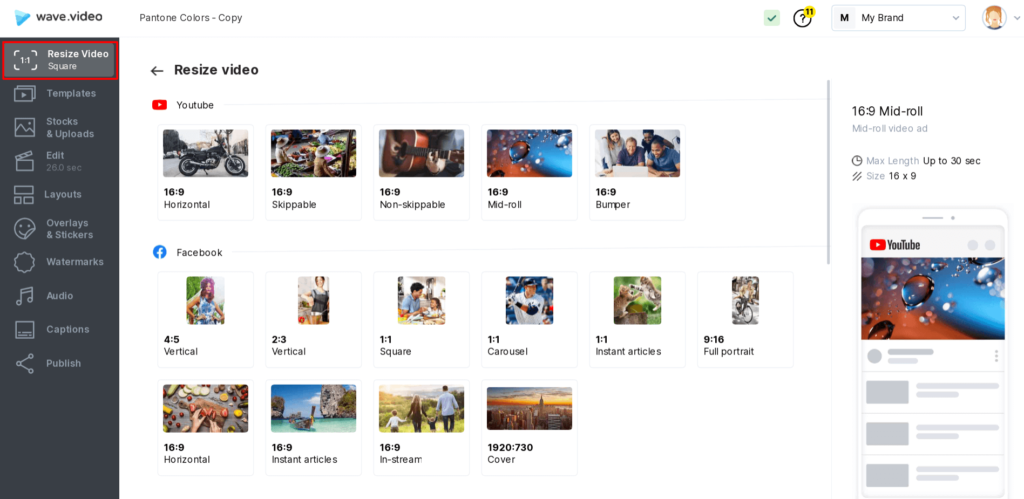 The software also comes with every possible file type available for any platform that supports video content. Just choose the one you need, and you're good to go. I used the resize option to create a separate video for YouTube. Take a look at what I got:
Conclusion
In the fashion industry, video marketing is probably the most crucial part of your marketing strategy. When done right, it's a sure bet to increase brand engagement, as it drives more interactions across all platforms on the internet. Plus, with Wave.video Editor, you have a versatile tool to create the type of eye-catching visual content your brand needs.
About the author: Zach Schiffman is the Founder of Studio Z Photo Booths. With a dual major in television production and entertainment marketing, Zach has cornered for himself a niche market that brings high-end photo and video activations to large brands and companies.