Audio Trimmer
Wave.Video audio trimmer is the perfect but simple tool for editing and trimming all your audio files. Get started today, it's free and easy to use.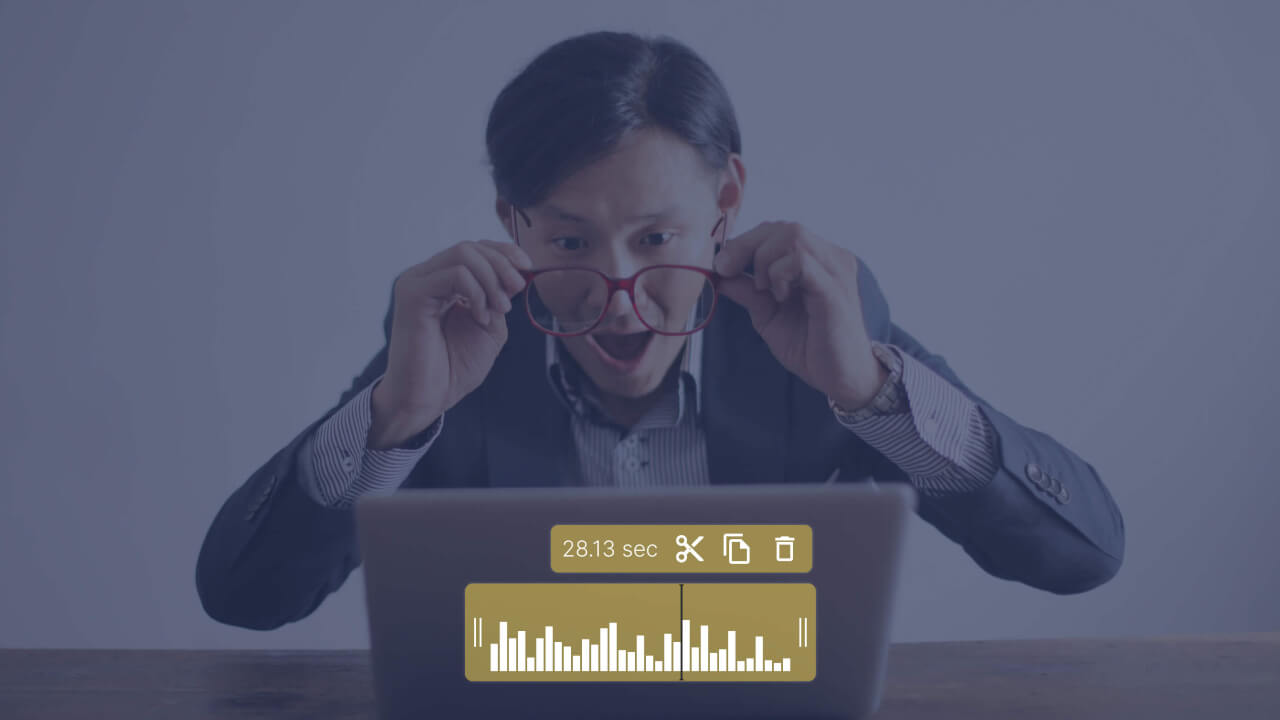 Why Do You Need Wave.video Audio Trimmer?
Automatic captions

Enrich your audio files with accurate subtitles that don't distort your intended meaning. Use the caption feature in the built-in editor for the most accurate subtitles.

Easy to use

Edit any audio file, even if you have no prior experience trimming audio. The tool's intuitive design is meant to make you feel at home right off the bat.

Seamless transitions

Move your audience from one scene to the next without them noticing. Seamless transitions can also be the difference between an amateur and professional work.

Web-based

Trim any mp3 or other audio file formats directly from your browser. A working computer and a strong internet connection are all you need. No resource-intensive software installations to strain your computer.

Multiple format support

Don't be limited to one audio file type. With Wave.video audio trimmer, you can take on any audio file regardless of its type. Similarly, generate outputs in any format that's suitable for the occasion.

Fast and secure

Focus on your work, and we'll do our part to keep you safe on the internet. Our platform is safe from malware and all the nasty stuff. Also, powerful servers mean almost instantaneous outputs for all audio trimmer requests you send out, so minimum wait time as you cycle through the many functionalities on Wave.video.
How Do You Use Wave.video Audio Trimmer
Import the audio

Upload audio file in Wave.video Editor. Click on 'trim audio' button to open audio trimmer dialog.

Trim

Select the parts you want to cut out from the file. For best results, play the file and listen for inconsistencies or blank parts before you finalize the edit.
You can also autogenerate captions and download the .srt file to accompany it or add transition effects for better flow between disparate parts.

Download

Go over the audio, and if everything seems okay, click "Download," then choose an appropriate audio file format. Export the file to your device or share it with your target audience.
Frequently Asked Questions
Is audio trimmer safe?
Most audio trimmers, including the one on Wave.video are safe. However, this isn't the case for all, so you should be careful with the sites you access audio trimmers from to avoid getting malware on your computer.
You can opt for reputable sites or ones that have been around for a while.
Is audio trimmer free?
FirWave.video audio trimmer is free, with no commitments. However, there are several paid audio trimmer tools that have the same functionality as Wave.video.
Still, most audio trimmers are in between, offering basic functionalities for the free versions and more tools and convenience on paid plans.
How does audio trimmer work?
Like other digital data, audio is recorded in binary format. So basically, computers view audio files as a series of numbers.
When you load an audio file and cut a part out using the trimmer, you'll only see the graphical simulation of what happens. However, the real work remains hidden. The software interprets your command to cut out a part of the file and transfers this to the computer.A comparison is made, and when the computer finds a match in its memory, it removes the part the software has called up. When this happens, you'll get graphic feedback indicating the part of the audio file has been removed.
All this takes place in a fraction of a second, so it might seem obvious.
Which is the best audio trimmer?
There's no definite answer for this primarily because every user has their own needs. However, there are indicators for the best audio trimmers. These include:
- Ease of use ensures the tool's accessibility to all users.
- Multiple format support.
- Guaranteed safety while using the audio trimmer.
- Affordability. It shouldn't necessarily be cheap but also not a rip-off.
Additionally, the best audio trimmer should have powerful editing capabilities.