Online Subtitle Translator and Editor
User-friendly, customizable, accurate, and reliable subtitles translator. Save your time and convey your ideas effectively. A must-have tool for expanding international reach.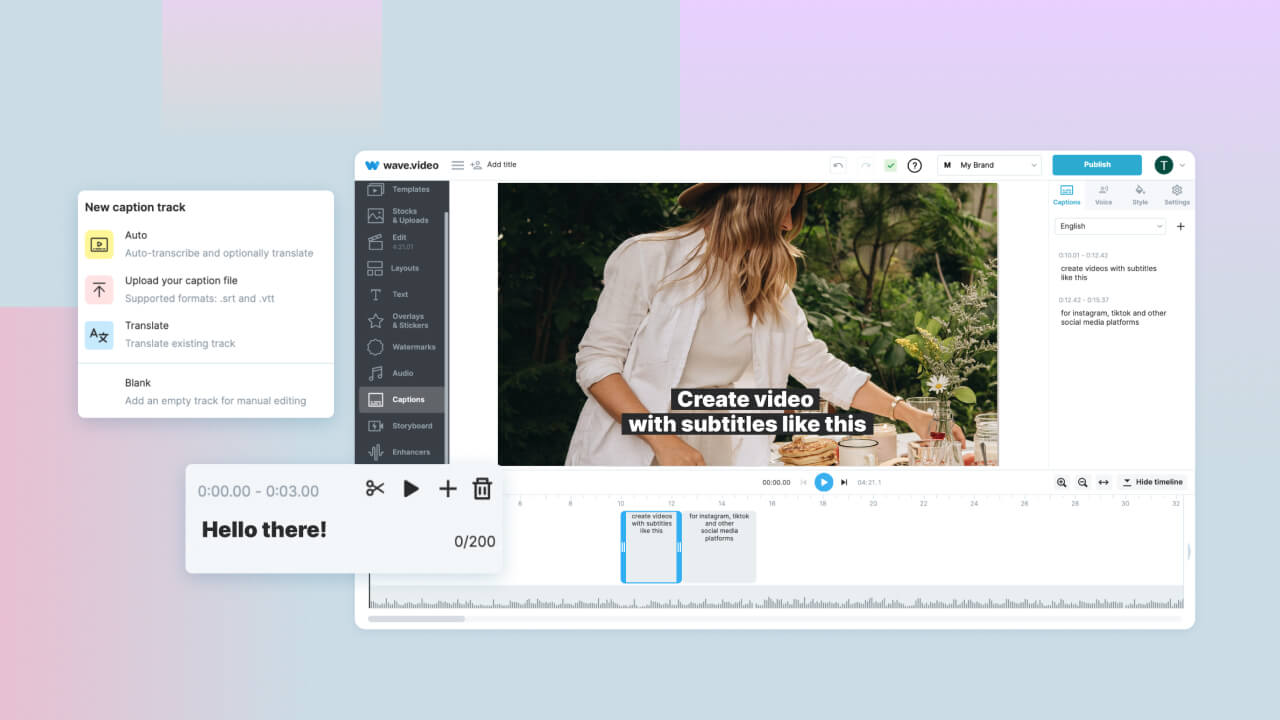 Why Use Online Subtitle Translator?
Subtitles are vital for video marketing as they improve accessibility for the deaf or hard of hearing, allow for multilingual reach, enhance viewer retention, and can improve SEO by including relevant keywords.


Make sure that your video content is accessible, engaging, and effective just by adding subtitles. With Wave.video, it is simple as ABC!
How to Create Subtitles
Create Subtitles

Start from auto subtitles generation, upload your srt, or translate existing ones.

Choose a Language

Translate subs to more than 50 languages (German, Spanish, Chinese, Czech, Hindi, etc.)

Save it!

Once you get ideal subtitles, remember to save the result.
Benefits of Subtitles Translatior and Editor Tool
Expanded international audience reach
Subtitles is a powerful tool that helps you reach people worldwide. Translate your video to Korean, French, Turkish, and 50 more languages with Wave.video.
Save your time
No more manual video translations! With Wave.video subtitles translator tool, you can streamline the process and save countless hours of work. Generate accurate translations in just a few clicks.
Unlimited customization options
Customize the subtitles to fit your brand and audience's needs. Adjust the font, size, color, and timing of the subtitles. You are the only one in complete control over the look and feel of your video.
Frequently Asked Questions
How do I translate subtitles?
With Wave.video, your can easily translate video subtitles. In the Captions section, click on the + icon. Then from the drop-down menu, choose Translate.

Now you pick the Source track, the Source language, and the Target language.

Finally, click on the Translate button, and enjoy the result.
How do I auto transcribe subtitles?
If you want to transcribe your videos automatically, use Wave.video auto-transcription tool and save your time.

Click on Captions; it opens the subtitles menu on the right. Hit the + sign, and from the drop-down menu, choose Auto.

Set the Source language, the number of lines for subtitles, and the maximum characters. Then click on the Create Captions button.
How to use SRT subtitles?
Sometimes video subtitles go as separate SRT files (SubRip Text). With Wave.video, you can easily upload it to your project to translate to any other language or edit.

Open the Captions menu, click +, and choose the Upload your caption file option. Now you can apply any changes to it.