Convert Image to Video
That image you keep looking at, the one you can't take your eyes off, you can convert it to video. Wave.video convert image to video tool enables anyone to turn an image into an attention-grabbing video, complete with all the special effects and music to make it stand out.
Convert image to video is user-friendly, advanced, fast, and accessible from any computer with an internet connection. Try it out today and see your creation come to life.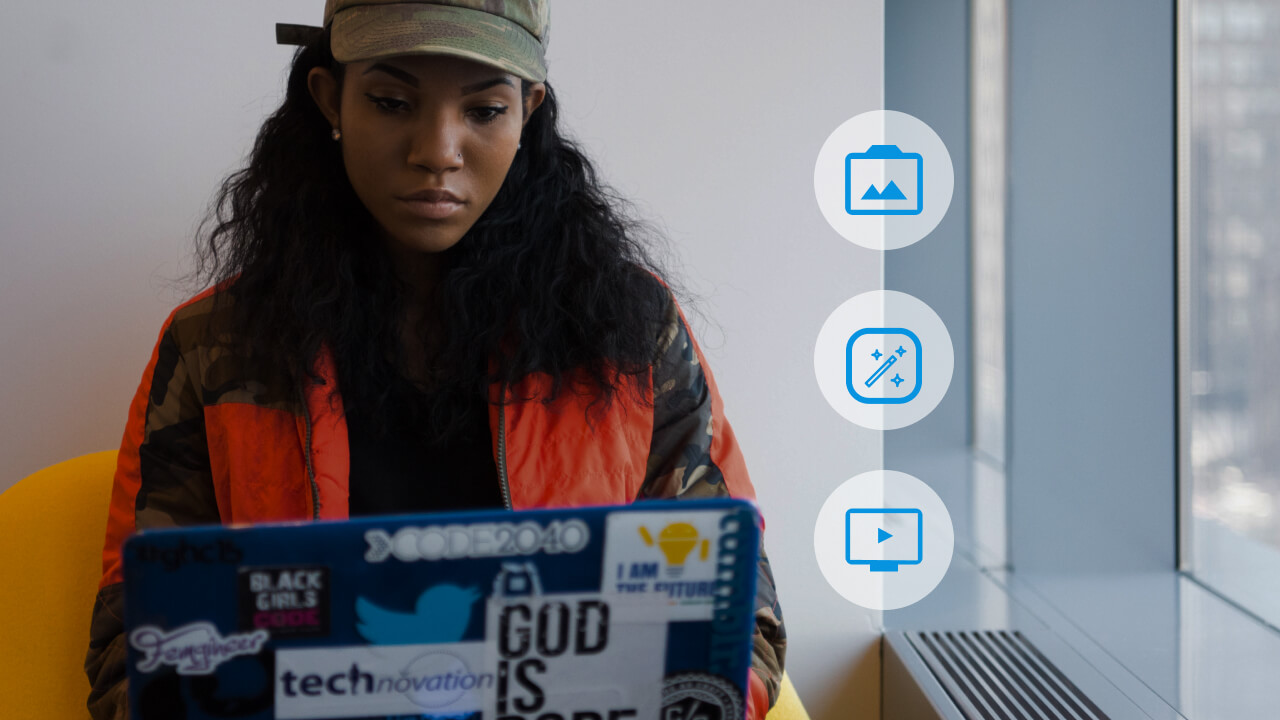 Why Do You Need Wave.video Image to Video Converter?
Impeccable motion effects

Advanced transition and special motion effects are guaranteed to turn even the most critical viewers into hardcore fans of your work. Switch from one frame to another without as much as a drop in quality or extreme variation in color saturation.

Web-based

Convert image to video from anywhere, provided you have a computer and a reliable internet connection. No need to have fancy equipment or install additional software on your device; load convert image to video on Wave.video, and you're good to go.

Integrated video editor

Enhance your creation using an advanced inbuilt video editor. Convert image to video and polish the rough edges without leaving your browser.

Easy to use

Say goodbye to all the confusing and mostly boring user documentation. Go from image(s) to commercial-grade video in a few minutes. The intuitive and flowing design ensures you can do almost anything with the tool without constantly referring to a YouTube video or some lengthy guide.
How to Convert an Image to Video?
Import the image

Hit the "Upload image" button on top of this page and select the image you want to convert from your device. Once the upload is complete, you'll be redirected to a video editor.

Convert image to video

Choose an appropriate length for the new video. If you're working with multiple images, you may want to rearrange them in a format that makes sense per your goals. You can also use the "Storyboard" feature to ensure the plot flows cohesively and logically.
Add special effects, captions or frame transitions you deem necessary.

Export video

Hit the "Publish" button when everything fits in place and select "Video" from the dropdown menu
Choose the highest video quality and resolution available for your account, then click "Render with watermark."
Download the video to your device or publish it on your social media or video-sharing platforms.
Frequently Asked Questions
What app turns a photo into a video?
There are numerous free and paid apps that can turn a photo into a video. Wave.video convert image to video is one such tool, but it's special in that you get access to the most advanced features for free, and it's one of the easiest tools to work with.
Also, it's safe to use, so no worries about malware or adware.
How can I turn a picture into a video?
You must establish the best convert image to video tool that addresses your needs. Next, learn how to use the tool and get right to it.
With Wave.video, you can skip all that and begin turning pictures into a video in no time without any major financial commitment from you.
How to convert image to video with music online?
First, determine which image-to-video converter tool offers the most editing capabilities. Wave.video convert image to video tool is one of them.
Once you're done, click the "Tracks" button in the editor, add your custom music, or use the free stock music on Wave.video. Preview your new video, adjust the track as necessary, and then hit publish.
Download the video in the highest resolution and quality and revel in your latest creation.
Can I convert image to video without watermark?
Yes. Although users on the free plan get an image-to-video output with a watermark, it's virtually unnoticeable. However, you can upgrade to a paid plan if you want to get rid of the watermark completely.You can re-render videos you had already converted from images on Wave.video or start afresh.
Which is the best convert image to video tool?
Wave.video, without a doubt. But that's an openly biased answer. The best convert image to video tool should be able to help you achieve your objectives with the project.
Ideally, it must be easy to use, powerful and, most importantly, safe.