Video Link Generator
Experience the game-changer: Video Link Generator. Effortlessly share videos, boost engagement, and amplify your online presence. Discover the power of simplified video distribution now!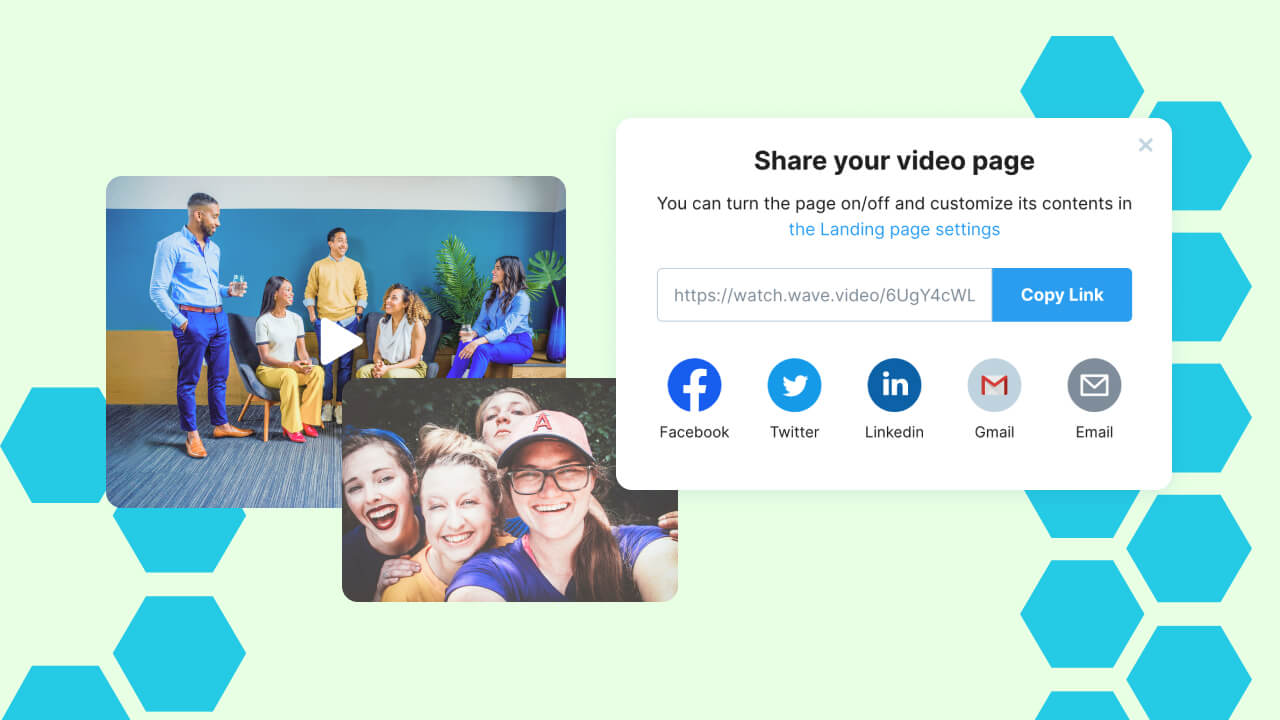 How to generate a video link in Wave.video?
Step 1: Sign in or create an account
Get started by signing in to your existing Wave.video account or creating a new one.
Step 2: Upload or create video content
Add your video file to Wave.video by uploading it from your device or creating it from scratch using the editing tool.
Step 3: Generate the video link
Once your video is ready, go to Hosting mode and find the sharing options (top right corner). Click on the Share button and then copy the video link.
Video Link Generator Advantages
Simplified Video Sharing

Wave.video's video link maker streamlines the process of sharing videos, making it quick and hassle-free. Just copy and paste the link.

Enhanced Viewer Experience

With video url generator, you can provide a seamless viewing experience for your audience by easily sharing videos through a single, accessible link.

Increased Engagement

By conveniently sharing videos through the video link generator, you can boost viewer engagement and encourage more interactions with your content.

Analytics and Tracking

Benefit from tracking and analytics features, allowing you to monitor video performance and gain valuable insights into viewer behavior.
Frequently Asked Questions
How to convert a video into a link?
With Wave.video, you can easily turn any video file into a link. Sign in or create a Wave.video account, upload or create a video, go to sharing options, customize settings, and copy the generated link. Share and enjoy easy video access with others.
What is a URL for a video?
A video URL is a web address that uniquely identifies the location of a video on the internet. It consists of a protocol, domain, and specific path. By entering or clicking the URL, users can access and view the video content hosted on a website or platform.
Is it possible to share a video as a link?
To send a video as a link, first, upload the video to a hosting platform (Wave.video is an ideal choice). Generate a shareable link for the video and copy it. Open your preferred communication method, like email or messaging app, compose a message, and paste the video link.
How much is it to generate a video link?
We don't charge you any additional cost for generating links for your videos. Wave.video video link generator feature is included in every plan.