Video Presentation Maker
Elevate your presentations with Wave.video, the top online video presentation maker. Engage, impress, and inspire your audience. Unlock the power of visual storytelling today!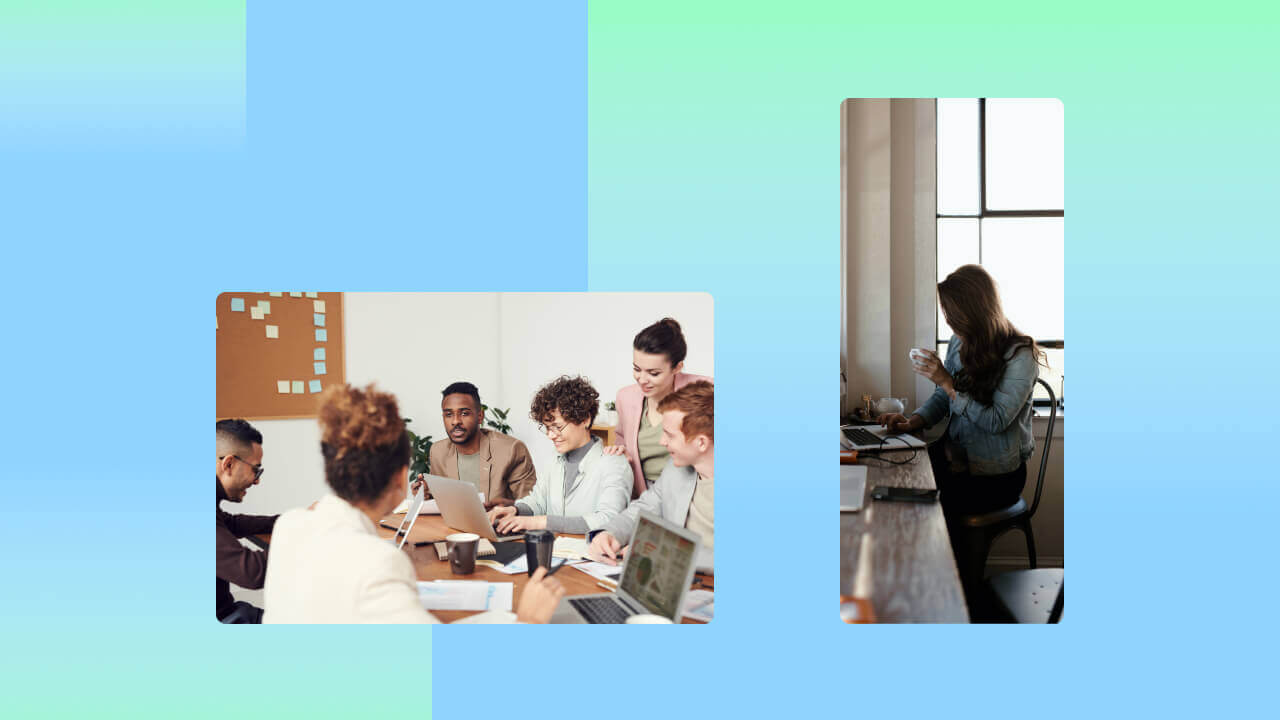 How to Make Video Presentation with Wave.video?
Enter your Wave.video account

Sign up or log in to your Wave.video account. If you still don't have the account check out our free option.

Choose where to start from

With Wave.video, you may either create your video presentation from scratch or choose one of our templates and customize it to your taste.

Let the magic happen

Free your creativity. In editing, you can upload additional media files, add sound, play with fonts, and insert stock images and videos from Wave.video library.

Download the result

Once you are satisfied with the result, click on the Publish button, render the clip, and download it.
Why Create Video Presentations?
Captivating Content
Videos engage viewers and offer a dynamic way to present information. They combine visuals, audio, and motion to convey your message effectively.
Improved Retention
Studies show that people remember information better when presented in video format compared to text or audio alone. Video presentations can boost information retention and understanding.
Versatile Communication
Video presentations can be used for various purposes, such as sales pitches, educational tutorials, product demonstrations, or sharing company updates. A video presentation is a versatile and engaging medium for communication.
Wide Accessibility
Videos can be easily shared and accessed across different platforms and devices. You can reach a broader audience and make your message accessible to viewers worldwide.
Frequently Asked Questions
How to make a video presentation online?
With Wave.video, you can easily make a video presentation online. Start by entering your Wave.video account. Next, choose a video template or create a project from scratch. Upload the media files you want to include in the presentation and customize the clip by adding text, effects, transitions, and overlays. Use the timeline to arrange and trim your project and enhance your video with filters, animations, and branding elements.
Can I animate my presentation online?
Yes, Wave.video allows you to animate your presentation. Add motion and effects to text, images, and overlays for dynamic and engaging video presentations. Enhance your content, capture attention, and create impactful videos.
How do I make a video presentation with pictures in Wave.video?
To make a video presentation with pictures in the Wave.video, upload your images, arrange them in the desired order on the timeline, and customize pictures with filters, text overlays, and animations. Add transitions for smooth visual flow and include background music or voiceovers to your taste. Then download the final file or share it directly from the Wave.video platform.
Can I make a video presentation in PowerPoint?
Originally PowerPoint is designed to create simple static presentations. Today, you can add some standard animation to the presentation elements. If you are looking for a solid video presentation, consider Wave.video with multiple options for video editing. Improve your presentation with high-quality animation, enhanced visual filters, and unique fonts.