YouTube Cutter
Trim and edit your videos online with YouTube Cutter by Wave.video. Easily cut your video to highlight its best part on YouTube.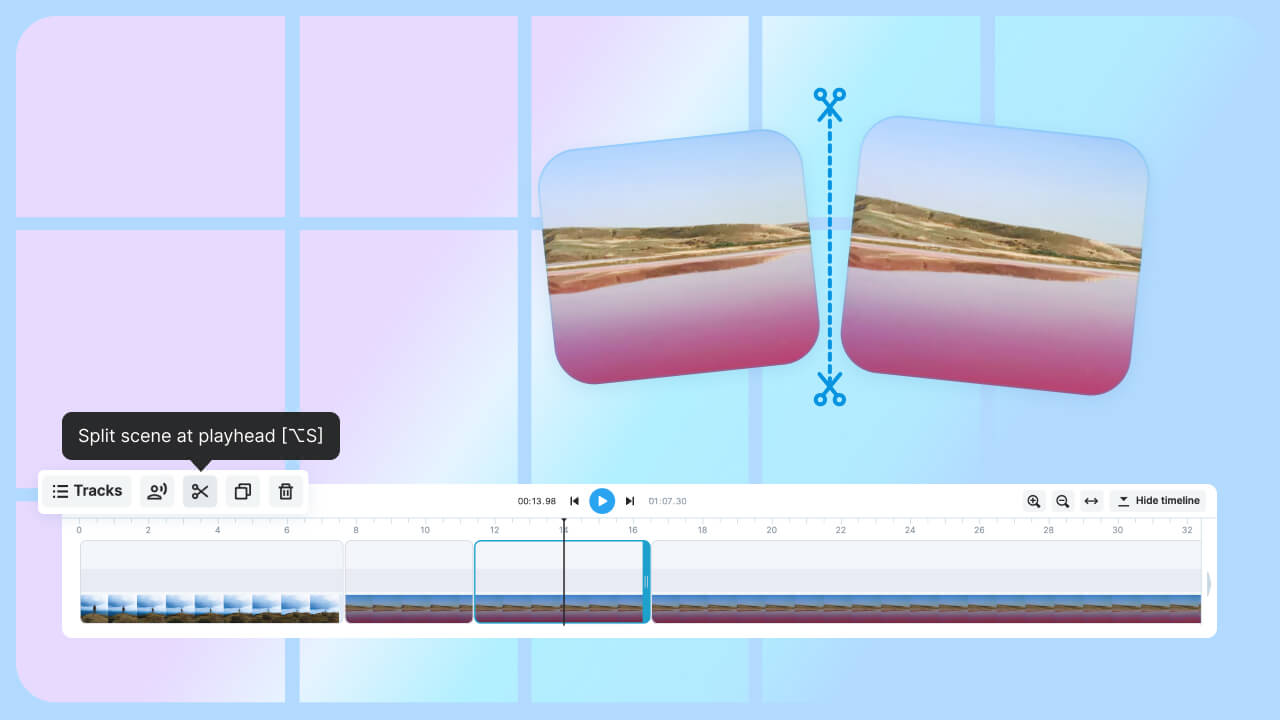 Cut YouTube Videos Online
Looking for an easy way to create engaging and impactful video clips for your social media, ads, or other projects? Look no further than YouTube Video Cutter! Cut unwanted scenes, lengthy intros and outros with our tool right in your browser. Or trim YouTube videos to the exact length you need!

Whether you're a content creator, educator, marketer, or just someone who wants to make their videos stand out, YouTube Video Cutter is the perfect solution. So why wait? Try it today and start creating professional-quality videos in no time!
How to cut youtube video
Upload a video

Upload your YouTube video file to Wave.video and open it in the online video editor.

Cut and split the video

Drag the ends of the video track to cut the video. Place the playhead on a specific point and click the Split button to split the video.

Press Publish & Render

Adjust the format and quality settings and press Render. As soon as the footage is rendered you can download your video or instantly import it to YouTube.
The Best YouTube Cutter
Instant YouTube resizer
Instantly optimize your footage for YouTube with one-click resizing to popular formats like vertical Shorts and horizontal videos.
Easy to use
Cut videos for YouTube without signup or download. Upload your clip, make necessary edits, render and export to YouTube right from Wave.video.
Powerful video editor
Create professional-quality videos with ease using our feature-rich video editor! Auto-generated subtitles, beautiful transitions, and text animations included.
Frequently Asked Questions
How do I cut a clip from a YouTube video?
1. Open your uploaded video in the Editor.
2. Click the Trim button and drag the sides of the clip until you get the desired length.
3. Press the Publish button to render and download video.4. Upload the final result to your YouTube channel.
How do I split a YouTube video into parts online?
1. Upload your video to Wave.video.
2. Put the playhead in the desired place on the timeline.
3. Press the Split/Scissors button to split the footage into two parts.
What is the aspect ratio for YouTube videos?
YouTube supports 16:9 horizontal and 9:16 vertical aspect ratio for Shorts. Wave.video can quickly resize your video to YouTube video formats with just one click.