Create SRT File Online
Generate an accurate SRT file for over 30 different languages automatically. The tool supports all popular video formats, including MP4, AVI, MKV, MOV, WEBM, and WMV.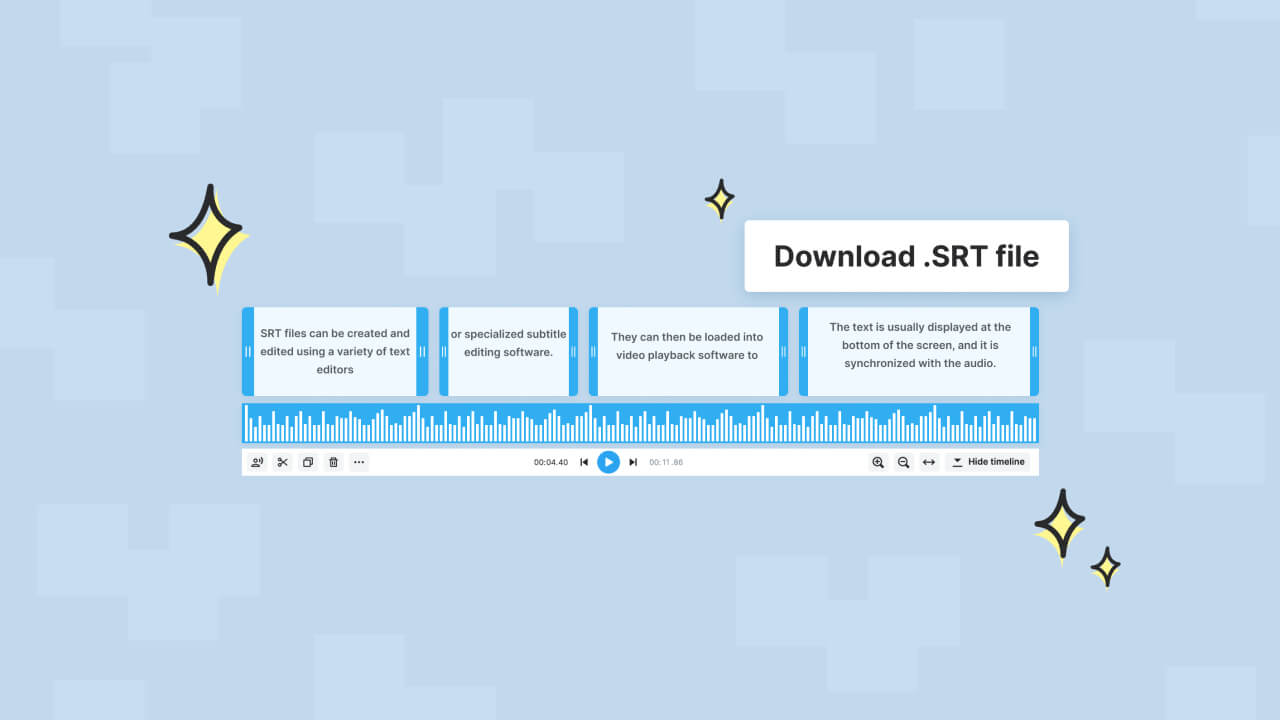 Accurate SRT File Generator
Say goodbye to the tedious task of creating subtitles manually and start generating accurate SRT files in no sweat. Our tool automatically transcribes and timestamps your video content, producing high-quality SRT files in just minutes. Wave.video supports 30+ languages from English to Portuguese and Hindi.


Ideal for content creators, marketers, and business owners, our SRT File Generator is the ultimate solution for quick and easy subtitle creation. Focus on your creative work, and let us do the rest. Try it now to experience the difference for yourself!
How to Create an SRT File
Upload a Video

Wave.video supports all popular video formats, including AVI, MKV, MP4, and more.

Transcribe the Video

Choose the captions tab, select your source language, and hit Create captions.

Save SRT File

Correct the typos, click the settings tab, and hit Download SRT file.
The Best SRT File Generator
Automatic transcription
Create accurate SRT files with subtitles without manual input and configuration. A few clicks and Wave.video will transcribe and timestamp your video content in minutes.
30+ languages
Create an SRT file with subtitles for multiple languages and dialects, such as American English, Italian, Swiss German, French, and more.
Instant translation
You can translate an existing or newly generated SRT file into another language right in the Wave.video.
Frequently Asked Questions
What is an SRT file?
It is one of the most popular subtitles formats containing the transcribed text of the video along with the start and end timecodes. Thus, the subtitles are synchronized with an audio track and appear simultaneously in the video.
How to convert SRT to plain text?
1. Choose the captions tab in Wave.video Editor.
2. Hit +Add captions and select Upload your caption file.
3. Once the SRT file is uploaded, choose the Settings tab and press Download as Text.
How to create SRT from audio?
1. Create a new video project from the main dashboard and add some footage from our free stock library.
2. Upload and add your audio file to the project by pressing +Audio on the timeline.
3. Go to the Captions tab and select Auto captions from the drop-down menu.
4. Select your audio file, source language and hit Create captions.
5. Go to the Settings tab and press Download SRT file.
Is there a way to auto-generate subtitles?
Wave.video can generate subtitles for the video automatically. Our tool listens to the audio track and converts it into a
subtitle file.
Can MP4 convert to SRT?
Wave.video automatically extracts an audio track from your MP4 video file and transcribes it into a subtitle file, which you can save in SRT format.