HomeStars Takes Advantage of Wave.video's Stock Library to Increase Facebook Engagement by More Than 2,500%
Company
HomeStars is a free service helping homeowners find reputable renovators, repairmen and retailers through its database of 1.8 million companies and hundreds of thousands of reviews. A trusted resource since 2006, HomeStars has grown to be the leading online community of homeowners and home improvement companies in Canada.
Location

Canada

Industry

Software & Internet

Wave.video Use Cases

Website

homestars.com
The Challenge
HomeStars is Canada's largest and most trusted network for connecting homeowners with qualified Service Providers for all of their home improvement projects. As a fully online service, the company pays special attention to maintaining its strong online presence, in particular on social media.

As a team of skilled professionals, the marketing department at HomeStars always wanted to include video in its content marketing plan, however, the resources to create video content were limited. A few years ago the team hired an agency to produce videos for HomeStars, but the endeavour did not develop into a solid video marketing strategy.

"I wanted to create more engaging content for social media and knew that video was the best medium to use," said Michael Keshen, B2C Marketing Manager at HomeStars. "The problem was that, as a small team, we didn't have the resources available to hire a videographer or outsource video production to an agency."
The Solution
Michael discovered Wave.video at Social Media Marketing World 2017 where Animatron launched the product. Being responsible for growing the audience, Michael immediately had an idea of how Wave.video can benefit the company's content marketing activities.

The HomeStars marketing team analyzed its top-performing blog posts and repurposed them into short video clips which were published on Facebook, Twitter and Instagram. Repurposing the blog content into social media videos allowed Michael to maximize the ROI on the content efforts since he was able to distribute the videos on multiple platforms and reach new audiences as well as save time creating content for different social networks.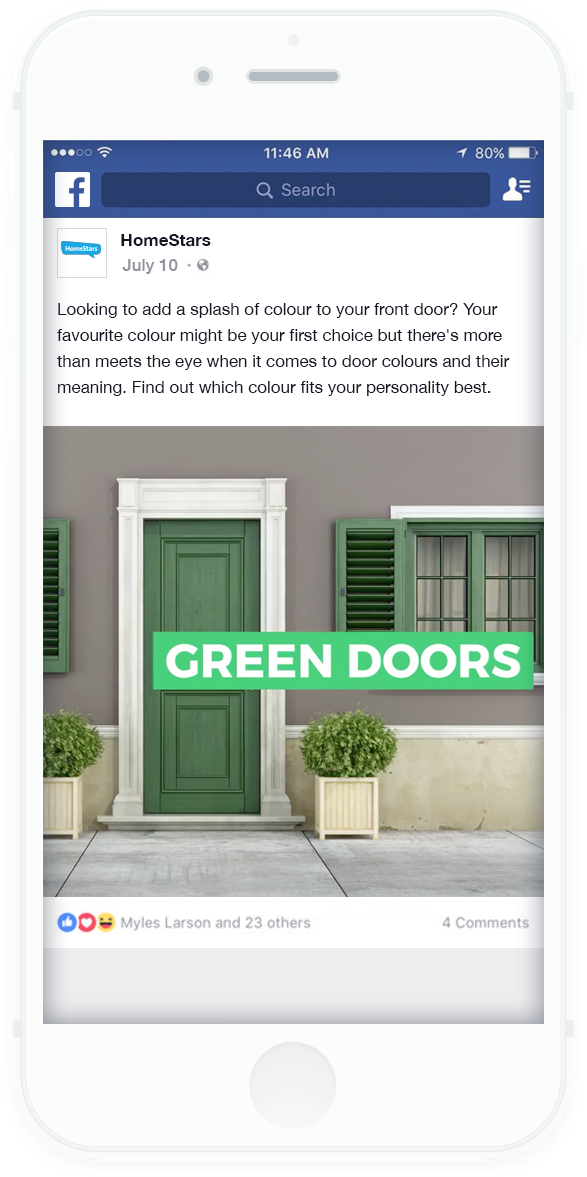 Sample Videos Created by HomeStars
Door colors and their meanings
See how the Facebook post's performance improved after adding the Wave video:
Reach

Clicks / Views

Likes, shares, comments
Home security tips
See how the Facebook post's performance improved after adding the Wave video:
Reach

Clicks / Views

Likes, shares, comments
The Results
Michael compared the performance of the videos he created in Wave.video and the blog post links that the videos were repurposed from. The results were astonishing. On average, the Facebook reach of the videos compared to the blog posts grew by 101%, Clicks and Views peaked to 2,586%, and Likes, Shares, Comments increased by 64%. Boosted posts saw the biggest increase in engagement overall.

Also, Wave.video's 300 million video and audio library addressed a major problem of finding the right footage to use in videos. Wave.video makes it easy to find clips which is "the hardest (and often most expensive) part of producing video."
"The biggest difference was the integration with stock footage, images and audio, which I have not seen anywhere else," said Michael. "Wave solves the biggest challenge we were facing, which was where to find the footage to use in the videos."

Another way Wave was able to save time is by providing a number of hand-picked text effects and transitions between the clips. The text effects and transitions were carefully preselected by Wave.video designers to ensure they complement any video and make it more engaging.

"Compared to the endless possibilities of a traditional video editor, having a smaller number of transitions and animations to choose from ensures I'll spend less time editing," said Michael.